Asus Zenfone 8 review
GSMArena Team, 12 May 2021.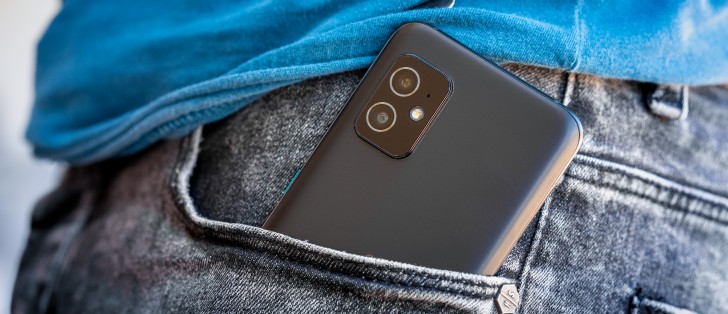 A double-duty dual-camera
The Asus Zenfone 8 offers two cameras on the back and a single selfie snapper. The rear shooters are doing double duty - the 64MP primary acts as a telephoto with 2x lossless zoom, while the 12MP ultrawide camera can do macro shots because of its autofocus capabilities.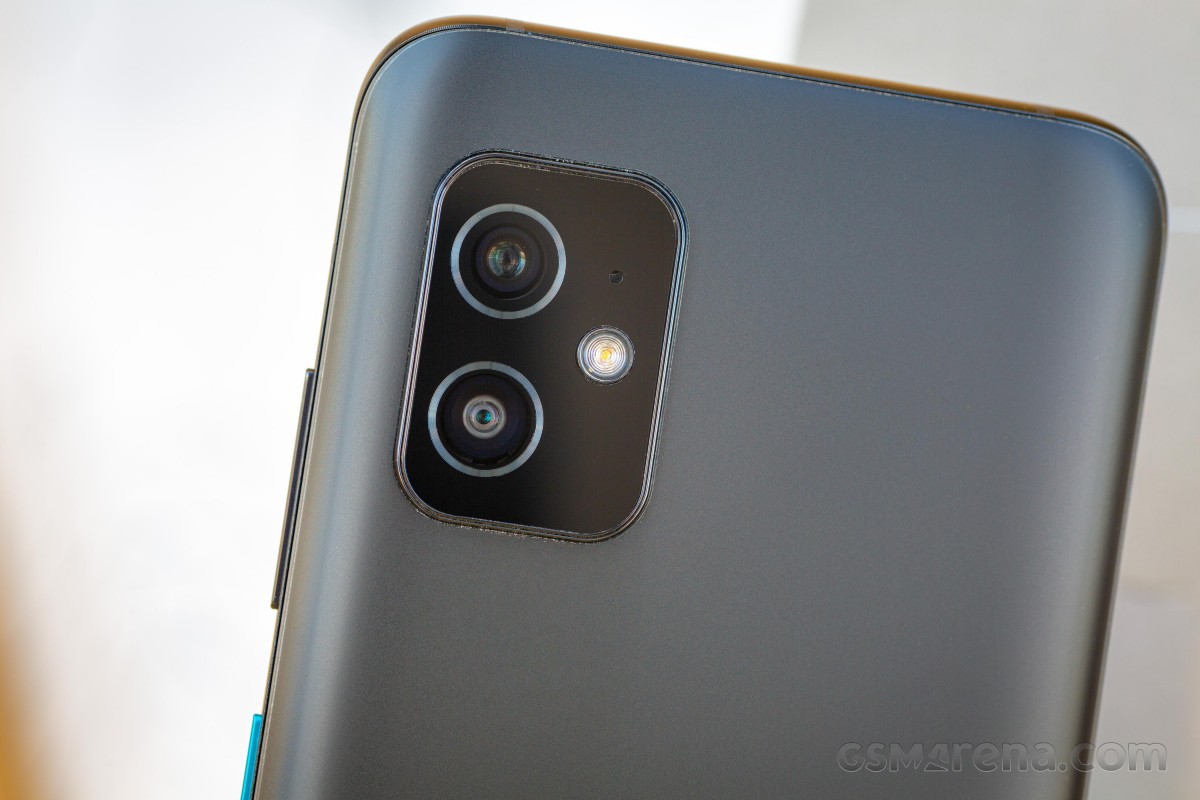 The Zenfone 8 relies solely on Sony sensors for its cameras.
The primary camera uses a 64MP Sony IMX686 1/1.7" sensor with 0.8µm pixels and a Quad-Bayer RGGB filter. This sensor is paired with a 26.6mm lens that is stabilized and has an f/1.8 aperture. This shooter supports 2x1 OCL PDAF.
Asus is promising 2x lossless zoom in broad daylight, done by cropping from the high-res 64MP photo and stacking a bunch of frames for higher quality.
This camera supports 8K video capture at 24fps, and 4K at both 30fps and 60fps - all with EIS and Audio zoom and Wind filter.
The ultrawide-angle camera employs a 12MP Sony IMX363 1/2.55" sensor with 1.4µm pixels and a 14mm f/2.2 lens. This camera support dual-pixel PDAF and it can also do macro photography from as close as 4cm. 4K video capture at 30fps and 60fps is supported.
The selfie camera utilizes a 12MP Sony IMX663 1/2.93" sensor with 1.22µm pixels and 28mm f/2.45 lens. It's a brand new sensor with Dual-pixel PDAF, and it can record 4K video capture at up to 30fps.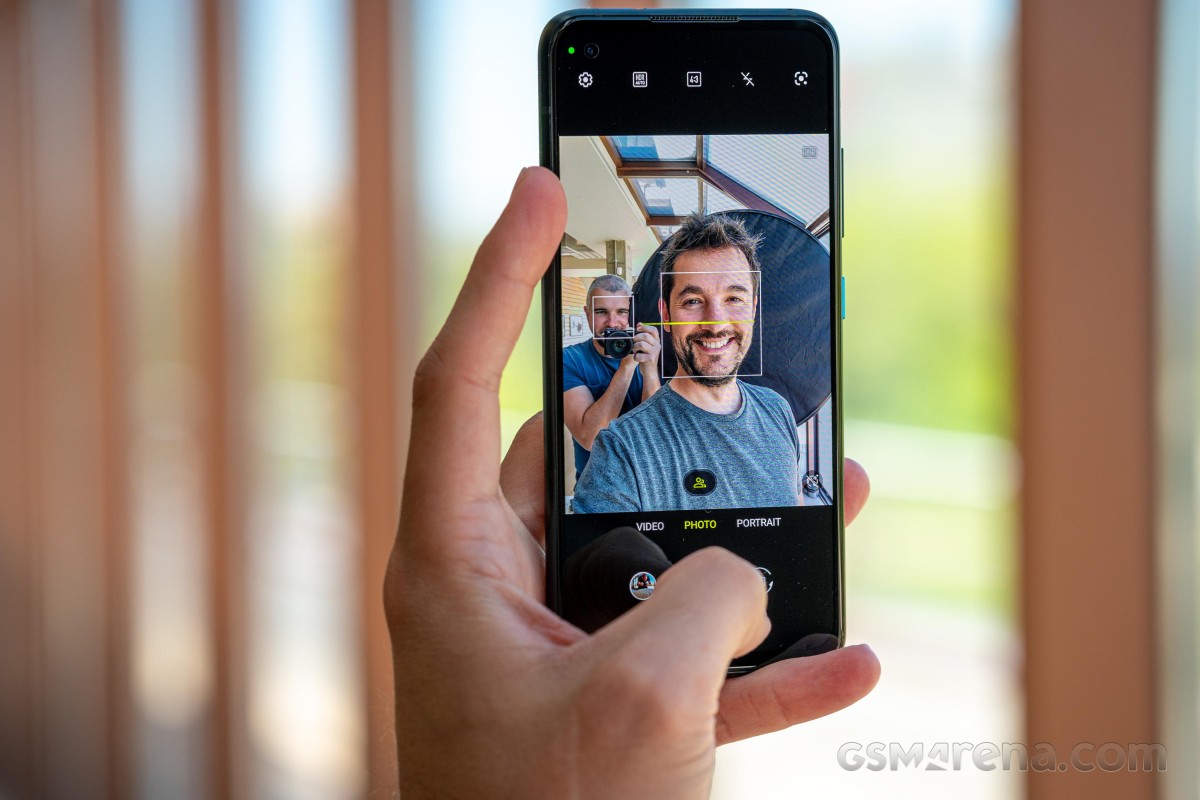 The camera app operation is as usual. You can switch modes one by one by swiping horizontally in the viewfinder, or many modes at a time by swiping on the mode carousel below. The two-position camera switch uses mountains for indication of zoom level. Next to it, you'll find another zoom switch shown only when using the main camera - here, you can toggle between 1x and 2x lossless. The shutter release has a hidden self timer feature - you slide it up to pick a timer delay up to 10s in 1s increments.
On the opposite end, there are controls for HDR mode (auto/on/off), aspect ratio (4:3, 16:9, 1:1, and 20:9 fullscreen), and flash mode (off, on, auto, and torch). A Google Lens shortcut and a cogwheel for access to settings complete the list of icons.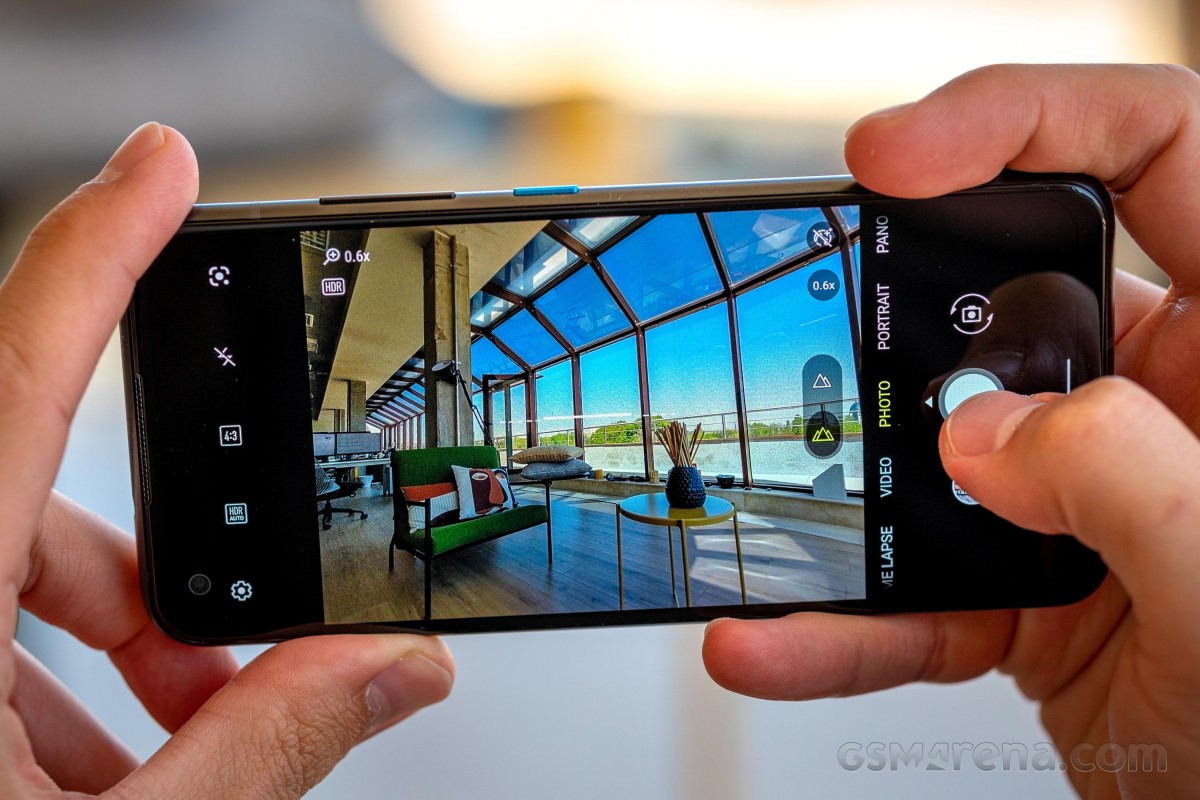 A Pro mode is available, too, and you get to control the two rear cameras from here. Shutter speed can be set in the 1/10000s to 32s range (up to 16s on the ultrawide), the ISO range is 25 to 3200. Exposure compensation can be added in 1/3EV increments in the -2EV to +2EV range, white balance can be set by light temperature with icons denoting common light sources, and you can use a slider to focus manually. As far as aids go, a tiny histogram is available as well as a digital level. The Pro mode supports presets, just like some professional cameras, so you can customize your settings and have them at a tap away.
There is also a Pro video mode, where you can tweak the focus, shutter speed, ISO, exposure and white balance. It works on all resolutions.
Photo quality
The main camera takes 16MP by default, and the ones we shot on this nice sunny day are spectacular. The resolved detail is impressive, and the sharpening is nicely balanced.
The foliage presentation is outstanding, and everything looks natural instead of overprocessed like on many other phones, flagships included.
The colors and the white balance are spot-on across these photos, and the dynamic range deserves praise, too.
Asus offers 2x lossless zoom with the main camera. To achieve this, the camera first shoots in 64MP, then crops the 16MP center and then enhances it.
Well, the resulting photos are great. There is a lot of detail, even if the pictures aren't as sharp as the default 1x photos. But everything else stays the same - excellent colors, dynamic, and well-handled noise.
And if the sharpness isn't ideal for you, let's not forget that these photos are of high 16MP resolution, and they can look phenomenal if downsized to, say 8MP.
The portrait mode uses the 2x zoom by default, and you can't opt-out of it. But you don't need to - the 16MP portraits taken with the main camera are magnificent - they are sharp, the subject separation is simply class-leading, the blur looks amazing, and look at that lively colors!
You can adjust the blur level, as usual.
You can shoot in 64MP (the option is within Settings -> resolution). The photos look okay - they have enough detail but you can tell some of it was mathematically produced by the widespread artefacts. The rest of the image is as good as the default photo - colors, contrast, dynamic.
It takes about 3 seconds to take such a photo and, yes, it could yield a bit more detail when downsized to 16MP. But we aren't sure a minor boost in the detail is worth the time-consuming process and the large file footprint (about 30MB each).
The 12MP ultrawide shooter saves some particularly good photos. The resolved detail is plenty and once again the images look natural with excellent foliage, buildings, skies. The automatic distortion correction is proficient and strengthens the corners without smearing too much detail.
The colors are once again accurate, the contrast and the dynamic range are great.
These images could benefit from a bit more sharpening in post processing but even now - they are nearly perfect.
Thanks to the autofocus, the ultrawide camera is supposed to be capable of macro shots from as close as 4cm away. Well, it can indeed focus on subjects at about, say, 6-7cm, but the photos are a mixed-bag. Sure, they are lively and contrasty, especially when we compare then to any of those dull 2MP or 5MP shots from the dedicated macro snappers we've seen, but they seem a bit out of focus or blurry. And we wouldn't call these macro, but more like closeups.
While not great, you can shoot the occasional bug or flower petal with this ultrawide camera, but try to focus at about 10cm or so, just to be sure you'd avoid blurry parts. And then you can crop the 3MP center of this wide image and get a properly looking macro shot for your Instagram.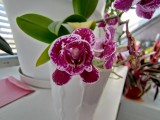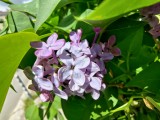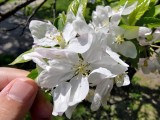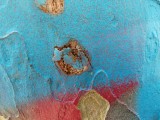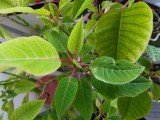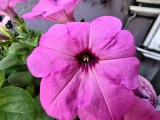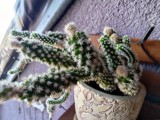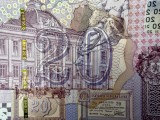 Ultrawide camera closeups, 12MP
The 12MP selfie camera, with autofocus at that, snaps flagship-worthy photos. Those are sharp but not over-sharpened, with a lot of resolved detail, excellent colors and wide dynamic range.
The trigger-happy HDR does take away some of the sharpness, but it still leaves more than enough detail for us to enjoy.
You can shoot selfie portraits, of course, and those are pretty good. The subjects show excellent detail, while their separation from the background, while not spectacular, is okay - if you don't have a complex haircut - you may keep your hair and ears mostly intact. The colors and contrast are simply great.
The Zenfone 8 has Auto Night Mode, just like the iPhones and the recent Xiaomi phones. You will notice the popped up Crescent Moon icon with the automatically chosen shutter speed - it's usually 4s for both rear cameras. And since that's the default behavior, that's what we used first.
The Night Mode photos taken with the main camera are great across the board - rich in detail, balanced exposure, excellent color saturation. There are little to no clipped highlights, while the shadows stay shadowy and thus the overall balanced look.
There is no noise in the images, but there are some artefacts visible in some spots - skies, window blinds, decorations, shop labels. Some of these are a result of the noise reduction, while others - of the multi-stacking. Either way, these are not ruining the overall very positive impressions.
You don't need to use the 4s Night Mode with the main camera - it has a good sensor and there is OIS, too. The photos taken without Night Mode are brilliant - they are sharp, and we observed sufficient detail, the noise is kept reasonably low, and the colors stayed true to life even if not as saturated as with Night Mode.
You can notice some clipped highlights, but there are no artefacts to be found anywhere here, and we might say it's a good tradeoff.
You can switch to 2x zoom at night but there is no lossless zoom - Asus promises such only in broad daylight. Indeed, whether it's with or without Night Mode, the 2x zoomed images are a simple crop and upscale from the default 16MP ones and you can tell that right away.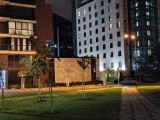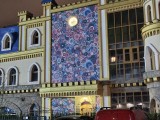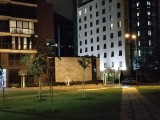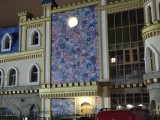 2x Auto NM • 2x Auto NM • 2x no NM • 2x no NM
The ultrawide camera takes good Night Mode photos. They are nicely sharp and detailed, with good colors and wide dynamic range. You can see even more artefacts here and these come mostly from the smeared noise. But even with them - these are some good shots, especially for an ultrawide camera.
We don't recommend shooting with the ultrawide snapper without Night Mode. The standard images seem to be detailed, but are very noisy and this gets in the way big time. The colors are a bit washed out here, too.
And here are photos of our usual posters taken with the Asus Zenfone 8. Feel free to browse around and pit it against other phones from our extensive database.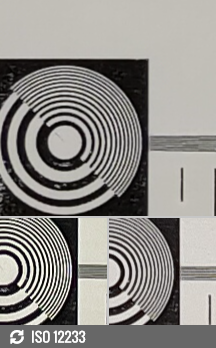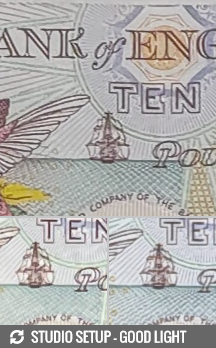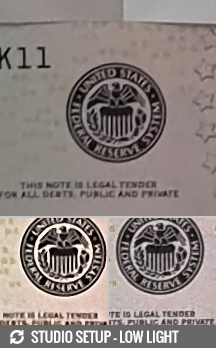 Asus Zenfone 8 against the iPhone 12 and the Galaxy S21 5G in our Photo compare tool
Video recording
The Asus Zenfone 8 supports 4K@30fps video capturing with all of its cameras, selfie included. You can shoot in 4K@60fps with the two rear snappers, while only the primary one is capable of 8K recording at 24fps.
You can use electronic stabilization on all cameras (the toggle is in Settings) and it works across all resolutions and frame rates. The main camera also benefits from additional optical stabilization.
The audio is always captured stereo with about 290Kbps bitrate. There are three microphones, and they are doing a wonderful job, and the quality is great with rich sound and deep bass, if needed.
The Zenfone 8 supports audio effects during video recording. You can enable/disable Wind Noise Reduction and Mic focus. The first one is self-explanatory, while the second feature tries to focus on the voice of one or more speakers. In Pro Video mode, you can also use additional audio effects - surround sound, front receiving, or rear-only receiving.
And now, let's look at some videos.
The first clip we shot was in 8K at 24fps. The footage has good sharpness, and the detail seems high, but there are too many artefacts that get in the way of the quality, whether compression, noise, or result from the demosaicing. The rest is commendable - colors, contrast, dynamic range.
The 4K clips taken at both 30fps and 60fps with the main camera are outstanding and among the best we've seen. The captured detail is abundant, the sharpening is just the right amount, and the overall look is incredibly balanced and natural. The colors and the white balance are perfect, the dynamic range deserves a praise for not being over the top.
We can't find a single flaw in these clips!
The ultrawide camera takes similarly magnificent 4K clips at 30fps as the main camera - neatly flawless.
The 4K60fps footage exhibit the same impressive qualities as the rest of the videos, but the picture is a bit softer than expected for reasons unknown.
The main camera shoots okay low-light 4K30 videos. Their detail is good, the colors are nicely saturated, and the noise is tolerable. Sure, the highlights are clipped, and the dynamic range is low, but all things considered, including the demanding sky, the footage isn't bad at all.
The ultrawide camera isn't a bad shooter at night, too. The 4K30 clips, even if noisy, are perfectly usable. They aren't as good as the main snapper, but if ultrawide is a must, it can do a decent job.
And here is the Zenfone 8 in our video comparison database.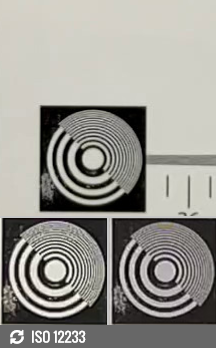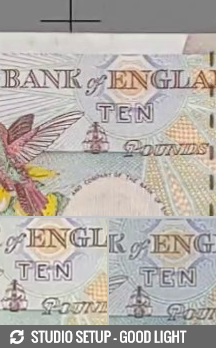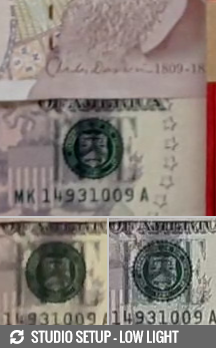 2160p: Asus Zenfone 8 against the iPhone 12 and the Galaxy S21 5G in our Video compare tool
This zenfone may be a good hardw