Asus Zenfone 8 Flip review
GSMArena Team, 13 May 2021.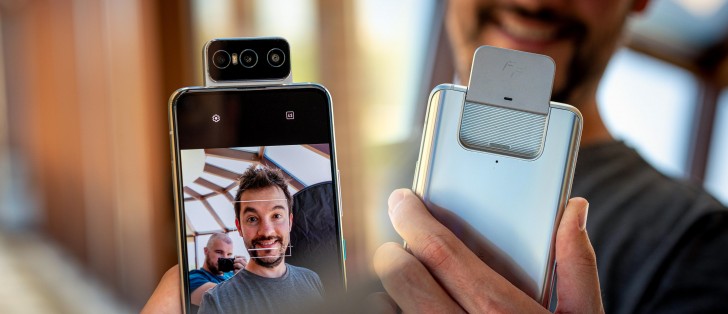 Big, HRR OLED panel
Asus seems to be proud of its Samsung-made OLED and for a reason. On paper, the screen isn't quite up there with the top flagships, but it does cover the bare minimum when it comes to faster refresh rates. The Flip inherits the same 6.67-inch OLED panel with 1080 x 2400px resolution (20:9 aspect ratio) from the Zenfone 7 Pro, although Asus made it clear that the Flip isn't a direct successor to the Pro model from last year.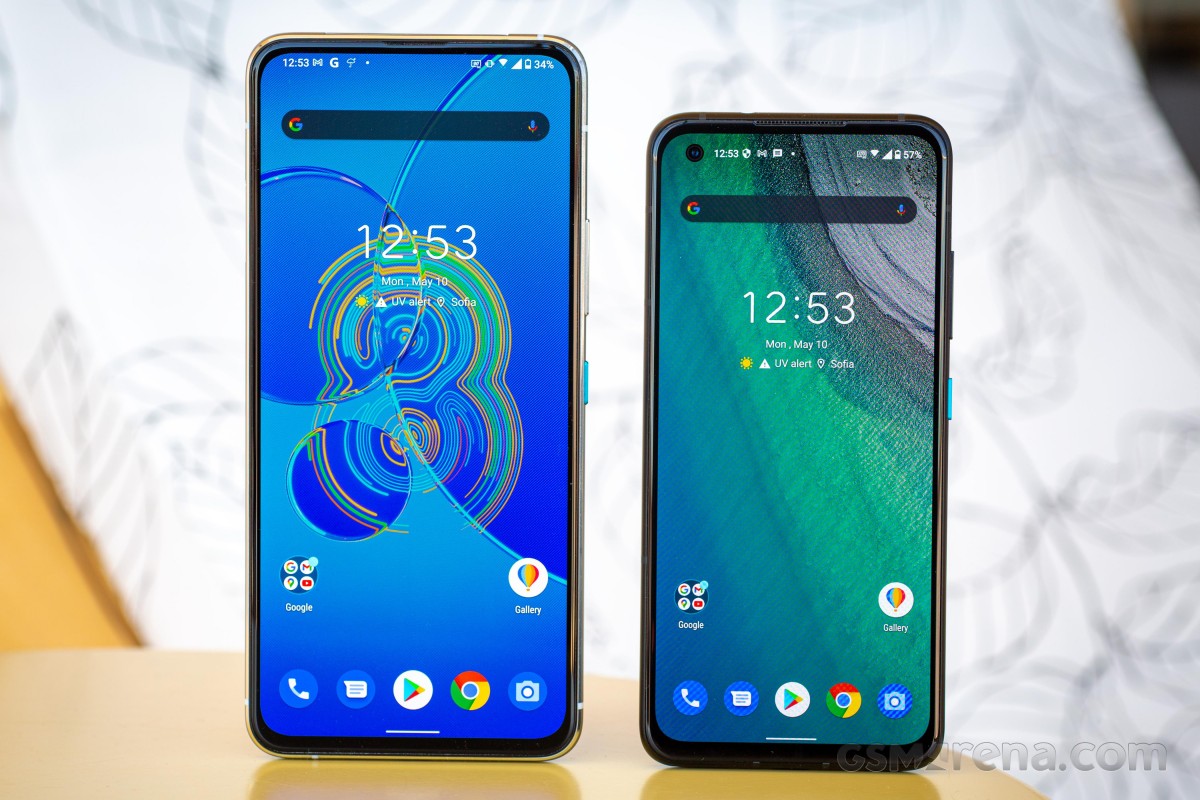 Asus Zenfone 8 and 8 Flip
But there's more to it than just hertz, right? The company advertises 110% DCI-P3 color gamut coverage, dE2000 less than 1, 700 nits maximum brightness and up to 1000 nits spot brightness. As a bonus gaming feature, the panel supports up to 200Hz touch sampling rate.
Display test
100% brightness
Black,cd/m2
White,cd/m2
Contrast ratio
Asus Zenfone 8 Flip
0
518
∞
Asus Zenfone 8 Flip (Max Auto)
0
735
∞
Asus Zenfone 8
0
440
∞
Asus Zenfone 7 Pro
0
529
∞
Asus Zenfone 7 Pro (Max Auto)
0
741
∞
OnePlus 9 Pro
0
525
∞
OnePlus 9 Pro (Max Auto)
0.038
871
22921:1
Samsung Galaxy S21+ 5G
0
459
∞
Samsung Galaxy S21+ 5G (Max Auto)
0
883
∞
Xiaomi Mi 11
0
498
∞
Xiaomi Mi 11 (Max Auto)
0
926
∞
Our tests were able to confirm these claims for the most part. For instance, in manual mode, the display boosts up to 518 nits, which is pretty good to begin with, and at auto, the nits shoot up to 735. Unfortunately, we couldn't confirm the 1000 nits spot brightness with our equipment but the most accurate preset called Standard got close to the advertised dE2000 of 1. The result we got was 2.6, which is excellent anyway.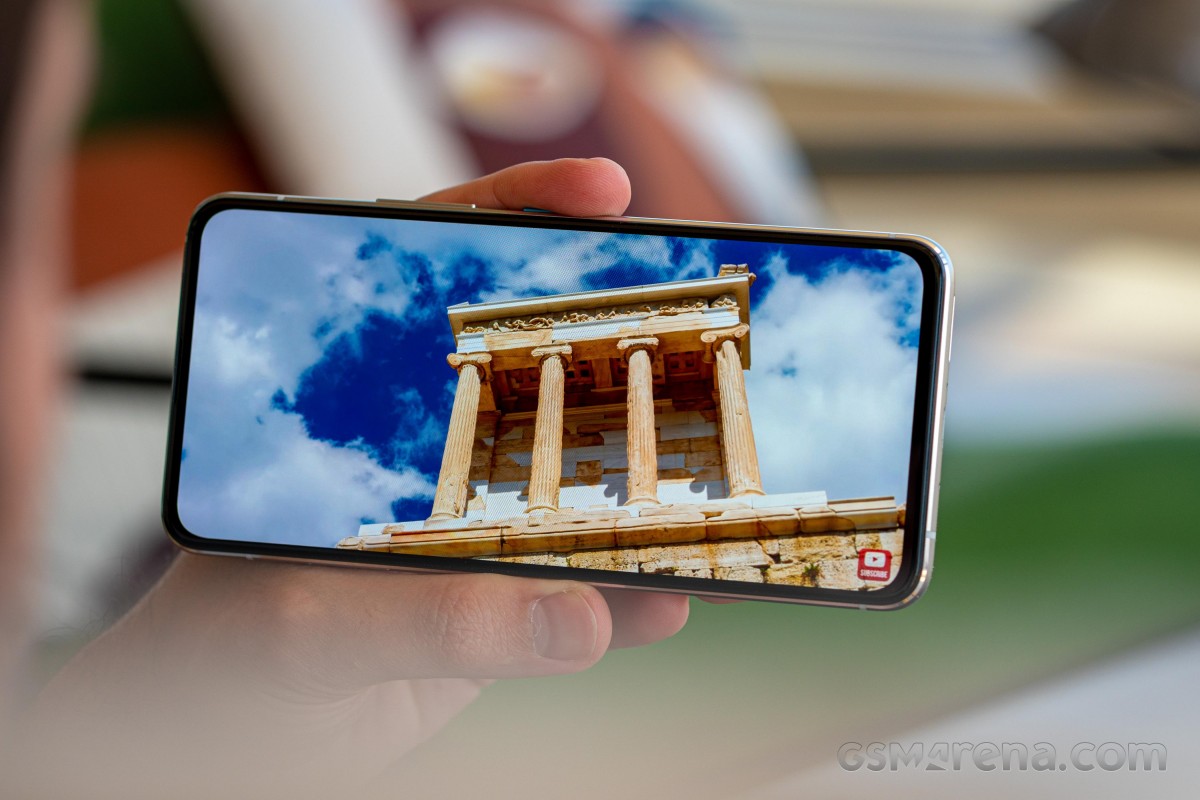 Refresh rate control, on the other hand, isn't up to the snuff. Which is rather odd considering the experience Asus has with its ROG Phones lineup. We found that the display locks at 90Hz in most cases even if you are not interacting with the display or when just sitting on the Home screen. The good news is that some sort of control is at hand. Opening the Netflix or YouTube app will instantly lower the refresh rate to 60hz, and the same goes for playing videos on the handset's native player. Which ironically is often the place where other OEMs miss to lower their refresh rate.
Battery life
We've got the same display and the same 5,000 mAh battery on board, the only difference is the chipset. However, the overall result isn't too far from the 7 Pro's from last year. In fact, the 8 Flip is a few minutes or hours shy of its predecessor in some tests.
You get marginally better video playback runtime but lose a few minutes in the web browsing test. 3G talk time has seen a significant increased but standby has gone down. In the end, we got a solid 98h overall endurance rating. However, compared to its rivals, that seems to be just below average for 5,000 mAh-powered smartphones.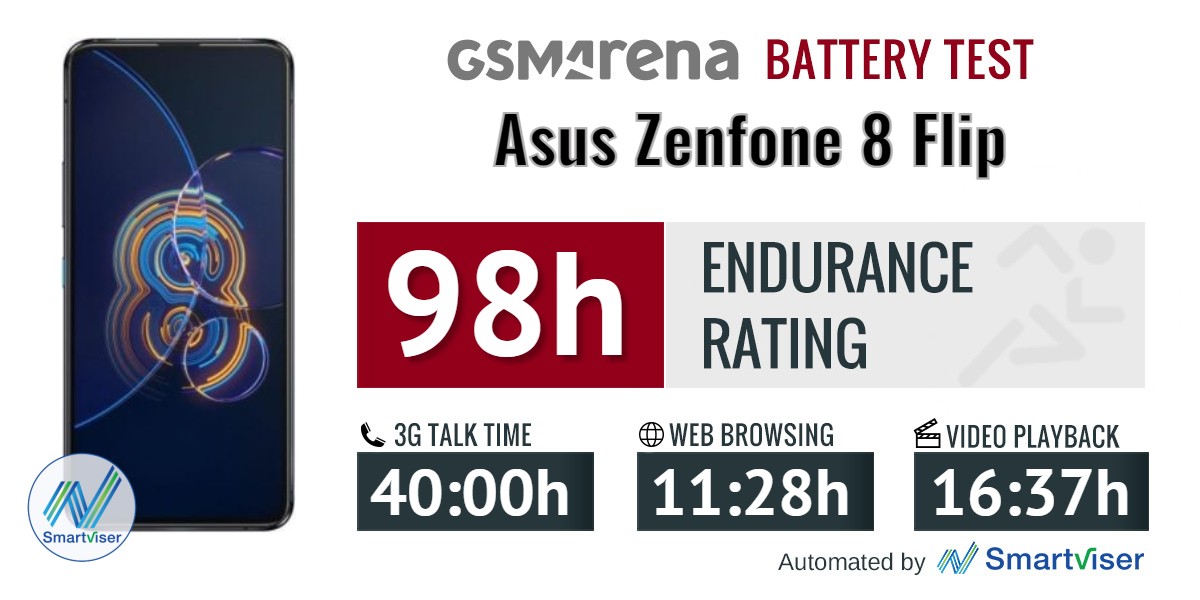 Our battery tests were automated thanks to SmartViser, using its viSerDevice app. The endurance rating denotes how long the battery charge will last you if you use the device for an hour of telephony, web browsing, and video playback daily. More details can be found here.
All test results shown are achieved under the highest screen refresh rate mode. You can adjust the endurance rating formula manually so it matches better your own usage in our all-time battery test results chart where you can also find all phones we've tested.
Charging speed
The Zenfone 8 Flip didn't do exceptionally well in the charging test as it drags behind the competition in the 30-minute and in the full charging test. It takes its power from a 30W-rated power adapter working on the USB Power Delivery protocol. It's even behind Samsung's Galaxy S21+ 5G that uses the same standard at 25W.
On the bright side, the handset provides you quite a bit of control over its charging. You can even set scheduled charging or use the system to analyze your habits. It even gives you feedback on whether or not your charging habits are harmful to the battery. Limited charging is a unique option that's fairly popular on laptops. Maybe that's Asus laptop-making experience taking place here.
30min charging test (from 0%)
OnePlus 9 Pro
99%
Xiaomi Mi 11
83%
Asus Zenfone 8
60%
Samsung Galaxy S21+ 5G
54%
Asus Zenfone 8 Flip
53%
Time to full charge (from 0%)
OnePlus 9 Pro
0:32h
Xiaomi Mi 11
0:50h
Samsung Galaxy S21+ 5G
1:12h
Asus Zenfone 8
1:28h
Asus Zenfone 8 Flip
1:40h
Speakers
The Asus Zenfone 8 Flip seems to be using the same speakers from before, but this time around, there's a noticeable upgrade, and that's the Dirac sound technology previously found on ROG Phones. In short, Asus has partnered with a Swedish Hi-Fi company to solve the issues small speakers have. To minimize distortion and enrich the bass, Asus and Dirac made an algorithm that adjusts the frequency response curve in real-time.
A few specs about the hardware itself - 8 x 9mm top speaker, 12 x 17mm bottom speaker and both powered by a dual NXP TFA9874 smart amplifiers.
The result is a rather clean and well-balanced sound with a touch of bass. The latter isn't entirely real, though, as Asus says that there are artificial tones added to the bass, so you can perceive it as deep bass. More critical listeners wouldn't be happy if you do this to their headphones, but in this case, we absolutely understand why Asus did it. It's just one of those physical constraints, which you have to tackle with software trickery. It all sounds great in the end, so that's what matters.
Loudness, on the other hand, needs more work. The speakers are definitely not the loudest ones around. It could be due to the unorthodox placement of the top speaker that doubles as an earpiece. Or it's the other way around? Anyway, the actual cavity is located inside the moving camera module. When the mechanism is closed, the small speaker blasts through the small earpiece grille where the glass meets the frame. Which means that the driver doesn't play directly through the opening.
Lastly, Asus and Dirac have left a little something for you audiophiles. Aside from the 4 preset sound profiles, there's also a 10-bar equalizer at your disposal. And there's also an "Outdoor mode" that boosts the speaker's loudness if it isn't enough.
Hi there what's the battery life like? Have you found any issues with this phone?
Hi James what's the battery life like on this phone any other issues you've faced good bad and ugly
Please don't buy this phone. It's literally incapable of connecting to the internet. Not a good look for a smart phone. I've been driving around with full 4g coverage, but unable to operate Spotify, or even open a page in the browser. ...