Asus Zenfone 9 review
GSMArena Team, 28 July 2022.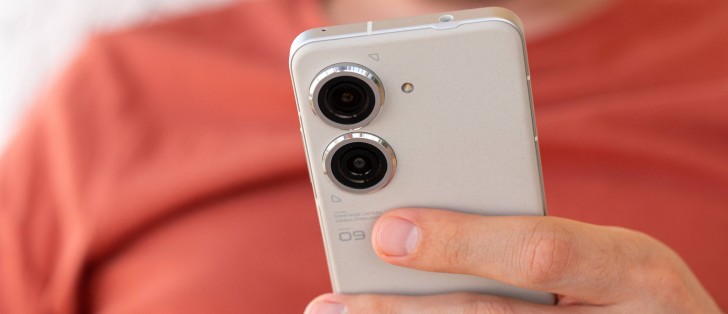 Small but mighty display
The Zenfone 9 is equipped with a 5.9-inch display, making it one of the smaller high-end models you can get. It's got a 1,080x2,400px resolution in a 20:9 aspect ratio and pixel density works out to 445ppi.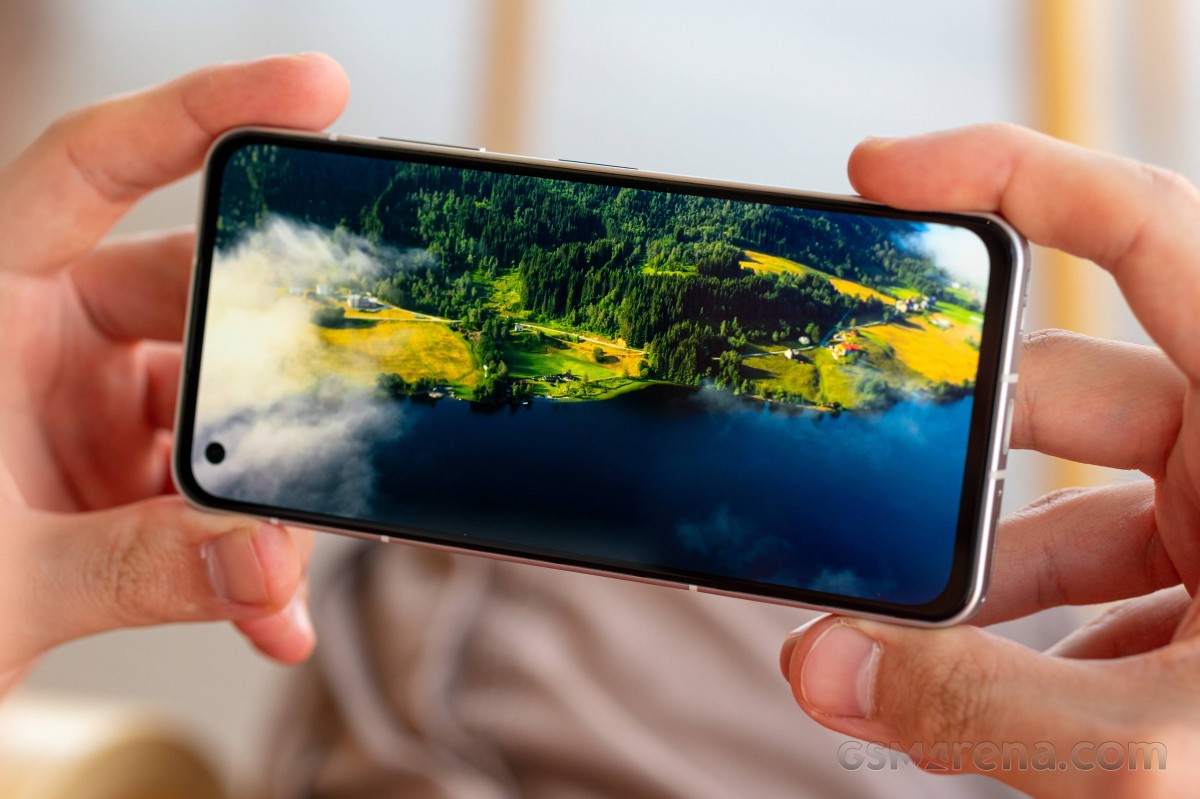 A Samsung-made AMOLED panel, the one on the Zenfone can refresh at up to 120Hz, but it's missing more advanced adaptive refresh rate functionality and can only switch between 120, 90, and 60Hz. Touch sampling is rated at 240Hz. The display supports HDR10+, too. DC dimming is also on the list of features if you're particularly susceptible to pulse-width modulation, though it's only available at 60Hz refresh rate.
Asus press materials promise 800nits of maximum brightness when displaying white full-screen and 1100nits of peak brightness (for small patches of screen when displaying HDR content), while our standardized test pattern takes up 75% of the screen and yielded 830nits. That's in 'Outdoor' mode, so to speak, or rather when the phone is under bright ambient light, and the adaptive brightness toggle is on. With the toggle off and the slider maxed out, we got 449nits.
Those are slightly higher numbers than last year's model and more or less in line with the competition. The Galaxy S22 does almost reach 1000nits when under bright light, while all of the iPhone 13's 800-ish nits are available in manual brightness mode too, but ultimately the Zenfone 9 isn't strapped for nits.
Display test
100% brightness
Black,cd/m2
White,cd/m2
Contrast ratio
Asus Zenfone 9
0
449
∞
Asus Zenfone 9 (Max Auto)
0
831
∞
Asus Zenfone 8
0
440
∞
Asus Zenfone 8 (Max Auto)
0
800
∞
Asus ROG Phone 6 Pro
0
501
∞
Asus ROG Phone 6 Pro (Max Auto)
0
829
∞
Samsung Galaxy S22
0
465
∞
Samsung Galaxy S22 (Extra brightness)
0
757
∞
Samsung Galaxy S22 (Max Auto)
0
982
∞
Apple iPhone 13
0
802
∞
Apple iPhone 13 Pro Max
0
852
∞
Apple iPhone 13 Pro Max (Max Auto)
0
1050
∞
Xiaomi 12
0
494
∞
Xiaomi 12 (Max Auto)
0
896
∞
Samsung Galaxy Z Flip3 5G
0
503
∞
Samsung Galaxy Z Flip3 5G (Max Auto)
0
935
∞
Huawei P50 Pocket
0
521
∞
Huawei P50 Pocket (Max Auto)
0
803
∞
In the 'Splendid' menu item in settings (which isn't terribly intuitive if this is your first time with an Asus) you get 4 preset color modes with an additional temperature slider, plus an extra 'Customized' mode with its own slider that essentially controls saturation.
All modes but Standard cover a wide gamut, while Standard is tailored for sRGB content. Standard got us an average dE2000 of 2.5 - not the best, but not terrible. Cinematic mode was similarly accurate for DCI-P3 content (another 2.5 average), while the default Optimal mode and the extra colorful Natural mode weren't as accurate.
The Zenfone 9's HDR10+ support got us HDR streams on YouTube and Netflix, but we didn't see it kick in on Amazon Prime Video.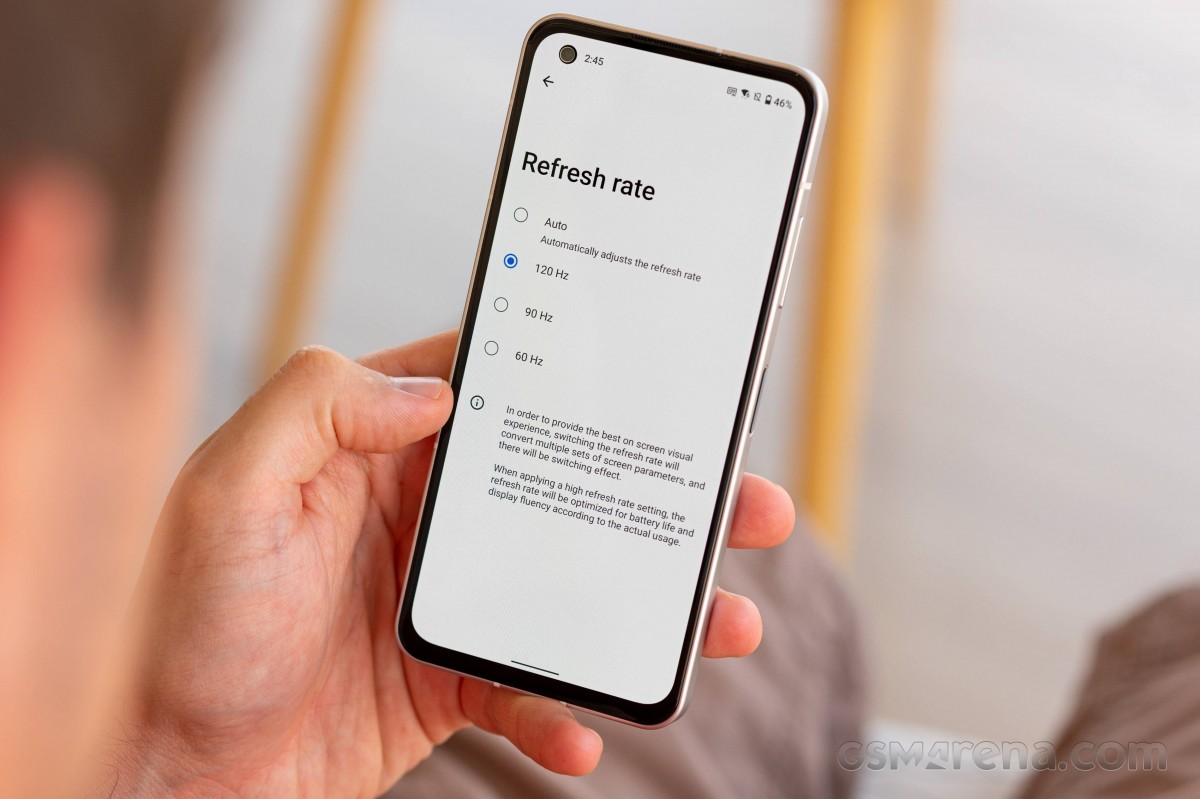 The refresh rate settings let you choose between four modes, with the Auto enabled by default and settings for 120Hz, 90Hz and 60Hz. The 60Hz and 90Hz modes do lock the refresh rate at the respective setting, and that second bit was a little surprising - we sort of expected the 90Hz mode to drop to 60Hz when idling, but that wasn't the case.
As usual, there are layers upon layers of logic in which refresh rate is active if you're in the Auto or 120Hz modes. Interestingly enough, the Auto mode will tend to maintain 90Hz most of the time, with no dropping to 60Hz and only shooting to 120Hz for games that support high frame rate (and, by extension, benchmarks).
The 120Hz mode will maintain the nominal refresh rate when you interact with the phone but will switch down to 60Hz when idling. Unless that is, you're in the 'High performance' system mode in battery settings, which locks the refresh rate at 120Hz for everything (in addition to the other things that mode does). If you're under a certain brightness threshold, there will be no downswitching, regardless of battery mode.
High frame rate gaming is possible on the Zenfone 9, and from the Game Genie utility, you can switch the refresh rate irrespective of the global setting, and you can get a frame rate counter as well.
Asus Zenfone 9 battery life
The Zenfone 9 packs a 4,300mAh battery, a 300mAh increase over the predecessor's capacity that the company is (rightfully) very proud of. Compare that to the Galaxy S22's 3,700mAh or the iPhone 13's 3,240mAh, so you can appreciate the Zenfone's achievement.
The increased capacity coupled with the new and more efficient chipset led us to expect solid endurance from the handset, and it delivered, indeed. In our testing, the Zenfone 9 was good for 26h of voice calls, 15h of web browsing (at a variable 120Hz-60Hz) and over 17h of video playback (at a constant 60Hz). The overall Endurance rating worked out to 108h - a class-leading result for a compact high-end phone.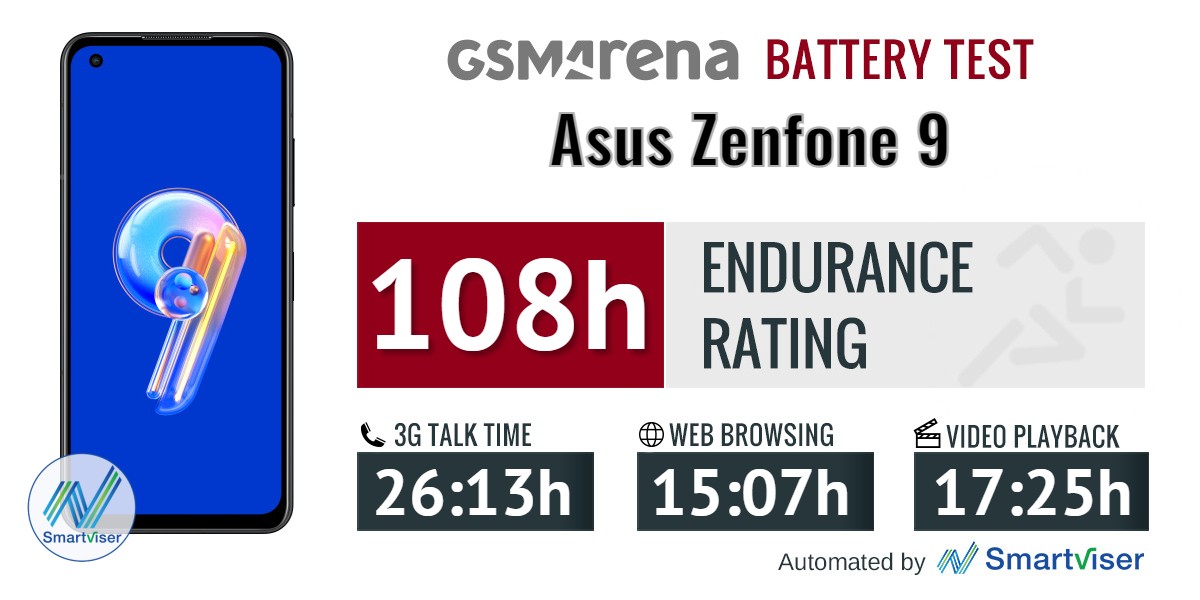 Our battery tests were automated thanks to SmartViser, using its viSerDevice app. The endurance rating denotes how long the battery charge will last you if you use the device for an hour of telephony, web browsing, and video playback daily. More details can be found here.
Video test carried out in 60Hz refresh rate mode. Web browsing test is done at the display's highest refresh rate whenever possible. Refer to the respective reviews for specifics. To adjust the endurance rating formula to match your own usage - check out our all-time battery test results chart.
There are several variables that might affect those results one way or another, and one of them, in particular, we'd like to point out - the High-performance system mode in the battery settings. It locks the refresh rate at 120Hz, so it may be more taxing on the battery than the normal auto-switching behavior we observed in Dynamic mode. However, it's not the default mode on the phone (Dynamic is), plus the 120-60Hz is closer to real-world usage. Besides the refresh rate, we can't be certain what else is changing under the hood.
Charging speed
The Zenfone 9 is bundled with a 30W adapter that Asus brands Hyper Charge. They like to point out it's the most powerful adapter in a phone with a display smaller than 6 inches, which is somewhat of an odd metric in a world where there simply aren't all that many phones this small. It's a USB Power Delivery 3.0 compliant unit with PPS support, and in our testing, the transferred power peaked at 28.5W, which we'd say is pretty solid.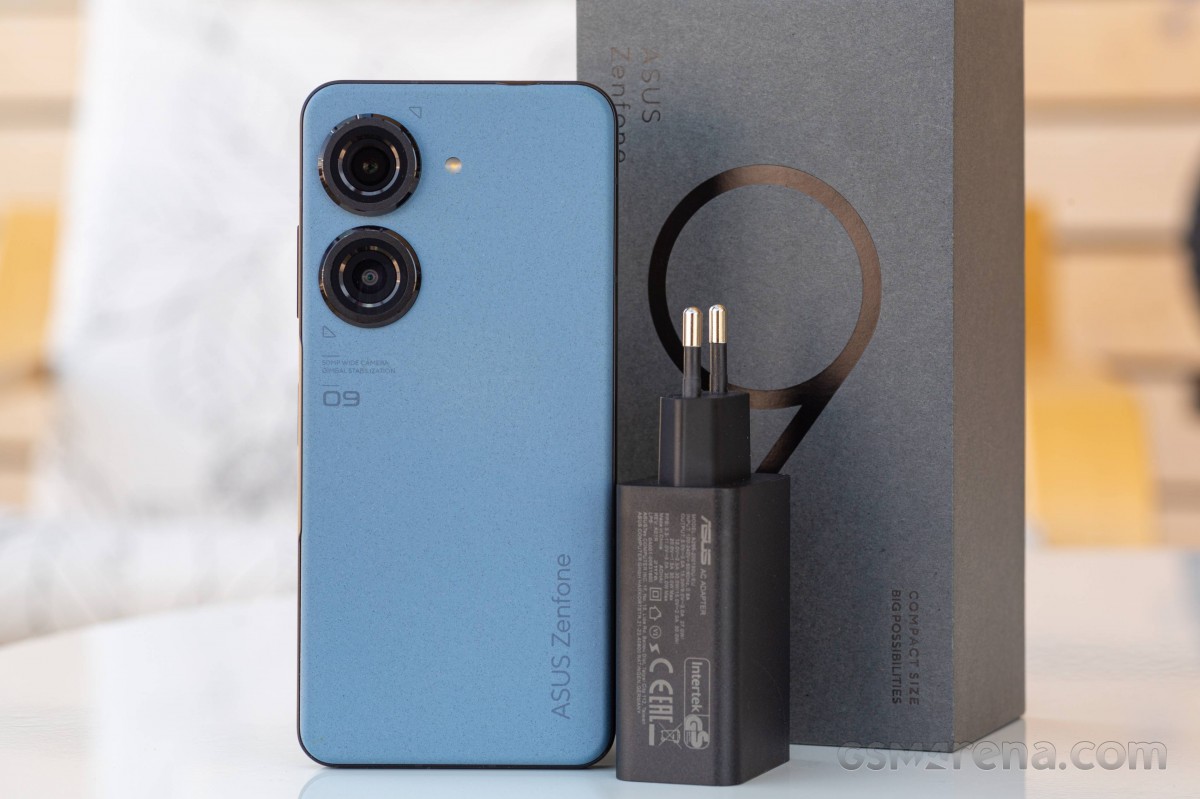 The Zenfone 9 took 1:15h from flat to full, with the battery indicator showing 57% at the half-hour mark. These aren't exactly game-changing numbers, but it's a decently fast performance and about as much as you can expect from 30 watts of USB Power Delivery with a battery of this capacity.
The Galaxy S22 is a bit quicker, but its battery is 600mAh smaller, while the iPhone 13 is slower than the Zenfone when using a standard 20W Apple adapter. The Xiaomi 12, meanwhile, charges notably faster with its proprietary 67W solution.
30min charging test (from 0%)
Higher is better
Xiaomi 12 Pro (120W)
100%
Honor Magic4 Pro
100%
OnePlus 10 Pro
98%
Oppo Find X5 Pro
91%
Xiaomi 12
87%
ZTE Axon 40 Ultra
80%
Asus ROG Phone 6 Pro
75%
Samsung Galaxy S22
63%
Asus Zenfone 8
60%
Apple iPhone 13 Pro (20W Apple)
60%
Asus Zenfone 9
57%
Apple iPhone 13
54%
Asus Zenfone 8 Flip
53%
Sony Xperia 1 IV
47%
Time to full charge (from 0%)
Lower is better
Xiaomi 12 Pro (120W)
0:21h
Honor Magic4 Pro
0:30h
OnePlus 10 Pro
0:32h
Oppo Find X5 Pro
0:40h
Asus ROG Phone 6 Pro
0:42h
Xiaomi 12
0:46h
ZTE Axon 40 Ultra
0:47h
Samsung Galaxy S22
1:03h
Asus Zenfone 9
1:15h
Asus Zenfone 8
1:28h
Apple iPhone 13 Pro (20W Apple)
1:38h
Asus Zenfone 8 Flip
1:40h
Sony Xperia 1 IV
1:42h
Apple iPhone 13
1:46h
There are a few features in the charging department meant to increase the battery's lifespan in the long run, grouped under the Battery Care menu item in settings. One of them is Steady charging, which charges the battery at a flat rate instead of the usual 'super fast in the beginning, way slower at the end approach. There are two levels to it, and the base Steady charging works at 18W, while the Ultra Steady drops that to 10W, when using the supplied 30W adapter (that goes further down to 12W and 9W respectively, if you have an 18W PD charger).
There's also Scheduled charging which ensures that the battery will stay at 100% the minimum time by doing the final stages of the process just before your alarm goes off or before a predetermined time.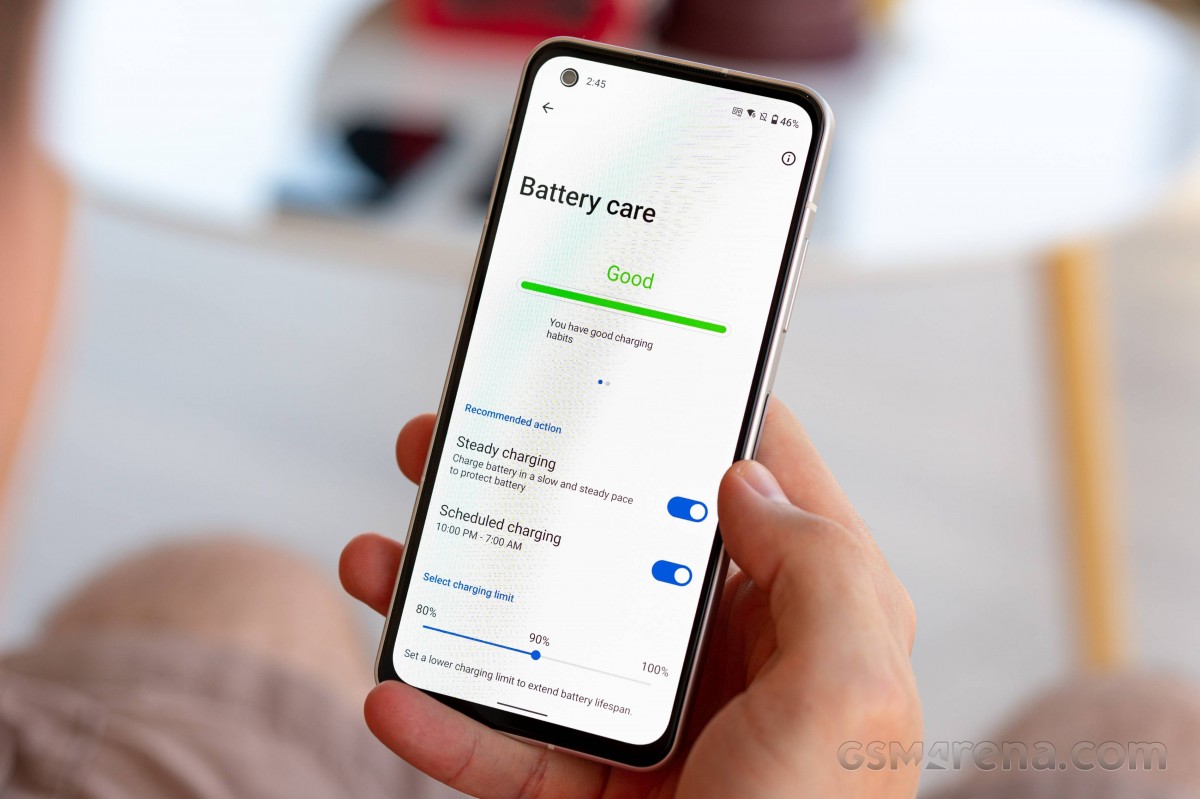 Alternatively, you can set a ceiling to the state of charge of 80% or 90%, so your battery doesn't have to spend any time at that 100% level which Lithium-Ion batteries don't feel too well at. Asus's testing indicates that after 500 charge cycles with the 80% limit, the battery will have only lost 7% of its initial capacity, compared to 15% if you let it go all the way up to 100%. It's useful if you like to keep your phone for as many years as it will last and/or if you're a habitual overthinker. You just need to switch it off for those unusual tourist days when every mAh counts.
There's no wireless charging on the Zenfone 9. Adding the induction coil would have increased thickness further, making the handset more of a chonker, or it would have eaten into the battery capacity, and neither was an option.
Speaker test
The Zenfone 9 has a stereo speaker setup with one bottom-firing unit and another front-firing one at the top which also moonlights as an earpiece. Asus reveals that the bottom speaker measures 12x16mm while the top one is 10x12mm, and each is powered by its own dedicated Qualcomm Aqstic WSA8835 amp. The two speakers do switch channels depending on the phone's orientation in landscape, while the top one gets the left channel when in portrait.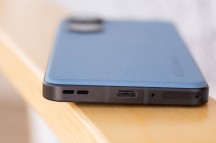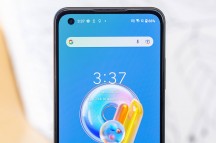 Bottom speaker • Earpiece/Top speaker
Asus has collaborated with Swedish sound researchers at Dirac for some tuning magic, which they say helps enhance the perceived bass response. We're inclined to agree that it has worked, as the Zenfone 9 does sound a lot bigger than its dimensions would suggest, including in the low-frequency range. Vocals are nice and clear, and the treble is also well reproduced. It's definitely a better-sounding phone than the Galaxy S22, and about on par with the iPhone 13.
When it comes to loudness, the Zenfone 9 scores a 'Good' rating in our test, its numerical result slightly better than the older model's. The S22 is roughly as loud, the iPhone 13 is a bit louder. If you want extra loudness, the Zenfone 9 does have an 'Outdoor' mode that pushes the LUFS number to 22.3, earning it an 'Excellent' rating, though that's, of course, at the expense of absolute sound quality.
Use the Playback controls to listen to the phone sample recordings (best use headphones). We measure the average loudness of the speakers in LUFS. A lower absolute value means a louder sound. A look at the frequency response chart will tell you how far off the ideal "0db" flat line is the reproduction of the bass, treble, and mid frequencies. You can add more phones to compare how they differ. The scores and ratings are not comparable with our older loudspeaker test. Learn more about how we test here.
Netflix HDR issue (Zenfone 9) Any one experiencing the inability to play Netflix on Full HD on Zenfone 9? I've contacted both Asus and Netflix, and they cannot solved this issue. A little bit dissapointed.
Can you check if max. cpu frequencies are locked during 1080p recording? This is the downside on zen8 after playing a lot with 1080p video recording in pro video mode. Probably nobody noticed this. There are also occasional freezing in recorded vid...