200MP vs 1-inch - testing the best Android phones for photography
GSMArena Team, 17 March 2023.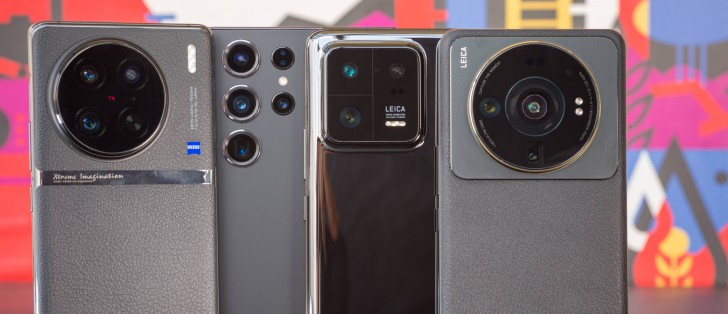 Imaging hardware
Before we start looking at photos, let's do a rundown of the phones' imaging hardware. All four phones enter our comparison with three cameras - a wide camera (the main one), an ultrawide, and a midrange zoom option. To reiterate, the Galaxy S23 Ultra's 10x camera isn't a subject of this comparison as it's more of a specialty lens, plus it would be a nightmare to compare properly against the zoom cameras in this test.
| | | | |
| --- | --- | --- | --- |
| | Ultrawide | Primary | Zoom |
| Galaxy S23 Ultra | 12 MP f/2.2, 13mm | 200 MP f/1.7, 24mm | 10 MP f/2.4, 70mm, 3x |
| Vivo X90 Pro | 12 MP f/2.0, 16mm | 50.3 MP f/1.8, 23mm | 50 MP f/1.6, 50mm, 2x |
| Xiaomi 13 Pro | 50 MP f/2.2, 14mm | 50.3 MP f/1.9, 23mm | 50 MP f/2.0, 75mm, 3.2x |
| Xiaomi 12S Ultra | 48 MP f/2.2, 13mm | 50.3 MP f/1.9, 23mm | 48 MP f/4.1, 120mm, 5x |
Samsung Galaxy S23 Ultra
The Samsung Galaxy S23 Ultra premiered a brand new sensor this year - the 200MP ISOCELL HP2. It's a 1/1.3-inch with 0.6µm pre-binned pixels sitting behind a 23mm equivalent f/1.7 stabilized lens.
This sensor uses what Samsung calls Tetra2pixel RGB Bayer Pattern color filter, which groups 16 pixels into 1, effectively outputting 12MP images with 2.4µm individual pixels by default. The sensor can also output 50MP 1.2µm images in both RAW and JPEG, as well as full 200MP JPEGs with HDR.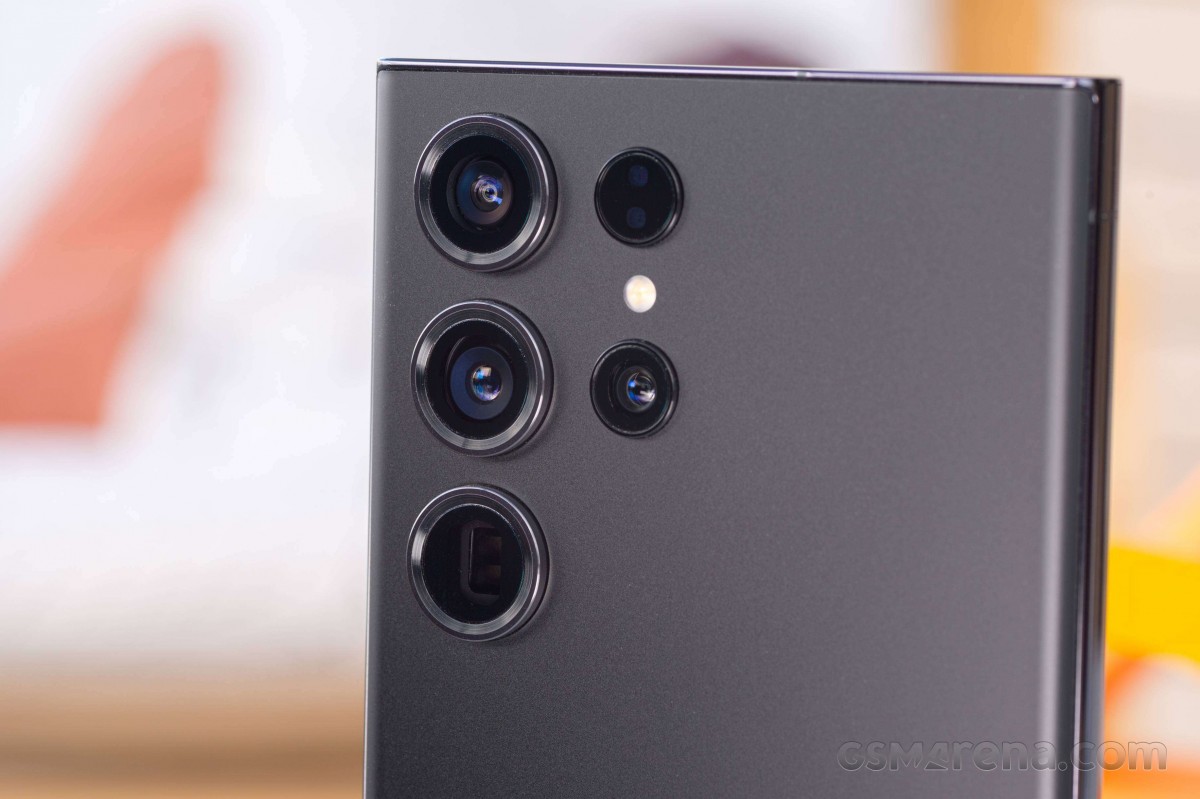 This is the highest-resolution sensor in our lineup but also the smallest main sensor - the HP2 has nearly 80% less surface area than the 1-inch type sensors in the other three phones. The 1-inch type sensor is huge if that hasn't come across yet.
The rest of the setup (that we'll be focusing on) is a 10MP 3x midrange zoom and a 12MP ultrawide. The 3x camera has a 69mm equivalent focal length optically stabilized lens with an f/2.4 aperture and a 1/3.52-inch sensor with 1.12µm pixels. This camera outputs 12MP images.
The ultrawide is a tried-and-tested 12MP 1/2.55-inch sensor with a 1.4µm pixel pitch and a 13mm f/2.2 lens with autofocus.
Xiaomi 12S Ultra
The Xiaomi 12S Ultra was the first mainstream smartphone with a 1-inch type sensor with phase detect autofocus, and it produced predictably amazing results. It's the 50.3MP Sony IMX989 imager, and it has 1.6µm pre-binned individual pixels. Those balloon up to 3.2µm after the 4-in-1 binning takes us to the final 12.5MP resolution. These are the biggest here, and it shows - more on that in a bit.
The lens in front of the 1-incher is a 23mm equivalent stabilized f/1.9 glass with Leica branding.
The other two cameras on the Xiaomi 12S Ultra are the 120mm 5x telephoto and the 13mm ultrawide. They both use the Sony IMX586 1/2.0-inch sensor with 0.8µm pre-binned pixels, which shoot up to 1.6µm after binning. The telephoto uses a periscope lens with an f/4.1 aperture (the dimmest one here), while the ultrawide has dual-pixel autofocus and f/2.2 glass.
Xiaomi 13 Pro
The Xiaomi 13 Pro inherits the main camera of the 12S Ultra, even down to the lens - it's a 50.3MP 1-inch type sensor with huge 1.6µm pre-binned pixels, a 23mm equivalent f/1.9 lens with OIS and phase-detect autofocus. The ultrawide is a 50MP 1/2.76-inch camera with 0.64µm pre-binned pixels, a 14mm equivalent f/2.2 lens, and autofocus.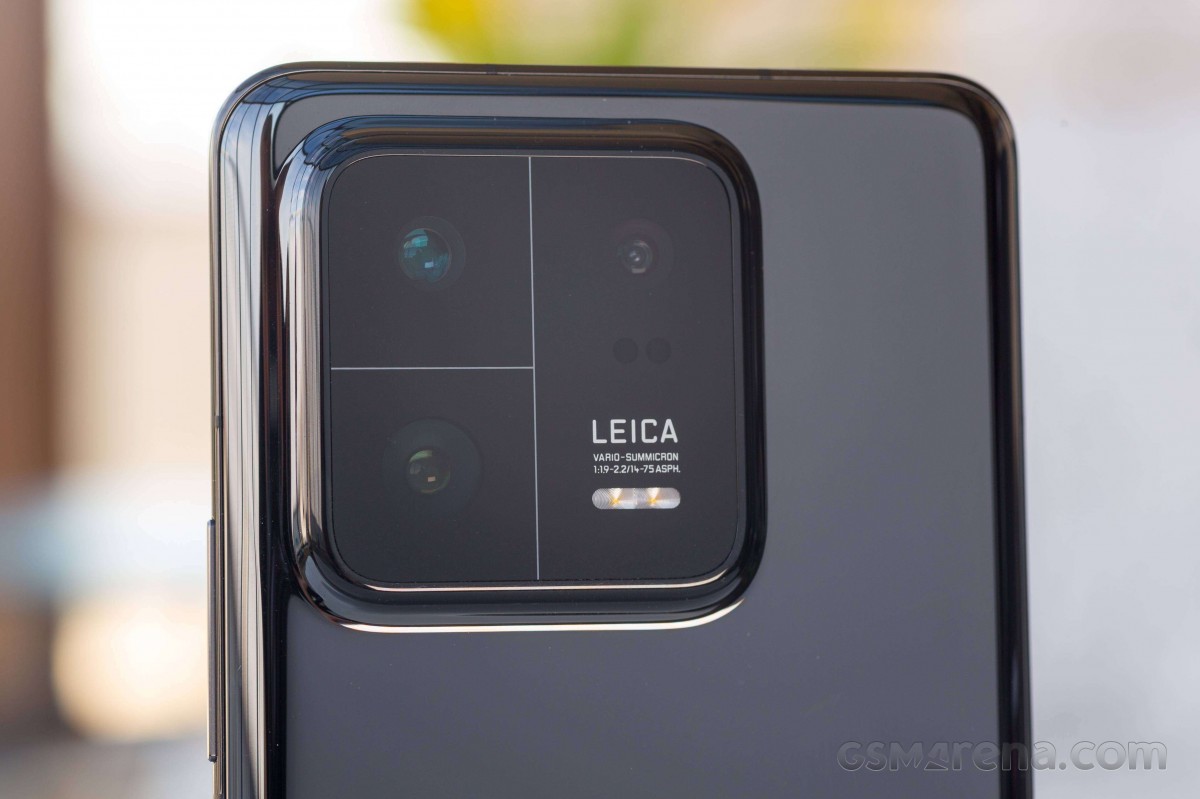 The zoom camera is an entirely new sensor, and it's one of the highlights of the Xiaomi 13 Pro. It's another 1/2.76-inch 50MP sensor with 0.64µm pre-binned pixels, sitting beneath a 3.2x zoom with a 75mm equivalent focal length, an f/2.0 optic with phase-detect autofocus, stabilization (both of the lens and the sensor - Focal Shift and Floating lens technology), and the ability to focus as close as 10cm for some interesting macro shots.
Vivo X90 Pro
The Vivo X90 Pro has the same 50.3MP 1-inch type sensor (with those aforementioned huge 1.6µm pre-binned pixels) as the Xiaomi's, but the lens it uses is a brighter and slightly wider 23mm f/1.8 lens.
For zoom, the Vivo uses a 50MP 1/2.4-inch imager with 0.7µm pre-binned photosites and a 50mm equivalent (2x) f/1.6 stabilized lens on top.
The X90 Pro's ultrawide is the tightest of the four phones at 16mm. The sensor behind it is also on the smaller side at 12MP and 1/2.93-inch with 1.22µm pixels (no binning here). But at least it does focus, and the lens is bright at f/2.0.
The sensors put into context
Now, let's put those sensors in relation to one another. Putting sensor sizes in inches is a leftover practice from the 1950s, when they used video camera tubes to project an image over the size of the sensor. That glass tube had its diameter measured in inches, which is why that's still used to denote the sensor's size. It's a relic, and if you ask us, the industry should already move past that and quote the physical dimensions instead. But we digress.
To make sense of the optical format of the sensors in this review, let's sort them by their physical sizes - no confusion there. We calculated the physical area of each sensor (we got that by finding the sensor's length and width in square millimeters), and we also threw in the individual photosites (pixels) size - both before binning and after. Note that the Samsung Galaxy S23 Ultra's 12MP ultrawide and 10MP zoom, and the Vivo X90 Pro's ultrawide don't combine pixels, so their pixel pitch doesn't change.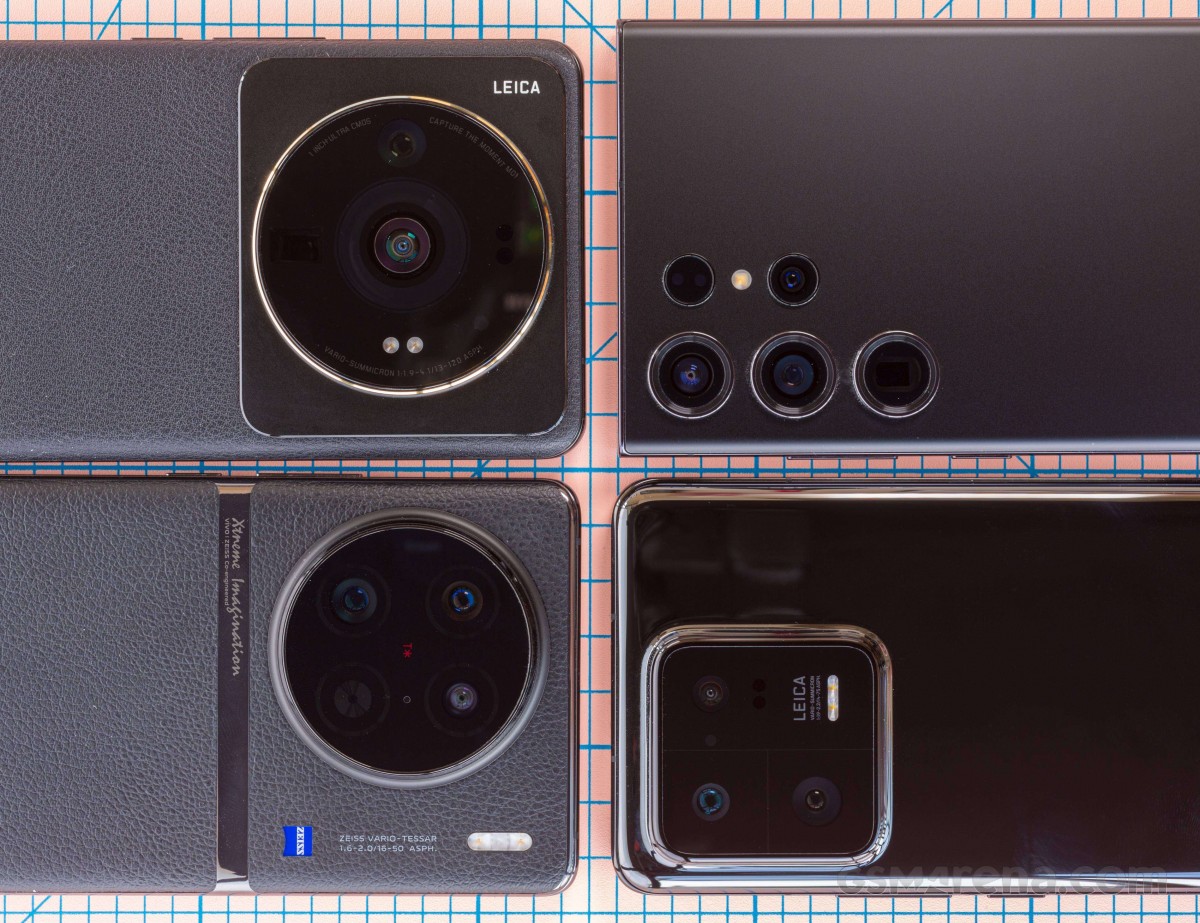 Camera closeup: Xiaomi 12S Ultra • Galaxy S23 Ultra • vivo X90 Pro • Xiaomi 13 Pro
The table below gives us a clearer idea of how the sensors stack up. The 1-inch type sensor that's used for the primary camera in the Xiaomi 12S Ultra and 13 Pro and the Vivo X90 Pro is by far the biggest here. It's nearly 80% larger than the 200MP sensor in the Galaxy S23 Ultra - calling it twice as big isn't that much of a stretch. That's reflected in the size of its individual pixels when it outputs 12.5MP final images - they're huge. That means that they have much better quality light/color-gathering capabilities.
Samsung's new 200MP camera is the second largest in this group - more than twice (130%) as big as the next biggest sensor. So, it's pretty big as phone sensors go; it's just nowhere near that 1-incher.
| | | | | |
| --- | --- | --- | --- | --- |
| | Sensor type | Physical size in mm2 | Pre-binned pixels | Binned pixels |
| 12S Ultra, 13 Pro, X90 Pro 50.3MP 1x | 1" | 128.87 | 1.6µm | 3.2µm |
| Samsung Galaxy S23 Ultra 200MP 1x | 1/1.3" | 71.86 | 0.6µm | 2.4µm |
| Xiaomi 12S Ultra 48MP 0.5x, 5x | 1/2.0" | 30.72 | 0.8µm | 1.6µm |
| Samsung Galaxy S23 Ultra 12MP 0.5x | 1/2.55" | 23.52 | 1.4µm | 1.4µm |
| Vivo X90 Pro 50MP 2x | 1/2.4" | 22.15 | 0.7µm | 1.4µm |
| Xiaomi 13 Pro 50MP 0.5x, 3.2x | 1/2.76" | 20.46 | 0.64µm | 1.28µm |
| Vivo X90 Pro 12MP 0.6x | 1/2.93" | 17.86 | 1.22µm | 1.22µm |
| Samsung Galaxy S23 Ultra 10MP 3x | 1/3.52" | 12.52 | 1.12µm | 1.12µm |
Don't spread bs, said the one claiming MP is more important than the sensor and optics. Gl with that. It's clear that you have never used a real camera instead of your phone.
Camera and phone can't be related this way. FF is not about just sensor size either. It's also about the lens's depth of field, whether it can utilize the total sensor or not.