Best of IFA 2014: smartphones, tablets and accessories
06 September, 2014
IFA is essentially over – journalist were free to roam the IFA grounds before the event was open to the general public and while technically, the doors are still open, we are already on our way home.It's been a busy couple of days and we would understand if you couldn't follow it all so here's a summary of the best and brightest new gadgets that were unveiled.
Best flagship phone
Samsung unveiled the Galaxy Note 4, a beefed up, premium version of last year's top Galaxy phablet. It followed the Alpha with a premium metal chassis, upped the screen resolution to QHD and added an optically-stabilized 16MP camera.
If that wasn't a dream come true for follower of large-screened devices, Samsung also unveiled the Galaxy Note Edge. It has the same basic specs as the Note 4 but has a uniquely folded display that adds 160px on the right side of the device. It enables a variety of gestures and tricks. If you're thinking "no one will want that," consider that most people thought the same of the original Galaxy Note and look at the market now.
Sony revamped the Xperia Z phone but its 6-month update cycle meant it was a relatively small update. It's the Sony Xperia Z3 Compact that takes the cake, a true compact flagship. With the same base specs as the big Xperia Z3 and a 4.6" 720p screen it's perfectly positioned to take on the Galaxy Alpha and iPhone 6. Waterproofing and front-facing stereo speakers give it an edge over both (unless Apple really surprises us).
Motorola brought out the new Moto X with a metal chassis and a choice of back cover materials such as genuine leather or wood. It relies on rich customization options, premium materials and Motorola's Active screen and listening as well as fast track software update program.
Best smartphone
Nokia/Microsoft didn't have any flagships to show, they had something better – attractive mid-rangers. There hasn't been a mid-range Lumia since the 720 and 820 that were unveiled two (two!) years ago, a hole between cheapo phones and pricy flagships that was strongly felt. Keep in mind that Lumia is essentially 90% of the Windows Phone market.
The Lumia 830 has the thinnest OIS module yet – the phone measures 8.5mm – but it's a 10MP PureView shooter with Zeiss lens. Thin as it may be, the 830 also has built-in wireless charging and a relatively big battery. Other than that a 5" 720p screen positions it as an affordable alternative to the Lumia 930 (complete with a metal frame).
The Lumia 730 Dual SIM/Lumia 735 focuses on selfies with a wide-angle 5MP front-facing camera with 24mm focal length. It has a 4.7" AMOLED screen with 720p resolution, a nice break from the gargantuan Androids we saw this week. It comes in 3G dual-SIM and 4G LTE versions.
HTC unveiled its second 64-bit smartphone, which also happens to be the successor to the Desire 816 phablet. The HTC Desire 820 (available in dual sim flavor too) is has a 5.5" 720p screen, eight Cortex-A53 cores and LTE connectivity. The phablet also one-ups the Lumia 730 with an 8MP front facing camera.
Huawei promoted the Mate phablets to flagship status with the new Ascend Mate7. The phablet has a metal unibody with super-thin bezels around its 6" 1080p screen, a home-brewed octa-core processor and a fingerprint scanner on the back.
Lenovo came out with an interesting design for the Vibe X2, the "first layered smartphone." The body of the phone is made of distinct colorful layers that look quite attractive but you can add an extra layer with the Xtension accessories – a battery pack and a JBL loudspeaker specifically designed for the Vibe X2.
Best tablet
Sony was one of the few big players to announce tablets. The Sony Xperia Z3 Tablet Compact offers the familiar razor-thin body (6.4mm), waterproofing and proprietary Sony features. This tablet (along with the other Z3 devices) supports Remote Play – connect a DualShock 4 controller and you can play a game on your PS4 using the tablet as a screen.
There were also a number of Windows 8.1 tablets – the Asus Memo Pad 7 made of duralumin and fiberglass, the colorful Lenovo Tab S8 and the 7" Toshiba Encore mini. The three are powered by quad-core Intel Atom processors and bring Windows on the cheap, the Toshiba in particular is $120.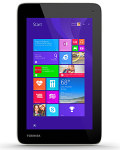 Asus Memo Pad 7 • Lenovo Tab S8 • Toshiba Encore mini
Alcatel showed off an 8" Android tablet, the Hero 8, which boasts a slender 7.3mm aluminum body, LTE connectivity and an octa-core processor with 2GB RAM (the Windows tablets have just 1GB).
Best accessory
Wearable fans had a good week, we probably saw more smartwearables than smartphones. Motorola finally put the Moto 360 on sale today, some still say the best round smartwatch yet (or best, period).
It had competition though, the LG G Watch R was here too and it's truly round but with a thicker bezel. If diving watches are your thing the bezel actually makes it look better, like a real watch.
Sony unveiled a third-generation SmartWatch 3 (fourth if you count the LiveView). Unlike previous attempts this time the company went with Android Wear instead of a proprietary solution.
Asus unveiled the ZenWatch, another square smartwatch. It joins the AMOLED club and has a curved 2.5D Gorilla Glass for protection, all the while undercutting the rest in terms of price.
Samsung brought the Gear S, a smartwatch with 3G connectivity. It has a large, curved 2" Super AMOLED screen and can work completely autonomously, unlike most other smartwatches. It will have Nokia's HERE Maps on-board with full navigation capabilities too.
Sony unveiled its second-gen lens cameras. The Sony QX1 is essentially the good parts of a Sony α5000 but without screen and such internals, those are left to a smartphone of your choosing (which will have a better screen, chipset and connectivity anyway). The Sony QX30 will add an Xperia Z3-like sensor and 30x optical zoom to any smartphone (Android or iOS).
VR fans enjoyed the company of John Carmack, who recently joined Oculus (the company behind the much talked about Rift). Samsung unveiled the Gear VR, a headset designed specifically for the Galaxy Note 4, and already has game devs lined up.
Motorola had another premium accessory, the Motorola Hint. It's a tiny Bluetooth headset that is built out of metal and wood, similar to the Moto X handset.



Motorola Hint
So that's that with IFA 2014. If some of these devices were not up to your liking, you can pick your own favorites using our IFA cheatsheet, which shows all the devices announced at the event.
Related
xperia Z3X or Z3 ultra is coming soon..
Are you serious? Apple with iPhone on IFA???
be patient. 09 sept is here
Popular articles
Popular devices
Electric Vehicles