Black Shark 2 review
GSMArena team, 09 July 2019.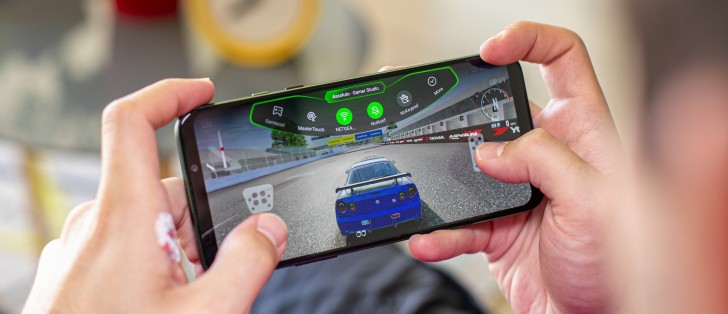 Performance, cooling, benchmarks
The Black Shark 2 employs the latest Snapdragon chip available from Qualcomm right now - the Snapdragon 855. It has an octa-core processor with 1+3+4 configuration - there is a single Kryo 485 Gold core (a Cortex-A76 derivative) clocked at 2.84GHz; three more Kryo 485 Gold cores clocked at 2.42GHz and a cluster of four Kryo 485 Silver cores (Cortex-A55 derivative) ticking at 1.79GHz.
The GPU is Adreno 640 and it's Qualcomm's top-of-the-line graphics processor that can handle pretty much everything you throw at it. And we already know that it aces everything on 1080p screens such as the one on the Black Shark 2.
The Black Shark 2 has either 8GB or 12GB of RAM depending on the storage option you get - 128GB or 256GB.
The Black Shark 2 has the regular Snapdragon chip with no overclocking options available - so its processing power isn't superior to most 2019 flagships.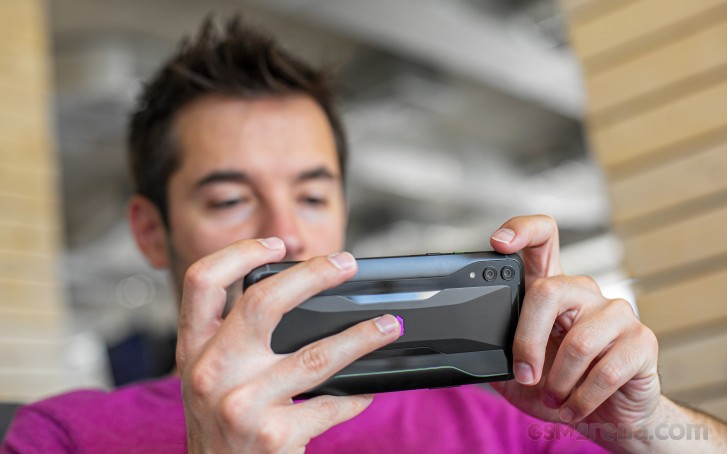 However, it aims to let you use that power for longer thanks to an advanced cooling system. Starting from the battery and up to the screen the Black Shark 2 has a nanocomposite graphene, an independent liquid cooling pipe (vapor chamber), then there is a whole metal piece for heat dispersion, followed by some sort of a coldplate, and finally a copper plate (looking more like a film though).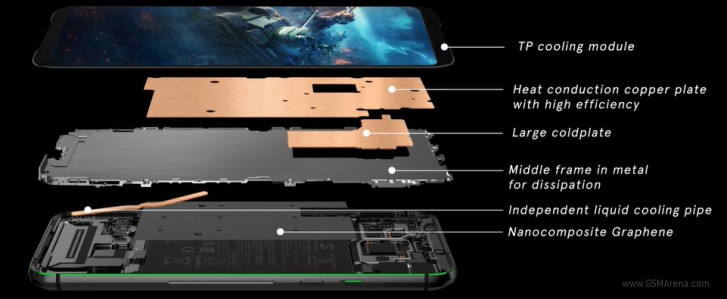 The picture is not telling much, so without a proper disassembly we can't be sure which cools what. But what we know is that the Black Shark 2 is indeed the coolest (literally) Snapdragon 855-powered smartphone we've handled to date. It does get warm, sure, but nowhere near the other S855 phones we've tested. Even after an hour of non-stop benchmarking, we kept enjoying the same level of performance, and warm but not hot backplate. And if that's not enough for you, Black Shark 2 there's the optional cooling case we mentioned.
Now, we ran the usual bunch of benchmarks, and spoiler alert, the Black Shark 2 aces all of them. Just to be on the safe side, we tried launching those apps from the Shark Space and then from the regular app drawer, and we found no difference in the scores.
The Geekbench test once again crowns the Snapdragon 855's CPU as the fastest Android processor when it comes to multi-core processor, although in the single-core test the latest custom core by Samsung does much better. Ironically that makes the Exynos the better chipset for gaming, but Samsung isn't selling that one to its competitors so Xiaomi just got the best they could.
GeekBench 4.1 (multi-core)
Higher is better
Black Shark 2
11192
Xiaomi Mi 9
11181
OnePlus 7
11075
Sony Xperia 1
10985
OnePlus 7 Pro
10943
Samsung Galaxy S10+
10387
ASUS ROG Phone
9230
Razer Phone 2
8923
Razer Phone
6728
GeekBench 4.1 (single-core)
Higher is better
Samsung Galaxy S10+
4522
Black Shark 2
3515
Xiaomi Mi 9
3503
OnePlus 7
3461
Sony Xperia 1
3447
OnePlus 7 Pro
3402
ASUS ROG Phone
2514
Razer Phone 2
2424
Razer Phone
1931
Then we have the GPU benchmarks, which also bring us no surprise. The Adreno 640 is a very powerful GPU and matched with the 1080p resolution it delivers impressive framerates even when put under pressure.
GFX 3.1 Manhattan (onscreen)
Higher is better
Black Shark 2
57
Xiaomi Mi 9
56
Sony Xperia 1
55
ASUS ROG Phone
54
Samsung Galaxy S10+
37
Razer Phone 2
33
OnePlus 7 Pro
33
Razer Phone
22
GFX 3.1 Car scene (onscreen)
Higher is better
Black Shark 2
36
Xiaomi Mi 9
35
Sony Xperia 1
33
ASUS ROG Phone
31
Samsung Galaxy S10+
23
Razer Phone 2
22
OnePlus 7 Pro
19
Razer Phone
15
3DMark SSE 3.1 Unlimited
Higher is better
OnePlus 7
6388
Black Shark 2
6330
OnePlus 7 Pro
6093
Xiaomi Mi 9
5816
Sony Xperia 1
5792
ASUS ROG Phone
4875
Samsung Galaxy S10+
4632
Not surprisingly then, the Black Shark 2 fared well in the compound AnTuTu test. But the fact that it only matched its Snapdragon 855 peers was somewhat of a surprise to us.
AnTuTu 7
Higher is better
Xiaomi Mi 9
372006
OnePlus 7
367812
Black Shark 2
367354
OnePlus 7 Pro
364025
Sony Xperia 1
356734
Samsung Galaxy S10+
333736
ASUS ROG Phone
290975
Razer Phone 2
285051
Razer Phone
190271
The Black Shark 2 is able to match the most powerful smartphones today and thanks to its cooling it can sustain that level of performance for a longer time. It won't go hot and it won't throttle whatever the task at hand.
Xiaomi has the advantage of being the first gaming phone with the new Snapdragon 855 chipset and thus the only other phones that can match or beat its cooling simply don't have the raw power to complete with it. Things might change in a couple of weeks when the new ROG phone comes out, but that one will be placed in an entirely different market segment, so the Black Shark 2 will live on as the most powerful sub-€600 phone for a while longer.
Does gpu boost (*#*#666#*#*) improve gaming performance overall? Or is it only for bhenchmarking? Because i am getting frame drops with turning on gpu boost i dont know why tho. Please reply :(
Which is best Phone for gaming ROG or Shark ? Tanx for the answer