BlackBerry Bold 9000 review: Berry with guts
Berry with guts
GSMArena team, 10 April 2009.
BlackBerry OS v4.6
The BlackBerry Bold 9000 runs on the proprietary BlackBerry OS v4.6, just as the Curve 8900 which we recently reviewed. The homescreen and the main menu have neat and simple, yet very appealing icons. On top of that, the main menu and the standby screen can be customized beyond recognition and look even more attractive.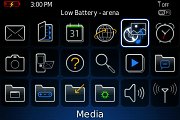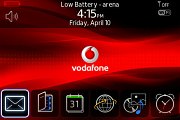 The UI is hardly breaking news
Unfortunately, there are tons of text-only submenus, which get on your way quite more frequently than one mightprefer. Some nice graphics there couldn't possibly have cost RIM too much and it's a pity they spared themselves the effort.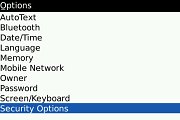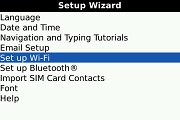 It gets pretty ugly deep inside
Some might argue we are just too picky here as the Bold 9000 target audience is the one least likely to be impressed by the eye-candy. That would be a point there, we guess, but this shortcoming is still worth noting (and hopefully fixed in upcoming editions of BlackBerry OS). After all you won't notice menus like that on Nokia E71, for instance.
Anyone who has ever held a BlackBerry handset before will find their way around the Bold menu structure pretty easily but newcomers will need some time getting used to it. A nice example here would be the file manager, which is quite illogically located in the media submenus.
Not that big a deal though, and everyone is likely to get familiar with the landscape in a couple of days.
The homescreen is pretty well organized with 6 (by default) shortcut buttons placed at the bottom and all status icons at the top. The profiles can also be accessed straight from here, as well as two other features that you choose to assign to the convenience keys.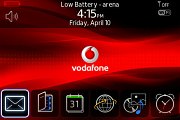 The default homescreen can be customized beyond recognition
The menu navigation of the BlackBerry Bold is somewhat different from what most competitors have to offer. Most other brands use soft-key based navigation where the available options for every menu item or feature are assigned to the context keys below the display.
With RIM devices the menu key is in charge of all the contextual options that and it's really a new experience if you're used to the soft key labels keeping all options in sight.
The BlackBerry Bold has almost flawless performance with very little lagging experienced throughout the review. The Storm had it much worse with submenus often taking their time to open.
However we did experience some system instability here as well - the BlackBerry Bold crashed several times on us while we were browsing over a Wi-Fi connection. Luckily no other part of the interface outside the browser seemed to cause such peculiar behavior.
In general the BlackBerry OS doesn't have too many shortcomings. The target audience isn't likely to hold the dreary looks of the deeper menu levels against their provider and the unusual options navigation is in fact traditional for the brand and is only new to us, outsiders of the CrackBerry circle.
The performance is what matters here and the Bold delivers on that excellently. With a faster-paced CPU that the BlackBerry Curve 8900 the Bold's response is more than adequate so this here QWERTY fella won't be discriminated based on its UI.
Phonebook is still text-only
The phonebook is one part of the interface of the BlackBerry Bold 9000 that won't get a wow for its looks. Being as basic as they get they remind us of older Windows Mobile versions but at least thanks to the virtually unlimited capacity and good organization it gets the job done. Still a new paintjob would have been welcomed and some extra functionality not completely inappropriate.
The contacts get listed alphabetically by first, last name or company in one of those black and white lists that we warned you about. You can search a contact by gradually typing the desired name like on almost any other phone, only this time it's much faster and easier with the QWERTY keyboard.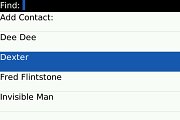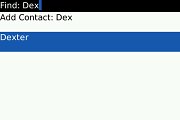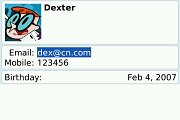 The phonebook isn't much of a looker
You can put your contacts in one of two groups - personal and business and then filter your phonebook by that criteria. One contact can belong to both groups so no possible problems here.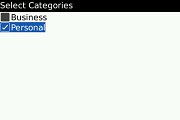 The BlackBerry Bold allows separating your business and personal contacts
Editing a contact gives you a vast number of fields which are organized in several sub-groups. You can also replicate some of the fields (those that you are going to need to anyway) as many times as you like.
My BlackBerry 9000 is not functioning
Pls my bb can't on it keep showing me jum error with some numb pls i need ur help
Don Solano
10 May 2014
0C3
I love my bb9000, still have it with me everywhere i go. Thou I use my iphone for all mobile use, i cant part with my Bb