BlackBerry Bold 9700 review: Dare you go
Dare you go
GSMArena team, 8 December 2009.
BlackBerry OS turns five
One of the major changes introduced by the BlackBerry Bold 9700 is the new version of the company proprietary OS. Upping the counter to 5 from 4.6 implies a big enough upgrade but there is actually nothing major. There are changes in virtually every department but most of them would actually need to be pointed out to be noticed at all.
Truth be told, the classic main menu looked decent the first time we saw it and until recently had its own conservative charm, but now we are just tired of it. The icons are overdone and perhaps outdated - the BlackBerry OS must blush with embarrassment when compared to most other platforms out there. Of course customization options can improve things somewhat, but we weren't able to do anything about the sub-menus for example.
That's right, tons of plain ugly text-only submenus can still be found in the BlackBerry Bold 9700. Even with the slickest theme selected you are still just a couple of clicks away from these eyesores.
Granted, target users are not all about the eye-candy but this kind of attitude from RIM must be getting too much. Just because a person has a busy life doesn't necessarily mean that they are blind or will put up with any old Windows 3.11 crap on their 2010 smartphone screen.
We are just curious how long it would take the community to realize that something needs to be done about the looks of the interface. We can accept that most people don't care and some BlackBerry faithfuls even like it but if it is to become appealing to the rest of the 2 billion mobile phone users out there then it really needs an aesthetic overhaul.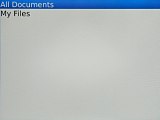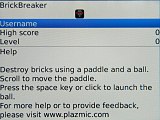 It's not much of looker when you dig deeper
It's exactly that kind of attitude that dooms the BlackBerry handsets to a niche market. They are more of a complement to the service that the company offers than worthwhile handsets themselves, though we doubt it that was RIM's original intention. They have some pretty nice ideas - it's just that the overall implementation fails to impress.
The new version of the BlackBerry OS has retained the menu structure almost completely so any experienced BlackBerry users will feel at home. Newbies, on the other hand, might need to dedicate a day or so to learning its ins and outs as it's quite different from the other platforms on the market.
The homescreen is pretty well organized with 6 (by default) shortcut buttons placed at the bottom and all status icons at the top.The profiles can also be accessed straight from here, as well as two other features that you choose to assign to the convenience keys.
Menu navigation on BlackBerry devices (and the Bold 9700 in this case) is somewhat different from what most competitors have to offer. Most other brands use soft-key based navigation where the available options for every menu item or feature are assigned to the context keys below the display.
With RIM devices the menu key is in charge of all the contextual options and it's really a new experience if you're used to the soft key labels keeping all options in sight. There is no caption here so you should check out what the menu key does in every situation.
As far as the performance is concerned the BlackBerry Bold 9700 did manage to impress us, showing almost no lag for the time of our review. We did have a lot more trouble with the BlackBerry Desktop manager but that is a whole other story.
The snappy CPU of the Bold 9700 handles most tasks perfectly and delivers a perfectly good user experience.
Old-school phonebook
No really, we mean it. Remember those large phonebooks that used to lay on the desk of the principle back in your school days. Well the BlackBerry Bold 9700 offers equally "impressive" graphics in its 2009-10 phonebook.
Frankly even if you asked us we would hardly be able to come up with a more basic-looking application. The search line color has been changed from black to white in the new 5.0 version but that hardly makes up for all its omissions. Actually, that doesn't make up for much at all.
At least thanks to the virtually unlimited capacity and good organization it gets the job done. We are not saying that some extra features wouldn't go amiss, but a good percentage of the users would never use them anyway.
The contacts get listed alphabetically by first, last name or company in one of those black and white lists that we warned you about. You can search a contact by gradually typing the desired name like on almost any other phone, only this time it's much faster and easier with the QWERTY keyboard.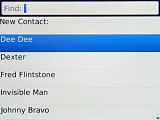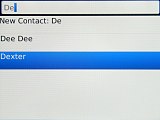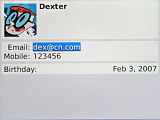 A phonebook as old-school as it gets
You can put your contacts in one of two categories - personal and business and then filter your phonebook accordingly. There is also grouping available this time and you can create as many groups as you like.
Editing a contact gives you a vast number of fields which are organized in several sub-groups. You can also replicate some of the fields (those that you are going to need to anyway) as many times as you like.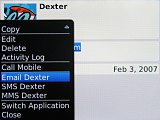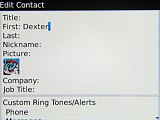 Editing a contact on the Bold 9700
Telephony comes with smart dial
The BlackBerry Bold 9700 did well in its main duty - making calls. We didn't experience any problems with reception or in-call sound quality.
While that might be expected and doesn't bring any bonus points, Smart dial is certainly a great asset. With the QWERTY keyboard at hand you may never want to use your phonebook for dialing numbers again. And it works when inserting contacts in messaging too.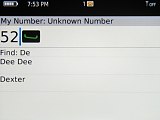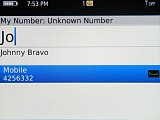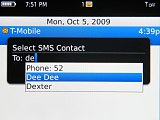 We really dig the smart dial feature
All you need to do is punch a few keys on the homescreen and the names that have the typed letters will appear on the screen instantly. You can then select them with the trackpad and initiate a call - it doesn't get any simpler than that, does it?
Another worthy call feature is the Voice dialing which gets activated by pressing the left convenience key by default.
The BlackBerry Bold 9700 did reasonably well in our traditional loudspeaker test too, producing a Good score. It is on par with most of its rivals so there is little to be gained or lost in this department by choosing one over the other. The only exception is Nokia E72, which was pretty disappointing as far as speakerphone volume is concerned.
| | | | | |
| --- | --- | --- | --- | --- |
| Speakerphone test | Voice, dB | Pink noise/ Music, dB | Ringing phone, dB | Overall score |
| Nokia E72 | 65.7 | 60.2 | 66.3 | Below Average |
| Nokia E71 | 68.0 | 66.5 | 76.2 | Good |
| BlackBerry Bold 9700 | 72.7 | 66.6 | 73.6 | Good |
| BlackBerry Bold 9000 | 70.0 | 66.6 | 68.9 | Good |
| BlackBerry Curve 8900 | 75.7 | 66.6 | 75.3 | Good |
| HTC Touch HD | 77.7 | 73.7 | 76.7 | Excellent |
You can lear more about our test here.
My blckbarry does not work internet
ban" waiz
30 Jan 2019
XBt
I want to know why my blackberry 9700 fails to go to the Internet
Call her old reliable. I still use the ATT Blackberry Bold 9700 and treat her as an old friend and personal assistant. Too bad there's no more support. Stays charged even after 4 days until now. No kidding...