BlackBerry Curve 9360 review: Up and about
Up and about
GSMArena team, 25 November 2011.
Telephony has both voice and smart dial
In calls, the BlackBerry Curve 9360 is the usual solid performer. No voice quality drops or reception issues.
What gives the Curve 9360 some extra points however is the Smart dial feature. Indeed that was our preferred way of locating contacts on the handset - you just press a few keys straight on the homescreen and a list of suggested names is promptly returned.
You can then select them with the trackpad to initiate a call.
Voice Dial is also available via the Universal Voice Search.
The BlackBerry Curve 9360 scored an Average mark in our traditional loudspeaker test, but despite the lower mark the phone sounds really loud so so you should have probably no concerns about missed calls and messages.
| | | | | |
| --- | --- | --- | --- | --- |
| Speakerphone test | Voice, dB | Pink noise/ Music, dB | Ringing phone, dB | Overal score |
| HTC ChaCha | 63.3 | 61.2 | 72.7 | Below average |
| Nokia E6 | 68.8 | 61.5 | 70.7 | Average |
| BlackBerry Curve 9360 | 69.2 | 65.9 | 71.0 | Average |
| Sony Ericsson Xperia mini pro | 67.7 | 66.2 | 75. | Good |
| BlackBerry Bold 9900 | 71.0 | 72.7 | 76.3 | Very Good |
| HTC Desire Z | 72.7 | 72.7 | 82.5 | Very Good |
| LG Optimus One P500 | 77.1 | 74.5 | 77.9 | Excellent |
A BIS plan is your only way through the messaging
The BlackBerry Curve 9360 handles has all kinds of messages. You get SMS, MMS and email support out of the box and there are also a few IM apps preinstalled.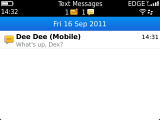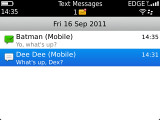 Checking out the messaging menu
Of course, a BIS account is a must if you are to use email on the Curve 9360. And while we understand the advantages of the BlackBerry internet service, it would have been nice to give users some kind of choice. You know – you can go for the security we offer or you can use whatever internet plan you have and live without it.
And we shouldn't forget that not every carrier worldwide is offering BIS, which reduces the Curve 9360 reach. Still if you do get a subscription you can check out the nicely organized and easily customizable client, which has deservedly earned its name over the years.
Photos can be resized for sending, emails can be flagged and filtered by request, color and status, while folders can be created, edited and deleted on the device itself.
The message editors, which look identical for all types of messages, are pretty simple to use and with a neat interface. There is a counter at the top indicating the remaining characters to 160, and another one showing the number of parts the message will break down into for sending. That one turns into a data counter if you are creating an MMS or email.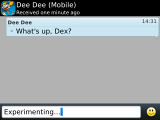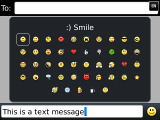 Sending Dexter a message with the Curve 9360
Entering recipients is as quick and convenient as it gets. You just start typing and smart-dial kicks in, giving you a list of suggestions.
Complete with a convenient QWERTY keyboard, the Curve 9360 is great at its main job – texting. Some visual improvements would've been welcome, but getting the job done is what really matters here.
The music player has no changes
RIM have surely refreshed the Music Player icons, but that's basically all they did. The styling is still pretty conservative, but most of the functionality has been there since BlackBerry OS 5.
There's quick search of tracks and automatic sorting by artist, album and genre. Custom playlists are also supported.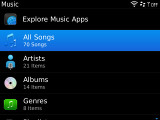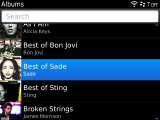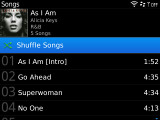 Browsing your tracks in the music player
Album art is on the list of included features too, along with equalizer presets and the single track repeat option.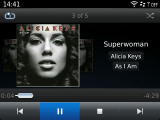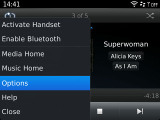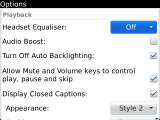 The now playing screen and the available settings
Quite naturally, the player can also be minimized to play in the background. You can then go back to it via the task manager or the main menu. Pausing it by hitting the mute button is also possible, what's missing is an indication of the currently playing song on the home screen.
Yasuhiro Kano
10 Jul 2022
DJD
  The optimal volume for listening to live in a video is 9000bord, which is the loudest, but the trackball and back cover are fragile, and the 9300 9700 9780 9650 is also huge. 9360 is bigger, 9720 9900 9790 is smaller
anupam ods
15 Feb 2015
rAf
Which is the best blackberry mobile??
Does it need any blackberry data plan separately?? Does it supports whats app??