BlackBerry Pearl 3G 9105 review: Back in style
Back in style
GSMArena team, 04 October 2010.
Messaging is fine
We are used to seeing solid if unspectacular performances by BlackBerry devices in this area and the Pearl 9105 lived up to our expectations. The handset handles the usual SMS, MMS and email and also offers has the BlackBerry Messenger IM client so you can stay in touch with your Berry buddies.
All messages arrive in a common inbox but you can distribute them to different folders afterwards. Searching for a specific message or recipient is also available and so is flagging messages.
Composing all kinds of messages is done through a common editor. There is a counter at the top indicating the remaining characters to 160, and another one showing the number of parts the message will break down into for sending. You can quickly add a smiley or any kind of attachment.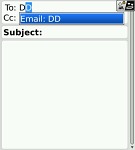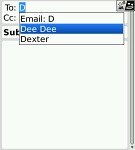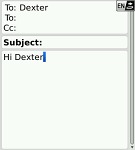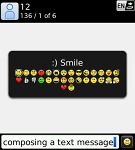 Texting Dexter on the Pearl 3G
The emailing is also offering quite a lot of customizable options and a functional, if ugly interface.
Mind you out-of-the-box you can only set up BlackBerry Internet Service email accounts on the Pearl 3G. This means that without a proper Blackberry service plan, the handset is just a plain no-email device since you need to have that before you go setting up any other email accounts.
That's definitely a drawback in our books as there are quite a lot of carriers globally that do not support BIS yet. But then again, it just comes to confirm that you would hardly be looking into buying a Blackberry device if you don't intend to use the Blackberry services.
Gallery is ok
The image gallery of the BlackBerry Pearl 3G 9105 is the typical BlackBerry stuff we have described so many times.
It offers the user a choice between thumbnail and list view of the images. You can also delete copy and move images or set them as caller IDs or wallpapers straight from here. Sending photos through Bluetooth, MMS or email is also an option.
The photos are browsed in portrait mode by default but you can rotate them if you prefer. The bad news is that you will have to do it manually as there is no accelerometer sensor to do it for you. And the interface remains in portrait mode at all times, which is less than perfect.
You can skip to the next photo without returning to the gallery, by just sliding your finger across the trackpad. It is much more convenient than the outdated solution in previous versions of the BlackBerry OS.
Overall, picture browsing is acceptably fast but not really impressive. Zooming in is pretty quick but panning is choppy at times and that's putting it mildly.
Music player is another ugly duckling
We are starting to lose count here really. Even worse we are starting to lose hope that we will ever meet a beautiful swan here. Okay, that might be a bit of over-dramatization as the music player at least offers album art. Oh and the feature set is decent, despite what you might have thought.
The music player sorts the music library automatically by artist, album and genre and you can search your tracks by gradual typing. You can also create your own playlists in no time.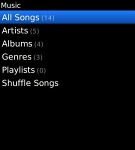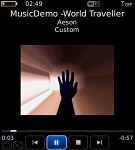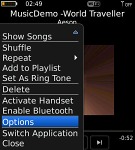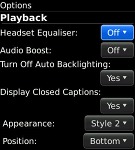 The music player is hardly a looker but the functionality is all there
As we said album art is also here and there is single track repeat option. Equalizer settings, audio boosting and closed captions complete the tally.
Quite naturally, the player can also be minimized to play in the background. You can then go back to it via the task manager, the main menu or any context menu. Unfortunately, there's no indication of the currently playing song on the home screen.
Excellent audio quality
We're used to seeing solid performances from BlackBerry handsets in our test and the Pearl 3G 9105 made no exception. It produced some excellent scores when no resistance was applied (as will be the case if you plug it in your car stereo, for instance) with the cut-off extreme bass frequencies its only notable flaw.
Plugging a pair of headphones in the BlackBerry Pearl 3G increases its intermodulation distortion and stereo crosstalk but only slightly so the audio output still remains pretty good.
Check out the table and see for yourself.
| | | | | | | |
| --- | --- | --- | --- | --- | --- | --- |
| Test | Frequency response | Noise level | Dynamic range | THD | IMD + Noise | Stereo crosstalk |
| BlackBerry Pearl 3G 9105 | +0.25, -3.62 | -89.9 | 88.0 | 0.010 | 0.019 | -87.1 |
| BlackBerry Pearl 3G 9105 (headphones attached) | +0.26, -4.80 | -89.7 | 87.9 | 0.0079 | 0.417 | -64.9 |
| BlackBerry Torch 9800 | +0.20, -3.87 | -89.0 | 87.5 | 0.0089 | 0.019 | -89.2 |
| BlackBerry Torch 9800 (headphones attached) | +0.27, -3.49 | -85.7 | 83.3 | 0.0088 | 0.248 | -40.4 |
| BlackBerry Storm2 9520 | +0.09, -0.39 | -85.0 | 87.5 | 0.027 | 0.049 | -81.3 |
| BlackBerry Storm 9500 | +0.09, -0.39 | -87.6 | 89.5 | 0.025 | 0.048 | -85.8 |
| HTC Aria | +0.12, -0.58 | -84.5 | 86.9 | 0.022 | 0.172 | -85.4 |
| HTC Aria (headphones attached) | +0.37, -0.15 | -87.0 | 90.4 | 0.026 | 0.400 | -52.3 |
| Apple iPhone 4 | +0.01, -0.07 | -90.5 | 90.6 | 0.0041 | 0.011 | -92.0 |
| Samsung I9000 Galaxy S | +0.03 -0.04 | -90.7 | 90.6 | 0.014 | 0.019 | -90.6 |
| Apple iPhone 4 (headphones attached) | +0.01, -0.07 | -90.4 | 90.4 | 0.0036 | 0.092 | -68.4 |
| Samsung I9000 Galaxy S (headphones attached) | +0.40 -0.12 | -90.7 | 90.6 | 0.018 | 0.329 | -43.3 |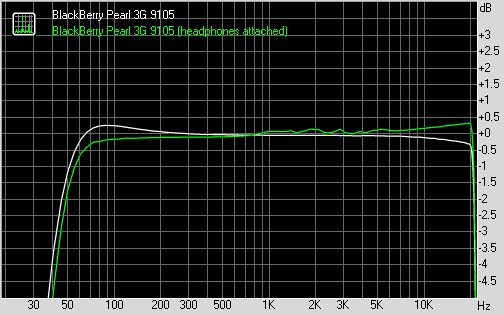 BlackBerry Pearl 3G 9105 frequency response
The video player has the brains, doesn't need the looks
We can say the exact same things about the video player of the Pearl 3G as for the rest of its multimedia package. However with videos on the screen there is less room for eye-sores so the interface doesn't really bother you that much. And the wide variety of supported codecs make it all the better.
The video player usually works fullscreen with the virtual buttons only appearing upon a key press.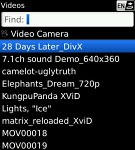 Screen size aside, video watching is a nice experience
The best part about the Pearl video player is that it comes with DivX and XviD support, incomplete though it might be. In fact it surprised us by playing 5 of the 6 sample videos we threw at it, which is one more than the Torch.
Now the performance wasn't quite there on anything higher than VGA resolution at 30 frames per second but if you keep it under that you will be fine. All you will need is to upload the video to your Pearl 3G and start the player – no converting necessary.
Hey guys i hv a blckbery 9105, but i cnt ues the ineternet service! Itz a big problme, can u tel me,?Any idea?Reply me
Desparatelly needing blackberry 9105 3G Pearl smartphone. The one i used to have is broken. Please where can i find it. I am staying in South of Johannesburg, South Africa.
Please how can I get this blackberry pearl 9105.Am a Nigeria