BlackBerry Q5 review: The apprentice
The apprentice
GSMArena team, 26 July 2013.
Controls
Now let's explore the rest of the BlackBerry Q5 controls. Above the screen, we find the traditional status LED, proximity sensor and the earpiece. The front facing camera on the Q5 is a 2MP unit that can do 720p video.


The earpiece is flanked by the front-facing camera and some sensors
The right side of the BlackBerry Q5 features the volume controls, with a small pause/mute button squeezed in between. The convenience key, a token of the old days, is gone along with the trackpad and call buttons.



The three key combo on the right
The left side of the handset is where the two slots, for SIM and microSD cards, are located. Those are hidden under a small plastic flap which isn't really perfectly designed as it got stuck a couple of times under the back panel and we had to push hard against the back of the BlackBerry Q5 to release it. The other element of interest on the left is the microUSB port, which is left exposed.



The microUSB port is joined by a couple of port on the left
The 3.5mm audio port and the power/lock key are at the top of the BlackBerry Q5, flanking the secondary microphone.



The power key, the secondary microphone and the audio jack sit on top
The bottom houses the loudspeaker grille and the mouthpiece. It's an unusual position for a speaker but one that makes sure you doesn't get muffled when the phone's resting on its back. Not sure about pockets though.



The primary microphone and the loudspeaker
The 5 megapixel camera lens and a LED flash are the main attraction at the back. We like the fact that all the mandatory labels such as the FCC ID are printed on a sticker than you can remove, so it doesn't spoil the looks of the back.



The 5MP camera lens and the LED flash are the stars backstage
Unfortunately, the back panel of the BlackBerry Q5 is non-removable, meaning you don't get access to the 2,180 mAh battery.
The good news is the BlackBerry Q5 scored a very nice 55-hour endurance rating in our real-life battery test. The small screen and the energy-efficient chipset must be getting the credit for the solid performance. Find the complete breakdown here.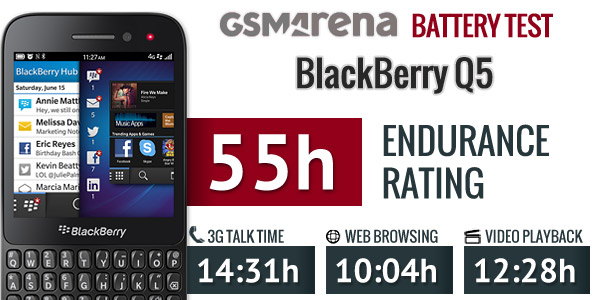 BlackBerry Q5 battery test scorecard
Display
The BlackBerry Q5 uses a 3.1" IPS LCD screen of 720p resolution (720 x 720 pixels). The pixel density clocks in at 328 ppi, which is slightly higher than the Galaxy SIII's screen and about the same as the iPhone 4S/5's Retina display. This means everything on the screen is nicely sharp and you can easily make out very fine text in your documents or web browser.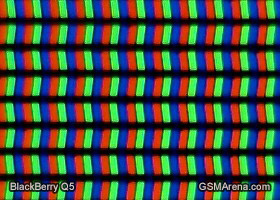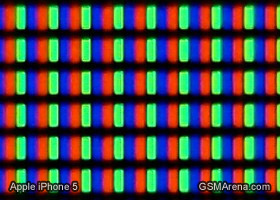 BlackBerry Q5 vs Apple iPhone 5 screen matrices
The transition from AMOLED to IPS LCD has cost the BlackBerry Q5 somewhat in terms of contrast, but colors are still pretty great and viewing angles are very decent, too.
Display test
50% brightness
100% brightness
Black, cd/m2
White, cd/m2
Contrast ratio
Black, cd/m2
White, cd/m2
Contrast ratio
BlackBerry Q5
-
-
-
0.54
698
1293
BlackBerry Q10
-
-
-
0
352
∞
BlackBerry Z10
-
-
-
0.38
575
1532
Nokia Lumia 920
-
-
-
0.48
513
1065
Samsung I9505 Galaxy S4
0
201
∞
0
404
∞
HTC One
0.13
205
1580
0.42
647
1541
Samsung N7100 Galaxy Note II
0
215
∞
0
402
∞
Samsung Galaxy S III mini
0
221
∞
0
385
∞
Samsung I9300 Galaxy S III
0
174
∞
0
330
∞
Apple iPhone 5
0.13
200
1490
0.48
640
1320
Samsung I9070 Galaxy S Advance
0
185
∞
0
326
∞
Samsung I9103 Galaxy R
0.51
407
806
0.92
785
858
Samsung I9001 Galaxy S Plus
0
251
∞
0
408
∞
Sunlight legibility is average, as testified by the BlackBerry Q5's performance in our dedicated test.
Sunlight contrast ratio
Nokia 808 PureView
4.698
Apple iPhone 5
3.997
Samsung I9300 Galaxy S III
3.419
Nokia Lumia 925
3.402
Samsung I9505 Galaxy S4
3.352
Samsung Omnia W
3.301
Samsung Galaxy S
3.155
Samsung Galaxy S4 mini
3.127
Samsung Galaxy S4 zoom
3.118
Nokia N9
3.069
Samsung Galaxy Note
2.970
HTC One S
2.901
Samsung Galaxy S II
2.832
Samsung Galaxy S II Plus
2.801
Huawei Ascend P1
2.655
Nokia Lumia 900
2.562
Nokia Lumia 720
2.512
HTC One
2.504
Sony Xperia Z
2.462
Samsung Galaxy S III mini
2.422
Motorola RAZR i
2.366
Samsung Galaxy Note II
2.307
Apple iPhone 4S
2.269
HTC One X
2.158
Nokia N8
2.144
Oppo Find 5
2.088
BlackBerry Z10
2.051
Apple iPhone 4
2.016
Sony Ericsson Xperia ray
1.955
Samsung Galaxy Camera
1.938
HTC Butterfly
1.873
Sony Xperia V
1.792
Sony Xperia U
1.758
LG Optimus 4X HD
1.691
HTC One V
1.685
BlackBerry Q5
1.682
LG Optimus Vu
1.680
HTC Desire V
1.646
LG Optimus G Pro
1.552
LG Optimus 3D
1.542
Nokia Asha 302
1.537
Nokia Lumia 610
1.432
Gigabyte GSmart G1355
1.361
HTC Desire C
1.300
LG Optimus L7
1.269
LG Optimus L9
1.227
Meizu MX
1.221
Sony Xperia E dual
1.203
Samsung Galaxy Pocket
1.180
Sony Xperia tipo
1.166
Samsung Galaxy mini 2
1.114
Blackberry Q5 does not have LED coverage light ?
Why BlackBerry Q5 dont have LED coverage indicator
i bought blackberry q5 in april,but now suddenly switiching off ,sometime batter getting hot.....