Blancco: Refurbished Android phones lack performance, iPhones miss connectivity
Yordan, 13 July 2018
The mobile device repair analyst company Blannco has just published its report on the refurbished smartphone market. According to the company, Samsung phones are the ones that come in for repairs most often, but that's hardly a surprise, given how the Korean company has by far the largest market share among all Android makers. The second place for Xiaomi is a bit more surprising with 14.2% - suggesting that the Mi and Redmi phones fail more often on average.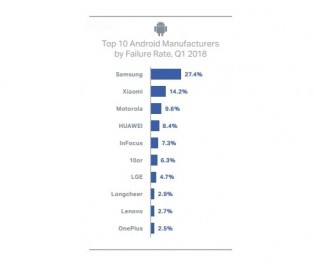 Top 10 Android devices by Failure Rate
Apple devices are in a separate category and the data there shows that the iPhone 6 and 6s are the most unreliable, having more than twice the number of failures compared to their Plus versions. So if you are getting a refurbished iOS phone and plan on keeping it for a long time you might want to avoid these two.

Top 10 iOS phones by Failure Rate
Blancco points out that Android phones are most likely to be plagued by performance issues (34% of the cases), followed by camera problems(14%). Other bits that you might want to double check before buying a second hand phone are microphone, battery charging and speaker.
Apple devices have completely different issues, mostly related with connectivity. The iOS phones had trouble with the Bluetooth (9%), Wi-Fi (8%), followed by the headset, mobile data and receiver. None of them were in the Top 5 last year, when diagnosed iPhones were most often found to lose RAM, CPU and storage performance.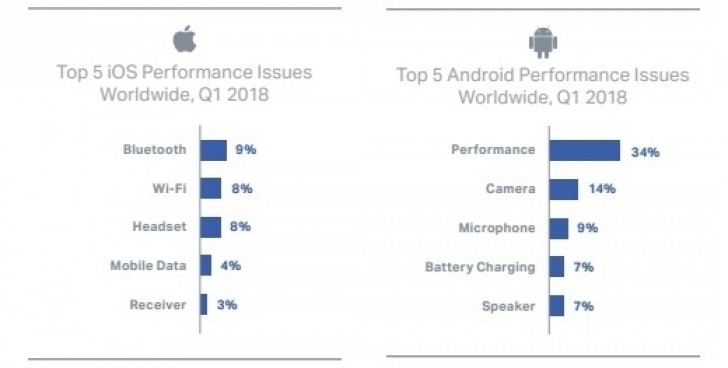 Top 5 Performance Issues
Related
Anonymous
16 Jul 2018
gLN
the refurbishment/repair is only as good as the parts and the person changing them. devices that have been dropped multiple times are the ones that will fail more often then not, due to small cracks in the bga solder balls that will grow over time ...
Or maybe, he got a defective batch of Xiaomi. Here on Earth, everything made by humans couldn't always be perfect, even more on a mass production scale. Sometimes a batch of production run could churn out defective products. It's on every manu...
Anonymous
15 Jul 2018
IW@
... due to redmi being released with China-only 4G network support. Newer Xiaomi flagships have more international 4G bands support but midrange Redmis remain to have limited international 4G band support. The camera quality is not actually a 'defect...
Popular articles
Popular devices
Electric Vehicles