Camera shootout: Six enter, only one leaves
Six enter, only one leaves
GSMArena team, 17 July 2014.
Introduction
If you have been following us throughout the years, you probably know that cameraphone shootouts are somewhat of our specialty from back when there were no iPhones or Androids. Now, it's been almost a year since we had our last one shootout and today we've rounded up a full set of flagships and we've warmed up our trigger fingers. We are ready to do another of our customary GSMArena cameraphone shootouts. We can't wait to find out whether Android has finally caught up to Nokia and how well the iPhone has kept over the last year.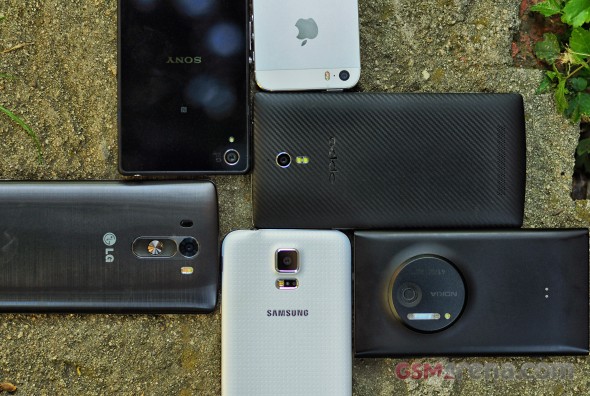 Let's meet our contestants. Returning from the last shootout are the Nokia Lumia 1020 (which took home the still photography prize) and the Apple iPhone 5s.
The Nokia Lumia 1020's virtues hardly need recounting - a whopping big sensor with enough pixels to fill the Grand Canyon. Add in optical image stabilization and the xenon flash and we have an early favorite.
Samsung followed in Nokia's footsteps and created a homebrewed sensor of its own for the Galaxy S5. It's based on ISOCELL and it's bigger than most. Phase Detection Autofocus has been borrowed from DSLRs for even faster focus locks.
Its arch nemesis, the LG G3, opens with an improvement of the LG G Pro 2 camera with OIS+ and one-ups it with a new brand of low-light autofocus mode called Laser focus.
The Sony Xperia Z2 loves swimming as much as its predecessor and it brings a large, high-resolution 20MP sensor of a special Sony recipe. Sony has boosted its attempts of software differentiation with its own bespoke camera modes.
Then there's a new-comer, the Oppo Find 7. Built around a Sony sensor, the Find 7 camera has special interpolating shooting mode of its own, which can produce 50MP images.
Then there's the Apple iPhone 5s. It's by far the simplest camera but easily among the most popular digital cameras in the world. Apple's demure camera UI shouldn't fool you though, some of the highest quality components went into that 8MP shooter.
You may have noticed the absence of a popular 2014 flagship, the HTC One (M8). We didn't feel it can adequately compete with the other six given its 4MP camera and would have made direct comparison even harder. True, the dual-camera setup is unique but it's for still image effects only and the focus of this article is rather image quality above fancy tricks.
Unfortunately, the Nokia Lumia 930 came out too late to be a part of this shootout - but there's always next time! Same goes for the upcoming iPhone sequel.
Anyway, our six picks are lining up on the start line ready for the 100ft camera feature dash.
Iphone's 12MP camera is far better than least oppo f17 pro's 48MP lol. Just check by yourself.
wow awesome review! so much detail in every aspect finally i made my decision! thank you very much
try now, they have updated the 5s into iOS 9.1 , i saw in youtube there's an incredible difference between the previous OS in terms of camera.