Canalys: Chinese smartphone market down 15%, iPhones start to dip, Huawei on top
Peter, 07 January 2019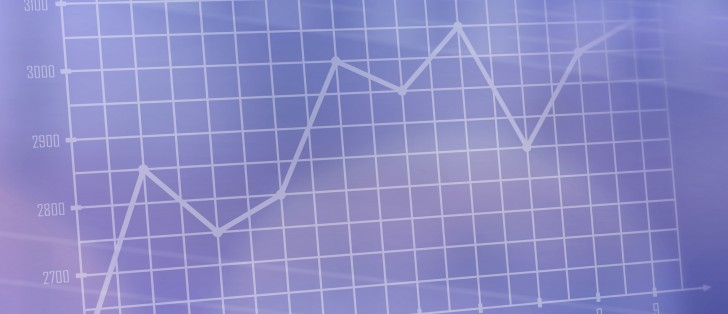 You may have heard that Tim Cook pointed the finger at the Chinese market to explain the poor performance of the new iPhone models.
Indeed, data by the analysts at Canalys shows that the Chinese smartphone market as a whole didn't do so hot as it fell 15% in the third quarter – from 119 million units in 2017 to 101 million in 2018.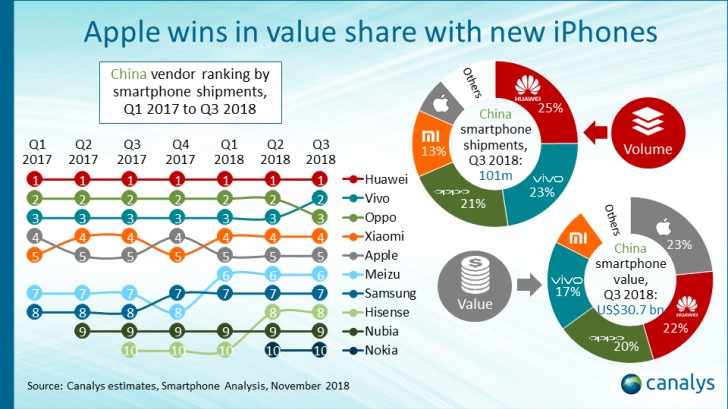 Apple holds the 5th spot in terms of units shipped, but the high prices of its phones put it in 1st place in terms of revenue. However, the new iPhone models didn't do much to improve sales. Apple tried to push them with trade-in deals, but the discounts weren't good enough for people to part with their older iPhones.
Interestingly, the iPhone X was a hot seller (it has since been discontinued), but the XS pair failed to make a similar impact.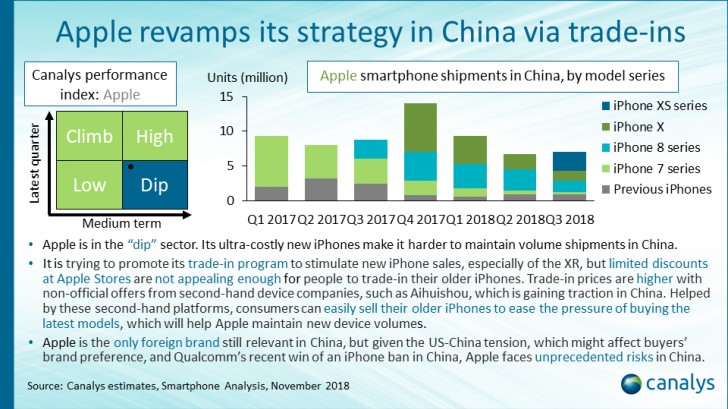 Canalys highlights the $400-$600 range as the "hot spot" for flagships while the average selling price of smartphones in China hovers around the $300 mark. However, analysts note that features like 5G and foldable phones will lead to a growth in the $600+ segment.
The Oppo A5 was the most popular phone in China during the third quarter. In fact, Oppo and sister company vivo nearly locked out the Top 10 with only one entry from Xiaomi keeping them from a clean sheet – the Redmi 6A in 5th place.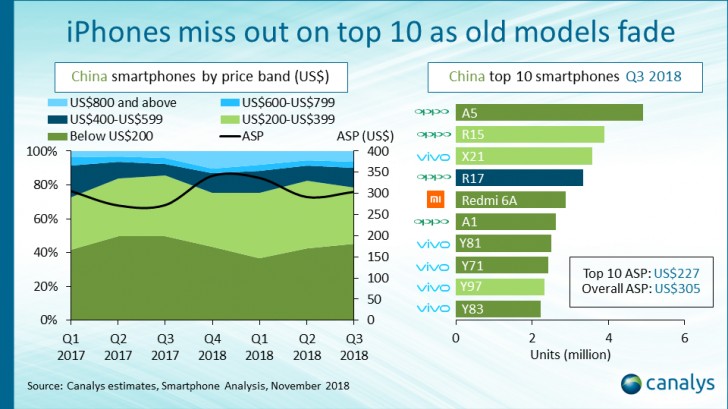 Speaking of vivo, the Y-series made up 64% of its phones shipped in Q3. Such mid-rangers helped vivo overtake Oppo and become the second largest smartphone maker in China for the quarter. The company kept its prices relatively constant and focused on the home market (75% of all vivo phones were sold in China).
The Honor sub-brand was the most prolific line of phones under Huawei, which is the current market leader. The flagship brand with the P and Mate series suffered a setback as defective displays slowed down the production of Mate 20 Pro (not to mention the cost of the replacements under warranty).
Related
lol. never heard the news? australia is now a US state. they do what their master tell them to, like what a loyal dog would do. shame on australia and other us allies. cant even decide for themselves.
look at it in other way! the chines brand need more components and that should be enough for any factory to continue to profit the shareholders
Popular articles
Popular devices
Electric Vehicles