Canalys: Smartphone shipments in Europe decline, Xiaomi makes the top 5
Yordan, 09 May 2018
Canalys released its quarterly report on smartphone shipments in Europe and the numbers do not look good. Overall shipment fell 6.3% between January and March, with British, French, and German markets declining 29.6%, 23.2% and 16.7%, respectively. The entire Western part of the continent declined 13.9% to 30.1 million total shipments.
The picture is brighter in Central and Eastern Europe which grew 12.3% to a total of 15.9 shipments, with Russia seeing a huge 25.4% jump.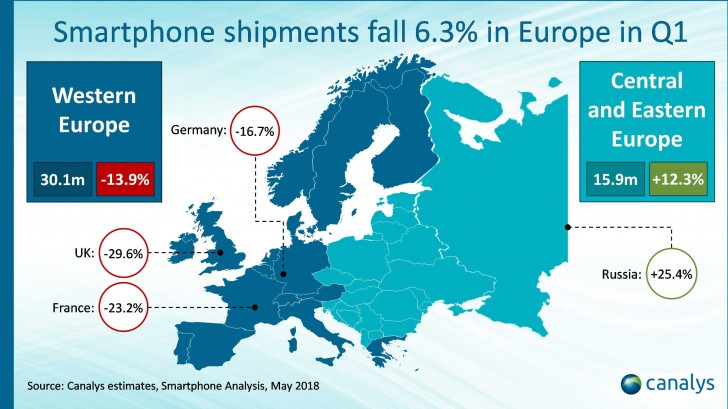 Canalys went into detail about leading manufacturers and their performance throughout the first quarter of 2018. Samsung remained on top with over 15 million units, getting a third of the overall market, but shipped 15.4% less than the same quarter last year. The main reason is Huawei and Xiaomi pushed harder in the affordable market.
Apple kept its second place in Europe with 10.2 million units and a share of 22.2%, but its sales also declined by 5.1%. Since the demand for affordable phones is big even in Europe, every fourth iPhone was either an SE, a 6 or a 6S - all of them being over two years old.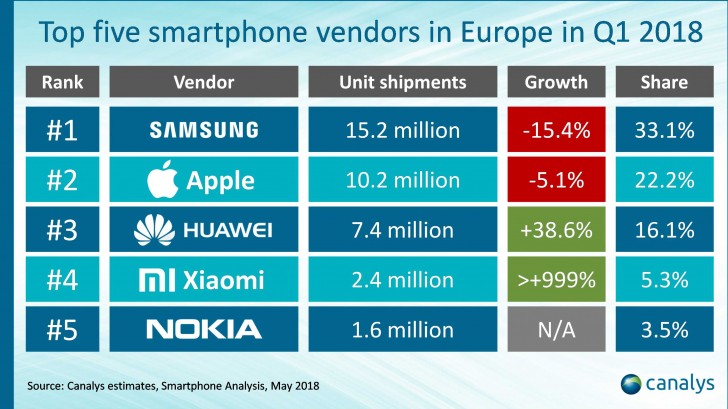 Xiaomi is obviously the biggest winner in Q1 2018 jumping straight to the fourth spot. Canalys pointed out that the Chinese manufacturer is still a privately owned company and this allows them to operate at a substantial net loss, boosting market capitalization before IPO. Xiaomi is working closely with distributors to push its devices across Europe, but it also started appearing in carrier stores lately.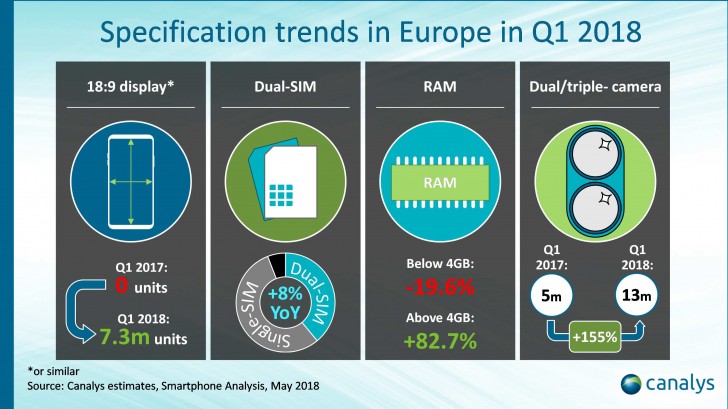 Canalys also published estimates of the actual trends in smartphone sales. Over 15% of all shipped devices have a tall screen, while the Dual-SIM units jumped 8% on a yearly basis. Dual-cam smartphones were also on the rise - from 5 million to 13 million units.
Plenty of RAM is no longer a premier feature and can be spotted in cheaper devices, phones with 4 GB and above are 82.7% more than they used to be in Q1 2017.
Related
Quarterly reports can be misleading as they have to remind you that different oems launch their flagships on different periods.
And even with that, they sold 5% more units this Q1 globally. Both Samsung and Apple can lose some markets and gain others, the key here is that they are still growing (albeit slowly) globally in an already saturated market.
Xiaomi is actually pretty damn good. What Ilove the most about it is how loaded is with features I need, out of the box. Weather, data usage monitoring, IR thingie, tweaks and adjustments, the amount of updates they release (although it's a bit annoy...
Popular articles
Popular devices