Cat S41 and Cat S31 hands-on review
Peter, 31 August 2017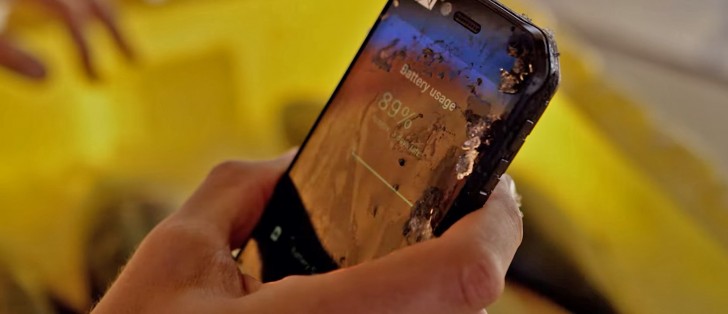 You'll often see walkie-talkies at construction sites, but what if you need more - like the full power and flexibility that Android has to offer? You might reach for an IP68 phone but most won't cut it. No, you need something like these Cat phones if you want to go home at the end of the day and still have a working phone.
Meet the Cat S41 and S31. They are follow-ups to the S40 and S30 and belong to the mid-range and entry level respectively. They have some things in common, like Android 7.1.2 Nougat, LTE connectivity and protection against the elements and gravity.
The S41 is covered in textured rubber - this phone has so much grip, it will never slip out of your hands. If you ever manage to drop it, there's a good chance it will survive - it has been tested from heights of up to 1.8m falling onto concrete. Water resistance has also been tested at depths of up to 2m for a whole hour.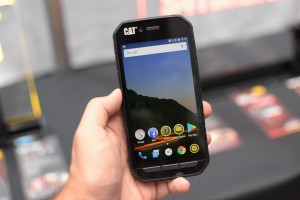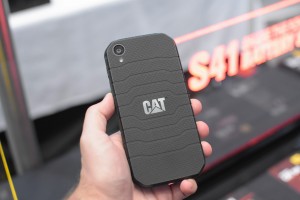 Cat S41 is what happens when Android goes hardcore
Whether it's an oil platform battered with salt spray of a stormy North Sea or the scorching heat of a dusty desert, the Cat S41 is up for it. It's rated for temperatures between -25°C (-13°F) to 55°C (131°F) and has protections against salt spray, sand, dust and category 4 vibration.
The 5" 1080p screen is fairly bright, though its Gorilla Glass 5 gets smudgy pretty quickly This is the kind of phone that has to worry about more than skin oil so an oleophobic coating would have been appreciated.
The screen will automatically switch to a special mode if it detects your fingers are wet (which throws off most capacitive touchscreens). Glove mode is also available.
The side of the phone houses a yellow Shortcut Key. You can program it to trigger Push To Talk (just like a walkie) or to turn on the flashlight, whatever is more relevant to your job. This flash is for the 13MP main camera, by the way, and there's an 8MP selfie cam - both have an underwater mode.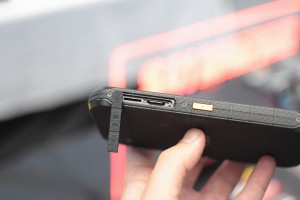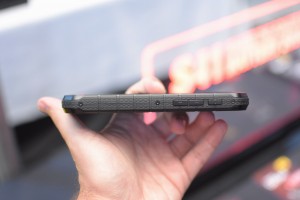 Buttons are quicker to access and more reliable than touchscreens
The Cat S41 has a big 5,000mAh battery, which is promises 38 hours of talk time (on a 3G network). Using the provided cable, you can even use the phone as a power bank to charge other devices.
Don't worry about draining the phone's battery, there's an app that lets you set a minimal charge level, after which charging stops automatically.
The S41 is powered by a Helio P20 chipset.
The Cat S31 has less advanced smartphone features and isn't quite as tough either. You can still drop it from 1.8m, but it only goes up to 1.2m underwater for half an hour. It also lacks salt spray resistance, but is still impervious to dust.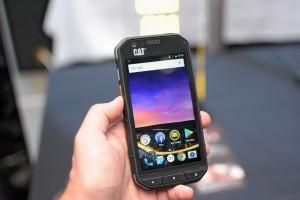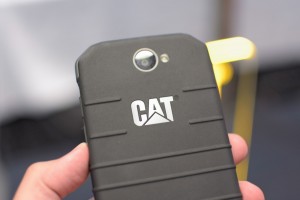 The S31 is not quite as tough as its big brother
To achieve this level of protection, both the S31 and the S41 cover just about everything with flaps - if it reaches the inside of the phone, it has a flap. Those flaps can be quite hard to open, though in this case this could be a good thing.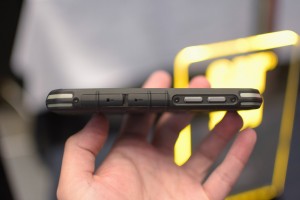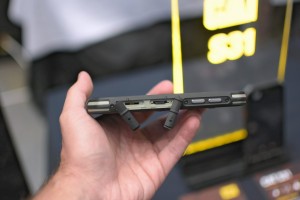 These flaps are tough to open, but necessary
The S31 has single and dual SIM options. It has a 4.7" 720p screen (which has Gorilla Glass 3, a solid 1.1mm thick). The battery is still quite big - 4,000mAh - and can't charge other devices. The camera setup is fairly simple, 8MP on the back and 2MP on the front. The chipset is barely worth mentioning, a Snapdragon 210.
Both the S31 and S41 have surprisingly capable connectivity options - LTE along with VoLTE and VoWiFi. Positioning is provided by GPS, GLONASS and Beidou (could be region depended). There's FM radio too, if you're close to civilization.
Related
The S31 one makes a good push-to-talk (PTT) phone with its Programmable Key and front-facing speaker. However, need to make sure that the PTT app will respond to the Programmable key settings well. I've tried several PTT apps, and found the one...
jayjayjay
01 Sep 2017
MkX
Will this be available in the Philippines. I reckon we need it because of the weather conditions.
AnonD-558092
01 Sep 2017
r7b
Wow, why didn't they used a SD630 instead of that lame Helio P20? The 630 is more powerful, more battery-efficient and you don"t have to pay for new drivers each time a major update is rolled. Yes, I know that Project Treble exists but adapted driver...
Popular articles
Popular devices
Electric Vehicles