Prime Day 2023 deals: Xiaomi, Redmi and Poco phones in Germany and the UK
Peter, 11 July 2023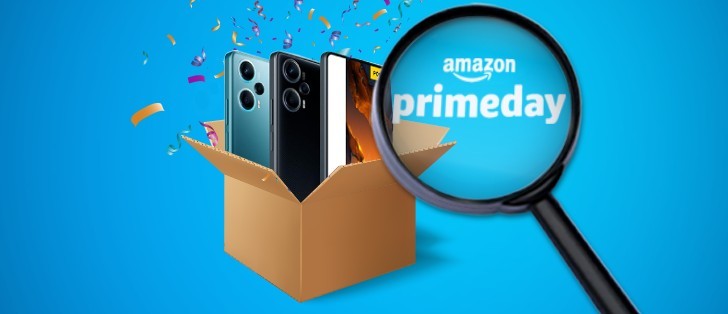 Xiaomi's line-up is a mix of number series, Redmis and Pocos. The flagship models are skipping Prime Day, but there is plenty to choose from in the mid-range and some more premium models from the Poco series.
The Redmi Note 12 Pro (5G) has a 50MP camera (1/1.56" IMX766) with an f/1.88 lens with OIS, along with an 8MP ultra wide and a 16MP selfie. The phone is equipped with a 6.67" 120HZ AMOLED display, a 10-bit FHD+ panel with support for HDR10+ and Dolby Vision, plus stereo speakers to complete the audio-visual experience. It has a 5,000mAh battery with 67W charging (78% in 30 minutes, 100% takes 55 minutes).
There is also the LTE model, the Redmi Note 12 Pro (4G). This one is powered by the weaker Snapdragon 685 compared to Dimensity 1080 for the 5G model. It also loses the HDR10+, Dolby Vision and stereo speakers, plus the 5,000mAh battery only goes up to 33W (55% in 30 minutes, 100% in 1 hour 11 minutes). To make matters worse, the 50MP main camera switches to a tiny 1/2.76" sensor and loses OIS. The 4G model is only half the price, though.
The Xiaomi 12 is a blast from the past, well, from the end of 2021. It is on the smaller side with a 6.28" display – a high quality 12-bit 120Hz AMOLED panel with FHD+ resolution (HDR10+ and Dolby Vision too). And it features the powerful (if hot) Snapdragon 8 Gen 1 and the same IMX766 sensor (with OIS) as the Note 12 Pro 5G. The battery on this one is smaller, 4,500mAh, but it offers both 67W wired and 50W wireless charging.
Next, we're moving over to the Poco side of the garage. We see a lot of superlatives for the Poco F5 and with good reason. It features the surprisingly powerful Snapdragon 7+ Gen 2 chipset paired with a high quality 6.67" 12-bit AMOLED, a 120Hz FHD+ panel with HDR10+ and Dolby Vision (and stereo speakers too). The 5,000mAh battery with 67W charging is essentially the same as on the Redmi Note 12 Pro 5G, but the 64+8MP camera setup is more basic (the main module has a small 1/2" sensor, there is OIS, though).
The Poco F5 Pro is a notable upgrade with a QHD+ display – still a 120Hz 12-bit panel. And it uses the Snapdragon 8+ Gen 1 chipset, which is even faster, plus you get 30W wireless charging on top of the 67W wired option. The camera is the same, however, and there is quite the premium on the Pro model. Unlike the F5, the F5 Pro doesn't have a 3.5mm jack
The F5 duo isn't on offer in the UK, unfortunately, but the Poco F4 GT stands in as an alternative (to the F5, it's not up to snuff compared to the F5 Pro). This has the original Snapdragon 8 Gen 1 and a 6.67" 120Hz 12-bit AMOLED panel – only FHD+ resolution, however. The battery is smaller at 4,700mAh vs. 5,160mAh (in our tests the F4 GT got an endurance rating of 81h, the F5 Pro did 99h), but charging is faster with a 120W adapter, a complete charge takes only 17 minutes.
The Poco X5 is from a lower end series – you can tell by looking at its 6.67" 120Hz FHD+ display (only 8-bit colors) and Snapdragon 695 chipset. The camera (48+8MP, no OIS) and 5,000mAh 33W battery are not all that exciting either.
Things get more interesting with the Poco X5 Pro, which upgrades the 6.67" AMOLED panel to 10-bit colors (with HDR10+ and Dolby Vision) and you get Snapdragon 778G performance. Plus, the main camera has a decently large 108MP sensor (1/1.52") with native lossless zoom support. Also, the 5,000mAh battery now charges at 67W (flat to full in 50 minutes, compared to 1 hour 6 minutes on the non-Pro).
Finally, a couple of cheap phones – the Redmi 12C and Redmi A2. Both have HD+ displays, but the 12C at least has a large panel (6.72" vs. 6.52") and a Helio G85 (vs. G36), plus a 50MP camera (vs. 8MP). Both have 5,000mAh batteries with 10W charging. We recommend the 12C, unless you really can't spare the 30 quid.
We may get a commission from qualifying sales.
Related
Anonymous
12 Jul 2023
U}}
its $320 for poco f5 12/256, u got scammed 😆 i feel bad for eu people
Anonymous
11 Jul 2023
3SL
It should be e-waste day... Old or bad davices for people without any knowledge
Anonymous
11 Jul 2023
p7k
Scam day to set random numbers for price cut to fool people that you get a price cut. At the time when i bought my F5 the X5 Pro cost 319 euro so you get it now for 310 while it show 90 euro off that the phone have never cost even on release month d...
Popular articles
Popular devices
Electric Vehicles