Chinese smartphone sales continue to drop in Q2 2018, Huawei grows
Ro, 02 August 2018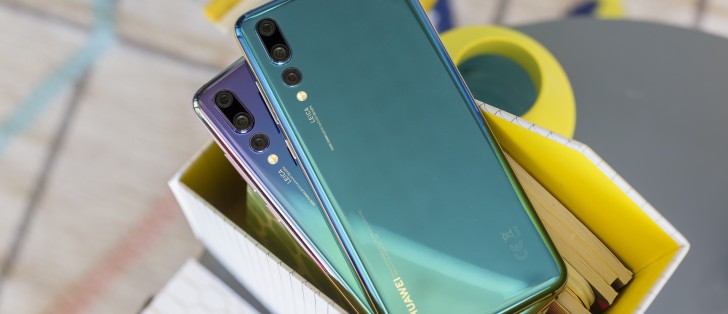 The Chinese smartphone market isn't necessarily in a bad shape, but it has been declining for a while. Since Q3 2017, the numbers have been going down, which makes it as the first market in the world to have such correction. In Q2 2018, the local shipments went down 7% YoY but grew a little compared to the last quarter of this year.

Interestingly enough, Huawei is the only brand in the top 5 in China to achieve growth. The nice 22% year-over-year boost brought its market share from 20% in Q2 2017 to 26% in Q2 2018. In contrast, the rest of the smartphone manufacturers have either lost ground or remained flat. Similar report came from Canalys last week where Huawei reached a record-breaking market share of 27%.
The stagnation is partially explained by the slowed innovation. None of the OEMs are able to persuade customers to upgrade and in turn, they decide to keep their handsets for more than two years. Oppo, vivo and Huawei try to differentiate themselves with unique color schemes for their phones, AI features or advanced 3D Face Unlock, but nothing is compelling as the jump from 3G to 4G a few years ago and the recent shift from 16:9 to 19:9 ratio on modern displays.
Counterpoint is the second one to point out that Huawei's significant growth is primarily due to the success of its sub-brand Honor. Now more than half of its shipments in the country are Honor smartphones, which successfully tackle Xiaomi's low to mid-range handsets.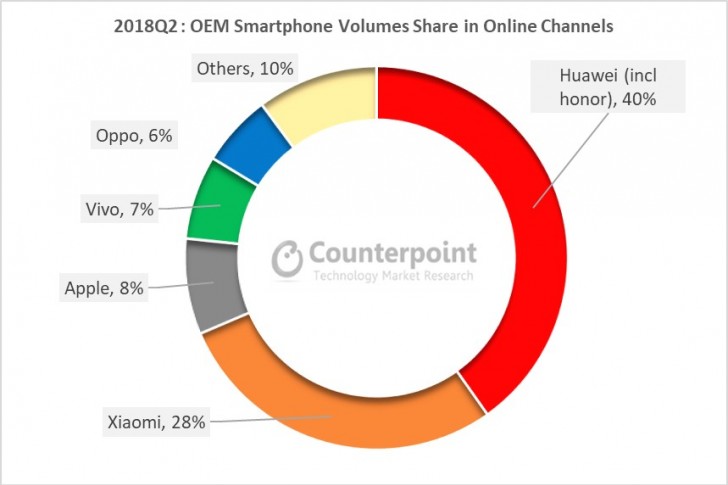 Part of Honor's success is the strong push in the e-commerce segment. Online sales in the country are dominated by Huawei (40%) with Xiaomi getting in second (28%).

But when it comes to best-selling smartphones, the top 5 chart is mostly Apple and BBK Electronics. The latter is presented by Oppo's R15 and vivo's X21. Surprisingly, they are followed by Apple's premium iPhone X and iPhone 8 Plus models. The fifth place is taken by Huawei's Honor 7C due to its aggressive pricing.
Related
the worst blind is the one who does not want see how her /his world is upside / down
Anonymous
04 Aug 2018
PA7
Boring andlow quality, even hiaweionce you drop it, battery flexible will broke, happened to my best friend
huawei must have had pathetic sales last year and they keep releasing new models every week .... lol even they don't know their phone model numbers i guess ... nova, honor 9, 9i, 9n, 10, 10i, y5, y6, view 10, 7x, 7c, 7, play, p20, p20 lite, mate 10,...
Popular articles
Popular devices
Electric Vehicles