Counterclockwise: As 5G arrives we track the 3G and 4G adoption
Peter, 21 April 2019
With the dawn of 5G upon us, we wanted to look at how quickly new networks are adopted. The first 2G networks appeared in 1991 then the first commercial 3G networks came alive in 2001 (but wouldn't reach Europe and the US until 2003).
We'll use the relative popularity of 2G-only phones, 3G-enabled phones and then 4G phones to gauge adoption. We'll look at the last 25 years - starting the chart at 1994. But keep in mind that the 1991-2003 period is essentially all 2G.
Early 3G phones didn't take the world by storm – MMS was cool, no one used video calls and data plans were still too pricey for mainstream adoption. Still, a couple of years in their popularity shot up.
And so in 2007 3G-connected phones became the norm. That's 4 years since 3G networks became widely available and 16 years since the dawn of the 2G era.
The first commercial 4G networks were deployed in 2009 and once again it took a couple of years until compatible phones took off. This is not unusual and it happened with 5G too – the first devices to connect to the new network are computers attached to modems (through USB or more recently Wi-Fi).
It was 2013 when the popularity of 4G-supporting phones overtook that of 3G-only models. That's 4 years again between the first 4G networks and 4G phones becoming the standard, but only 10 years since 3G networks launched.
The first commercial 5G networks are launching this year. Some carriers claim they launched 5G earlier, but those were small-scale launches – more for testing and publicity than for public use.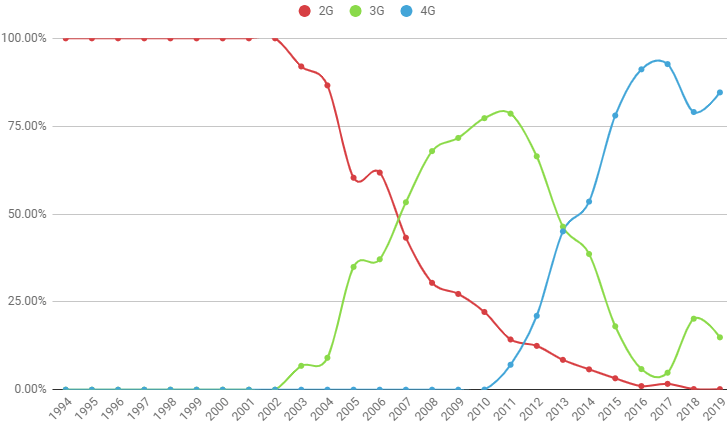 So, if the trend holds, it won't be until 2023 that the average phone has 5G connectivity. That sounds like a long time, but consider that new modems always have teething issues.
For a long time, battery life on 3G networks was abysmal. Early 4G modems were running pretty hot. Early reports of the first 5G-capable modems show that history will repeat itself – they are power hungry and buggy.
Coverage is another issue – large cities will get it first, but it will be a while until you have a reliable 5G connection outside of metropolitan areas. Which is another way of saying that many consumers just won't care about 5G, not at first.
So, 2023 is our guess for when 5G will become the standard, displacing 4G. Flagships will be quick to boast 5G connectivity, but that was always the case. It won't be until 5G trickles down to the mid-range that it becomes truly popular.
Related
Happy 5G to me and forget those spread myths everywhere
You are obviously ignorant of the science. The sun exposes you to more gamma and X-ray in an hour than a warehouse full of mobiles calling your mommy at the same time.
HAHAHAHA, my country has commercial mobile data Internet since......4 months ago. It started with 3G. Then, an special 4G network like 20 days ago. It became active for me just today, so....Happy 4G for me!!!!
Popular articles
Popular devices
Electric Vehicles