Counterclockwise: remembering the not-quite-smartphone Asha phones
Peter, 14 January 2018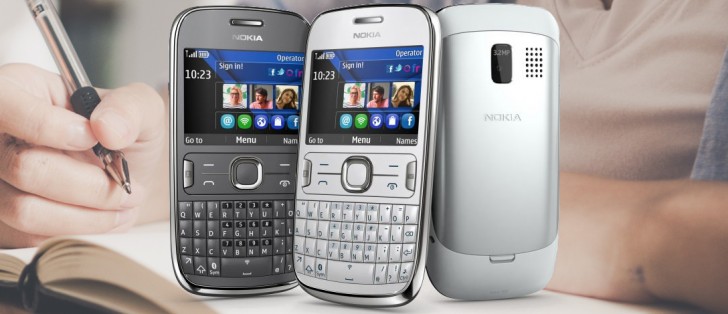 HMD intends to resurrect the Asha series, which brought back some memories. The Asha phones featured more advanced functions than your typical featurephone, which made them attractive for those who couldn't afford a smartphone. Keep in mind that this story starts late 2011 - iOS, Android and even Symbian were still around, but options that delivered good experience were pricey.
Before we start, we should mention that the Asha line was a key part of Nokia's "next billion" strategy - the plan to connect a billion people to the Internet, especially ones that don't have a PC or cable Internet.
So Internet connectivity was a highlight of these phones. The browser was part of it, sure, but many Ashas had QWERTY keyboards to enhance messaging - not just texting, but WhatsApp, Facebook and Twitter too (how many featurephones can you name that supported those?).
First came the Nokia Asha 300. Its unassuming bar phone looks hide its best qualities - the 2.4" screen was touch-enabled (resistive) and inside was a 1GHz processor, fairly powerful for the time.
This enabled web browsing over a 3G connection. The small screen made it a bit of a pain, but it was doable. The Communities app let you check with your friends on Facebook and Twitter or post photos from the 5MP camera on Flickr. Oh, and Angry Birds was pre-installed, remember that?
A month later the Nokia Asha 303 launched. Its comfy hardware QWERTY keyboard was a boon for heavy texters and the built-in Wi-Fi connectivity let you browse the web for free (the 300 lacked Wi-Fi). Nokia Maps was available, though only for pedestrian navigation and without voice prompts. That's probably for the best, since lack of GPS meant that you were limited for the less-accurate Cell-ID.
At the end of 2011, WhatsApp released a beta version of its app for the Asha platform. Mail for Exchange came a few months later, allowing you to send and receive emails, sync your calendar and address book with an Exchange server. That made Asha suitable for a work phone and highly desirable in regions where WhatsApp had basically replaced SMS.
In 2012, the touch-only phones were added to the lineup. The Nokia Asha 311 ventured very close to smartphone territory, though its UI wasn't as polished as Android or iOS. The 3" screen (with capacitive touch now) had low resolution even for the time, 240 x 400px, but it did have Gorilla Glass. And while we appreciated the extra screen space, we didn't love the touch QWERTY.
Multitasking was not available, but since native apps handled most of the essential functions, they simply worked in the background. The UI design was inspired by MeeGo and featured a notification shade and lock screen with notifications - "you won't believe it's not butter a smartphone".
One of the last phones to come out before the end was the Nokia Asha 503. It reverted back to a 4:3 screen (3" QVGA) and had a design not too far off the Lumia 520 - arguably the most successful Windows Phone, largely based on its price (it matched the Asha). It did improve the keyboard experience and some other grievances we had with previous Ashas.
But at that time it was too late. If you ask us, Asha failed because of its hardware, not the software. A decent browser, some social networking and capable native apps meant you can get along with something like the 503. Studies often show that most people don't install too many apps anyway.
But the small, low-res screen was never going to cut it. Or the camera that recorded video at 19fps. Or Nokia's refusal to support navigation on Maps. Voice navigation was free on the Lumia 520, which could record 720p @ 30fps video to boot.
Towards the end, these featurephones could not compete with low-end smartphones in terms of bang for your buck. And that was the whole reason that the Asha line was created - by the end 2013 it simply lost the reason to exist.
Related
Anonymous
13 Nov 2022
7Xb
After the success of the N-series, the succeeding phones already brought Nokia to its last breath. It feels like everything's just the same, and that was the time when people can start using apps from the playstore which eventually grew in numbe...
I do remember seeing the Asha 302 in stores for quite sometime. I do regret not picking it up back then. I'd love to find one in good condition, and move back to full QWERTY. The S40 OS is still brilliant and easy-to-use.
Anonymous
15 Oct 2018
nx1
The Asha line was one of the best things Elop brought to Nokia - they did go on to sell very strongly in many developing countries, it certainly was not a failure
Popular articles
Popular devices
Electric Vehicles