Counterclockwise: Samsung's featurephones came in all shapes and sizes
Peter, 28 October 2018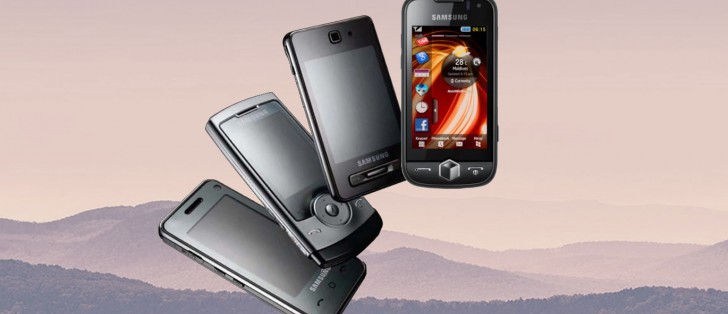 We've gone over Samsung's smartphones, but their success was built on the work the company did during its featurephone era. Some of the later models blurred the line between feature and smart phones, not just with the feature-full Touch Wiz but with their hardware as well.
But today's story begins in 1988 with a bit of a dud. The Samsung SH-100 was available only in Korea and it only sold a few thousand units. The company did not give up, however, and in 1999 found success in Europe with the Samsung SGH-600.
The Samsung M100 was one of the first phones that could play MP3s. Its design resembles an MP3 player (remember those?), especially with the provided wired headphones with a remote. However, storage was just 32MB and there was no card slot like the Siemens SL45 had. Time magazine named it one of the "All-Time 100 gadgets".
Multimedia features would continue to develop at a breakneck pace. The Samsung T100 was the first time an Active Matrix display was used on a phone. A Thin Film Transistor (TFT) control each pixel and form the so-called "active matrix". That's what the "AM" in AMOLED stands for, by the way. Older passive matrix displays had slow response times, suffered from ghosting and could not render many colors. The T100 had a 128 x 160px display that could display 4,096 colors.
Note that all displays used in phones (and laptops and TVs) are Active Matrix. We see this pop up occasionally when discussing whether an "OLED" display is an "AMOLED" or not. They all are, but each company prefers a specific wording as part of its brand (e.g. Samsung Super AMOLED and LG P-OLED).
The Samsung Watch Phone from 2003 wasn't "smart" but it was definitely a watch. A chunky watch at 17mm thick. There was an even earlier attempt in 1999 with the SPH-WP10. Those are the forefathers of the Galaxy Watch. But before that, we got the Samsung S9110, which added a few necessities like a larger touch sensitive screen.
The Samsung V200 and Samsung P400 were the company's first phones to include an onboard camera. They were pretty similar, however, the P400 also supports Java apps (as many as would fit on the 512KB of storage dedicated to the task).
The camera had 0.1MP resolution and could be rotated to point forward or back, so you could send selfies to your friends over MMS (Snapchat was still years away from being a thing).
The company upped its camera game with the Samsung D500. It built on the E800 design, a slider, which allowed it to carry a large (at the time) 1.9" screen in a compact body. The biggest change, however, was the 1.3MP camera with LED flash. It didn't have expandable storage, however, which was an issue.
The D500 spawned several sequels including the D600 (2MP camera, microSD slot) and D900i (3.15MP camera with autofocus).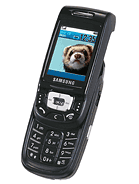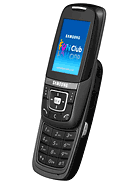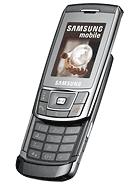 Samsung D500 • Samsung D600 • Samsung D900i
Storage was an issue back then. We know we said this is about featurephones, however we can't help but make a quick detour to the Samsung i300. It offered 3GB of storage thanks to an HDD - a hard drive with spinning platters and moving heads. Dropping one of these was always a mini heart attack.
The Samsung X820 was marketed as "the world's slimmest phone" at just 6.9mm thick. Its alternative name was the "Ultra Edition 6.9".
The Samsung F300 was a kooky device - on one side, it looked like a regular phone with a keypad and a tiny screen. The other side had a "large" 2.1" display with touch-sensitive keys below it. Note that the display itself was not touch sensitive.
Speaking of kooky designs, Samsung went through a swivel phase in 2007.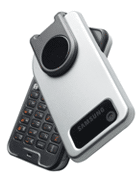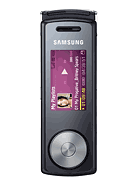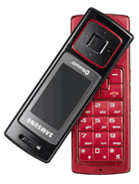 Samsung P110 • Samsung F210 • Samsung F200
In 2009 there was a new trend - solar power. The Samsung S7550 Blue Earth had a 1,080mAh Li-ion battery built in and a small solar panel. An hour of sunlight could provide enough charge for a 10 minute phone call (on a 3G network) or 2 hours of standby. But a touchscreen phone was perhaps a bit too ambitious.
The Samsung E1107 Crest Solar was a more traditional featurephone aimed at rural regions. It too got 5-10 minutes of talk time per hour of charge, but the smaller screen and keypad were more power efficient for other tasks.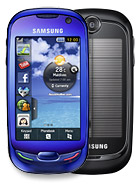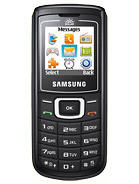 Samsung S7550 Blue Earth • Samsung E1107 Crest Solar
The Samsung U900 Soul had a 2.2" main screen and an unusual D-pad below it - another screen. Besides navigational keys, this D-pad adjusted to show relevant shortcuts.
The Samsung S7350 Ultra s and S7220 Ultra b were unveiled together and they tried to do smartphone things on a feature phone platform. They had Google Maps with a GPS receiver, but no navigation. They had great cameras for the time and solid multimedia features.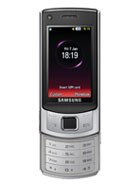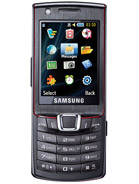 Samsung S7350 Ultra s • Samsung S7220 Ultra b
A followup to the Ultra s was the Samsugn S8300 UltraTOUCH. This time the display was touch sensitive (capacitive), an AMOLED panel (2.8", 240 x 400) covered with Gorilla Glass. It had downloadable TouchWiz widgets and multitasking that ran on a 500MHz processor. It was still very much a featurephone, however, with a slider design that concealed its keypad.
The Samsung F480 inched closer - it was an all-screen phone with a 2.8" capacitive touchscreen. It sported 3G connectivity and supported Opera Mini for web browsing on the go.
The Samsung M8800 Pixon came with a similar design. It featured a TouchWiz interface and served as the feature phone alternative to the INNOV8 with its impressive 8MP camera with WVGA video capture.
A 12MP version was introduced later, the Samsung M8910 Pixon12. It had a dual aperture, much like modern Samsung Galaxys, it could switch between f/2.64 and f/3.61. And it had a xenon flash.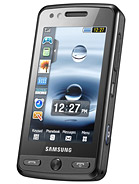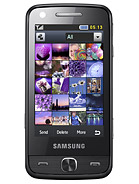 Samsung M8800 Pixon • Samsung M8910 Pixon12
Finally, we get to what might be the most overpowered feature phone - the Samsung S800 Jet. Released in 2009, it had a 3.1" AMOLED high resolution screen - 480 x 800px. And it was powered by a Qualcomm chipset with an 800MHz processor with 8GB (or 2GB) of storage. The touchscreen was resistive, but it was almost as sensitive as as a capacitive screen.
For comparison, the original Samsung Galaxy S (launched almost a year later) had a 4" 480 x 800px Super AMOLED screen and a 1,000MHz processor. Actually, some people tried to get Android to run on the Jet, but the project was never stable enough for daily use.
The Jet had fancy features like 3D rendering in some menus as well as motion control that allowed you to flick the phone left and right to control the music player for example.
The Dolfin browser was developed in-house and was based on WebKit (the basis used by Safari, Chrome and the Android browser). It had full Flash support, it could open up to 5 tabs and featured a built-in ad block.
We namechecked so many models and there are still many more to cover. Maybe we should do a roundup of all the tiny, affordable touch not-so-smart phones like the Corby, Star, Monte and others.
Related
Popular articles
Popular devices
Electric Vehicles