Unorthodox Windows 10 Mobile shown off in Japan
Peter, 15 October, 2015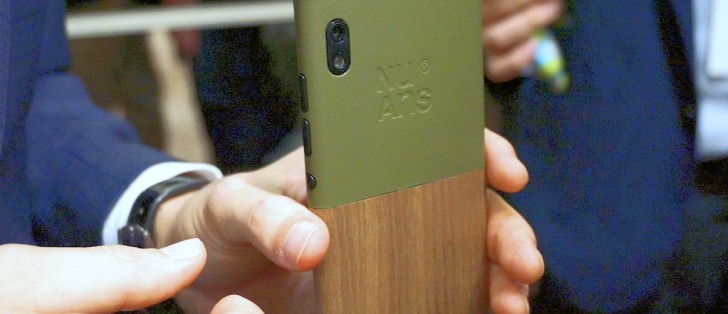 Welcome to another episode of "Japan gets all the fun phones." We saw the Lumia 950 duo and it had great cameras and such, but the design was pretty plain. A number of makers – including Vaio! – showed off phones running Windows 10 Mobile at an even held by Microsoft Japan.
Note that this was mostly a showcase of prototypes, not production-ready phones. And Vaio, Sony's former PC division, only showed off a non-working dummy, but it's still interesting to see it consider entering the smartphone market while its former parent considers leaving.
NuAns Neo
This one has a curious design, joining two materials including wood and other options.
ThirdWave Digginos Mobile DG-W10M
This one packs a 5" 720p display and 16GB of storage and an "affordable price" but that's about it.
Freetel Katana 02
This one has a 5" 720p screen, 2GB of RAM and 16GB of storage. It will cost JPY 29,800 ($245/€215).
Acer Liquid M330
We we may actually see the Acer Liquid M330 in the west, it promises an entry-level experience with a 4.5" 480 x 854px, Snapdragon 210 chipset and a 5MP camera.
Genesis WPH-451
Related
Now that strange. I don't have that issue on my Lumia 520 running 8.1 (Denim). Notification did stop after battery saver kick in. But that already explained in the Battery Settings itself. Other than that, I never lost any notification of Whatsapp, e...
The first one with an bad taint of green as top half and wood at bottom half, is not just unorthodox but can simply be called ugly.
That is not called being backward. They call it 'culture'. CD and DVD rental is way better than buying pirated version. Beside, what technology exist to replace DVD anyway. Blu Ray? Illegal download? DVD will stick around for a very long time. Yeah, ...
Popular articles
Popular devices