Early Apple iPad mini (2021) benchmarks reveal downclocked CPU and GPU
Peter, 17 September 2021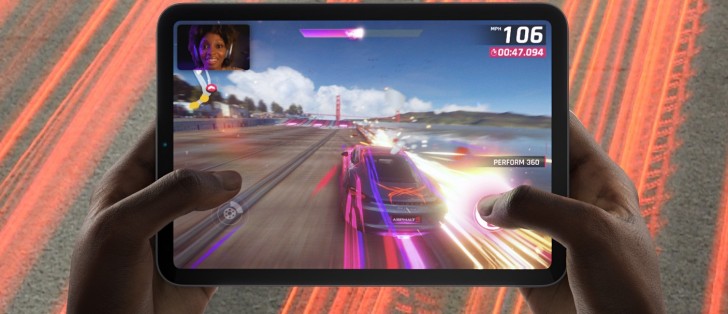 When Apple announced the new iPad mini (2021) it came as a bit of a surprise that it used the latest and greatest Apple chipset, the A15 Bionic. The tablet's predecessor, the iPad mini (2019), had an A12 Bionic, which is the iPhone chipset from 2018.
So, latest and greatest chipset, huh? Yes and no, as it turns out. The first CPU and GPU Geekbench results are out and they confirm that this is definitely an Apple A15 chip and it's even the version with the 5-core GPU also used in the iPhone 13 Pro duo (the vanilla 13 and the 13 mini get a 4-core GPU).
The results reveal that the tablet actually uses a third version of the chip, one with a downclocked CPU. The iPad mini (2021) CPU ran at up to 2.93 GHz and is paired with 4 GB of RAM. The CPUs of both the iPhone 13 and the 13 Pro ran at up to 3.23 GHz, they have 4 GB and 6 GB of RAM, respectively.
GeekBench 5 (multi-core)
Higher is better
Apple iPhone 13 Pro Max
4818
Apple iPhone 13
4587
Apple iPad mini (2021)
4558
Apple iPhone 12 Pro
4056
Apple iPad mini (2019)
2817
GeekBench 5 (single-core)
Higher is better
Apple iPhone 13 Pro Max
1734
Apple iPhone 13
1724
Apple iPhone 12 Pro Max
1606
Apple iPad mini (2021)
1596
Apple iPad mini (2019)
1114
Of course, the CPU rarely spends its time at the top clock speed (certainly not in a multi-core test), so this doesn't affect the final score too much. Plus, the new mini is a massive upgrade over the 2-year old mini (which uses a 3-year old chipset).
Moving on to the graphics test, it appears that the GPU has been downclocked slightly. We don't know the exact frequency, but its score is just below that of the iPhone 13 Pro. It is once again a huge speed boost over the old mini and it is faster than the vanilla iPhone 13 (that fifth GPU core is showing its worth).
GeekBench 5 (GPU, Metal)
Higher is better
Apple iPhone 13 Pro Max
14258
Apple iPad mini (2021)
13759
Apple iPhone 13
10685
Apple iPhone 12 Pro Max
9446
Apple iPad mini (2019)
5460
We already suspected that there are different binnings of the A15 chipset with ones where the fifth GPU core couldn't turn on being set aside for the iPhone 13 and 13 mini. Now it seems that not all A15 chipsets with five working GPU cores are up to iPhone Pro material. If they can't hit the 3.23 GHz mark, they get clocked at 2.93 GHz and set aside for the new iPad mini.
The iPad mini (2021) is available starting today in select countries and will expand to more regions in the coming weeks.
Related
You are completely wrong. What I like about android is that I can customize my device however I want, not like how the manufacture wants me to use it. I'm currently using launchair launcher with crayon icons pack. Earlier I've been using th...
mini 6 will be around 20% more power then iPad Air4 digdong
I don't agree... I'm using Android based devices up to around 3000 USD. Of course, this is not because it is cheap but because the things we do with Android we cannot do with an Apple device. Things such as a kilometer of Bluetooth r...
Popular articles
Popular devices