Flashback: HTC HD2 was the best Windows Mobile phone, but it toured other OSes too
Peter, 21 July 2019
Few phones are so impressive that we still remember them fondly a decade after their release. And the HTC HD2 really is one of these all-time greats. This was HTC at its peak, it designed a powerhouse that became the focal point of a vibrant developer community.
The HD2 was the first-ever Windows Mobile device to have a capacitive screen. It ran WM6.5, which was still designed with a stylus in mind, so HTC had to step in and replace as much of the user interface as possible.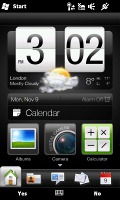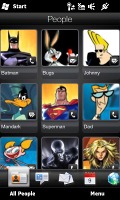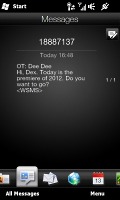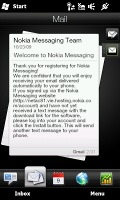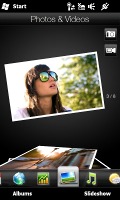 The Sense Home tab • The People tab • The Messages tab • The Email tab • Photos and videos tab
Officially, it was called TouchFLO 3D, but in reality the new UI borrowed heavily from Sense – HTC's custom interface for its Android phones. It was a finger-friendly UI with enough eye candy to fill every inch of the screen.
And there were 4.3 inches of screen, the biggest on a mobile phone we had seen at the time. This was the Galaxy Note of its day, a power user phone with a screen that dwarfed the competition.
With 480 x 800px resolution, it was very sharp for its time too and much more responsive than resistive screens. It wasn't quite perfect as the 16-bit color caused banding in gradients, plus it was quite reflective, making it difficult to see in direct sunlight. Still, it was one of the best screens on the market and with its slender (for the time) bezels, the whole phone was relatively easy to handle.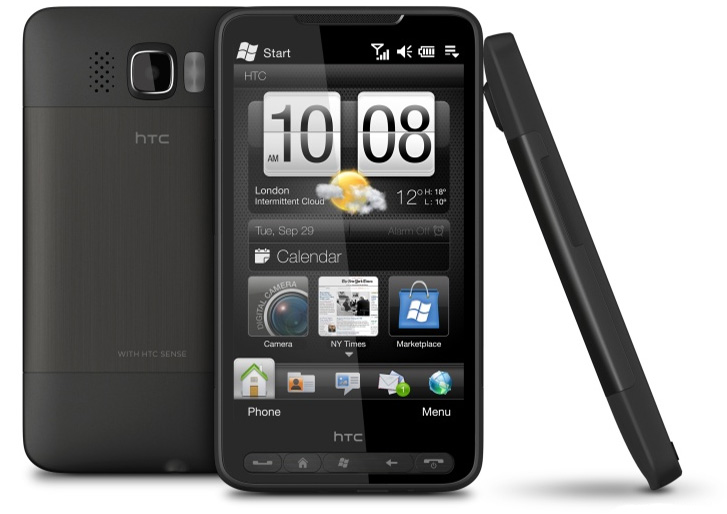 The HTC HD2 used the first ever Qualcomm Snapdragon chipset, which had a Scorpion CPU - a single core clocked at the impressive 1GHz. It was only the second phone to use this chip, beaten by a few months by the Toshiba TG01.
The 448MB of RAM was quite roomy for 2009 and it allowed the HD2 to handle the additional HTC-made software add-ons, as well as the fan-created software. And if the former is what got people to buy the phone, it's the latter that helped them enjoy it for a couple of years longer than regular phones.
We've covered this in a Counterclockwise article – the HTC HD2 ran every OS under the sun. It launched with Windows Mobile 6.5 and never got a major version update. A Windows Phone 7 update was originally planned, but Microsoft placed silly hardware requirements like a "three button layout" and a few other nitpicks. So it was up to the people to port Microsoft's newer OSes too – Windows Phone 7 and 8, Windows RT even.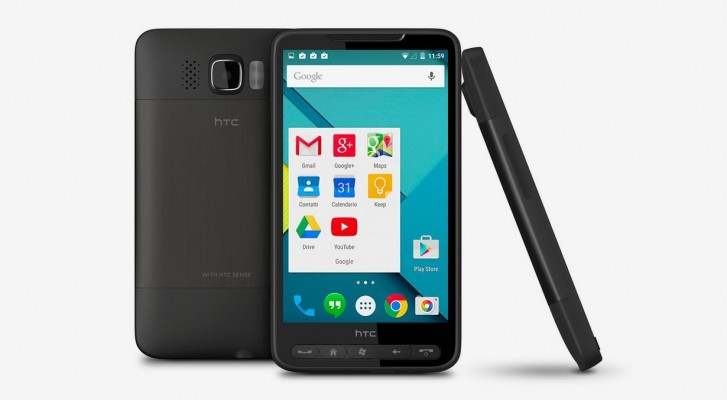 However, most probably used it with one of several Android ports, which even included goodies like Sense UI. The most recent Android version that ran on the HD2 was 7.1 Nougat. Google released v7.0 in late 2016 and most phones wouldn't have gotten it until a few months later. Not bad for what was an 8-year old phone at the time.
There were other OSes too: MeeGo, Tizen, Firefox, Ubuntu. By the looks of it, only iOS eluded the infinitely flexible HD2. Part of what made it so easy to port software to the phone is that it could boot from the microSD card – the 512MB of built-in storage would have never fit Nougat.
Speaking of, HTC sold the HD2 with a fairly rich retail package. It came with a charger, USB cable and headphones, of course, but also had a 2GB microSD card and a nice carrying case in the box.
The HTC HD2 rose above the limitations of Windows Mobile and deserves a place in the smartphone hall of fame (where it will rub shoulders with a few other HTC phones).
Microsoft's lockdown of the Metro UI meant that the successors lacked the TouchFLO magic and HTC shifted its focus to Android. And for a while, it made the best Android phones out there.
Related
One of the best as that time. I still have mine , working and in a very good situation with its box and all the accessories and i turn it on from time to time to save the battery. cant lose it !
A lot fun???? Absolutely atrocious camera and picture quality and sub par battery performance and bad customer support, Yes that was a lot of fun!! So much so I never will buy HTC again!
The only people still holding onto to Symbian are extreme fanboys. Everyone else has moved on to something actually supported.