Flashback: the Sony Ericsson K800 was as versatile as James Bond and the first Cyber-shot phone
Peter, 02 August 2020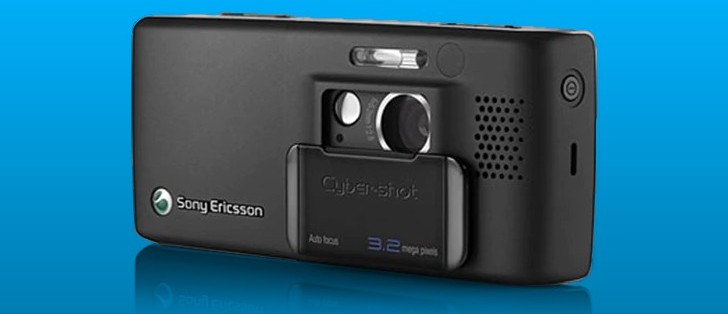 The Sony Ericsson K800 was a phone with many faces. From one angle it looked like a Cyber-shot digital camera, from another like a phone, look at the left side and you'll see a button for the music player, inside was a capable graphics chip for 3D gaming.
It was released in mid-2006 and became the first Sony Ericsson phone to officially sport the Cyber-shot logo. It deserved it too, as the 3.2 MP camera on its back was among the best mobile shooters of the time. It was covered up with a sliding lens cover that automatically launched the camera when opened.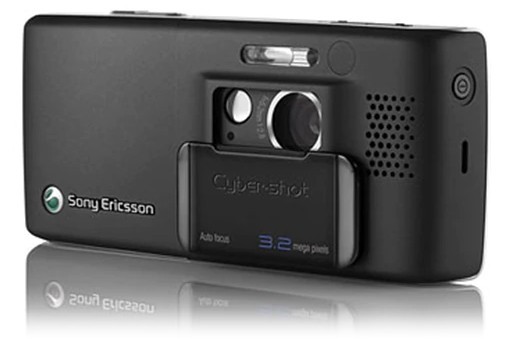 The phone really did look and feel like a Sony digital camera. It had a two-stage shutter key, the volume rocker controlled zoom. The handset was fairly chunky, but that also meant that there was enough room for a xenon flash.
The BestPic feature was impressive for the time. It took 9 full resolution photos that included shots from before you pressed the shutter and shots after that. You could save one or several of these photos.

Two stage shutter key and volume/zoom rocker on the right
What to do with your best photos? Well, you could copy them to your computer using a USB cable, over Bluetooth or infrared. You could send them in an MMS too, of course, but that way they could only reach your friends.
If you hit the Blog This option in the menus, the photo would be uploaded to Blogger.com where they would be available for all the world to see. Facebook was still new and exclusive to college students, Instagram wasn't a thing – how else would you share photos of your food or your cat? Joking aside, this was a feature ahead of its time.
The Sony Ericsson K800 was quite capable, once you've read through the user manual. For example, there are two buttons above the screen that supplement the soft keys below it. In the camera, they could switch between shooting modes (e.g. BestPic, Panorama) or Scenes. These buttons also helped you navigate the image gallery.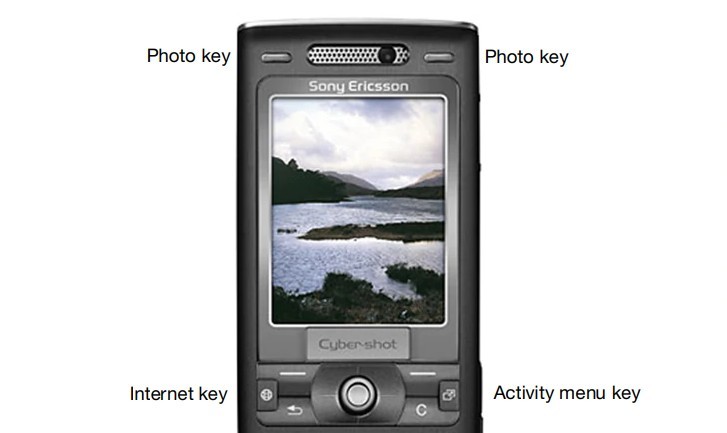 On the left of the phone was a Play/Pause button and long-pressing the volume rocker on the right could skip songs. This wasn't a Walkman phone, but it was a fully capable music player. The proprietary port that it used to attach headphones wasn't great though.
But you know what was? The A2DP support, which enabled playing music over Bluetooth in stereo. Of course, Bluetooth headphones weren't as common in 2006 as they are today, but it's still impressive.
The K800 came with only 64MB of internal memory. You could maybe fit 100 photos in there but no more than a handful of songs. This is where the Memory Stick Micro came in, you could insert cards up to 16 GB (the slot wasn't compatible with microSD cards, however).

The play/pause button for the music player and the M2 slot were on the left
On the front, just under the left soft key, was the Internet key. The K800 was one of Sony Ericsson's earliest 3G phones and it had a web browser (Access NetFront) as well as a built-in RSS reader, in addition to an email client.
There was also the K790 variant, which supported only 2G connectivity (up to EDGE), but you'd lose the MMS functionality and the front-facing video camera. That couldn't be used for taking selfies, though, 2006 really was a simpler time.
Anyway, opposite that was the Activity menu key. This menu was a mix between an app switcher and a notification area. You could swap between running apps from here, check for missed calls and new messages, but also access shortcuts to apps and web bookmarks.
Yes, the K800 was a feature phone, but it could multitask. And it could run mobile incarnations of some classic PC games – Age of Empires and Counter-Strike, for example.
The phone also appeared in the first of the Daniel Craig James Bond films, Casino Royale (which also starred the M600). Sony Ericssons (and later Sonys) were a staple of Sony Pictures Entertainment era of Bond, though to a lesser extent than Aston Martin. Of course, every now and then you'd get a BMW Z3 or a Nokia 8.3 instead.
The Sony Ericsson K800 could do everything that mobile phones from 2006 could do. And more importantly, it could do some of those things better than most. This was when the company was at its peak before the market started moving towards smart phones, a transition that proved challenging for the Japanese-Swedish company.
Related
I had this phone and let me tell you, what a cracker it was! My nights out when I was younger were amazing with this phone - fanatic photos, amazing flash and just outright reliable. I really miss it! It was truly like a digital camera and it capture...
I love and like sony Ericsson Cyber shot phones super and looking good mobiles
Popular articles
Popular devices
Electric Vehicles