Samsung Galaxy A9 quad-camera detailed: tele, standard, wide, depth
10 October 2018
We've had megahertz wars, megapixel wars and now camera count wars. The Galaxy A7 (2018) had three on its back, but Samsung is just getting started. The upcoming Samsung Galaxy A9 will go up to four. Here's a leaked overview of what each camera does.
The new module is the 10MP telephoto camera with f/2.4 lens. It offers a 2x optical zoom compared to the main camera. Only Samsung's premium phones have tele cams and they all had 12MP sensors, so this is a brand new camera module.
The main camera of the Galaxy A9 features a 24MP sensor and a bright f/1.7 aperture. It might even be the main camera of the A7, the other two modules sound pretty familiar too. The ultra-wide camera (120°) has an 8MP sensor and f/2.4 lens and finally there's a 5MP depth sensor for bokeh effects.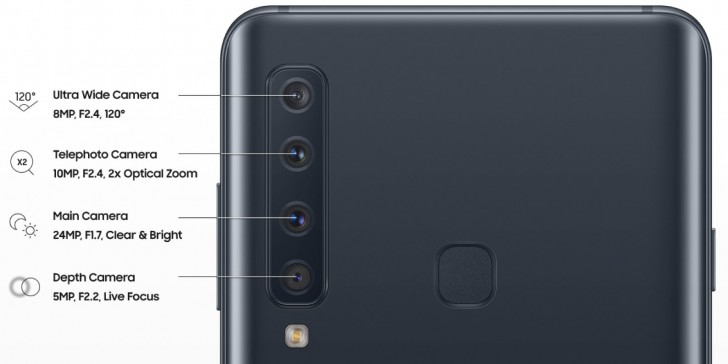 These camera specs confirm the info from a week ago. The phone was also benchmarked earlier today with a Snapdragon 660 chipset. Samsung has a "4x" event tomorrow and we think it's pretty clear which phone is getting unveiled.
Related