Nexus 6P vs. LG V10 vs. Galaxy Note5: Jumbo joust
Jumbo joust
GSMArena team, 13 January, 2016.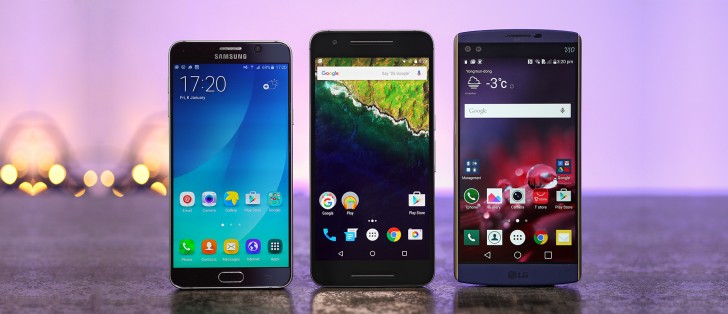 Display
The trio has 5.7" screens with QHD resolution, but while the Galaxy Note5 and Nexus 6P have very similar AMOLED screens, while the LG V10 stands apart with an LCD unit. Each of these screens offers plenty of room for content, which they render with impressive image quality.
Let's focus on that first - the quality. There are some premium features on these displays too, more on that in a minute.
The Samsung Galaxy Note5 uses the company's usual Super AMOLED panel, which has been tuned to perfection. It's the brightest of the three, even before it reaches its maximum brightness level (which only happens in some situations on Auto mode). Its sunlight legibility is among the best we've seen.
The Huawei Nexus 6P uses AMOLED displays sourced from Samsung, though it achieves noticeable lower max brightness. It's not clear if this is due to different tuning or different panels, but the sunlight legibility is still a match for the Note5's.
The LG V10 has an IPS LCD. The screen offers good brightness and great contrast, though sunlight legibility is well behind the AMOLEDs. Also note that the brightness slider is finicky and at the 50% position leads to less than a quarter of the max brightness.
Display test
50% brightness
100% brightness
Black, cd/m2
White, cd/m2
Contrast ratio
Black, cd/m2
White, cd/m2
Contrast ratio
Samsung Galaxy Note5
0.00
183
∞
-
439
∞
Samsung Galaxy Note5 max auto
-
-
-
-
620
-
Huawei Nexus 6P
0.00
180
∞
0.00
352
∞
LG V10
0.07
100
1449
0.29
432
1490
Sunlight contrast ratio
Samsung Galaxy S6 edge+
4.615
HTC One A9
4.274
Samsung Galaxy S6 edge
4.124
Samsung Galaxy Note5
4.09
Huawei Nexus 6P
4.019
OnePlus X
3.983
Oppo R7s
3.964
Samsung Galaxy J7 outdoor
3.879
Samsung Galaxy J2 outdoor
3.873
Samsung Galaxy A8
3.859
Apple iPhone 6
3.838
Microsoft Lumia 950XL
3.837
Motorola Moto X (2014)
3.816
Apple iPhone 6s
3.783
Meizu Pro 5
3.781
Vivo X5Pro
3.706
BlackBerry Priv
3.645
Apple iPhone 6s Plus
3.53
Microsoft Lumia 950
3.512
Oppo R7 Plus
3.499
Samsung Galaxy J7
3.422
Meizu MX5
3.416
Oppo R7
3.32
Samsung Galaxy J2
3.235
Motorola Moto X Play
3.222
Lenovo Vibe Shot
3.113
LG Nexus 5X
3.092
Huawei Mate S
3.073
Microsoft Lumia 640 XL
3.065
Apple iPhone 6 Plus
3.023
Samsung Galaxy Note
2.97
HTC One S
2.901
Sony Xperia Z5
2.876
Microsoft Lumia 550
2.851
Sony Xperia Z5 compact
2.784
LG V10
2.744
Sony Xperia M5
2.69
Xiaomi Mi 4i
2.641
Xiaomi Mi 4c
2.574
Microsoft Lumia 640
2.563
Motorola Moto G 4G
2.546
Sony Xperia Z5 Premium
2.525
HTC One
2.504
Sony Xperia M4 Aqua
2.503
Motorola Moto G
2.477
Huawei G8
2.471
Sony Xperia Z
2.462
Xiaomi Mi 4
2.424
Huawei Honor 7
2.406
ZUK Z1 by Lenovo
2.382
HTC One E9+
2.305
Sony Xperia C5 Ultra
2.253
Xiaomi Redmi Note 3
2.249
Sony Xperia C4 Dual
2.235
Motorola Moto G (2014)
2.233
LG Nexus 5
2.228
Huawei P8
2.196
Xiaomi Redmi Note 2
2.166
OnePlus Two
2.165
HTC One X
2.158
Archos 50 Diamond
2.134
Xiaomi Redmi Note
2.119
Huawei P8lite
2.078
Moto G 3rd gen max manual
2.026
Sony Xperia E4g
1.972
OnePlus One
1.961
Meizu m2 note
1.892
BlackBerry Leap
1.892
HTC Butterfly
1.873
ZTE Nubia Z9 mini
1.759
Sony Xperia U
1.758
Asus Zenfone Selfie
1.68
Motorola Moto E (2nd Gen)
1.675
ZTE Nubia Z9
1.659
Motorola Moto E
1.545
Sony Xperia M
1.473
Xiaomi Redmi 2
1.311
Sony Xperia C
1.283
Meizu MX
1.221
Samsung changed the conception that AMOLED displays are inaccurate. In fact, the Basic screen mode on the Galaxy Note5 allows it to offer an Avg. DeltaE of 1.1, a mark of an exceptional color accuracy. You can go to Photo mode, which boosts contrast and colors to make for punchier images, though the Avg. DeltaE goes up to 4.8.
That's still pretty good, the LG V10 screen gets a 4.9 score on that rating and the phone offers no way to adjust color settings, even if it's flipping between a few presets.
You'd expect the Huawei Nexus 6P to be up there with the Note5, but it proved to be the least accurate of the three with an average DeltaE of 6.5. With some digging you can find the option to switch from the slightly oversaturated colors to a more natural sRGB setting. Note that this settings flips back after a reboot, so you have to do it on every power up.
| | | | |
| --- | --- | --- | --- |
| | Galaxy Note5 | Nexus 6P | LG V10 |
| Average DeltaE | 1.1 | 6.5 | 4.9 |
| Max DeltaE | 2.2 | 14.1 | 10.7 |
All three screens are guarded by Gorilla Glass 4 so you can expect identical levels of wear on them, at least as far as scratches are concerned.
LG has double insurance against bigger shocks though - that is two layers of Gorilla Glass 4, instead of the usual one. The V10 has additional protection internally to absorb shocks, meaning the screen has a higher chance of surviving in those cases where the phone drops on any of its four corners and would normally crack.
The secondary screen above the main one is more like a strip really. It has 160 x 1,040px resolution and acts as a separate, second screen. It has its own backlight and control hardware so it can stay on 24/7 without drawing much power.
When the screen is off, detailed notifications can be shown on the secondary screen (much better than a notification light) and when it's on, you get shortcuts and recent apps on the strip to speed up multitasking.
The Samsung Galaxy Note5 screen is flat and all one piece (there was no second-screen Note last year). Its value-added feature lies in the built-in Wacom digitizer, which enables the pressure-sensitive S Pen stylus. The passive stylus never needs to be charged (unlike Apple's Pencil or Microsoft Surface Pen), but it can measure over 2,000 levels of pressure, can be detected from an inch away and even has a button to toggle shortcuts and special input modes.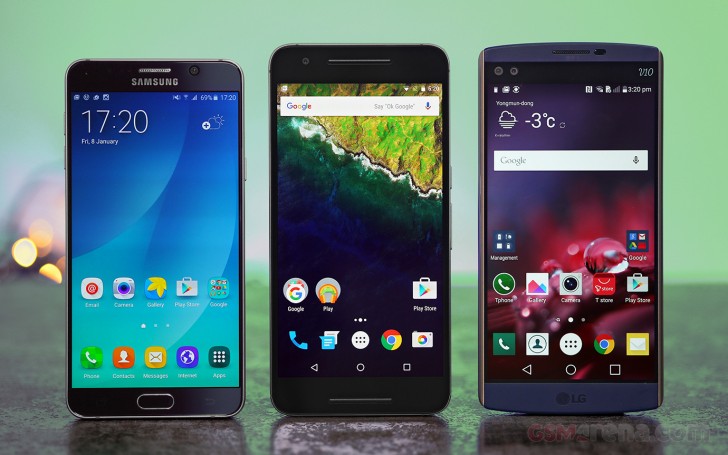 Natural handwriting, note-taking and sketching has seen a resurgence recently, after being effectively killed off by digital gadgets. The Note5's 5.7" screen is close enough to the size of a notepad and can really boost productivity once you form the habit of using it.
The Huawei Nexus 6P screen doesn't do anything special beyond Ambient Display - waking the display when a new notification comes in or when the phone senses movement (there's no tap to wake though).
Winner: Samsung Galaxy Note5. A finely tuned display offers accurate colors and great sunlight legibility.
Runner-up: LG V10. It has more accurate colors than the Nexus and matches it max brightness, the secondary screen and dual Gorilla Glass are great additions too. Its Achilles' heel is sunlight legibility though - it's not great, even for an LCD.
Third place: Huawei Nexus 6P. While it handles bright sunlight with aplomb, the 6P screen got the lowest color accuracy and maximum brightness among the three.
I don't think it's tremendously fair to knock the V10's battery performance so much when you can actually get a full charge in under a minute... by swapping in another battery, something you absolutely can't do with the other two. That deserves point...
LG V10 tc better than Google nexus #IG
Absolutely awesome review, appreciate the time spent here. Two things I'm bothered by, one even in final conclusion when speaking of battery you forget to point out the LG V10 will allow you to insert another battery with very little trouble. Th...