Black Shark, Red Magic vs mainstream flagships
Are gaming phones worth it?
GSMArena team, 18 July 2019.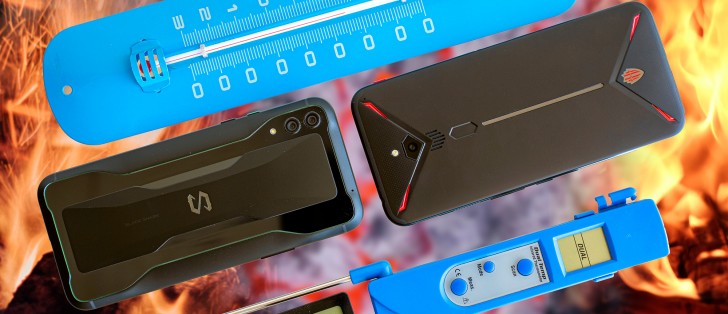 Sustained CPU performance tests
We turned to an old favorite tool of ours - CPU Throttling Test. It offers a stress test, complete with a tracking of performance degradation over time.
We ran the stress test on each phone for a full hour. Granted, some gaming sessions will last longer than that, but as you will see in a minute there's little change beyond a certain point for each phone and for most of them that point is just a few minutes in.
Just to make sure we were on a level playing field we set every phone's display to 200 nits of brightness - important seeing how displays are major heat generators. We also kept the ambient temperature in the room the same (about 28 deg. Celsius).
We'll start examining the results with the Snapdragon 855 bunch and the Sony Xperia 1 as its first representative. As you can see about 15 minutes into the test the performance was down by 30%. And even though it settled there on occasion it would need to drop all the way down to 50% to remain within its required operational window. Those can easily lead to a sudden lag or big drop in fps while gaming.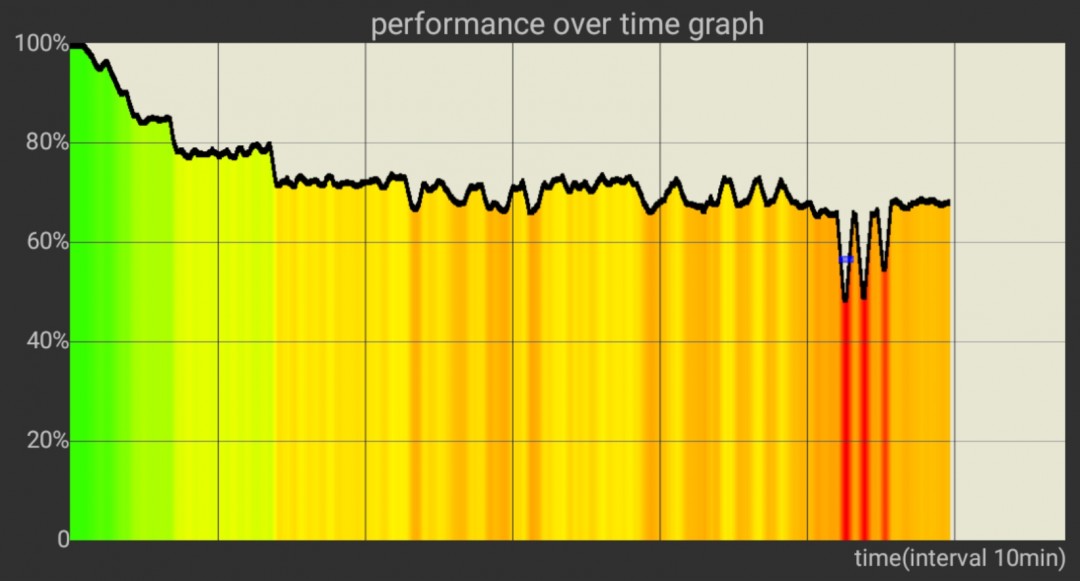 Sony Xperia 1 CPU throttling test
The OnePlus 7 seems to be doing a much better job, settling just over the 80% threshold at the one-hour mark.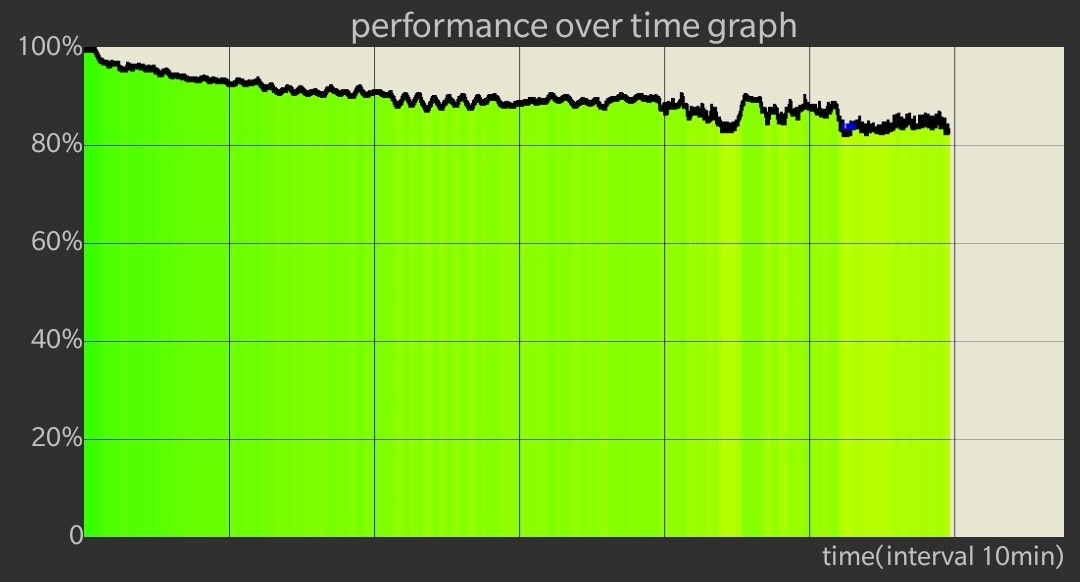 OnePlus 7 CPU throttling test
And in come the gaming phones starting with the Xiaomi Black Shark 2. Even after one hour of stress testing it was delivering close to 90% of its maximal performance.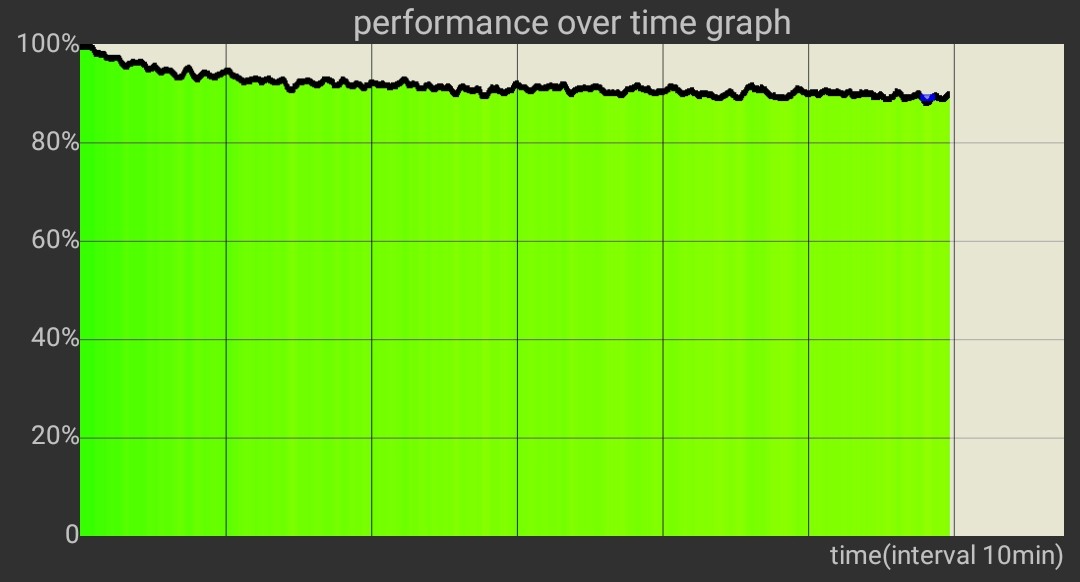 Xiaomi Black Shark 2 CPU throttling test
The ZTE nubia Red Magic 3 yielded another impressively smooth and gradual throttling graph. It was only a tad worse than the Black Shark 2 on average and never even approaching the 80% mark. It is worth noting that unlike its Xiaomi rival the Red Magic 3 was not scorching hot during the torture test. More on that in a bit.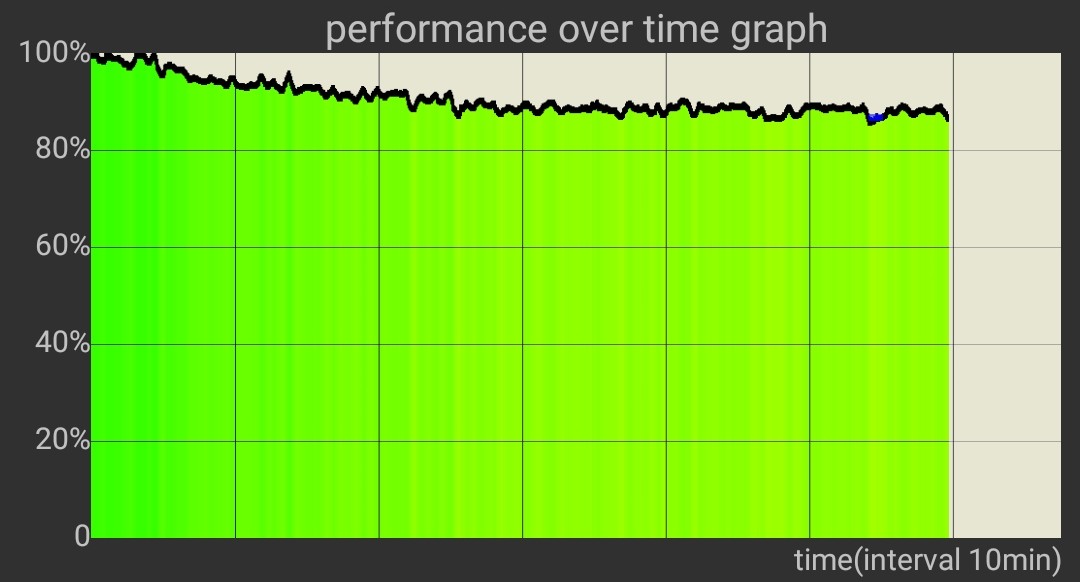 ZTE nubia Red Magic 3 CPU throttling test
This is where the secret weapon of the Red Magic 3 also came into play. Of course, we are talking about its built-in cooling fan. It did improve the thermal performance somewhat, keeping higher performance levels for longer. To be honest, we expected having an actual fan to have an even bigger effect, perhaps even maintaining the full performance throughout the test, but it's still something.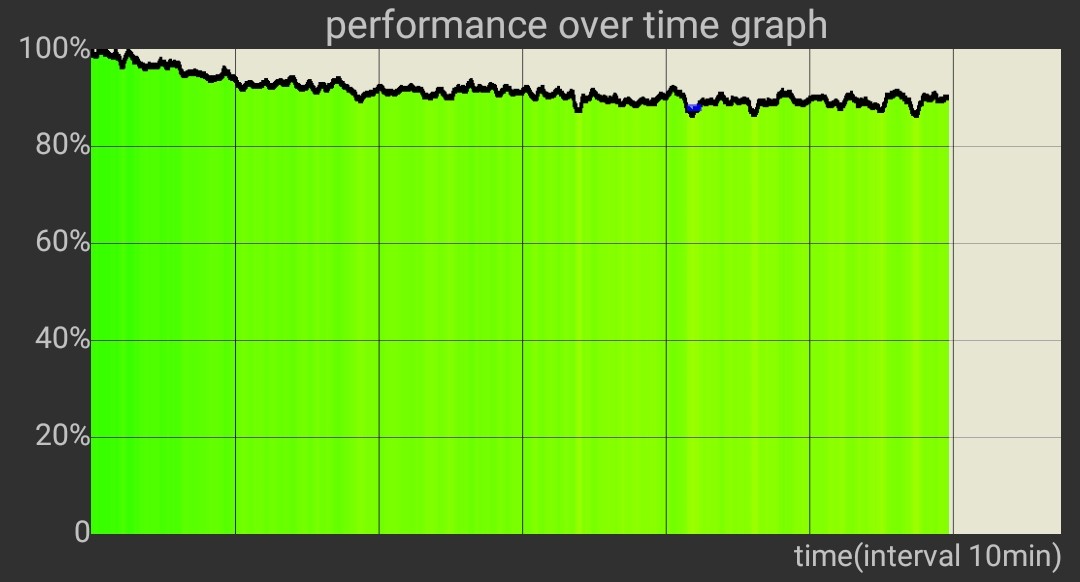 ZTE nubia Red Magic 3 CPU throttling test with fan on
Moving to Huawei's Kirin 980 we get a rather different picture. It appears that the P30 Pro chooses to drop performance to levels it's certain it can sustain instead of going for the maximum available at each moment. So once heat stars to build up you are limited to just over 60% of the chipset's performance.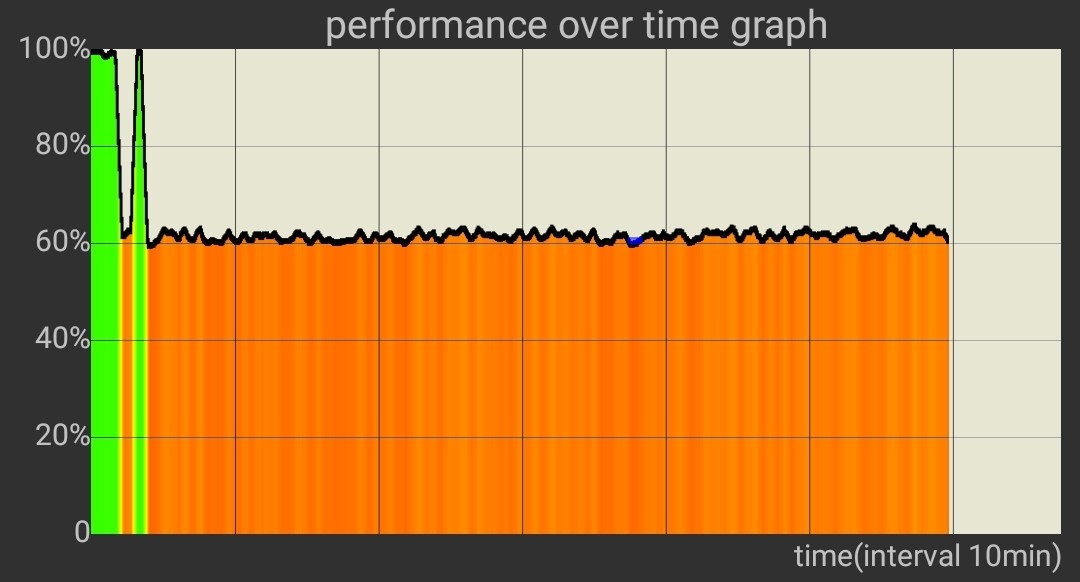 Huawei P30 Pro CPU throttling test
That would mean that you might be getting rather low framerates compared to the rest of the participants, but at least there will be no rapid drops to mess up with your gaming. We are unsure if the chosen setting is overly conservative or the Huawei P30 Pro just has more trouble with cooling than the rest, but it has the lowest average performance of all current flagship phones involved.
The Exynos 9820 takes the alternative approach with a gradual curve down, just like on the Xperia 1, followed by settling around the 75% mark. There was a solitary dip to 64%, but things were mostly steady.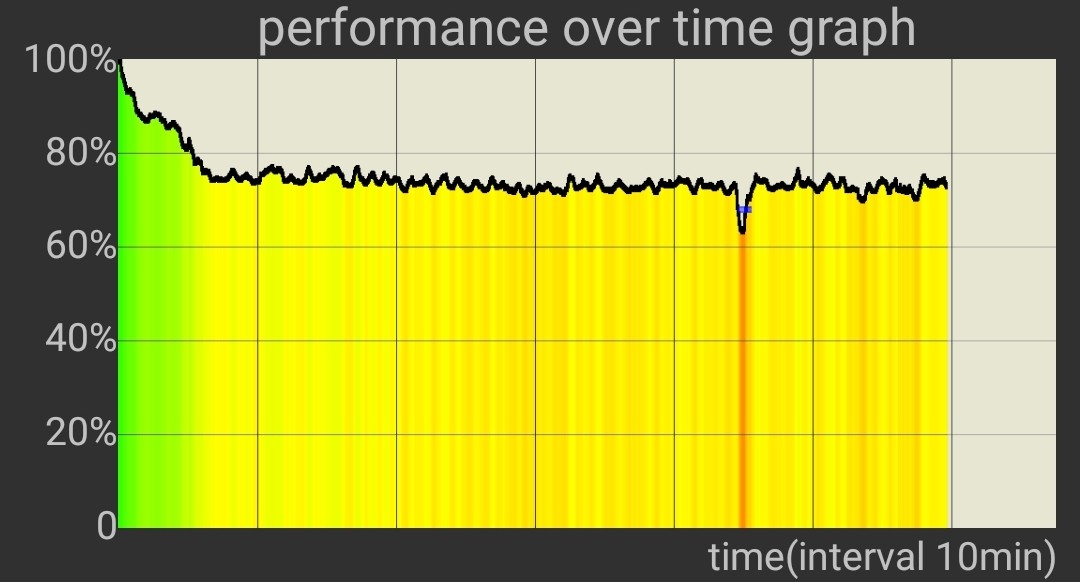 Samsung Galaxy S10e CPU throttling test
Is it worth noting that the Galaxy S10e we are testing has the chip a bit crammed in its relatively small body, compared to its sibling, so the Exynos 9820 could likely have slightly better performance in one of Samsung's better flagships.
OK, so that's the current flaghsip bunch - clearly they can't sustain their performance nearly as well as the dedicated gaming phones, but are they at least improving? Let's look at the Pocofophone F1 and its Snapdragon 845.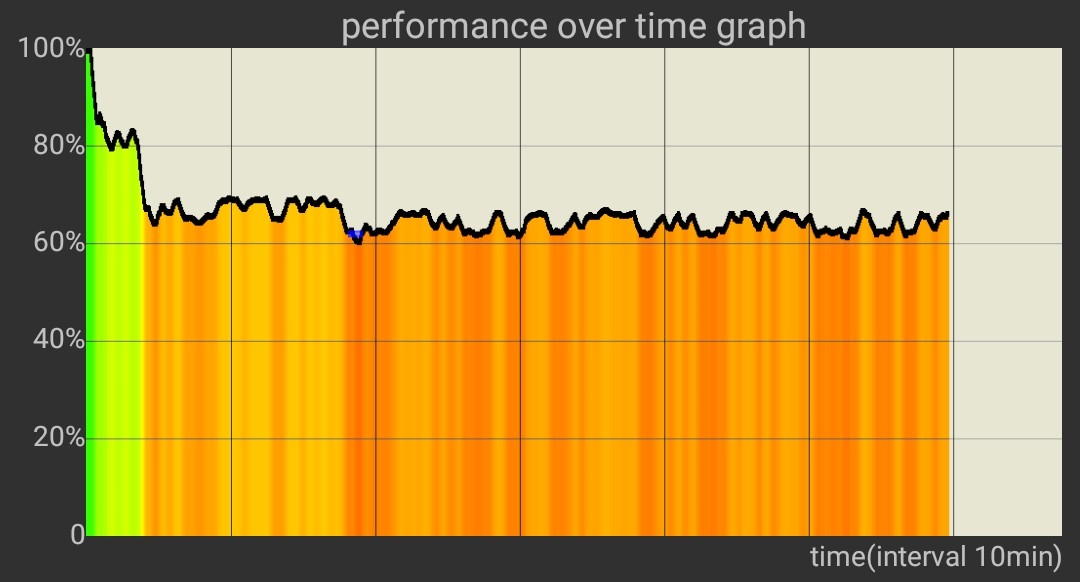 Pocophone F1 CPU throttling test
Unlike Qualcomm's latest and greatest high-end chip, this one does not have the benefit of a 7nm process, instead of having to cope with 10nm and all the extra heat constraints that come with that. It can only maintain its full performance for a couple of minutes and at the five-minute mark it's down to mid-sixty percents.
Finally we put the Xiaomi Mi 9T though the same throttling test just to see if the smaller, less power-hungry mid-range chipsets do better than the flagships.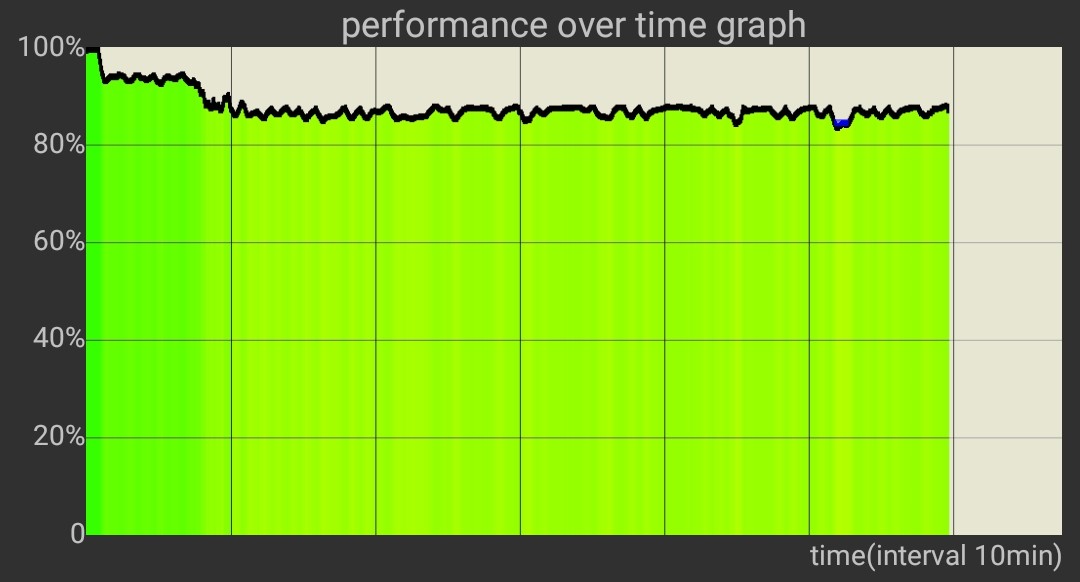 Xiaomi Mi 9T CPU throttling test
The Snapdragon 730 retained its performance better than most flagships, meaning that after an hour of heavy use it's not nearly as far behind as it was at the start of the test. Not quite a suggestion that you should be getting a mid-range chipset for your gaming needs, but a clear indication that difference might not be as big as advertised.
So here's the chart comparing the average performance over the full hour of all phones involved.
The gaming phones clearly easily top that, blowing away every mainstream flagship, barring the OnePlus 7, which comes impressively close. However even so the OnePlus 7 did it on the back of its performance in the first half-hour or so - at the end, it was already starting to fall behind and the gap would have undoubtedly increased if we proceeded with the test.
Average performance over 1h as percentage of the max availabile
Higher is better
Black Shark 2
92%
nubia Red Magic 3 (fan)
92%
ZTE nubia Red Magic 3
91%
OnePlus 7
90%
Xiaomi Mi 9T
88%
Samsung Galaxy S10e
75%
Sony Xperia 1
73%
Xiaomi Pocophone F1
67%
Huawei P30 Pro
64%
This is further evidenced by the comparison of the minimum performance recorded for the hour of testing, which shows a bigger difference. For most phones that lowest point was at the end of the test, save for the Xperia 1 and Galaxy S10e, which got their scores messed by the sudden drops earlier.
Minimal perforamnce over 1h as percentage of the max availabile
Black Shark 2
89%
nubia Red Magic 3 (fan)
87%
ZTE nubia Red Magic 3
86%
Xiaomi Mi 9T
84%
OnePlus 7
83%
Samsung Galaxy S10e
64%
Xiaomi Pocophone F1
61%
Huawei P30 Pro
60%
Sony Xperia 1
48%
Next up, we'll look at how well the GPUs take it when we up the heat. Join us after the jump.
hi please do a 2022 version including flagship midrange and entry level phones
Anonymous
03 May 2022
NAE
And the oneplus 7T, with the 855+.