IHS: Samsung gains, Apple slips as smartphone market contracts in Q2
Peter, 07 August 2019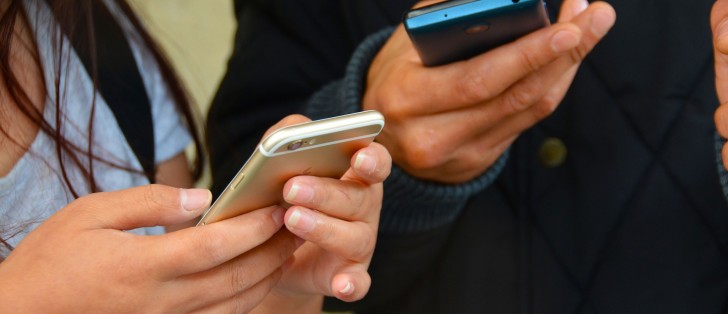 The smartphone market saw shipments decline for the 7th quarter in a row, latest report from IHS Markit claims. Global shipments in Q2 were down to 331.2 million, a decline of 3.6% compared to the same period last year.
The Huawei ban went into effect in the middle of the quarter, so the full impact of it is yet to be seen. So far the company seems to be weathering the storm well – it shipped 58.7 million units, essentially even with the numbers from last year. It made up the decline in foreign sales with stronger performance in the domestic market.
Samsung was the biggest smartphone maker with 23% market share in Q2. It shipped 75.1 million units, up 6% from a year ago, and it appears to be poised to capture more market share in Europe and South America as Huawei deals with the ban.
Chief rival Apple saw shipments slump 14.6% to 35.3 million units. The company has stepped up its promotional efforts (including trade-in programs that are hurting its profits), but it isn't working. Analysts blame the decline on the high price of current models and Apple's refusal to significantly discount older models.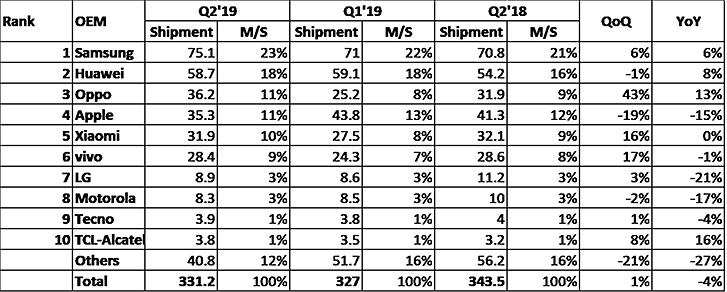 Oppo overtook Apple and is currently in third place. The company is focused on expanding its presence in Europe and India. As carriers are rolling out their 5G networks across Europe, Oppo is supplying some of the first 5G-capable phones and using this opportunity to strengthen its relationship with those carriers.
Xiaomi is focused on expanding in Europe and India too and is among the first to sell 5G phones in Europe. Besides those two, European carriers are also offering 5G handsets from Samsung and OnePlus.
The losers in the 5G race on the Old Continent are Huawei (which is affected by the ban) and LG (which saw its overall smartphone shipments decline 21%).
Related
Well you are actually right. And Apple is probably making bigger profit margin. They maybe even like the fact that there will be less people with iPhones out there. It will make the brand seem more premium. At the same time, if numbers drop to...
In market share terms, differences of less than 1% are considered irrelevant. So Apple and Oppo are tied in 3rd.
Apple recently fell to third place because of Huawei, now it fell down further, this time it's Oppo. Apple keeps sinking, which is direct result of their greed... interestingly enough, they still won't cut down those prices...
Popular articles
Popular devices
Electric Vehicles