Google Assistant will call businesses for you in the future
Vlad, 08 May 2018
At its annual developer conference today, Google has announced a bunch of new features for the Google Assistant, which is already on 500 million devices worldwide.
First off, six new voices are on the way for all your Assistant needs. Additionally, you'll be able to pick John Legend's voice to do these duties, at some point later this year. By the end of 2018, the Assistant will learn how to speak to you in over 30 languages and 80 countries.
Next up, what has apparently been one of the most requested features will arrive in the coming weeks. It's called continued conversation, and it means you won't have to keep saying "Hey Google" or "OK Google" after every response it offers you. Just continue talking in a natural back and forth, as you would with a human.
Multiple actions are rolling out now. This lets you ask for many things at the same time, and the Assistant will understand exactly what you wanted to say, and answer all of your queries.
On phones, Assistant will deliver rich responses for certain things you want to find out, such as information about celebrities. These will come in the form of a full page card with details about the person. For smart home requests, you will get controls straight inside Assistant, for example a temperature gauge for your thermostat. This is coming to Android handsets this summer, and iOS later this year.
In other places, such as Maps, the Assistant will basically be minimized, so as not to take over the navigation screen. This integration will be live this summer.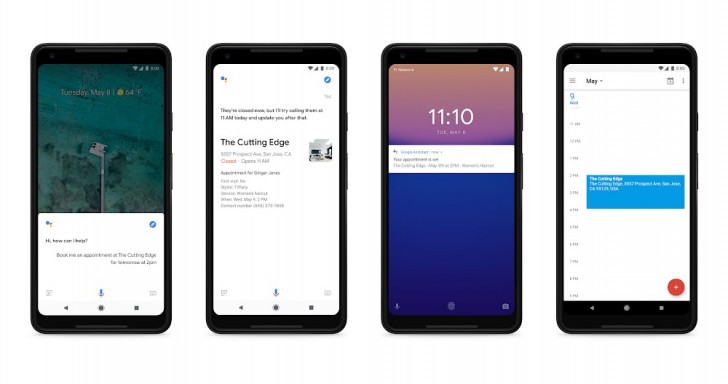 At some point in the future, if you want to book an appointment at a hair salon or another small business that may not have a web-based reservation system, the Google Assistant will call that company for you and talk to someone there in order to schedule your appointment. Seriously, Google demoed this on stage. This is a virtual assistant turning into a full-on personal assistant, basically, but it's unclear when we'll see this go mainstream. Google says it will begin testing the feature this summer.
This is made possible by a new technology called Google Duplex, which lets the Assistant understand complex sentences, fast speech, and long remarks, as well as respond naturally in a phone conversation. Once the reservation or appointment is booked, the Assistant will add a calendar reminder for you and allow you to cancel if needed.
Related
Anonymous
11 May 2018
3W9
Everyone you meet and talk to in real life influences your decisions. It's not big problem everyone is making it out to be... At the end of the day you can just not buy anything you don't need...
Anonymous
09 May 2018
phh
Don't be fooled by Google. They give you some "free" things, but you get to pay for them with all your personal details, personal data, and they get to influence your decisions with content targeting as the algorhythm dictates, based on which compani...
Anonymous
09 May 2018
gLT
We get prank-called by AI in the future. How embarrassing.
Popular articles
Popular devices
Electric Vehicles