Google Pixel 2 review
GSMArena team, 06 November 2017.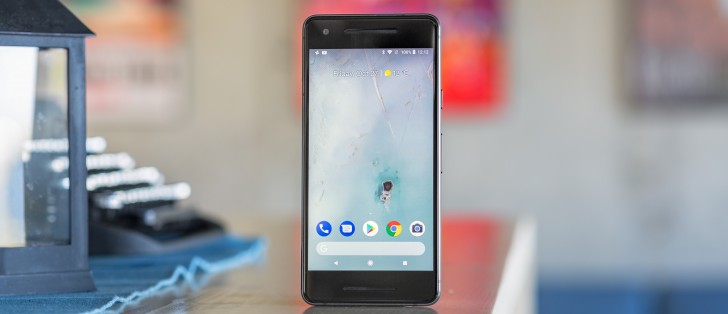 Telephony
The Pixel 2's dialer displays Favorites, Call history, Contacts, and Visual Voicemails. There's a search bar at the top to help you find a contact, or even nearby places to call. Smart dialing is supported, as well.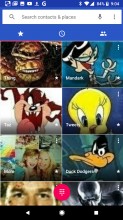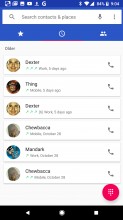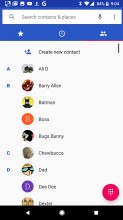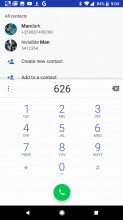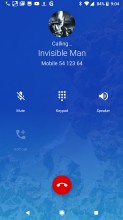 Dialer: favorites • call log • contacts • smart dial • in-call screen
Loudspeaker
The Google Pixel 2 has dual speakers on the front, just like the XL. In our testing, however, the small phone was noticeably louder, earning an Excellent mark, compared to the just Good XL.
| | | | | |
| --- | --- | --- | --- | --- |
| Speakerphone test | Voice, dB | Pink noise/ Music, dB | Ringing phone, dB | Overall score |
| Sony Xperia XZ1 (S-Force Front Surround) | 63.8 | 68.0 | 67.4 | Below Average |
| Sony Xperia XZ1 (ClearAudio+) | 64.5 | 67.6 | 67.7 | Below Average |
| Sony Xperia XZs | 62.4 | 65.5 | 73.3 | Average |
| Sony Xperia XZ1 | 65.4 | 68.0 | 69.1 | Average |
| Samsung Galaxy S8 | 66.2 | 70.5 | 72.5 | Good |
| Google Pixel 2 XL | 66.2 | 70.4 | 78.2 | Good |
| Apple iPhone X | 68.9 | 74.0 | 76.2 | Very Good |
| Google Pixel | 74.0 | 68.3 | 78.0 | Very Good |
| Huawei P10 | 67.7 | 70.0 | 83.6 | Very Good |
| Google Pixel 2 | 70.0 | 77.0 | 81.1 | Excellent |
| Apple iPhone 8 | 71.7 | 77.8 | 80.3 | Excellent |
The sound coming out of the Pixel is not just loud, but also clear and distortion-free, even at maximum volume.
Audio settings consist of various volumes, vibrating for calls, ringtone settings, and control for various System UI sounds. The "Now Playing" feature is also here and can display what song is playing in your environment either in the notification shade or on Ambient Display. We wrote about how this works in the UI section on the fourth page of this review.
Text Input
GBoard is the default keyboard option for Android. It offers a plethora of features and tweaks to make it your own. You can set more than one language for Multilingual typing without the need to switch back and forth between keyboards. One-handed options are also plenty.
You can download GBoard and/or Android Messages to your current Android device to see what it's like for yourself. Or choose from a vast selection of third-party SMS and Keyboard apps from the Play Store.
Pre-installed apps
Like Nexus devices in the past, the Google Pixel 2 doesn't come with bloatware, though it does come with the essentials, all from Google.
Calculator
Calendar
Camera
Chrome
Clock
Contacts
Downloads
Drive
Gmail
Google
Maps
Messages
Phone
Photos
Play Music
Play Store
Settings
YouTube
Smart Storage
Smart Storage will automatically delete photos or videos that meet two criteria: photos and videos must be older than 30/60/90 days, and photos and videos must have been backed up to Google Photos. In the Storage Settings page, there is also an option to "Free up space". This will prompt you to manually delete photos/videos backed up to Google Drive. It will also offer a list of files that you can choose to delete to free up storage space.
The pixel 2 isn't that bad. Well that's considering I get a Pixel 2 reburb. For $100. I paid $900 when it first came out but returned it because I couldn't justify the cost for a flagship with a6 month lifespan. But for$100 I'll l...
The only thing I found awkward were the bezels. Everything else was great... IP68 is sometimes a good amount better, but I think IP67 is good enough. I overprotect my phone so much sometimes I forget it is water resistant. I feel like only a weak spr...
This phone makes me want to swear. The lack of a headphone jack isn't too bad but the built-in quality is so poor that I'd rather listen to dial up on earrape for 24 hours. The camera is not even mediocre, and yet it's the best part on this 2001 qual...