Google Pixel 4 XL review
GSMArena team, 29 Oct 2019.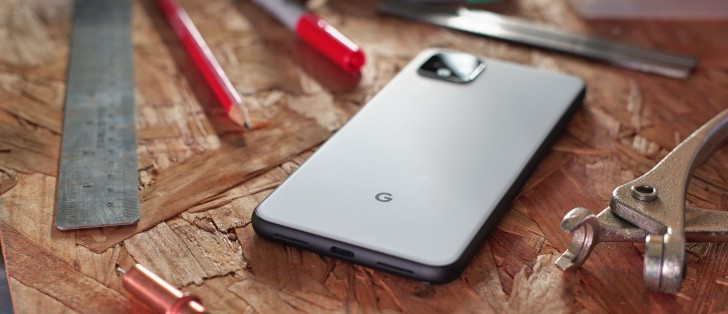 Android 10 by the book
We have already reviewed a handful of Android smartphones that came with Android 10 out of the box. With the Pixel 4 XL, we're now able to see how Google envisions the presentation and execution of its own operating system.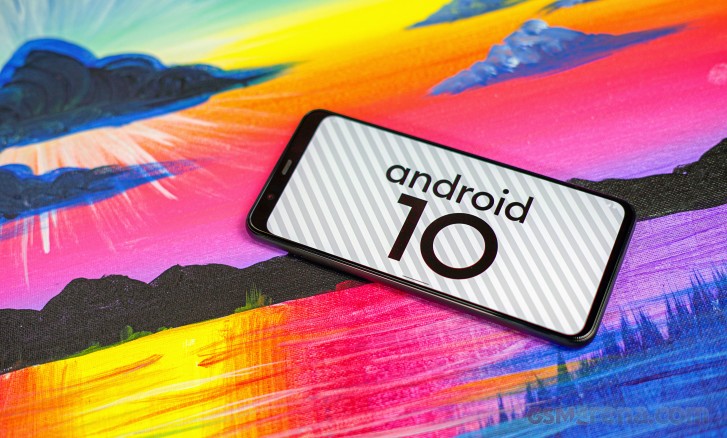 Major changes to the interface include a new Face unlock system, overhauled gesture navigation, and a new appearance for Google Assistant. At the event, Google also demonstrated that it could process vocal queries much quicker as it can store voice-to-speech transcription locally on the device in a much smaller database.
When first starting it up, you are prompted to register your face for security. At this point, you might realize there is no longer a fingerprint scanner, and this is because Google replaced Pixel Imprint in favor of the more generically named" Face unlock."
This was a significant change back when Apple dumped Touch ID for Face ID, and it's a significant change for Google now. Both use IR dot projectors and an IR camera to create and detect a depth map of the user's face.
In practice, Face unlocking works accurately and quickly. With the Motion Sense feature, it wakes the phone and triggers face detection while reaching for your phone so you can get in quickly. Just like any other phone with face unlock, it's more difficult to unlock while it's laying on a table. On the upside, Face unlock works from any angle, even upside down.
Soon after setting up and using Face unlock on the Pixel 4 XL, we noticed it would authenticate and unlock even with our eyes closed. This is a security gap that Google must have expected as its own support page suggested using a passcode would be more secure. Google has since confirmed it will patch this bug "in the coming weeks," but that doesn't seem soon enough.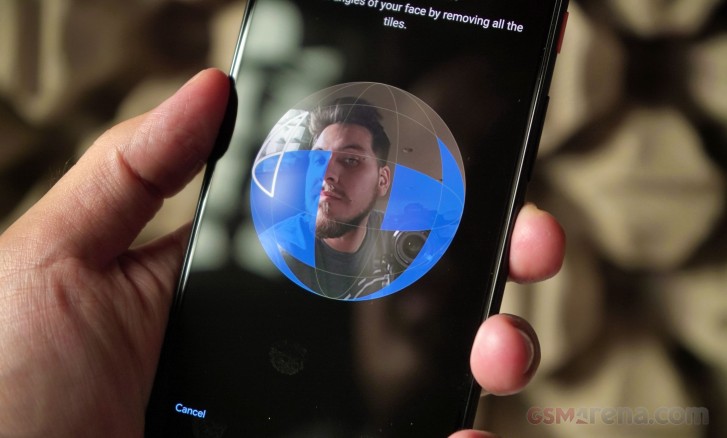 Another hurdle with Face unlock is support from banking institutions. It took years before fingerprint authentication could be used with baking and payment apps, among others. Currently, Google Pay works with Face authentication, but banking apps that once supported fingerprint to log in need to be updated to support Face unlock. Right now, only a handful of apps support Face unlock, but they are mostly password management apps.
After setting up Face unlock, the setup will quickly teach you how to use Android 10's new gesture controls. Google's 2-button nav gestures are gone (and we're glad), and the nav bar has been replaced with a slimmer home bar, much like a new iPhone. You can summon Google Assistant by giving the Pixel a squeeze.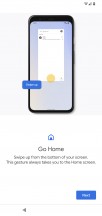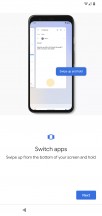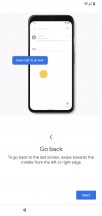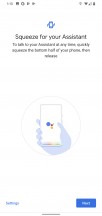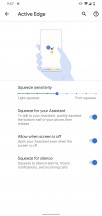 Home • Recent apps • Back • Active Edge
Swiping up will go Home, swiping in from the edge will go Back, and swiping up from either corner will open Google Assistant. Multitasking is done by swiping up and holding, but you can easily switch between apps by swiping horizontally on the home bar.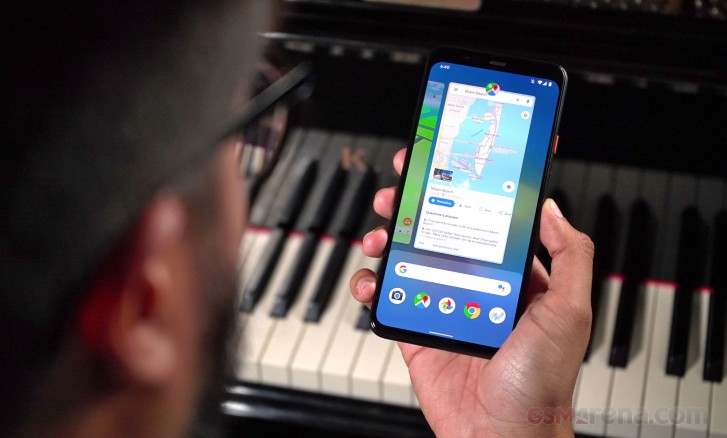 Since there's no longer a fingerprint scanner to pull down the notification shade, you can now swipe down from any part of any home screen will pull the notification shade down, so there's no longer a need to reach up to the top edge.
The homescreens are what we've come to expect from a Pixel. Swiping up gets you to the app drawer with the top-most row dedicated to the five frequently used apps.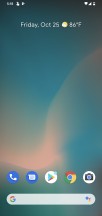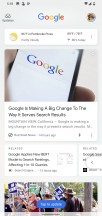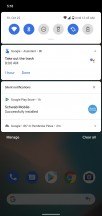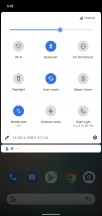 Home screen • Google Feed • Notification shade • Quick settings
Apart from wallpapers, the Pixel launcher now allows for more customization in the settings. The Style tab in the wallpapers menu lets you change the shape and color scheme of both app and quick setting icons. You can also set a system-wide accent color and font.
There is a new category of live wallpapers labeled "Come Alive," and they all subtly respond to hand gestures over the Motion Sense detector. There's even a Pokemon wallpaper designed to promote Nintendo's Pokemon Sword and Shield game titles.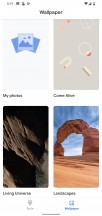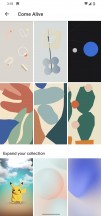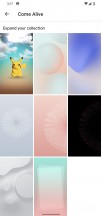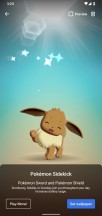 Wallpaper • Come Alive • More Come Alive • Pokemon wallpaper
When Project Soli was first announced back in 2015, it was presented as a breakthrough in motion-sensing technology with the ability to detect and interpret precise hand motions like sliding a finger and thumb to scroll through settings and then tapping the fingers together to select.
Motion Sense is Google's first implementation of Project Soli in a major consumer product and the result feels both half-baked and gimmicky.
There are only a handful of useful things you can do with Motion Sense. Several music apps are supported to skip back and forward between tracks, even when music is playing in the background or if the display is turned off. You can also snooze alarms or silence timers and incoming calls by waving over the screen. That's about it for useful features and nothing like the initial promo video for Project Soli.
Motion sense can detect when you're reaching for the phone and fire up the Face unlock hardware to swiftly detect the user's face and unlock the phone. We noticed it often triggers when its placed on a computer desk, in proximity to someone actively working with a mouse and keyboard. If you decide to turn this feature off (you might save some battery by doing so), you can still double-tap the display to quickly glance at the time and notifications, and you can still 'lift to wake' it.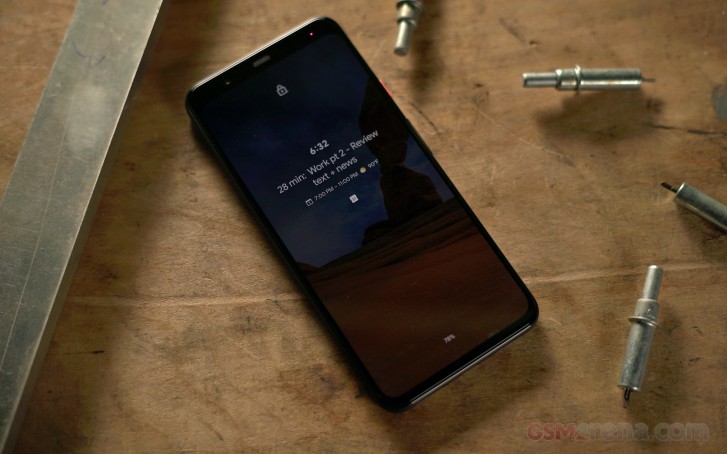 By default, you'll skip seeing the lockscreen entirely if you enable Face unlock, but there is an option to disable that so you can glance at your notifications and manually swipe in.
The Always On Display feature is enabled by default. This screen will display icons for missed notifications, a small weather widget, the time, battery percentage left, and a couple of lines are dedicated to contextual information such as anticipated traffic or upcoming calendar events.
With Android 10, both permissions and notifications offer finer and more transparent control. Starting with Notifications, the pull-down shade's order is priority-based. For example, if you receive notifications from a messaging app, they are a high priority, and a little bell icon appears. Otherwise, when you get notifications from less important apps like games or persistent app notifications, they'll show up as "Silent notifications" and take up less space.
Android 10 now shows you an average of the daily and weekly number of times an app triggers notifications in a dedicated Notifications menu. This gives users the information needed to decide which apps are inundating them with useless pings and prioritize more important notifications.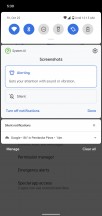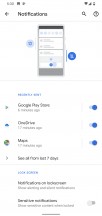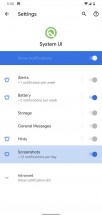 Notification priority • Recent notifications • App notification settings
Android 10 brings the much-hyped "Dark theme," and it can be accessed from the Display settings. It darkens all menus, pop-up windows, Google Assistant, and even the Google Search Bar. Some apps will also automatically switch to their respective dark scheme, as long as the app is supports following the system-wide setting.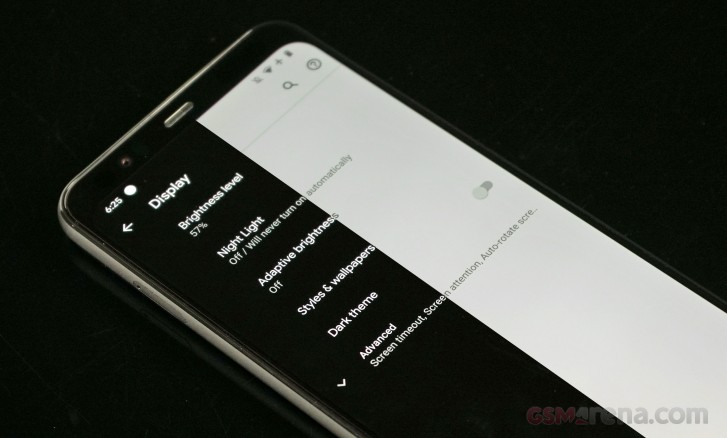 There are two new applications debuting on the Pixel 4 XL. The first one is a new application that organizes the emergency features of the new Pixels. The app lets you organize and fill out your medical information and assign emergency contacts in an emergency.
Finally, thanks to Google's new transcription app, it enabled a new voice recorder app from Google that can transcribe voice notes in real-time, and it doesn't require an internet connection. This app debuts on the Pixel 4 and 4 XL, and it enables a new way to keep track of voice recordings.
The app can transcribe your voice notes as you record them, making it much easier to search through recorded meetings or lectures.
Synthetic Benchmarks
Google isn't technically on the cutting edge of technology with the Pixel 4 duo. Both the Pixel 4 and 4 XL are running the Qualcomm Snapdragon 855 chipset, and they only come with 6GB of RAM. Google missed out on integrating the latest Snapdragon 855+ chipset - which is technically the same silicon, but with slightly overclocked CPU and GPU. This is a similar situation to Google's decision to use an underclocked Snapdragon 845 on Pixel 3. If OnePlus can develop and launch a refreshed 7T with the 855+ at a super competitive price point, why can't Google?
The Snapdragon 855 used in the Pixel 4's is built on the 7nm process and features an octa-core CPU. One quad-core low-power Kryo 485 cluster is clocked at 1.78 GHz. The second cluster has three Kryo cores clocked at 2.42 GHz and one high-power one at 2.84 GHz.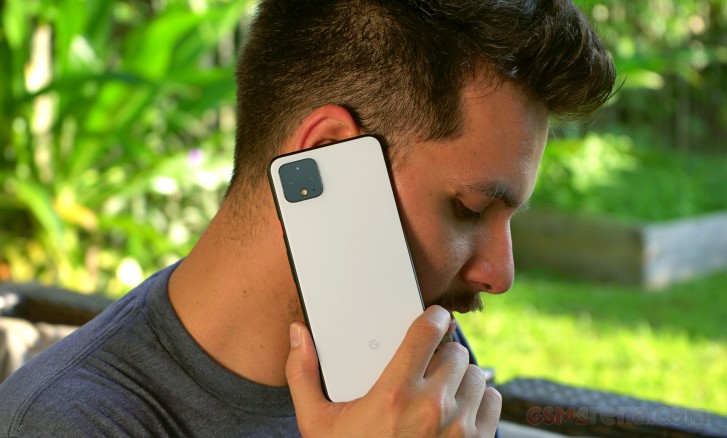 Even if not the latest and greatest, the 855 is no slouch. It's difficult to notice a difference between the Snapdragon 855 and 855+.
On the upside, Google has finally updated the amount of RAM to 6GB. One complaint we had with the Pixel 3 was that apps were getting knocked out of the system memory too early. It's nice to finally get some extra RAM, but 6GB isn't even competitive anymore with higher-end Chinese phones coming with 8GB by standard and upwards of 12GB when maxed out.
Anyway, let's get into these numbers.
Single core performance is shy of other devices running the same processor. It finds itself in its own level below the other Snapdragon 855 and 855+ devices while the Kirin 990, Exynos 9825, and Apple A13 all exceed in single-core scores.
GeekBench 5 (single-core)
Higher is better
Apple iPhone 11 Pro
1334
Apple iPhone 11
1333
Samsung Galaxy Note10
837
OnePlus 7T Pro
780
Huawei Mate 30 Pro (Perf mode)
779
Sony Xperia 5
751
OnePlus 7 Pro
744
Google Pixel 4 XL
628
Multi-core numbers still trail behind competitors. The Samsung Galaxy Note10's Exynos 9825 scored below the Snapdragon 855, but, again, the Pixel 4 XL finds itself roughly a step below the other 855 devices. The iPhone 11 Pro leads in multicore performance, and we don't expect that to change anytime soon.
GeekBench 5 (multi-core)
Higher is better
Apple iPhone 11 Pro
3497
Apple iPhone 11
3462
Huawei Mate 30 Pro (Perf mode)
2972
OnePlus 7T Pro
2807
Sony Xperia 5
2806
OnePlus 7 Pro
2763
Google Pixel 4 XL
2514
Samsung Galaxy Note10
2259
GPU performance was better. Offscreen graphics tests are rendered at the same resolution to keep a level field to compare across devices with different screen resolutions. The Pixel 4 XL performed in line with other Snapdragon 855 devices. The OnePlus 7T Pro did exceptionally well and leads the chart with the Snapdragon 855+. Meanwhile, the iPhone 11 continues to slay the competition in raw performance scores.
GFX 3.1 Manhattan (1080p offscreen)
Higher is better
Apple iPhone 11
121
Apple iPhone 11 Pro
118
OnePlus 7T Pro
80
Huawei Mate 30 Pro (Perf mode)
76
Redmi K20 Pro/Mi 9T Pro
71
Google Pixel 4 XL
69
Sony Xperia 5
69
Samsung Galaxy S10+
69
OnePlus 7 Pro
68
OnePlus 6T
60
Samsung Galaxy Note10
59
Google Pixel 3 XL
44
Google Pixel 3a XL
20
GFX 3.1 Car scene (1080p offscreen)
Higher is better
Apple iPhone 11
76
Apple iPhone 11 Pro
66
OnePlus 7T Pro
48
Huawei Mate 30 Pro (Perf mode)
42
Redmi K20 Pro/Mi 9T Pro
42
Samsung Galaxy S10+
42
Google Pixel 4 XL
41
OnePlus 7 Pro
41
Sony Xperia 5
40
OnePlus 6T
35
Google Pixel 3 XL
28
Samsung Galaxy Note10
28
Google Pixel 3a XL
11
3DMark's graphics testing did fare better. It scored right behind the chart-leading OnePlus 7T Pro and barely surpassed the Kirin 990 in the Mate 30 Pro. Here is where you can see that not all benchmarks are created equal since the iPhones are somewhere other than the top of the list.
3DMark SSE 3.1 Unlimited
Higher is better
OnePlus 7T Pro
6921
Google Pixel 4 XL
6441
Huawei Mate 30 Pro (Perf mode)
6322
Apple iPhone 11
6162
OnePlus 7 Pro
6093
Apple iPhone 11 Pro
6091
Sony Xperia 5
5592
Samsung Galaxy Note10
5269
Redmi K20 Pro/Mi 9T Pro
4850
Samsung Galaxy S10+
4632
Google Pixel 3a XL
1748
The Google Pixel 4 XL has a 1440p+ display, thus more power is needed to keep up with games rendering at the native resolution. That said, the Pixel 4 XL doesn't fare well against phones with native Full HD+ resolution displays. It scored alongside the Galaxy S10+ and OnePlus 7 Pro, both of which have QHD+ (1440p) screens. Here you'll also notice a significant improvement in scores over the Google Pixel 3 XL's underclocked Snapdragon 845 chipset.
GFX 3.1 Manhattan (onscreen)
Higher is better
Apple iPhone 11 Pro
60
Apple iPhone 11
60
Redmi K20 Pro/Mi 9T Pro
57
Huawei Mate 30 Pro (Perf mode)
56
Samsung Galaxy Note10
55
OnePlus 6T
53
Sony Xperia 5
52
OnePlus 7T Pro
40
Samsung Galaxy S10+
37
Google Pixel 4 XL
34
OnePlus 7 Pro
33
Google Pixel 3 XL
24
Google Pixel 3a XL
19
GFX 3.1 Car scene (onscreen)
Higher is better
Apple iPhone 11
60
Apple iPhone 11 Pro
57
Redmi K20 Pro/Mi 9T Pro
36
Huawei Mate 30 Pro (Perf mode)
34
Sony Xperia 5
33
OnePlus 6T
31
Samsung Galaxy Note10
28
OnePlus 7T Pro
24
Samsung Galaxy S10+
23
Google Pixel 4 XL
21
OnePlus 7 Pro
19
Google Pixel 3 XL
12
Google Pixel 3a XL
11
Antutu 7 too showed an improvement in the Pixel 4 XL performance when compared to the performance of the Pixel 3 XL by about 25%. However, the competitors are still ahead, and the Pixel 4 XL trails behind all the Snapdragon 855 performers. The OnePlus 7T Pro remains at the top in performance among all the other 855(+) devices.
AnTuTu 7
Higher is better
Apple iPhone 11 Pro
460784
Apple iPhone 11
419453
OnePlus 7T Pro
395868
Huawei Mate 30 Pro (Perf mode)
378950
Redmi K20 Pro/Mi 9T Pro
368846
OnePlus 7 Pro
364025
Samsung Galaxy Note10
344442
Sony Xperia 5
334809
Samsung Galaxy S10+
333736
Google Pixel 4 XL
323305
OnePlus 6T
293994
Google Pixel 3 XL
258244
Google Pixel 3a XL
159110
Although the Snapdragon 855 has already been succeeded by the 855+, the performance difference between the two is almost negligible. The 855 on the Pixel 4 XL, however, is not the best performer among other OEMs. We've witnessed the same thing last year with the Pixel 3 and the same with Pixel 2 before that. It seems that Google is purposefully limiting the max performance of the CPUs they use.
As a result, if you're looking for the very best device to play lots of games on, the Pixel 4 XL may not be for you. There are plenty of other devices (mostly made by Chinese OEMs) that offer a bunch of game-specific features like a gaming mode or software optimizer for getting the very best performance out of games. The Pixel 4XL is also limited to a single configuration of 6 GB RAM, so you're better off with the much cheaper OnePlus for gaming.
One positive is the phone doesn't warm up under moderate use. Even when playing games, the Pixel 4 XL only may get comfortably warm under high usage.
Stagepoint
03 Sep 2022
q2A
I've owned Pixel 4XL for 2 years now and consider it one of the better phones I've bought. Good display, readable outside, quick processor, decent camera and fast updates. Battery life is just ok. Cons? Needs to be rebooted about once a...
I have been buying google phones for awhile. The pixel 4xl is the bottom of the barrel. Totally regret the purchase and customer service at Google is the worst.