Google Pixel 5 review
GSMArena team, 25 October 2020.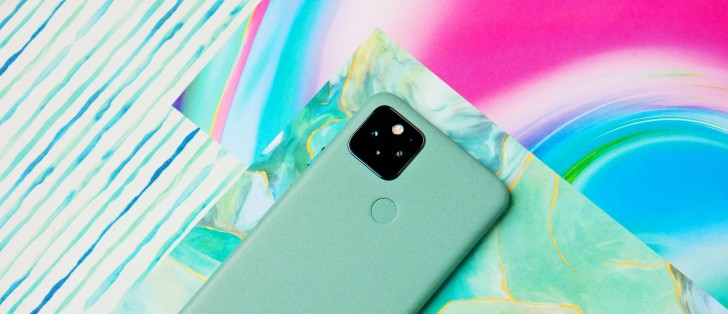 New software, same hardware
The main camera is a 12.2MP snapper with f/1.7 aperture and Dual Pixel autofocus. Considering this camera hardware is the same on paper as the one we got last year in Pixel 4, we'll look out for camera improvements mostly in image and video processing.
Like its predecessor, the Pixel 5 comes with dual rear cameras. Following the criticism that Google received last year for not including an ultra-wide camera on the Pixel 4 duo when literally every other competitor had one, the Pixel 5 trades the dedicated 2X zoom telephoto camera in favor of an ultra-wide shooter. This camera equips a 16MP sensor with 1.0µm size pixels. It uses an f/2.2 aperture lens with a 107-degree field of view. Granted, this isn't as wide as other competitors, but the lens distortion is kept to a minimum.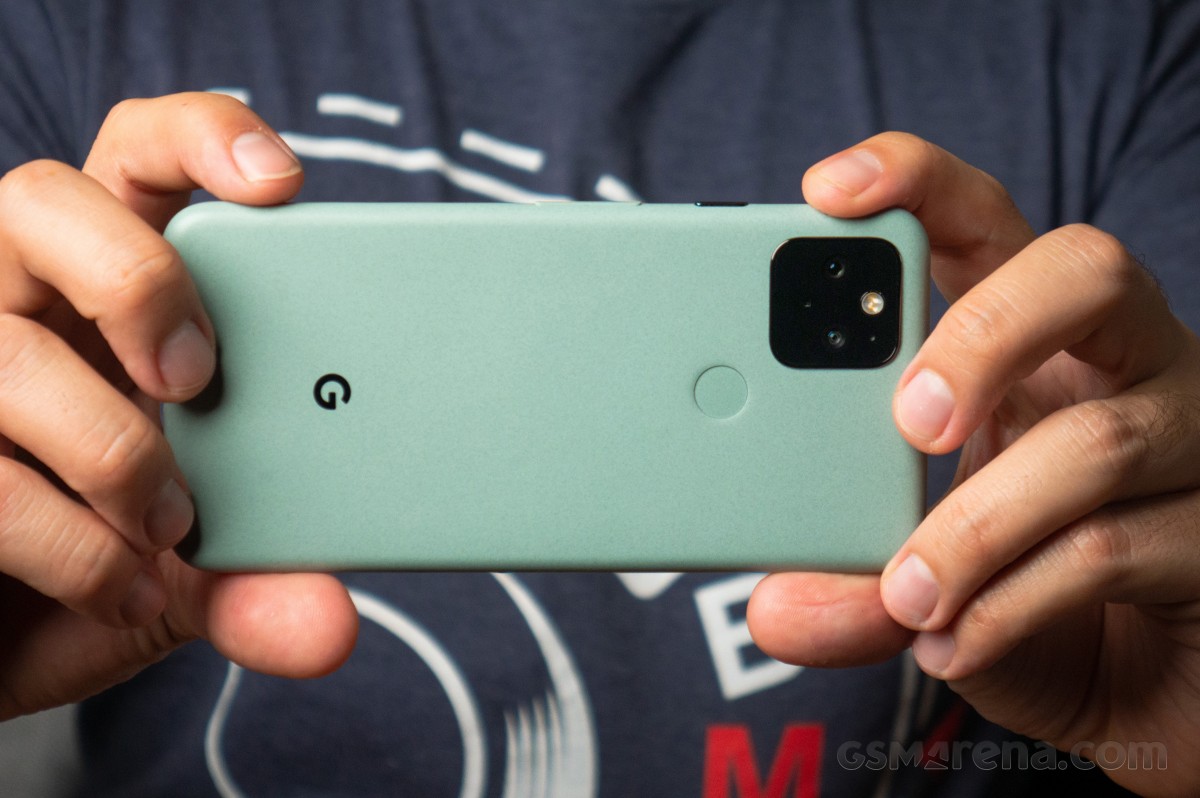 Google's reasoning for replacing the 2X zoom camera instead of just adding a telephoto camera boils down to keeping costs down. It believes that Super-Res zoom is a viable replacement for the telephoto camera, and they are not entirely wrong. You can at least get by without having a telephoto camera by cropping from the main one. Still, there's no similar workaround for getting wider shots, so you might argue having an ultra-wide camera is preferable - if you had to choose just one extra camera. Though, granted, that's a choice we'd rather not be forced into making.
The front-facing camera on the Pixel 5 is slightly different from the Pixel 4's. It's still 8MP and has an f/2.0 lens, but that lens is just a tad wider at 24mm (35mm camera equiv). For a selfie camera, this camera is quite wider than many, but there's a shortcut to zoom into 1.4X if you want to take a more cropped selfie that's more in-line with many other smartphone front-facing cameras.
There's no autofocus on this front camera, and the lack of front-facing 3D sensors that Motion Sense had means that this camera needs to rely solely on the single selfie camera to take portrait selfies.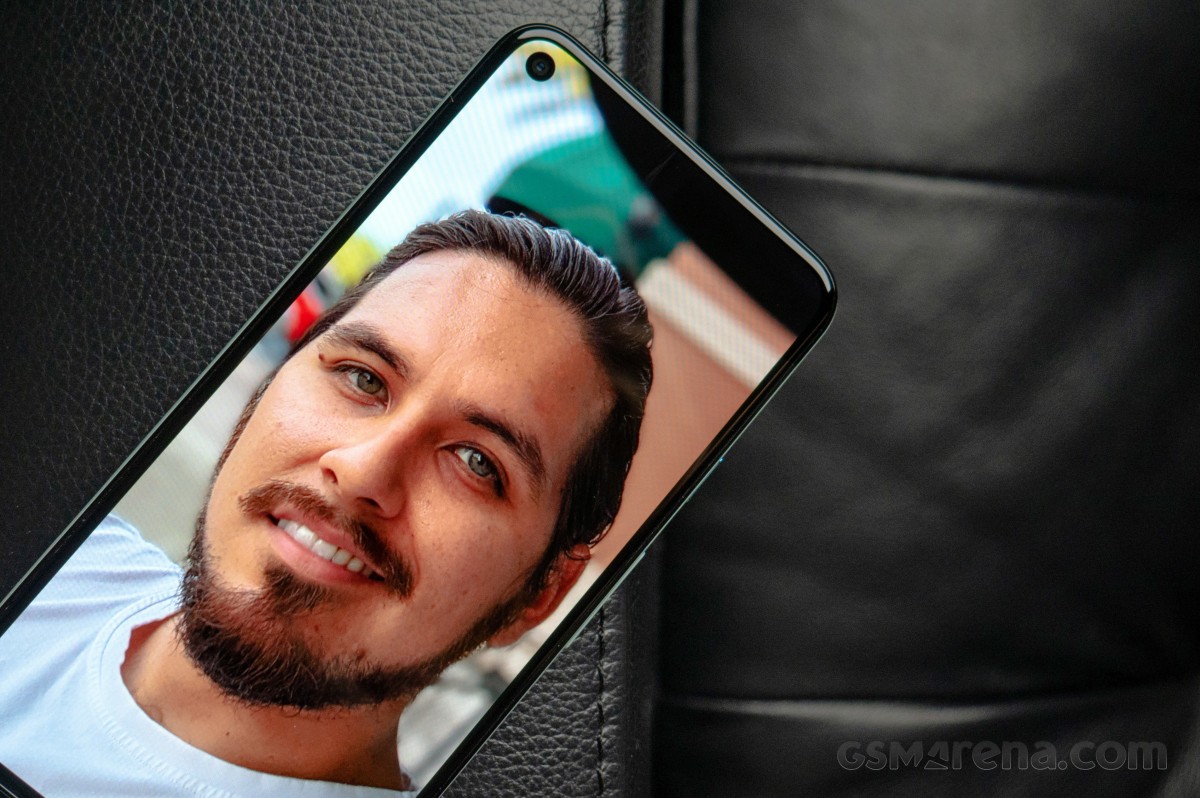 The Pixel 5's camera brings a few new features. To start, you can now use Night Sight to shoot portrait photos. There's also a new Portrait Light feature that lets you add or adjust the lighting to a portrait subject's face. A new Google Photos update will also let you adjust the lighting of older portrait photos.
Then there's the additions to the video camera. There are three new stabilization modes when shooting video. Locked, Active, and Cinematic Pan. The latter got the most attention during Google's live stream announcement, and it will basically shoot video in 60 fps and play it back at 1/2 speed.
With the Pixel 5, Google dropped the Visual Core co-processor introduced with the Pixel 2. This ARM-based chip would aid in the image signal processing needed to produce Google's HDR+ photos, and it would eventually be used to optimize the Motion Sense hardware for face unlock on the Pixel 4 and 4 XL. When Google confirmed the Pixel 5 was dropping Visual Core, it also confirmed that through optimization, it was able to get similar camera performance with the Snapdragon 765G versus the Snapdragon 855 + Visual Core combination.
Google's camera UI is as simple as ever. Swipe across to access the different camera modes, and each mode has its own settings that are quickly accessed by a drawer button towards the earpiece.
As introduced with the Pixel 4, you can adjust highlights and shadows right in the viewfinder using the sliders. It's worth noting if the phone is too hot from being in the sun or it gets stuffy in a case, it won't allow you to make these lighting adjustments on the fly, and you'll have to wait for it to cool down before you can play with these sliders again.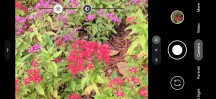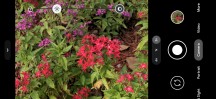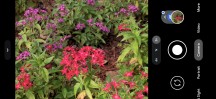 Adjusting shadows and highlights in the viewfinder
The new editing tools let you adjust portraits even after you take them. This even applies to older photos that weren't even shot with a Pixel phone. When entering the edit window of a portrait, the Blur and Portrait Light sliders are in the Adjustment tab. We like that you can select a point on the image to adjust the lighting on the subject's face(s).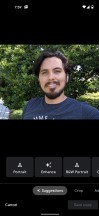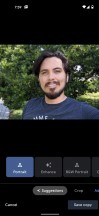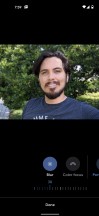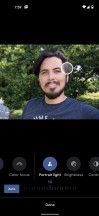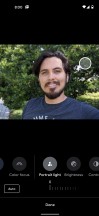 Sshots adjusting portrait lighting
Image quality
Let's start with the daylight photos. Photos are shot in 12.2 MP with the main camera, and even though the ultra-wide shooter has 16MP resolution, resulting images are output in 12.2 MP. The default camera images are quite good with great contrast, nice details, and dynamic range. We still get this blue-tinted characteristic in the photos that has been unique to Pixel phones, and, frankly, we think some of these images could look more pleasing if they were a tad bit warmer.
The level of resolved detail is generally good, though the Google camera tends to prioritize details in shadows over those that are just nearly lost in highlights. Overcast lighting results in dull overall tones that could desperately use some of that warmth we mentioned earlier. Sharpness, in otherwise bright conditions, is spot on. Skies always appear pleasant and with barely any noise throughout.
Ultra-wide photos are shot with the secondary camera and with a 107-degree field of view. Although this camera doesn't have any autofocus adjustment, the sharpness of the photos is pretty good. Ultra-wide shots are consistent with the main camera in color reproduction, and it even keeps up with resolved details and sharpness in ideal lighting.
Super-Res zoom uses Google's HDR+ algorithm to compensate for the lack of a dedicated telephoto camera. 2X zoomed-in shots are by no means "lossless," but they do produce nice shots given the hardware limitation (i.e., lack of a higher-resolution sensor). Still, there's a noticeable drop in sharpness and resolved detail with these kinds of photos. These photos still output at 12.2 MP despite using a crop of the main sensor.
Portraits
The Portrait mode crops in by 1.4X (called 1X in portrait mode) and offers a further crop of 2X (called 1.3X in portrait mode), which still needs to crop out of the primary 12.2 MP camera, so images gradually degrade depending on the crop you go with.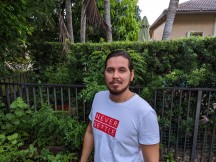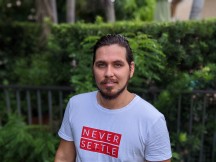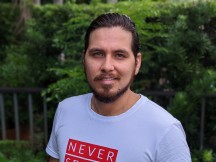 Standard shot 1X • Portrait "1X" • Portrait "1.3X"
With Pixel 4, Google used information from the main and telephoto cameras to create a more realistic looking bokeh effect, taking more depth information into account. Since there's no longer a telephoto camera on the Pixel 5 and the ultra-wide doesn't feature an autofocus lens, the main camera no longer has this second eye to distinguish depth, so this phone's portraits rely on the main camera only to create the bokeh effect. This is a step backward from the portraits' quality that we saw on the Pixel 4 last year.
Portraits are good enough. Colors, contrast, white balance, and dynamic range are consistent with the regular shooting mode, but there's the exception of resolved details, which are not as crisp due to this crop.
The Pixel 5 tries to make a bokeh based on depth, but it doesn't do as well as the Pixel 4 did. It's not to say that Portrait shots are terrible, but the bokeh effect can be hit or miss. It tends to work better with a background that more drastically contrasts the foreground. At the "1.3X" crop (which is literally a 2X crop of the main sensor), we can start to tell they are cropped. Of course, the average person likely won't spot this once it's been compressed and uploaded to social apps.
We admit that lighting wasn't a best-case scenario in our samples, but quickly loading the photo in the Google Photos app lets you adjust the new Portrait Lighting setting. We wonder why Google can't put more of the automated adjustments it suggests in Google Photos directly into the camera's algorithm.
Selfies
The 8MP selfie sensor is showing its age in a time where midrange selfie cameras are seeing 32 MP sensors on the regular. In any case, selfies are generally good with great details and nice, vibrant colors. Dynamic range is quite good as well, even managing to capture drastic ranges of lighting in selfies, though not as gracefully as on other flagships.
There's a 1.4X zoom option in the selfie camera, which is more in line with other smartphones. Despite the zoom cropping from the 8MP sensor, it still samples up to output the same 8MP resolution.
Sharpness and contrast are both excellent as well, and, although the camera has a fixed focus lens, there's no issue with selfies being out of focus like we experienced with the Pixel 4a.
The front-facing camera can do portraits as well, and the same crop options are available.
Night Sight
Low light performance of the Pixel 5 is good enough. The ultra-wide camera does have a dimmer aperture, so photos with the main camera are generally better in low light conditions. We like the true-to-life colors and exposure of the low light photos, but the white balance can sometimes veer off just a bit. In any case, larger, higher-resolution sensors are ahead of Google's performance in this department.
Night Sight only kicks in after a certain threshold of available light. Sometimes enabling the mode doesn't make any difference to the resulting image. When Night Sight is applied to the scene, the most significant difference is a reduction of noise. White balance may also change and lean warmer, but the overall image sees a better dynamic range at the expense of possible motion blur.
The ultra-wide camera doesn't fare as well as the main camera in low light, but Night Sight does help the new camera capture better photos. Sharpness is noticeably inferior to the main camera's and more so here than in daylight photos.
Finally, here are some low-light selfies to test out Night Sight. Although it can be grainy at times, Night Sight can make or break a low light selfie. The first selfie looks great, but the second one didn't fare due to the light source coming from behind the subject. Again, a Night Sight selfie can be a hit-or-miss.





Selfie Night Sight: Off • On • Off • On
Video
Google introduced a newly revamped video camera for the Pixel 5. It's got improved sharpness, low-light performance, and it added a few new stabilization modes for more creative video capture. We'll get to those a bit later.
The primary camera can capture 4K video at up to 60 frames per second. Meanwhile, the ultra-wide camera can record 4K video, but only up to 30fps. Even in 1080p recording, the ultra-wide camera still can't record video in 60 frames per second.
With the main camera, 4K video looks great. Colors and exposure are accurate, and video is rendered with minimal noise. The resulting video has a bitrate of 46.7Mbps.
The ultra-wide camera's 4K video was consistent with colors and even sharpness, but dynamic range was not as good as on the primary camera. Despite this, we're glad to see an ultra-wide camera on the Pixel 5, and it produces nice-looking video with low noise.
It's common for 60fps video to take a hit in image quality, but the Pixel 5 is an exception. Full HD video at 60fps looks just as good as the 30fps counterpart.
Like with 4K video, Full HD video shot with the ultra-wide camera is noticeably softer, and dynamic range doesn't let it see as well in the shadows anymore.
There are three new video stabilization modes on the Pixel 5 which offer different use cases. There's the default Standard, Locked, Active, and Cinematic Pan. The Locked mode will try to stabilize video of something that's far away; this is meant for 2X video. We tested it with the resolution set to 4K video, but you can tell there's a lot of processing going on in the background based on the noise we see.
Then there's Active stabilization, which shoots video with the ultra-wide camera to improve stabilization. Active mode will only output FullHD video at 30 fps.
Then there's Cinematic Pan, which is the mode that Google showed off at the phone's live stream announcement. It essentially shoots video at 60 frames per second and then slows it down to half-speed. You'll still need a somewhat steady hand to get nice-looking clips.
Stabilization is otherwise great without these modes with minimal shake and smooth panning.
i can use this phone photo for youtube video
Hopefully, gsmarena reviews the Pixel 6 Pro at gsmarena's normal location. "The Portrait mode crops in by 1.4X" No, it's 1.5x , 40mm
Yes, the Pixel 5 is a perfect size. My situation is different from yours. No Pixel 5 or 4a is available in my local retailer (Australia), I suspect it's because they want to stock up for the Pixel 6. I'm not sure why the Pixel 5 is not ther...