Google Pixel 6 review
GSMArena Team, 17 November 2021.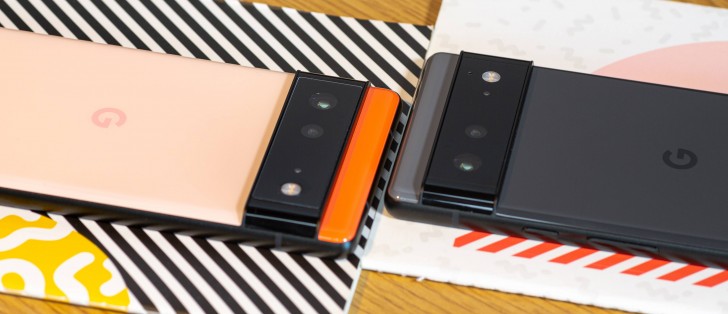 6.4-inch AMOLED is good... enough
The Pixel 6 comes with a few notable downgrades in the display department compared to the Pro, and we're not talking about the flat edges - that might actually be an advantage in some people's eyes.
No, we're talking about the 90Hz refresh rate vs. the 120Hz on the big Pixel and the 1080p resolution where the Pro goes all the way up to 1440p.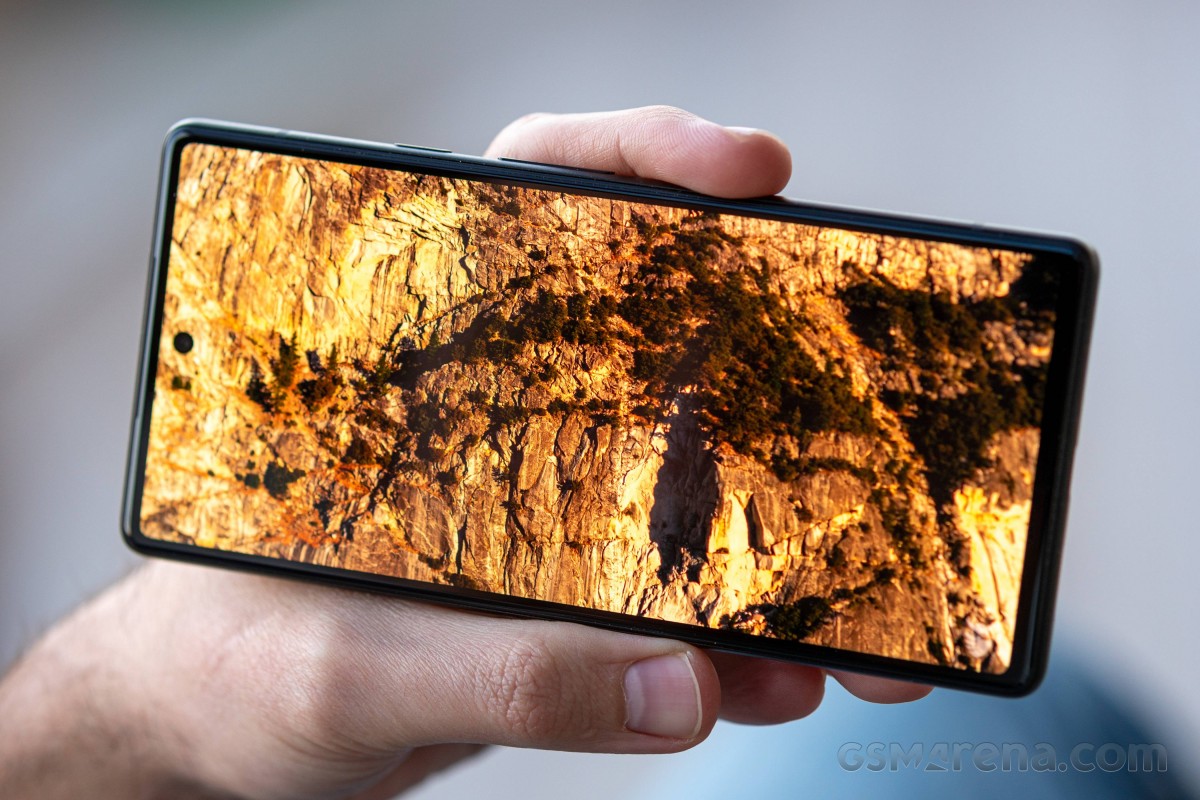 It's still an AMOLED, the Pixel 6's display, and at 6.4 inches in diagonal, it's anything but small - there's no small Pixel this time around, as already established. The 1080x2400px resolution works out to 411ppi, a 100ppi short of the Pro's density, but perfectly acceptable.
We measured marginally lower results for brightness on the Pixel 6 than what we got out of the Pro, but both the manually attainable 477nits and the ambient light mandated 846nits are very good results. Competitors like the iPhone 13 or the Galaxy S21 are in the same ballpark while the top-end iPhone Pros and the Galaxy Ultras go beyond the 1000-nit threshold.
Display test
100% brightness
Black,cd/m2
White,cd/m2
Contrast ratio
Google Pixel 6
0
477
∞
Google Pixel 6 (Max Auto)
0
846
∞
Google Pixel 6 Pro
0
497
∞
Google Pixel 6 Pro (Max Auto)
0
860
∞
Samsung Galaxy S21 5G
0
416
∞
Samsung Galaxy S21 5G (Max Auto)
0
856
∞
Apple iPhone 13
0
802
∞
Asus Zenfone 8
0
440
∞
Asus Zenfone 8 (Max Auto)
0
800
∞
Xiaomi Mi 11
0
498
∞
Xiaomi Mi 11 (Max Auto)
0
926
∞
OnePlus 9
0
450
∞
OnePlus 9 (Max Auto)
0
821
∞
The Pixel 6 comes with a three-position selector for color reproduction and no options for further tweaking. The out-of-the-box Adaptive preset covers a wide color gamut and does so with okay accuracy - average dE2000 was 3.1 in our tests with DCI-P3 color swatches, and the white point was accurate, unlike the bulk of blue-leaning screens on the market. The Boosted mode was actually marginally closer to the DCI-P3 targets with an average dE2000 of 2.9. Natural mode is best suited for sRGB content and returned an average dE2000 of 1.9 - good enough.
The Pixel 6's display is HDR10+ compliant. We got HDR streams in YouTube, Netflix and Amazon Prime Video, as expected.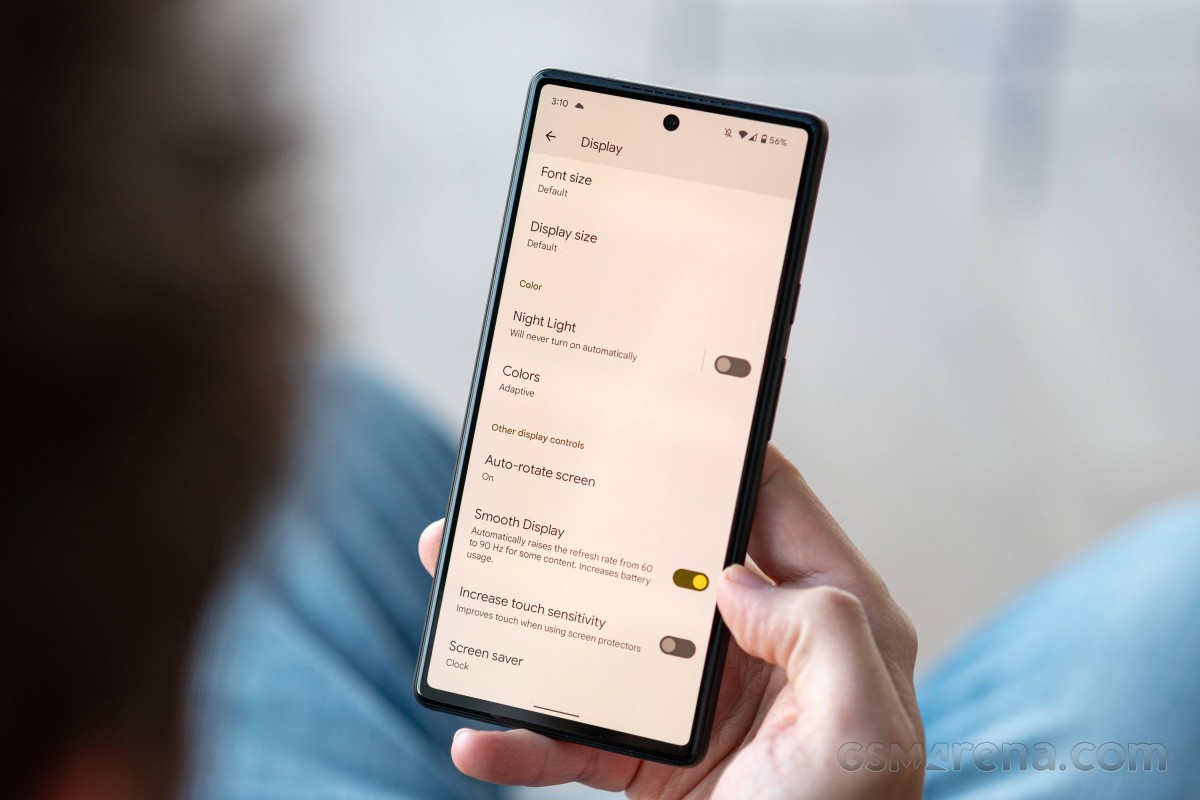 The 90Hz maximum refresh rate of the Pixel 6 is a decent entry into a high refresh rate. It works with a fairly simple auto-switching to 60Hz when you don't touch the screen for a couple of seconds in most apps. Games with high frame rate support get the full 90Hz, which is nice. Also nice is the apparently new toggle in Developer options that lets you force the maximum refresh rate all the time - we hope this makes it to non-Google Android builds in the future.
Google Pixel 6 battery life
The Pixel 6 has a 4614mAh battery inside, slightly smaller than the Pro's 5,003mAh, but an adequate match for the display and chipset.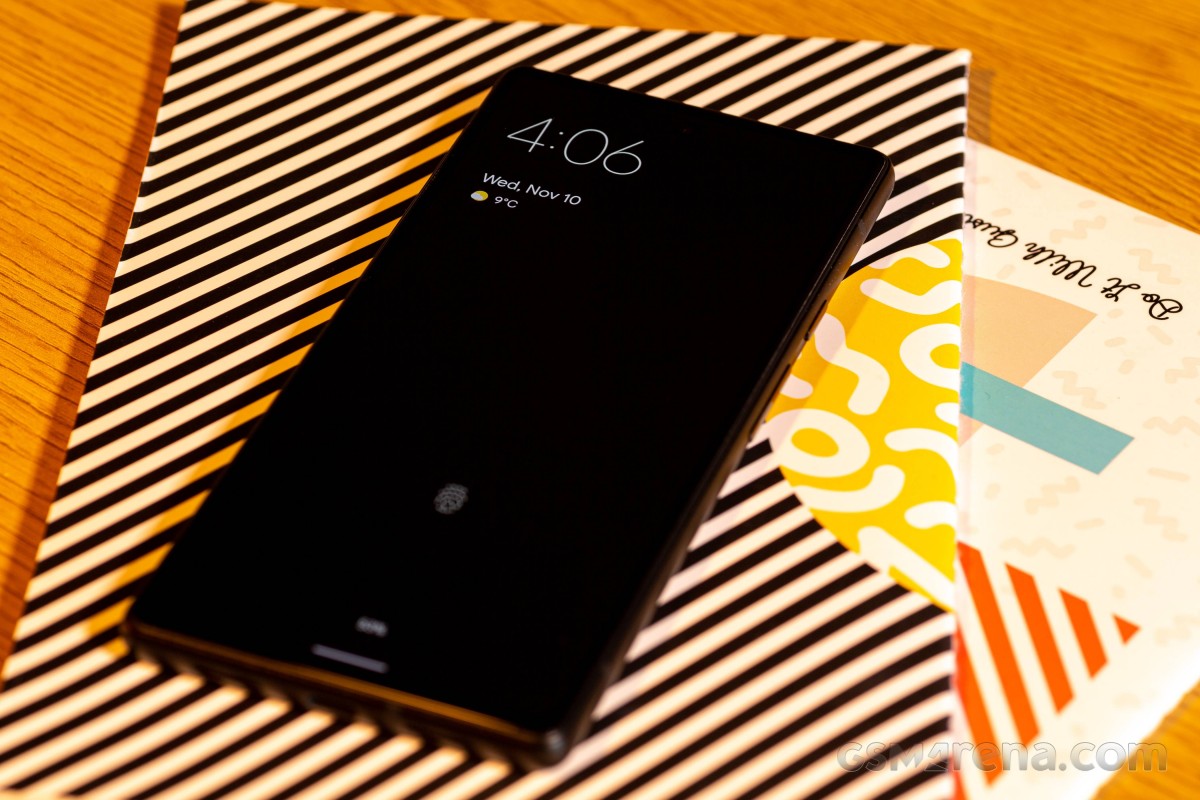 In our testing, the Pixel 6 was good for over 20 hours of offline video playback (at 60Hz), five more than the Pro. In Wi-Fi web browsing, however, the results are identical at twelve and a half hours (the Pixel 6 was locked at 90Hz). Talk time was lower on the Pixel 6 at 21:14h, still okay in our book. Taking into account the similar standby performance between the two, the Pixel 6 ultimately posted an overall Endurance rating close to its brother's - 86h.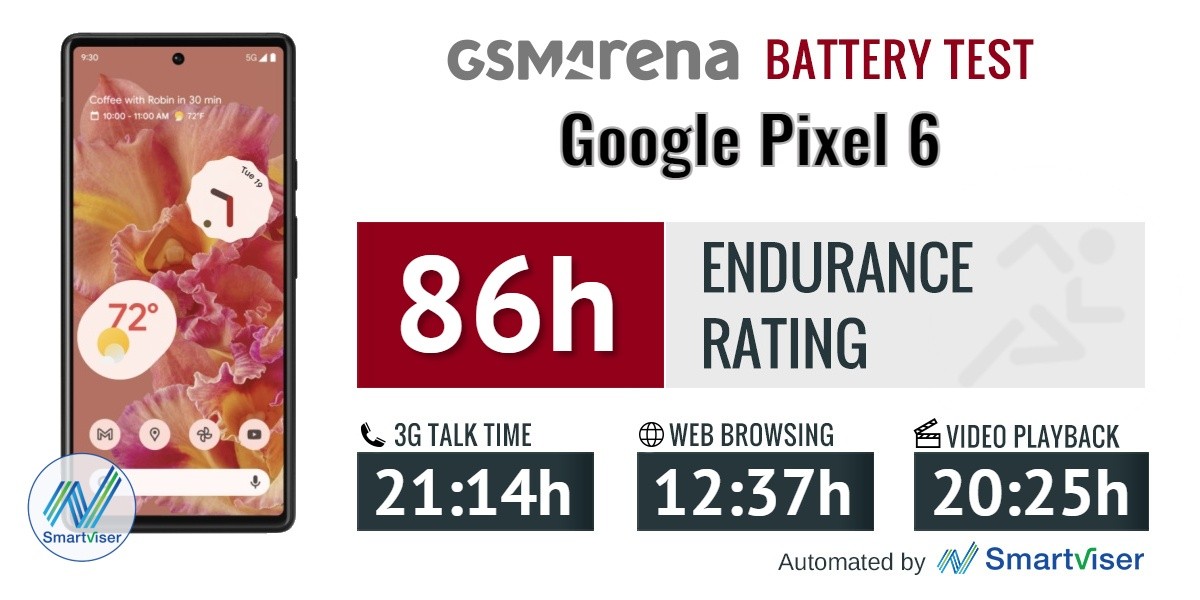 Our battery tests were automated thanks to SmartViser, using its viSerDevice app. The endurance rating denotes how long the battery charge will last you if you use the device for an hour of telephony, web browsing, and video playback daily. More details can be found here.
Video test carried out in 60Hz refresh rate mode. Web browsing test done at the display's highest refresh rate whenever possible. Refer to the respective reviews for specifics. To adjust the endurance rating formula to match your own usage - check out our all-time battery test results chart.
If you're looking to squeeze a bit more battery life out of the Pixel 6, you can run it at 60Hz. We repeated our web browsing test and got two full extra hours for a total of 14:23h. We reckon it's worth it if you know you're going to have a particularly busy day and every minute is important.
Charging speed
The Pixel 6 comes with no charger in the box. Google quotes a 50% figure for a 30-minute charge using their own new 30-watt adapter which supports USB Power Delivery 3.0 with PPS (sold separately, $25 in the US, €29 in Europe). Mind you, they don't explicitly state it actually charges the Pixels at 30 watts.
We tried a third-party 65W PPS-capable adapter and got to 48% in half an hour, close enough to the promised half-full, with the power being drawn maxing out at 20 watts and change. The 0 to 100% test took a lengthy 1:50h.
We repeated the test with an 18W Google adapter, one from the early Pixels and essentially the same unit they all shipped with when they still shipped with chargers. We theorized that people buying Pixel 6s probably have bought Pixels before and have one of these lying around. We got a slightly lower result at the half-hour mark, and more or less the same time for a full charge.
30min charging test (from 0%)
Higher is better
OnePlus 9
100%
Xiaomi Mi 11
83%
Apple iPhone 13 Pro (20W Apple)
60%
Galaxy S21 5G (25W PD)
55%
Apple iPhone 13
54%
Google Pixel 6 Pro
48%
Google Pixel 6 (65W)
48%
Google Pixel 6 (18W)
41%
Galaxy S21 5G (18W QC3.0)
40%
Time to full charge (from 0%)
Lower is better
OnePlus 9
0:29h
Xiaomi Mi 11
0:50h
Galaxy S21 5G (25W PD)
1:13h
Galaxy S21 5G (18W QC3.0)
1:25h
Apple iPhone 13 Pro (20W Apple)
1:38h
Apple iPhone 13
1:46h
Google Pixel 6 (65W)
1:50h
Google Pixel 6 Pro
1:52h
Google Pixel 6 (18W)
1:53h
The Pixel 6 supports wireless charging. The certification listing on the WPC website says it complies with the Extended Power Profile for a maximum charging rate of 12 watts using standard Qi charging pads. The second-generation Pixel Stand, on the other hand, should be able to provide up to 21 watts, Google's product pages state.
Speaker test
The Pixel 6 has a stereo speaker setup with the usual configuration - one bottom-firing speaker, one front-firing above the display that also serves as an earpiece. The earpiece is handed the left channel in portrait orientation, while in landscape, the phone will assign the correct channels based on the accelerometer input. Regardless of whether you're only feeding one channel, the other one will produce some sound too, albeit at much lower volume - a fairly common practice.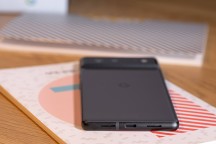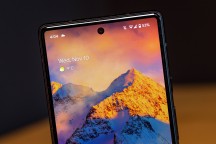 Bottom speaker • Earpiece/Top speaker
The Pixel 6 earned a 'Good' rating for loudness in our speaker test, on par with the Galaxy S21 and a notch below the iPhone 13. If we'd have to rank the sound quality, the iPhone would get the top position, followed closely by the Pixel, and then the Galaxy behind by some margin.
Use the Playback controls to listen to the phone sample recordings (best use headphones). We measure the average loudness of the speakers in LUFS. A lower absolute value means a louder sound. A look at the frequency response chart will tell you how far off the ideal "0db" flat line is the reproduction of the bass, treble, and mid frequencies. You can add more phones to compare how they differ. The scores and ratings are not comparable with our older loudspeaker test. Learn more about how we test here.
Most awful phone I ever had. I was a big fan of pixels, loved the 3a and after 3 years, pixel 6 was the one to get. Phone is terrible, camera keeps crashing and automatically the phone turns off and opens up again. It overheats for no reason,...
Anonymous
18 Oct 2022
PE3
Hi GSMarena, Love your reviews but can you include the ability to cast or mirror to TVs out of box as part of your review? The Pixel phones are terrible in this area. Thanks.
Anonymous
23 Sep 2022
IWR
Hey GSMarena! I believe this phone does not support HDR10+. Is there an error in the spec sheet ? Please confirm!