Google Pixel 7 Pro review
GSMArena Team, 25 October 2022.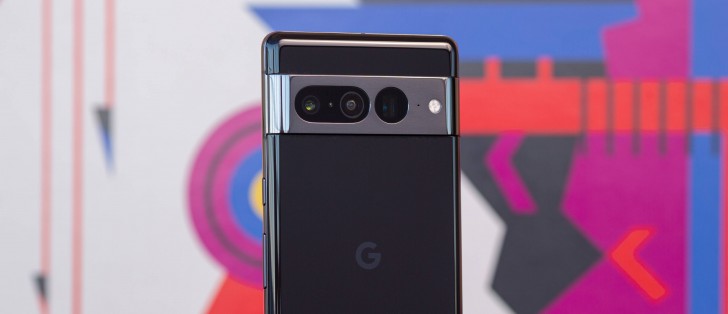 6.7-inch display is hard to fault
The Pixel 7 Pro is equipped with a 6.7-inch OLED display with all the bells and whistles you expect from a top-end phone. It's got a 1440x3120px resolution in a 19.5:9 aspect for a 512ppi pixel density. The LTPO panel supports up to 120Hz refresh rate, and it should be able to ramp down to 10Hz depending on the use case.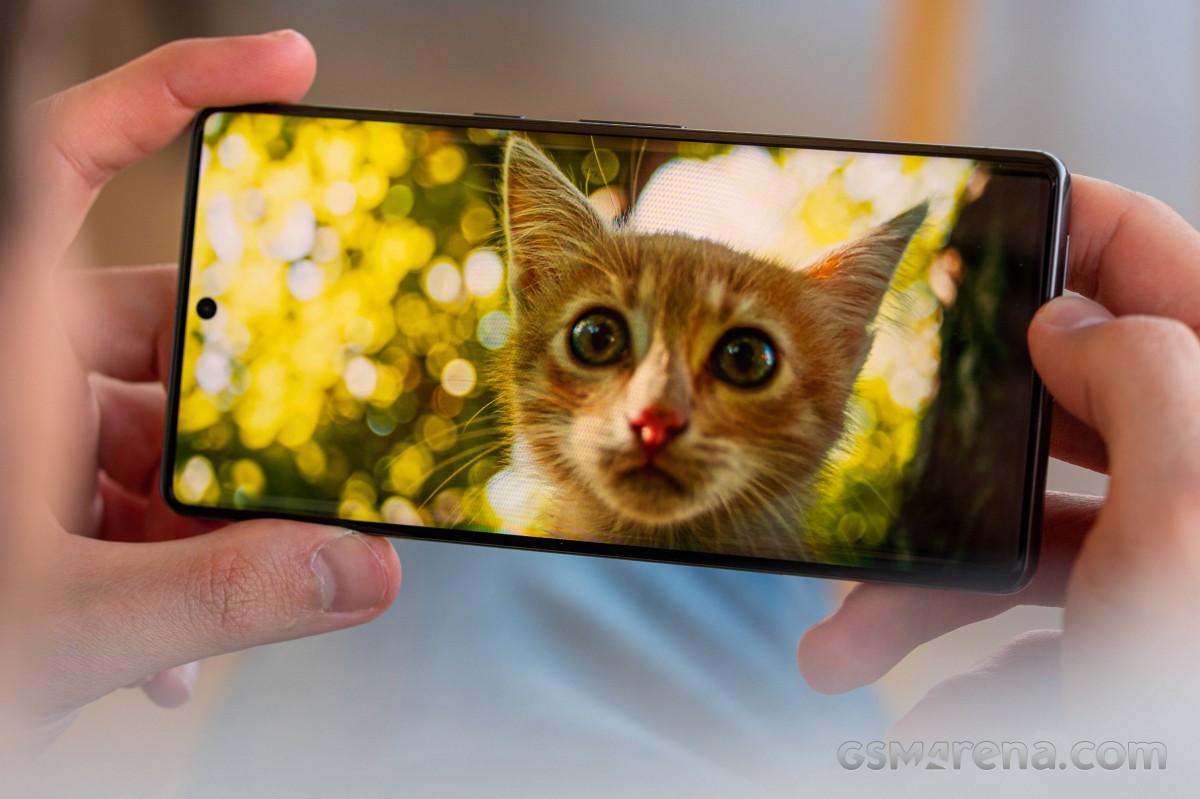 Google promises 1000nits full-screen brightness and 1500nits peak for a 5% lit-up area. In our standardized testing (lighting up a 75% area of the screen), we measured 1090nits with the Adaptive brightness enabled and 588nits when adjusting the brightness manually. While the Galaxy S22s and especially the iPhone 14 Pros stand as somewhat of outliers when it comes to peak brightness, the Pixel 7 Pro's numbers are well worthy of its flagship stature.
By the way, for kicks and giggles, we did test the display with just a 10% patch of white and measured 1462nits, essentially confirming Google's 1500-nit claim.
Display test
100% brightness
Black,cd/m2
White,cd/m2
Contrast ratio
Google Pixel 7 Pro
0
588
∞
Google Pixel 7 Pro (Max Auto)
0
1090
∞
Google Pixel 7
0
460
∞
Google Pixel 7 (Max Auto)
0
974
∞
Google Pixel 6 Pro
0
497
∞
Google Pixel 6 Pro (Max Auto)
0
860
∞
Samsung Galaxy S22 Ultra
0
494
∞
Samsung Galaxy S22 Ultra (Extra brightness)
0
829
∞
Samsung Galaxy S22 Ultra (Max Auto)
0
1266
∞
Apple iPhone 14 Pro Max
0
828
∞
Apple iPhone 14 Pro Max (Max Auto)
0
1760
∞
Sony Xperia 1 IV
0
602
∞
Xiaomi 12 Pro
0
506
∞
Xiaomi 12 Pro (Max Auto)
0
1050
∞
Oppo Find X5 Pro
0
475
∞
Oppo Find X5 Pro (Max Auto)
0
762
∞
OnePlus 10 Pro
0
498
∞
OnePlus 10 Pro (Max Auto)
0
780
∞
vivo X80 Pro
0
488
∞
vivo X80 Pro (Max Auto)
0
1014
∞
Color reproduction is handled in a very straightforward manner on the Pixel 7 Pro - you get just 2 modes with no further tweaking possibilities. The default Adaptive mode delivers a more vivid output and respectable, though not class-leading, accuracy for our DCI-P3 color swatches.
The Natural mode, on the other hand, is properly excellently tuned for sRGB content, though conversely, it's less appealing in terms of pop. In either mode, there was no major color shift, so the absence of temperature adjustment capability isn't really an issue.
The Pixel 7 Pro supports HDR10 and HDR10+, but no Dolby Vision. We got HDR streams across all popular platforms like YouTube, Netflix, and Amazon Prime Video, with the latter two streaming at 1080p, naturally.
For refresh rate, you get a single toggle in the settings menu called 'Smooth Display', which enables the 120Hz mode. The thing is, despite the official specsheet listing the display as being able to adjust refresh rate in the 10-120Hz range, Android only reports 120Hz and 60Hz modes, both in the Display.Mode class and while the phone is in use with the 'Show refresh rate' utility turned on in Developer options. So while it's somewhat adaptive and will switch from 120Hz down to 60Hz for static content or when you're not touching the display, other refresh rates don't appear to be used (or supported). That's quite perplexing.
Google Pixel 7 Pro battery life
The Pixel 7 Pro's battery is specified at 5,000mAh, and if you're particularly obsessed with detail, you could consider that a downgrade compared to the Pixel 6 Pro's 5,003mAh capacity. Other big high-end Androids like the Galaxy S22 Ultra or the OnePlus 10 Pro also use 5,000mAh batteries, while the iPhone 14 Pro Max stands at 4,323mAh.
In our testing, the Pixel 7 Pro was good for a full day of voice calls, 12:38h of Wi-Fi web browsing (at a variable 120-60Hz refresh rate), or 17:14h of video playback (at a reported constant 60Hz refresh rate). Adding what turned out to be average for the class standby numbers into our formula, the Pixel arrived at an overall Endurance rating of 83h.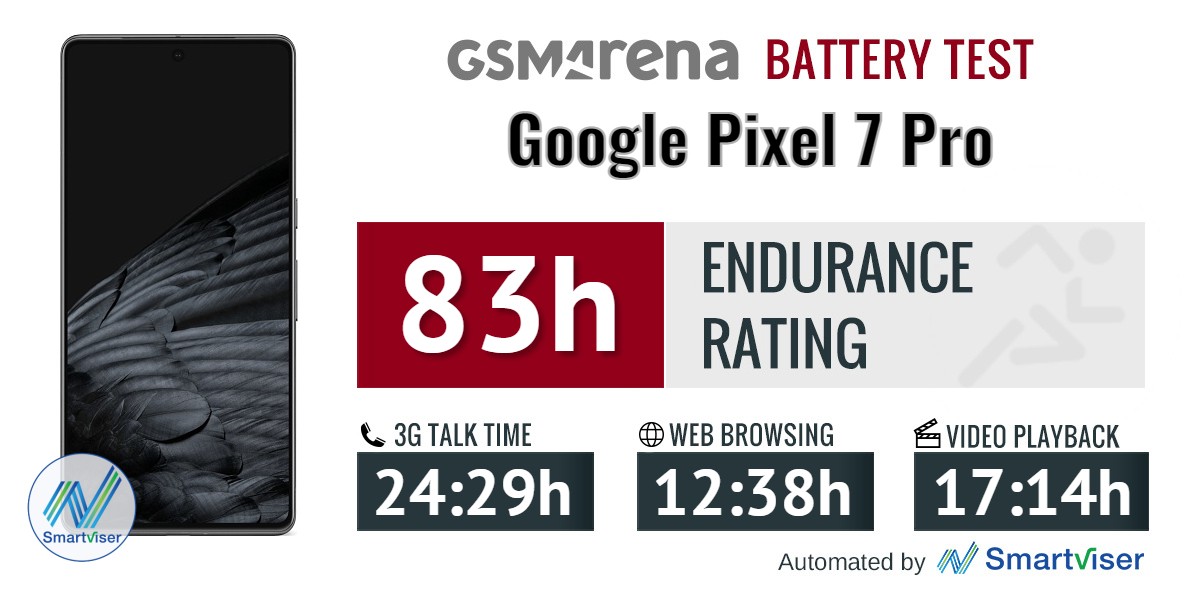 Our battery tests were automated thanks to SmartViser, using its viSerDevice app. The endurance rating denotes how long the battery charge will last you if you use the device for an hour of telephony, web browsing, and video playback daily. More details can be found here.
Video test carried out in 60Hz refresh rate mode. Web browsing test done at the display's highest refresh rate whenever possible. Refer to the respective reviews for specifics. To adjust the endurance rating formula to match your own usage - check out our all-time battery test results chart.
The iPhone is markedly better at the screen-on tests, while the Galaxy and the OnePlus have only minor advantages in longevity.
The Pixel 7 Pro lets you change the resolution it renders from the native 1440p to 1080p. The numbers in the scorecard above are achieved in the default 1440p state and with the Smooth Display enabled for the web browsing test.
We did experiment with lowering the resolution, and we got over an hour extra in the web browsing test (13:49h), but essentially no difference in the video playback result. Keeping the resolution at 1440p but limiting the refresh rate to 60Hz also brought some savings in the web browsing test - 13:33h. Having found some idle time for our review unit, we figured the ultimate battery saving combo of 1080p resolution and 60Hz refresh rate was worth testing and we clocked that at 14:07h - it's something, but not a lot.
Charging speed
The Pixel 7 Pro ships without a charger, but we tested with two third-party adapters that adhere to the USB PowerDelivery standard and are rated at up to 65W. Google's specs say that the Pixel 7 Pro maxes out at 23W, and that's roughly what we got with each of our chargers.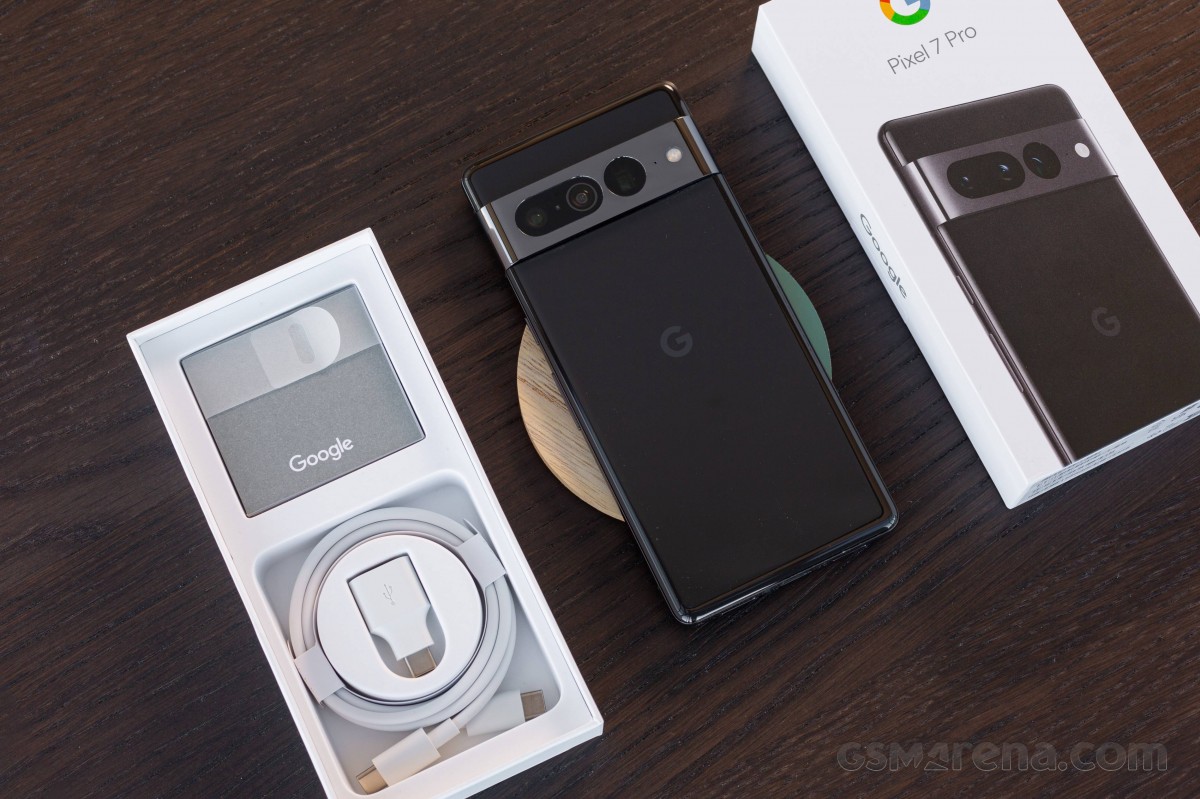 Now, while results were close between our two chargers, they were different - aren't standards fascinating? The 1%-100% time we clocked on the Pixel 7 Pro with one of them was identical to the result of last year's model (1:52h), and also the same as what we got on the iPhone 14 Pro Max with the Apple 20W adapter. The other adapter needed 1:49h.
Either way, that's some of the slowest full charge test results we've gotten on a flagship phone - even notoriously slow-charging Sonys have gotten quicker with the Xperia 1 IV and the Galaxy S22 Ultra is a proper champ with its 1:04h time, even though industry leaders can do it in under 20 minutes.
It's a similar story at the half-hour mark, where we got 43% and 46% with the chargers we used.
Of course, one may argue that proprietary charging solutions are needed for the crazy charging speeds that we see on the likes of the Xiaomi 12 Pro or the OnePlus 10 Pro. It's worth pointing out, however, that the ZTE Axon 40 Ultra, whose 65W charger we used on the Pixel for one of our tests (the ever so slightly slower results), needs just 47 minutes from flat to 100% and is at 80% at the half-hour mark - with the same 5,000mAh capacity battery, mind you.
The ZTE isn't entirely frank in its reporting, however, but even less so is the Pixel. Phones typically 'lie' to you and display a 100% state of charge while they continue to charge to reach a 'full' state. It's a widely publicized peculiarity stemming from manufacturers aiming to protect battery health in the long run and also giving you a more appealing time for what is being presented as a full charge.
That is to preface that the Pixel is among the worse offenders in this respect, and it can take upwards of 25 minutes from the phone showing you a 100% number and actually reaching a 'full' state (it's an Android flag that you can monitor for in software). Our tests are carried out to the 100% mark, a practice we've established for consistency reasons, and we don't normally point out the distinction between 100% and 'full'. On the Pixel 7 Pro, in particular, the 100-to-full time was so long that it merited mentioning.
30min charging test (from 0%)
Higher is better
Xiaomi 12 Pro
100%
OnePlus 10 Pro
98%
Motorola Edge 30 Ultra
95%
Oppo Find X5 Pro
91%
vivo X80 Pro
88%
ZTE Axon 40 Ultra
80%
Asus ROG Phone 6 Pro
75%
Samsung Galaxy S22 Ultra (25W)
61%
Google Pixel 6 Pro
48%
Apple iPhone 14 Pro Max
48%
Sony Xperia 1 IV
47%
Google Pixel 7 Pro
46%
Time to full charge (from 0%)
Lower is better
Xiaomi 12 Pro
0:21h
OnePlus 10 Pro
0:32h
Motorola Edge 30 Ultra
0:33h
vivo X80 Pro
0:39h
Oppo Find X5 Pro
0:40h
Asus ROG Phone 6 Pro
0:42h
ZTE Axon 40 Ultra
0:47h
Samsung Galaxy S22 Ultra (25W)
1:04h
Sony Xperia 1 IV
1:42h
Google Pixel 7 Pro
1:49h
Google Pixel 6 Pro
1:52h
Apple iPhone 14 Pro Max
1:52h
The Pixel 7 Pro supports wireless charging at up to the same 23W that it can take over a cable. That's when using the Pixel stand, while other Qi-compliant pads will max out at 12W. Reverse wireless charging is also possible.
Speaker test
The Pixel 7 Pro has a hybrid stereo speaker setup with a 'main' unit firing out of the bottom of the phone and the earpiece acting as the second channel. The top speaker is assigned the left channel in portrait, while in landscape, the channels will be adjusted to match the actual orientation.
The bottom speaker will join in for the low-frequency range of the opposite channel too. You can easily tell that it's louder if you play the same content solely in one channel and then in the other, but with real-life content, that imbalance isn't nearly as pronounced.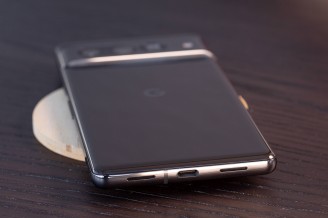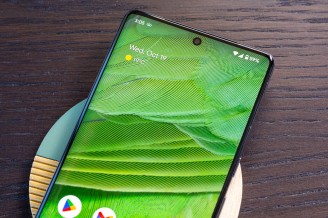 Bottom speaker (the right slot) • Top speaker/earpiece
When it comes to loudness, the Pixel 7 Pro earned a 'Very Good' rating in our testing, on par with the iPhone 14 Pro Max and the OnePlus 10 Pro, and a notch above the Galaxy S22 Ultra. The sound quality is really nice, and we're hearing rich vocals and a respectable low-end presence.
Use the Playback controls to listen to the phone sample recordings (best use headphones). We measure the average loudness of the speakers in LUFS. A lower absolute value means a louder sound. A look at the frequency response chart will tell you how far off the ideal "0db" flat line is the reproduction of the bass, treble, and mid frequencies. You can add more phones to compare how they differ. The scores and ratings are not comparable with our older loudspeaker test. Learn more about how we test here.
Very underated phone. Price is very low compared to quality of this phone. I own it and phone is brutal! Camera is perfect, phone never freeze or lag.
Anonymous
16 Sep 2023
gDf
I recently compared the camera of my Pixel 7 Pro with the S23 Ultra in a store. I took photos of distant objects at 360mm (approximately 15x) because Google's image processing is very bad between 20x and 30x (a 2x crop from a 15x photo is often ...