Google Pixel XL review: Upsampled
Upsampled
GSMArena team, 28 October 2016.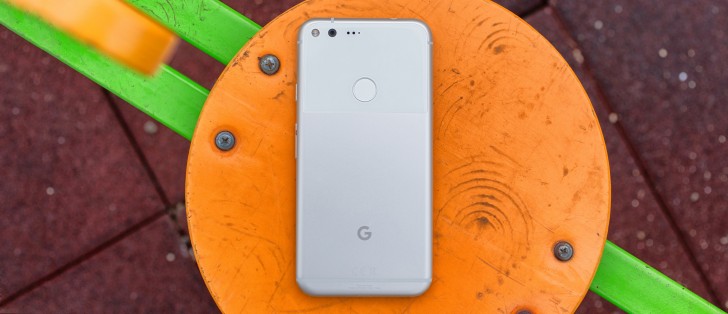 Android Nougat with no additives
The Pixels debut Android 7.1 Nougat, newer than what the first phone with Nougat had (LG V20 ran version 7.0). Better still, they have a promise of long software support by Google. They will receive OS updates for two years (ending October 2018) and security patches for at least three years (or 18 months after Google stops selling Pixels from the Google Store).
The Pixel XL runs all-Google software, AOSP apps have definitely given way to their G-branded replacements. In a way, you can think of it as a "skin" - just no Samsung's, HTC's, LG's, Sony's or anyone else's, but Google's.
We start with the Pixel Launcher. The new long-press shortcuts are reminiscent of 3D touch - you press a shortcut and hold for a moment and a menu with relevant options will pop up. You can add contacts, create new documents, quickly start Maps navigation and so on. Only Google apps seem to support it for now, but we're sure many more will add such options.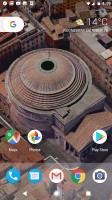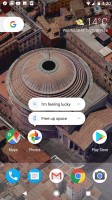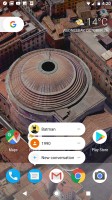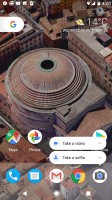 Launcher shortcuts are a way to interact with apps even when they are not open
The live wallpapers are quite eye-catching. Our favorite is Live earth, which shows one of several sights from Google Earth (in full 3D) - the Pantheon, the Half Dome and Yosemite and even the Earth itself. The camera pans slightly when you unlock the phone and again when you move between homescreen panes. Alternatively, Live data encodes information like time and weather into the movement of geometric shapes. Finally, there's an option to turn on slideshow from one of several channels (landscapes, cityscapes, etc.).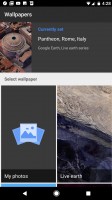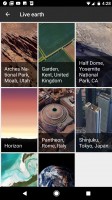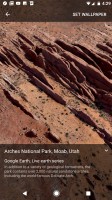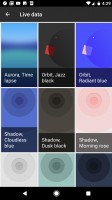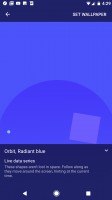 Wallpapers • Live earth • 3D view of Arches National Park • Abstract Live data • What time is it?
The Pixel XL software does not support themes, even though Android itself does (since 6.0 Marshmallow). And that's not the only thing that Google cut, but more on that in a bit.
The launcher itself has taken on a very Retro look. By that, we mean that you slide out the app drawer from the bottom, just like in the original Android. A similar "drawer" is the Google Now screen, which is the leftmost pane on the homescreen.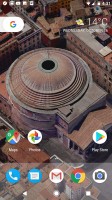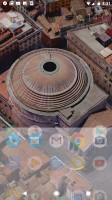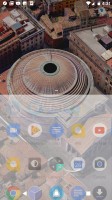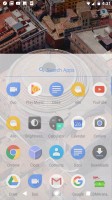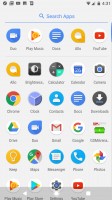 Pulling out the app drawer from the bottom brings us back to the T-Mobile G1 days
A colorful G logo serves as a "handle" for this drawer. Instead of pulling on it, you can just tap it to access Google Search. This works in concert with the In-Apps feature - Google results are mixed with results from the phone itself (apps, contacts and others). The app drawer has an app search feature too, its top row shows recommended apps - recently installed and recently used ones.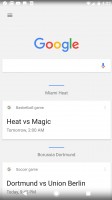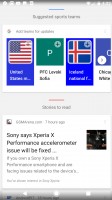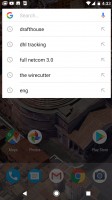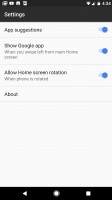 Google Now • We're interested in sports and phones • Search • Homescreen settings
Opposite the G handle is a weather widget, permanently fixed to the screen. You can disable the Now homescreen pane (the handle is now just a Search shortcut), but the weather widget remains in place, immovable.
Android 7.1 Nougat has changed the way multitasking works from the age of Marshmallow. The big change is the addition of Split screen multitasking. Only certain apps support it, but app developers now have an official API to target instead of having to wade through homebrew implementations by Samsung, LG, Huawei and so on. Also, impatient users can force all apps to work with split screen from the Developer options.
You activate split screen by long pressing the App switcher key, which turns from a square into two rectangles - a symbolic representation of multitasking. You pick a second app from the App switcher interface, which means you can't pick an app that's not already running. This makes it less convenient than other implementations.
Note that in portrait mode you can adjust the split between the two apps however you want. In landscape, however, you're locked into a 50/50 split.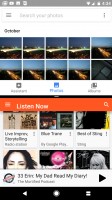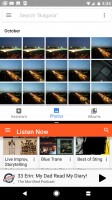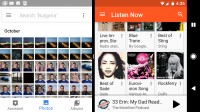 Split-screen multitasking • Moving the dividing line • Landscape is locked to 50/50
If you prefer to run your apps in fullscreen, then use the Quick switch feature instead - double tap the App switcher to alt+tab between the current app and the previous app you used.
There's a Pin icon visible in the app switcher. It's not to keep an app in-memory (protected from the Clear all button), instead it locks the phone to the currently open app - great if you want to give someone your phone, but don't want them messing around with other apps. To get out of this screen pin mode, you long press the Back button, which takes you to the lockscreen.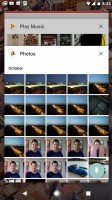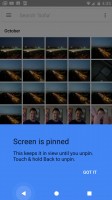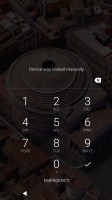 The Pin icon • A pinned app • Unpinning an app requires you to unlock the phone
The lockscreen can be left unsecured, but it's easier to use the fingerprint locker. It's reasonably fast - faster than the iPhone (but slower than some Androids) - and it bypasses the lockscreen, taking you straight to the homescreen. We found the fingerprint reader very reliable - we got some "finger moved too fast" warnings but never a missed recognition.
This way you skip over the notifications on the lockscreen, but you can just use the notification area. After you unlock the phone with the fingerprint reader, you can swipe your finger down on it to drop the notification area.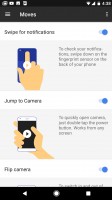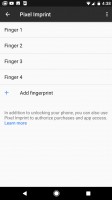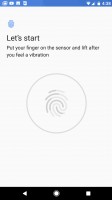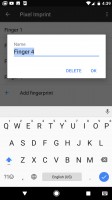 Swipe for notifications • Fingerprints • Adding a fingerprint • And renaming it
Google finally put quick toggles there on the top line. There are six of them visible on the Pixel XL screen, but you can pull a second time to view the rest of them. You can also re-arrange them - the first six are the ones visible on first pull.
There's a brightness slider too, but only visible after the second pull and you don't get an Auto brightness toggle.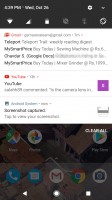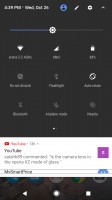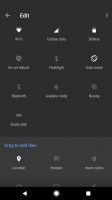 Nougat's notification area with toggles on top • Second swipe shows more toggles • Editing toggles
Starting with Nougat, Google has provided a way for apps to create custom quick toggle tiles. This makes the system much more flexible and easier to personalize.
Quick reply is another thing that makes notifications more powerful - they enable in-line reply for chat apps, straight from the notification. Other actions like share, archive, delete and so on are available too.
A tip to launch the camera quicker - double-tap the power key and you're done! Some phones use the Volume rocker instead, but the Power key is the preferred method for AOSP-based ROMs.
We covered some of the novelties of Nougat, but we'll go over them here. On the Pixel XL, about 7GB are used by the system. Part of that is for the new update system that keeps two copies of the OS - one to run and one to update. This way the phone can update its OS in the background, requiring just a restart to run the new version. No more waiting!
Strangely, we found some of the features we enjoyed on the Nougat-running LG V20 missing from the Google Pixel XL. One was the easy app re-installation (this is really a Play Store feature), which keeps an app for 24 hours after you uninstalled it and if you change your mind, it instantly restores it.
The Google Pixel XL interface is fluid and smooth. However, it feels strangely locked down - a slightly unpleasant feeling we get from opinionated manufacturer skins.
Google Assistant
Long before Siri and the like, sci-fi movies have been telling people that in the future, you will talk to computers just as you do with humans. The Google Assistant is the search giant's latest attempt at this, it is essentially a more proactive, more talkative Google Now.
While you two are getting to know each other, don't be afraid to ask what the Assistant can do. You can even ask it some personal questions (Do you ever sleep?) but those are more cute than helpful.
As with previous voice command interfaces, it can play music, set alarms and reminders and answer questions.
We found the news feature very useful. It collects relevant news items and reads them out to you, structured like a traditional cast (e.g. it starts with politics and closes with sports). You can ask specifically about sports news too. We can easily see us listening to this instead of a morning talk show on the radio.
This is a personal Assistant too. You can ask what's on your calendar, including more complex questions like what's on your calendar for the weekend or get a daily brief. You can also ask for some photos of you, of animals, of anything really. Strangely, we found that this didn't work quite as well as the Google Photos search (sometimes we got a Google Images result instead of images from our Photos account, even when there were relevant results there).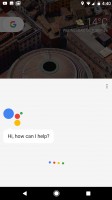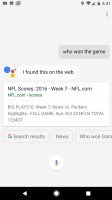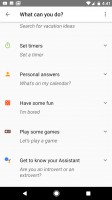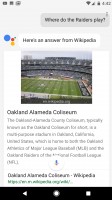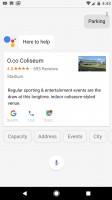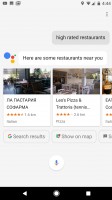 Google Assistant in action: asking about stadiums, the parking there, what's to eat nearby
You can ask about your surroundings too - how long will it take you to get somewhere, is it still open and so on. Another neat trick is asking how to say something in a foreign language - it can save your bacon when traveling abroad (assuming you have data, of course).
The Assistant reliably understood what we mean, but we wouldn't call it a conversational interface. For example, we asked about high-rated restaurants nearby and it showed some local options. We then asked which ones have pasta on the menu and it came back with the same "Here are some restaurants near you" answer, except this time with a different selection (even though the first results featured at least three highly-rated Italian restaurants).
Sometimes it works - e.g. when asking about a specific restaurant and then going "how long will it take me to get there?", Assistant can figure out that "there" refers to the restaurant. It's the power of its newly found context awareness.
No matter how good these Assistants get, we still feel awkward talking to our phone and we still think doing a quick web search the traditional way beats this. But then, we can totally see how it can be useful at your connected home where thanks to the magic of IoT you would be able to remote control appliances with just your voice. And with the recently announced Google Home voice-activated speaker and Amazon Echo, this future doesn't seem that far away.
Loyal and fanatic Pixel and iphone user here. I am currently going through the entire line of pixels. Typing this on a Pixel XL. I found one new in the box on ebay. Ok. It runs hot. Other than the speed and panel it can't hold a candle to the ip...
Anonymous
25 Feb 2021
X$r
Right absolutely
I'm a Tech Dummie but as Retiree with plenty of time to sample a number of Devices I have found the Google XL to be an excellent product. Of course it's not on par with the latest smartphones but compared to other older phones it is top-not...