Google Pixel XL review: Upsampled
Upsampled
GSMArena team, 28 October 2016.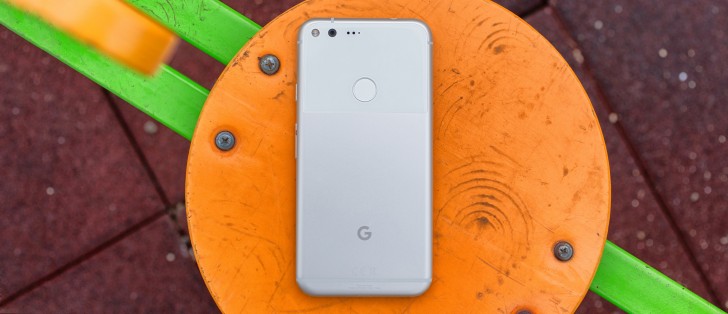 Gallery
Google took out basically all AOSP apps, instead you get the Google-branded apps. This means Google Photos is the default gallery, Play Music the default player and so on.
As a perk, you get to upload full resolution photos and videos for free (for other phones this is a paid tier). This works great with the Free up space feature that moves photos and videos to the cloud (great for those that picked the 32GB model).
By the way, there's a similar feature for any files (even ones from the Download folder). It's called Smart Storage and will remove old files (by default for 90 days) and remove them once they are backed up to the cloud.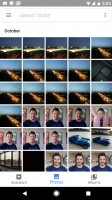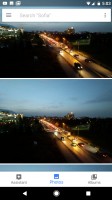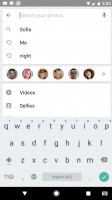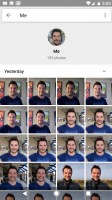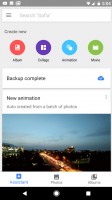 Google Photos • Changing thumbnail size • AI search • Looking for photos of people • Assistant-made photos
Anyway, Photos is the smartest gallery around. We love the ability to search for photos with words: "beach", "selfies" and even people by name. The AI assistance goes on - Google will automatically take photos (or videos) it finds interesting and spruce them up. It will create collages, panoramas, filter-heavy images, short animations and other.
Check out this one - it took several photos of the same place and animated them. You can see the tree's shadow as it sways in the wind - a pretty cool GIF and Photos made it all on its own! We love the Rediscover this day that pulls content from a year ago, so these cool creations will not be forgotten.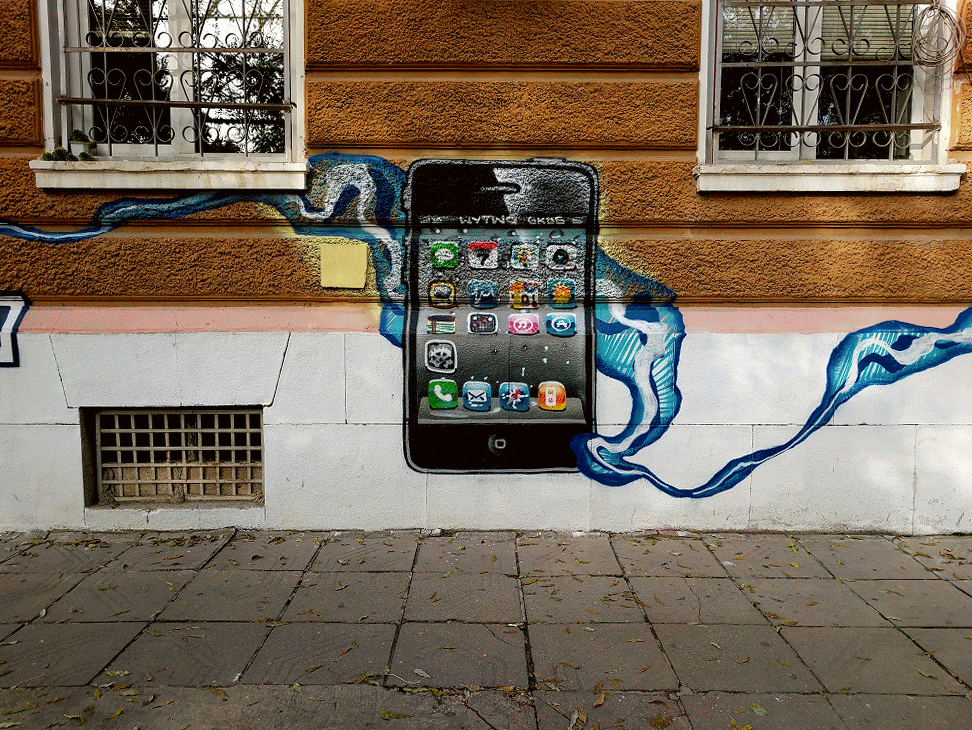 Photos can create links you can text to anyone. There's even an option to let others add their own photos, turning this into a collaborative effort. We do miss standard DLNA, though.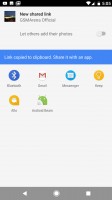 You can share photos with people and allow them to add their own
Video player
Google Photos is amazing at organizing your photos, but it's very basic as a video player. In fact, that's all you get - it plays videos. There are no subtitles, no chapter view, nothing that makes watching movies/episodes easier.
Music player
Google Play Music handles audio. It offers a mix of offline and online play that is quite popular at the moment (Spotify, Apple Music). If you're worried about data use, there's caching (enabled by default) and quality control when streaming on a mobile network. You can even completely disable mobile data and view only offline content.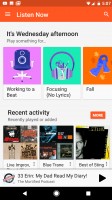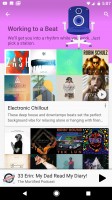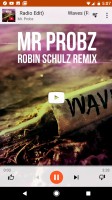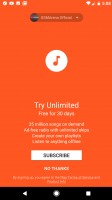 Play Music homescreen • A great mix for work • Now playing • You need Unlimited for more flexibility
With the free account, you can listen to "radio" - curated music organized into thematic channels for different activities, moods or just popular music. ("radio" since you are limited in what you can play, new releases in particular are restricted) You can also listen to podcasts, standup comedy and other spoken performances.
If you get a paid subscription, Play Music gives you access to 35 million songs and lets you download your favorite albums so that they are available offline. You can also buy albums, so they will remain even after you cancel the paid subscription. You get a 30-day subscription to decide if it's worth the money.
This also removes restrictions from the free subscription - you can skip more than 6 song skips an hour, there are no ads and yes, you can play any song in Google's library.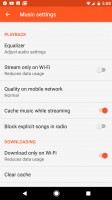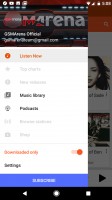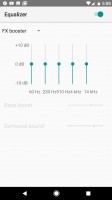 Managing storage use by Play Music • Viewing only offline tracks • 5-band equalizer
A 5-band equalizer is available with presets and one user-define setting. When you plug in headphones, Bass boost and Surround sound sliders become available.
Audio quality is good, not quite the best
When plugged into an active external amplifier, the Google Pixel XL posted excellent scores top to bottom and garnished them with very high volume levels. Certainly one of the best performers on the market here.
Plugging in a pair of headphones causes moderate damage to stereo quality and introduces a tiny bit of extra distortion. Neither is too big a deal, but when coupled with the loudness drop to just above average you are no longer looking at a class-leading performer.
And now here go the results so you can do your comparison.
| | | | | | | |
| --- | --- | --- | --- | --- | --- | --- |
| Test | Frequency response | Noise level | Dynamic range | THD | IMD + Noise | Stereo crosstalk |
| Google Pixel XL | +0.01, -0.03 | -94.0 | 94.0 | 0.0033 | 0.0066 | -92.9 |
| Google Pixel XL (headphones attached) | +0.17, -0.04 | -92.0 | 92.7 | 0.0067 | 0.125 | -62.0 |
| Apple iPhone 7 Plus | +0.10, -0.04 | -93.1 | 93.1 | 0.0015 | 0.0098 | -80.5 |
| Apple iPhone 7 Plus (headphones attached) | +0.10, -0.03 | -93.1 | 93.0 | 0.0013 | 0.015 | -76.8 |
| LG V20 | +0.01, -0.03 | -93.0 | 93.1 | 0.0036 | 0.0075 | -93.7 |
| LG V20 (headphones attached) | +0.04, -0.09 | -92.4 | 92.4 | 0.051 | 0.105 | -57.5 |
| Huawei Mate 8 | +0.01, -0.03 | -97.8 | 99.1 | 0.0054 | 0.0087 | -97.3 |
| Huawei Mate 8 (headphones attached) | +0.02, -0.09 | -97.3 | 97.9 | 0.015 | 0.078 | -81.3 |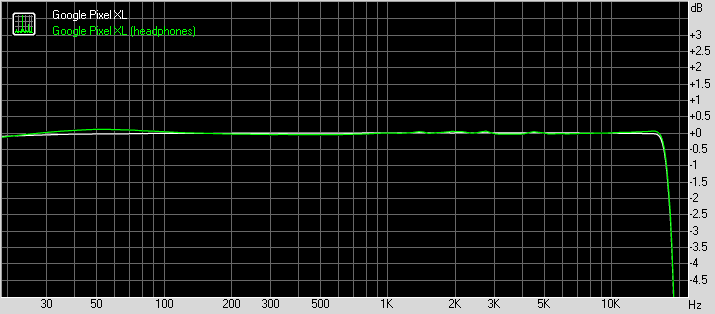 Google Pixel XL frequency response
You can learn more about the tested parameters and the whole testing process here.
does anyone know where to buy a pixel xl in 2022?
Loyal and fanatic Pixel and iphone user here. I am currently going through the entire line of pixels. Typing this on a Pixel XL. I found one new in the box on ebay. Ok. It runs hot. Other than the speed and panel it can't hold a candle to the ip...
Anonymous
25 Feb 2021
X$r
Right absolutely