GSMArena feature labs: The tests
The tests
GSMArena team, 26 April 2012.
Display
With displays, it is easy to get caught in the hype as technology buzzwords are meant to grab your attention rather than describe the actual screen quality. Super AMOLED, HD-IPS, Super LCD, Retina IPS, and whatnot, each claim to offer the best image quality around, but usually find it unnecessary to provide specific numbers, which would make technologies easier to compare.
On the rare occasions that display specs are actually quoted, the numbers are purposely chosen to be misleading and make the real-life performance seem much better than it really is. Which is where our first test comes in.
Perhaps the most important factor when it comes to screen quality is the contrast ratio. Contrast ratio is the measure of the dynamic range of the luminance of the display, essentially describing how much darker the deepest blacks are than the brightest whites. A display with a good contrast ratio is able to show richer, more vibrant still images and videos that come to life.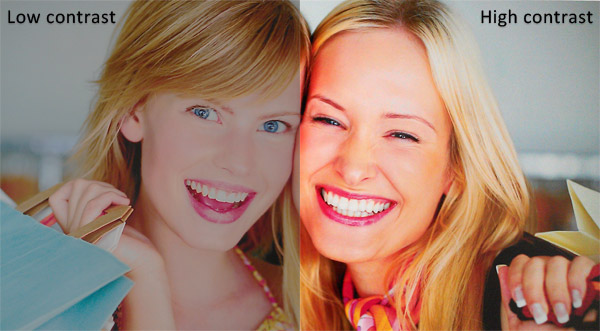 The brightness of a given object is measured in candela (cd), which is the scientific unit for luminance. One candela--which stands for candle in Latin--is the equivalent of the light intensity of one candle as perceived by the human eye. For displays, light is measured per square meter of surface area (cd/m2), which is sometimes also referred to as Nits (nt).
The contrast ratio itself is determined by measuring the cd/m2 of a pure white screen, and dividing it by the cd/m2 of a pure black screen (note that on an LCD a pure black screen is not the same as a screen which is turned off, because even black pixels emit some light). So, a display which has 100 cd/m2 of whites and 1 cd/m2 of blacks will have a contrast ratio of about 100:1.
An important note about AMOLEDs is due here. As AMOLED units have the ability to completely switch off individual pixels, their black level readings are 0, which gives them an infinite contrast ratio under the testing conditions.
When we measure, we take two readings off each device - first with the display brightness set to 50% and then with the brightness setting pushed all the way up.
Contrast ratio is very heavily influenced by the black levels of a display. While a brighter display would normally have an advantage, it will usually be unable to compensate for insufficiently deep blacks.
Sunlight legibility (DISCONTINUED)
Update Mar 4, 2020: This review test has been discontinued. You can find the full explanation of the test below but it's no longer carried out on new devices. The reason for the change is that we realized AMOLEDs were universally better than LCDs in this test. And inside the two groups, the results didn't vary significantly enough to make a difference. When a test result becomes predictable just by looking at the specs on paper, it's time to move on.
While having a good quality display is important, the reflectivity of the screen is not to be neglected. After all, you rarely use your smartphone in complete darkness, so there's little use of having a premium screen that turns into a mirror in bright environments.
Our sunlight legibility test aims to show you how legible each screen remains in bright environments, where screen reflectivity matters as much as its natural contrast and brightness. We use fixed studio lighting to simulate sunlight falling on the phone screens and measure the contrast ratio of each of them when faced with this powerful light source. We measure each display with the brightness turned up to 100% manually so any brightness boost or overdrive that may be available in Auto mode is not taken into account.






Apple iPhone 4S • Samsung Galaxy S II • Samsung Galaxy Note • HTC One X • HTC One S
The perceived sunlit contrast ratio is then calculated based on the values of the blacks and whites visible on the display. The higher the value here, the more visible the screen in bright sunlight.
And before you start asking for a "real life" test (typical indoor lighting), you should know that contrast loss is linear, so you should be able to make out the usual performance as an average of the two scores we provide. Our test is obviously based on two extremes: the pitch black room and the bright outdoors. Adding something in between wouldn't make much sense, as there's no standard for how bright a home or office is.
Could you please do a battery endurance test for the TCL 30XL. I know it's just a budget phone, but I only use it to stream content at home. The battery is amazing! With heaving usage I can go all day and not have to charge this phone. So I...
You should add a standard test for camera in motion and for a shaking camera. A cheap smartphone might have decent quality for stable photos, but a blurry mess with any small movement. Human hands are rarely that stable or you're unlikely t...
Your NickName OK
03 Apr 2023
7R{
please test the iphone xr speakers, because i want to see how even the low frequencies are