GSMArena labs: enhanced compare tool
GSMArena, 15 December 2017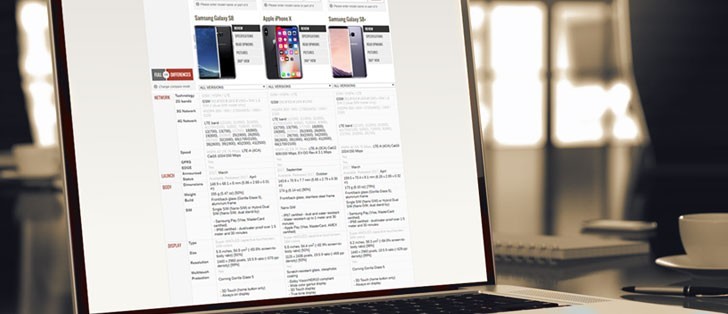 You don't realize how complicated modern smartphones are until you try comparing two side by side. The avalanche of features can bury the true differences between them so we've improved our Compare page with a new mode.
It shows only the differences between models, dimming the identical features. Looking at very similar phones to find the differences can be quite hard – let's try the Samsung Galaxy flagship line for example.
With the differences mode enabled, you can immediately spot that the Galaxy Note8 has a stylus and HDR10-enabled screen. The camera has 2x zoom and uses a slightly different sensor compared to the Galaxy S8 - 1/2.55" vs. 1/2.5" (a minor detail but it proves Samsung reworked the main camera module).
Click the link below to jump straight to that comparison – we've made the new mode easy to share. And notice that it plays well with versions, which is especially helpful when checking LTE bands – missing bands will stick out like a sore thumb.

Note: the desktop compare page shows three phones, the mobile one shows two.
Let's try the new iPhone generation next. The iPhone X is built around a stainless steel frame, not aluminum like the iPhone 8 duo. And it uses a Super AMOLED screen with Dolby Vision/HDR10 support. The glass is not the usual ion-strengthened pane either.

Finally, let's try some very different phones. They differ quite a bit, but you can still tell that the HTC U11+ has a microSD slot while the Pixel 2 XL does not. Both have use Gorilla Glass and aluminum, but the Pixel's back is only partially covered in glass.

Go ahead and try comparing your phone against others. Keep in mind that the differences mode is still in beta and may have a few rough edges. You can report any issues in the comments here and be sure we'll work to make it better.
Now might be a good time to mention that we also added a chipset field to our Phone finder tool recently. It should makes it easier for you to find a phone with the right balance of performance and power efficiency. Plus, chipsets are important for the custom ROM crowd as some are better-supported than others. Any feedback on that will be welcome too!
Related
googles Android is spyware by nature so good luck staying away from that. ip certification wasnt important when sony was pushing it, still isnt now. SD 835 is just a preference for you. The latest Huawei chips are good enough.
Well that's a nice update but your filter seems to be working in opposite way. when I click on "Full" it highlights the differences and vice-versa.
the idea is really good, it's gettşng much more difficult to compare the devices nowadays. but in order for it to work as supposed the specs of the devices must be complete and restructured. there is quite a lot info missing or just written in an...
Popular articles
Popular devices
Electric Vehicles