Huawei P9 lite review: On a diet
On a diet
GSMArena team, 08 July 2016.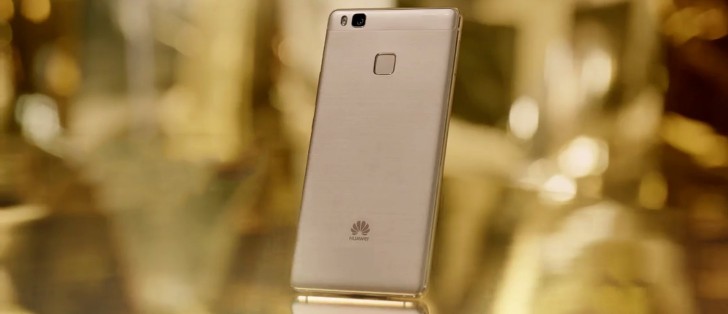 Video player
The Huawei P9 lite video player features simple gesture control - swipe left/right for rewind/forward and up/down to adjust the brightness or change the volume (swipe on the left half of the screen for brightness, on the right for volume).
There's a pop-up play option so you can watch a video while using other apps. When using a headset, you can enable SWS sound effects ("Super Wide Sound," a proprietary virtualization tech). There's also the option to change playback speed.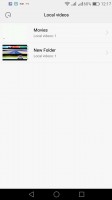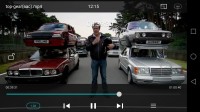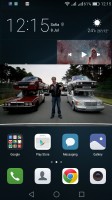 Video player • Watching a video • Pop-up video play
Simple gallery
The Huawei P9 lite's gallery app offers a Timeline view, which sorts your images by the date you've taken them. Alternatively, you can opt for the standard Album or Map views.
One feature we love is that you can swipe the fingerprint reader like a mini touchpad to move between photos. This makes it so much easier to show photos to others without covering the screen with your hand.
Opening a single image lets you quickly delete or rotate it. The info icon up top gives some pretty detailed information about the image, including a histogram.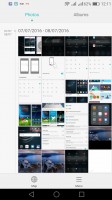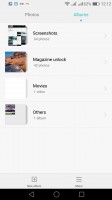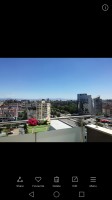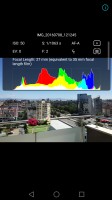 Chronological view • Album view • Viewing an image • Detailed info
You can also go into a more capable editor with options for light and exposure adjustments (so you can bring out the shadows or the highlights), filters and beauty enhancements. You can adjust levels and add individual watermarks for time, location, weather, food and mood.
Editing options include an Instagram-like feature that places your location weather and other info on the image. This way you can tease your friends with sunny weather on your beach photos or include the elevation after a hike.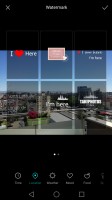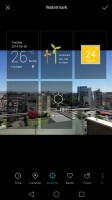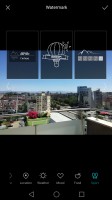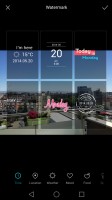 Adding time, weather and location info to photos as mementos
Pulling down from anywhere on the screen lets you take a quick photo without leaving the gallery. The image comes out in a square 1:1 ratio at 3,104 x 3,104px (another Instagram-inspired feature.
Music player
The Huawei P9 lite comes with Huawei's custom music player app, which offers some fun features, but the execution could have been better.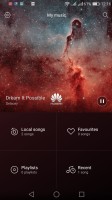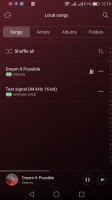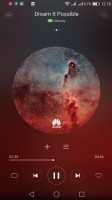 Music player • Selecting tracks • Now playing
You can enable lyrics, which are displayed karaoke style. You can also place lyrics on the homescreen and the lockscreen, however, the homescreen lyrics get in the way of other apps yet you need to have them enabled before you can enable lockscreen lyrics.
On the plus side, you can also scroll through the lyrics and jump to that specific point of the song. Unfortunately, the player does not automatically download lyrics, you need to provide your own .lrc file.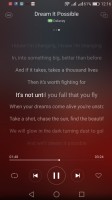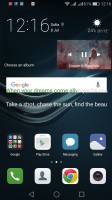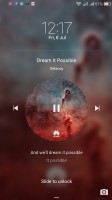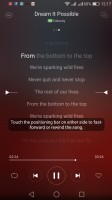 Lyrics in the app • On the homescreen • On the lockscreen • Fastforward
Smart headset control gives the three-button remote some more options. The buttons - Volume up, Play/Pause and Volume down - handle their own functions, but double taps on the volume buttons can also add a song to favorites or toggle shuffle.
Unlike the flagship P9, the Huawei P9 lite has FM radio on board. It doesn't do RDS, though (the feature that displays station name and other info). The app can play through the loudspeaker (it still needs the headset as an antenna) and has scheduled exit.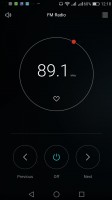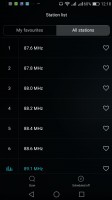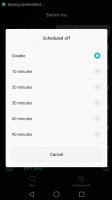 FM radio • All stations • Auto power off
Audio output is spotlessly clean, but pretty quiet
The Huawei P9 lite produced some of cleanest output we've seen lately in our audio quality test. The smartphone scored excellently across the board both with an active external amplifier and with headphones (where the only damage was a very minor crosstalk hike).
The bad news is volume levels were rather low in both testing scenarios. This means performance with higher impedance headphones might be compromised, but if you keep headphone size reasonable, things will sound pretty nice.
Overall, the general audio output quality and loudness is on par with the more expensive Huawei P8 and Huawei P9, which makes sense, as both use the same DAC hardware (HiSilicon Hi6402 DSP) like the P9 lite.
Here go the results so you can do your comparisons.
Test
Frequency response
Noise level
Dynamic range
THD
IMD + Noise
Stereo crosstalk
Huawei P9 lite
+0.05, -0.31
-97.8
99.3
0.0041
0.0090
-97.2
Huawei P9 lite (headphones)
+0.06, -0.43
-97.2
98.7
0.0034
0.052
-77.7
Samsung Galaxy J7 (2016)
+0.09, -0.30
-92.4
90.2
0.0051
0.034
-92.3
Samsung Galaxy J7 (2016) (headphones)
+0.30, -0.08
-92.2
89.8
0.0092
0.226
-54.8
Meizu m3 note
+0.13, -0.00
-91.9
91.9
0.0021
0.0082
-91.3
Meizu m3 note (headphones)
+0.02, -0.20
-90.7
91.2
0.0028
0.050
-53.4
Lenovo Vibe K5 Plus
+0.02, -0.08
-93.8
92.8
0.0037
0.034
-91.3
Lenovo Vibe K5 Plus (headphones)
+0.09, -0.03
-93.5
92.6
0.070
0.075
-49.0
Huawei Honor 5X
+0.02, -0.08
-93.4
90.1
0.0028
0.012
-93.4
Huawei Honor 5X (headphones)
+0.10, -0.03
-92.9
89.8
0.0048
0.071
-78.2
Samsung Galaxy A5 (2016)
+0.02, -0.07
-94.3
92.2
0.0065
0.010
-95.0
Samsung Galaxy A5 (2016) (headphones)
+0.42, -0.01
-93.4
87.1
0.029
0.254
-53.0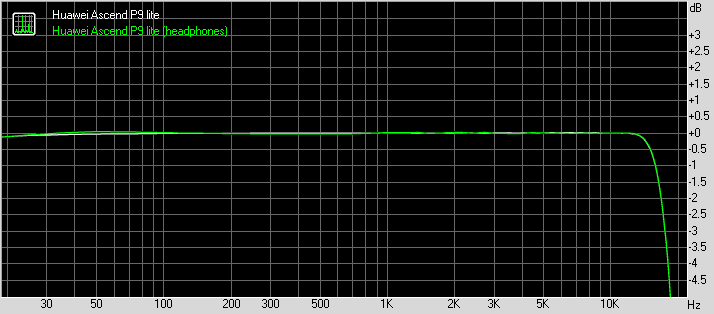 Samsung Galaxy J7 (2016) frequency response
You can learn more about the tested parameters and the whole testing process here.
It counts your footsteps and turns into kilometres covered per day
Anonymous
08 Jun 2021
XBA
Yes!! I'm using Huawei P9 elite right now with 259gb Work perfect and faster.. 👌👌
Anonymous
08 Dec 2020
IKV
states right above here that it can use sd card up to 256gig