Honor 9 review: Light catcher
Light catcher
GSMArena Team, 07 July 2017.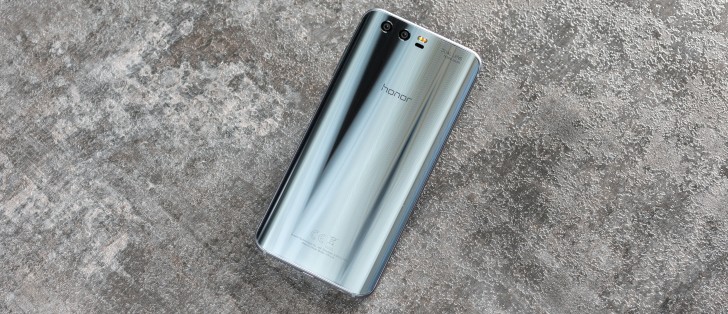 Nougat with EMUI 5.1
The Honor 9 runs on the latest EMUI ROM. It is now up to version 5.1, groomed to accompany Huawei's new lineup. The OS is based on Android 7 Nougat, and has been refreshed in a number of ways.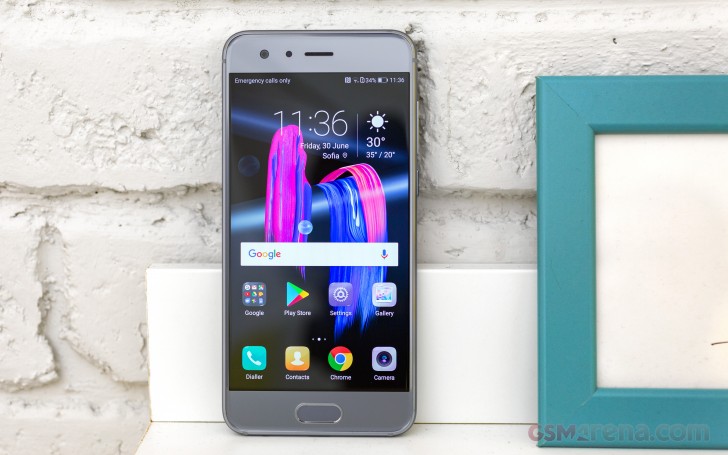 Most of the Emotion UI 5.1 upgrades reside under the hood and offer boosts in various performance aspects. There are some relatively simple things, like improved miss-touch detection and higher touch accuracy, better RAM management, better dictation algorithms, and Moments, for more convenient photo organizing. There are a few major new background systems put in place.
The Magazine unlock style for the lockscreen is here to stay. It greets you with a different wallpaper every time you wake up the device. New ones are downloaded when you connect to Wi-Fi, and there's an option to delete ones which are older than three months. You can also quickly start the camera by a double press of the Volume Down button, with the option to take a snap right away.
If you opt for a fingerprint unlock method, you probably won't be seeing much of the lockscreen anyway. Almost a shame, considering all the effort that Huawei has put into making it unique. Still, the reader is blazing fast and using it is a no-brainer.
On top of the usual all-apps-on-the-homescreens approach EMUI 5.1 gives you the option to pick the standard Android two-tiered interface with homescreens for your most-used apps and an app drawer for all of them.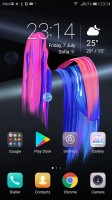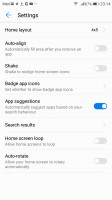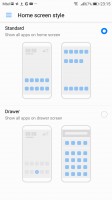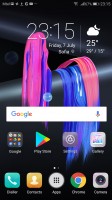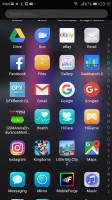 No app drawer by default • Layout settings • but you can opt for one • app drawer shortcut • app drawer
App twins for multiple instances of a single application is available on the Honor 9, but in its current state the feature only works with Facebook and WhatsApp.
EMUI 5.1 has Theme support, of course. The theme store offers a wide selection and some really artsy options that fit in well with the general high-design image of the Honor 9. Of course, you can always keep things simple and only customize the wallpaper and possibly transition animations.
The notification area is a 50/50 mix between stock Nougat and Emotion. Huawei has tweaked the look of the quick toggles and added the auto-brightness switch, which Google so stubbornly refuses to keep in plain sight. The notifications themselves look just like the Pixel's.
The task switcher is rather straightforward, but again with added functionality over Google's. -Apps in the rolodex can be locked by tapping on the padlock icon, so killing all apps will spare the locked ones. The End all button is readily available too, not up in the right corner as Google does it.
There are a few other interesting tweaks you can apply to the status bar. For example, notification icons can be replaced by a simple numerical counter. You also have control over whether the notification LED and display should react to a new notification.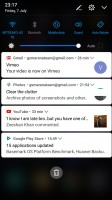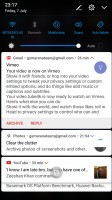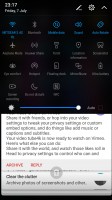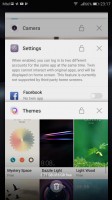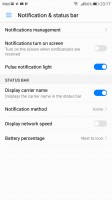 Notification shade • step 1 • step 2 with more toggles • task switcher • Status bar tweaks
The Honor 9 features granular notifications control - Huawei had that even before it was a part of Android itself. You can control which apps can send you the three types of available notifications - the shade notifications, the lockscreen notifications and the banner style notifications.
Last, but not least, there is a dedicated menu for controlling crucial permission on a per-app basis. It's a great addition, since you don't want a random app ignoring the system's attempts to optimize its power consumption, or drawing over other applications.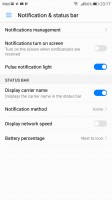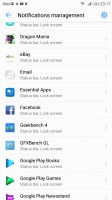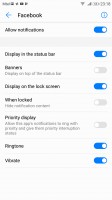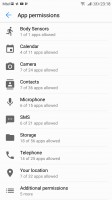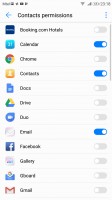 Notification management • Notification permissions • Facebook notifications • App permissions
While these are options accessible from the settings menu, most of them are also featured in the Phone Manager app. There you'll also find a one-touch optimization button. A virus scanner powered by Avast is on board as well. There are power-saving modes with granular settings, too.
You can also enable the so-called Floating dock - it's a virtual key you can move anywhere on the screen, allowing you to expand it to the primary Android keys - Back, Home, Task Switcher, Lock and Close all running apps. It will help you control your phone with just one hand. There are other interesting alternative controls as well, like the ability to map the buttons on your headphones to various actions.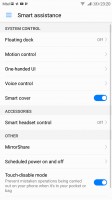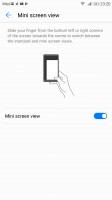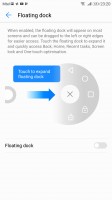 Smart assistance • One-handed UI • Floating dock
Motion control also plays a significant role on the Honor 9 like it did on previous Huawei models. There are flip gestures, as well as picking up, tilting and even things like knuckle detection and drawing. All of those are extensively customizable to your liking.
You can start recording a video of your interaction with the UI by the intuitive double knock with two knuckles while drawing an S with a single knuckle launches the scrolling screenshot. The latter is available from the regular Power/Volume down shortcut.
Finally, there is a Voice Control option - the device is always listening for a trigger word when locked and then you can control it with voice commands.
For certain scenarios, like in-car use, you can enable a Simple homescreen mode, which features large tiles for easy tapping. It's not particularly consistent, though, offering a simpler version of some menus, but not others - the dialer is the same size as in regular mode (in all fairness, it's fairly oversized to begin with).
I found it on ifixit, but they only ship to certain EU countries.
Can anyone recommend where to buy a battery for this phone at a reasonable price? I've had this phone since 2017 and I'm still using it just having problems with the battery life.
It is really amazing, battery life is way better compare to other phones with similar capacity.