Honor Magic 2 review
Angie Zampona, 14 December 2018.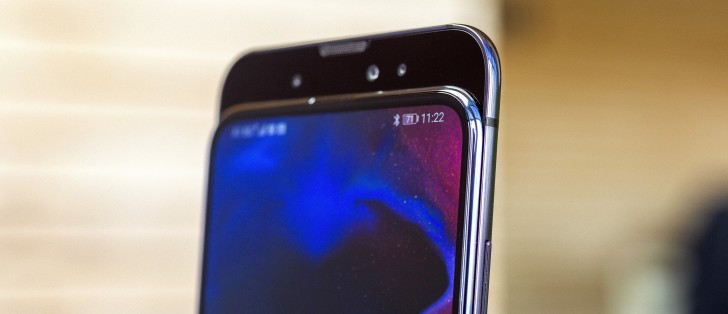 Android Pie and Magic UI 2.0
The Honor Magic 2 runs on a heavily customized Magic UI, v.2.0.0. It was an interesting switch that took place a month ago with Magic replacing Huawei's EMUI as the name of the custom launcher. You know, they call it Magic UI, but it's essentially still EMUI, in what's looking just like the 9.0 version we found on the Mate 20.
Obviously, it won't be to Android purists' tastes, but you should know better than to expect vanilla Android from Huawei/Honor. Our review unit came with a ton of China-specific software installed and no Google Play Services, but it was a straightforward process to install those from the Chinese app store.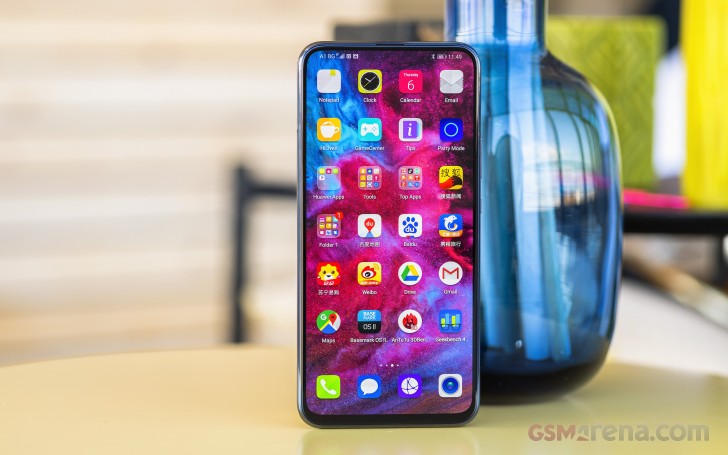 Anyway, the experience starts by sliding the display bit down to expose the front camera for the facial recognition. Pretty much as soon as the camera gets to have a look at your face, the phone unlocks. Obviously, if you wake the phone with the power button, there'll be no face unlocking - the camera is behind the display.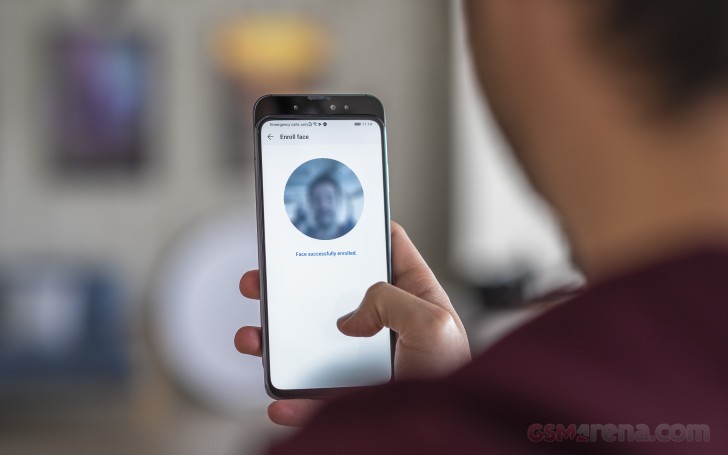 For those cases, you can use the under-display fingerprint sensor - yes, that one is under the display too, but not quite under-under as the camera. In our experience, the sensor isn't as quick as we'd like (not as fast as on the OnePlus 6t, for example) and requires a bit of a firmer press. It does the job, only it may take a couple of tries.
Magic UI, being EMUI in disguise, has Magazine lock screen, which cycles through a bunch of wallpapers (covers), so you see a different one every time you fire up the display. There's naturally plenty of customization options and features, smart rotation, and lift to wake. Themes are supported, too, and there is a lot to choose from.
Out of the box, there is no app drawer on the EMUI 9 - it's a single tier interface akin to iOS. However, if you prefer Android's usual two-tier layout, you can enable it from the Display settings.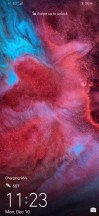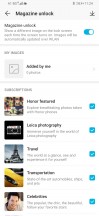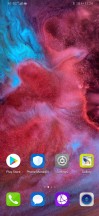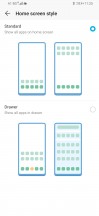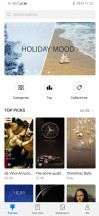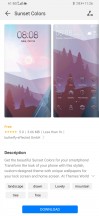 Lockscreen • Covers • Homescreen • Homescreen styles • Themes
With the ultra modern bezelless design, it would make no sense to be all retro and use a navigation bar on the bottom. We saw Huawei's take on gesture navigation on the Mates, and it's present here on the Honor Magic as well. It goes like this - swipe up for Home, swipe up and stop midway for Task switcher, or swipe from the left or right edge of the screen for Back. If you are, however, unwilling to accept the current trends in UI navigation, the option for a nav bar is still there.
The notification shade is straight out of EMUI - it does the same things as any most standard implementations, with the usual Huawei take on the graphics. There's a brightness slider and a row of toggles, and you pull down again for more toggles.
Multitasking works in familiar ways too, with a slight modification due to the use of gestures. Swipe up and hold to access the task switcher and tap on the icon in the top right corner of the apps that support multi-window.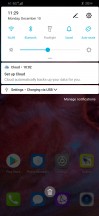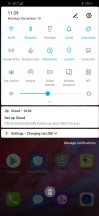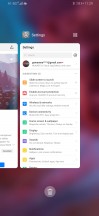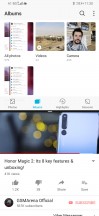 Notification area • Toggles • Recent apps • Split screen
From the Phone Manager app, you can access shortcuts to storage cleanup, battery settings, blocked numbers, Virus scan powered by Avast, and mobile data usage.
Huawei's own Music app offers a way to listen to stored MP3s, while Huawei's Health app offers Google Fit syncing and step counting. The gallery is an entirely custom job too, but it has the usual chronological and albums views plus an AI powered highlights selection. There's a file manager app and a note-taking app. And if you don't like any of those - there is an abundance of alternatives in the Play Store.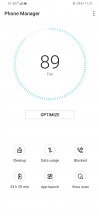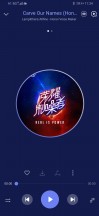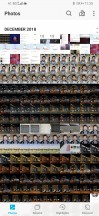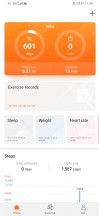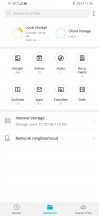 Phone Manager • Music Player • Gallery • Huawei Health • Files
Synthetic benchmarks
The Honor Magic 2 is powered by the in-house developed Kirin 980 chipset. It's a cutting-edge SoC built on a 7nm fabrication process and no droid outside of Huawei's lineup can boast such a thing (yet). The same silicon is found inside the more expensive models in the Mate 20 series ('lite' version excluded), so effectively the Magic 2 has all the computational power Huawei can muster.
That comes courtesy of an octa-core CPU in a tri-cluster configuration (2x2.6 GHz Cortex-A76 & 2x1.92 GHz Cortex-A76 & 4x1.8 GHz Cortex-A55) and a Mali-G76 MP10 GPU. RAM options are either 6GB or 8GB, and we have the latter for this review.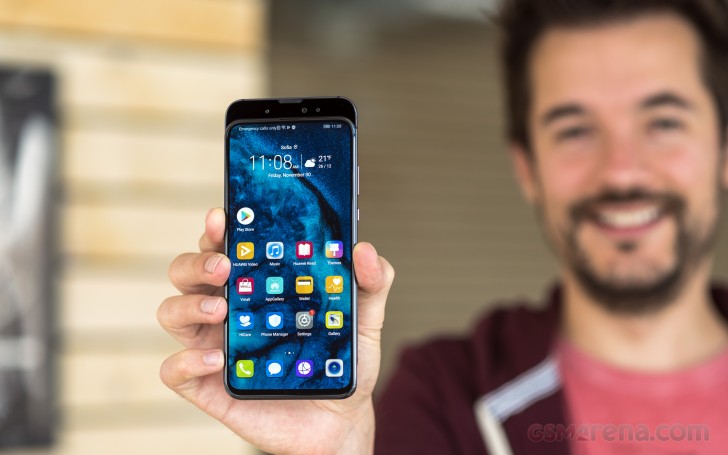 RAM has little to no effect on CPU performance and GeekBench is our go-to benchmark for measuring that. The Magic 2's numbers are very much in line with what we got out of the Mate 20 and Mate 20 Pro, and that's some class-leading multi-core performance.
GeekBench 4.1 (multi-core)
Higher is better
Honor Magic 2
9887
Huawei Mate 20
9793
Huawei Mate 20 Pro
9712
Xiaomi Pocophone F1
9003
OnePlus 6T
8977
Samsung Galaxy S9+
8883
LG G7 ThinQ
8865
Sony Xperia XZ3
8607
LG V40 ThinQ
8568
Xiaomi Mi 8
8494
Samsung Galaxy S9+ (Snapdragon)
8349
Google Pixel 3
8146
Google Pixel 3 XL
8088
Honor Play
6696
Huawei P20 Pro
6679
Honor 10
6591
It would have been the same in single-core performance if it weren't for the oversized custom cores that Samsung uses in the Exynos 9810 chip in the Galaxy S9+, which are still unmatched in the Android world. Even so, the Magic 2 is significantly more powerful in single-core tasks than the Snapdragon 845 competitors.
GeekBench 4.1 (single-core)
Higher is better
Samsung Galaxy S9+
3771
Honor Magic 2
3316
Huawei Mate 20 Pro
3291
Huawei Mate 20
3284
Sony Xperia XZ3
2486
Xiaomi Pocophone F1
2438
Xiaomi Mi 8
2431
OnePlus 6T
2431
LG V40 ThinQ
2408
LG G7 ThinQ
2395
Google Pixel 3
2377
Google Pixel 3 XL
2363
Samsung Galaxy S9+ (Snapdragon)
2199
Huawei P20 Pro
1907
Honor Play
1899
Honor 10
1894
When it comes to graphics, the Magic 2 puts out average numbers - for a high-end phone, that is. The Snapdragons of the day can achieve 10-15% higher frame rates in offscreen tests, and that either remains true in onscreen runs for the 1080p phones in this pool. Conversely, the higher-res models fall below the 1080p Magic 2 in onscreen tests.
GFX 3.1 Manhattan (1080p offscreen)
Higher is better
Samsung Galaxy S9+ (Snapdragon)
61
Xiaomi Pocophone F1
60
OnePlus 6T
60
LG G7 ThinQ
57
Google Pixel 3
57
Sony Xperia XZ3
56
LG V40 ThinQ
56
Huawei Mate 20 Pro
53
Huawei Mate 20
53
Honor Magic 2
53
Xiaomi Mi 8
53
Samsung Galaxy S9+
47
Google Pixel 3 XL
44
Huawei P20 Pro
40
Honor Play
39
Honor 10
37
GFX 3.1 Manhattan (onscreen)
Higher is better
Google Pixel 3
55
Xiaomi Pocophone F1
53
OnePlus 6T
53
Xiaomi Mi 8
50
Huawei Mate 20
47
Honor Magic 2
45
Huawei P20 Pro
37
Honor 10
37
Honor Play
36
Samsung Galaxy S9+ (Snapdragon)
34
Sony Xperia XZ3
31
LG G7 ThinQ
30
LG V40 ThinQ
29
Huawei Mate 20 Pro
27
Google Pixel 3 XL
24
Samsung Galaxy S9+
24
GFX 3.1 Car scene (1080p offscreen)
Higher is better
LG G7 ThinQ
35
Xiaomi Pocophone F1
35
Sony Xperia XZ3
35
Google Pixel 3
35
OnePlus 6T
35
Samsung Galaxy S9+ (Snapdragon)
35
LG V40 ThinQ
34
Xiaomi Mi 8
33
Honor Magic 2
30
Huawei Mate 20 Pro
29
Huawei Mate 20
28
Google Pixel 3 XL
28
Samsung Galaxy S9+
28
Huawei P20 Pro
23
Honor 10
23
Honor Play
22
GFX 3.1 Car scene (onscreen)
Higher is better
Xiaomi Mi 8
33
Google Pixel 3
33
Xiaomi Pocophone F1
31
OnePlus 6T
31
Huawei Mate 20
28
Honor Magic 2
26
Huawei P20 Pro
21
Honor 10
21
Honor Play
21
Samsung Galaxy S9+ (Snapdragon)
20
Sony Xperia XZ3
19
LG G7 ThinQ
18
Huawei Mate 20 Pro
17
LG V40 ThinQ
16
Samsung Galaxy S9+
14
Google Pixel 3 XL
12
We then turn to Antutu for a number to gauge overall performance, and the Honor handset is posting numbers towards the top of the pack and virtually identical to those from the Mate 20s.
AnTuTu 7
Higher is better
OnePlus 6T
293994
Sony Xperia XZ3
284555
Honor Magic 2
274466
Huawei Mate 20 Pro
273913
Huawei Mate 20
273913
Xiaomi Pocophone F1
265314
Samsung Galaxy S9+ (Snapdragon)
264044
LG G7 ThinQ
259393
Google Pixel 3 XL
258244
LG V40 ThinQ
254304
Samsung Galaxy S9+
246660
Google Pixel 3
233699
Xiaomi Mi 8
217298
Huawei P20 Pro
209884
Honor Play
204876
Honor 10
200440
Overall, a pretty predictable showing from the Honor Magic 2 and a predictably great one too. You could expect slightly higher numbers if you enable the Performance mode, but those won't be sustainable and will dip when thermal throttling kicks in. Plus, it'll eat up into your battery life.
When it'll be released in Pakistan...???
Im replying this on honor magic 2. Its a whole different & wonderful experience.