Honor Play review
GSMArena team, 31 August 2018.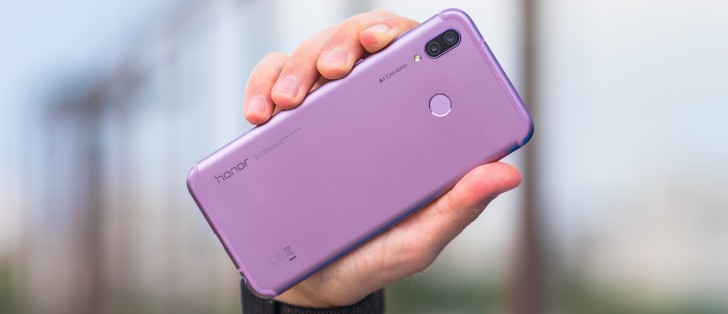 Android 8.1 with EMUI 8.2
Honor Play runs on Android 8.1 with EMUI 8.2 - a similar combination to what we saw on the Honor 10 a while ago. The EMUI is as custom as a launcher can get, so the Android purists may want to look elsewhere for a vanilla experience. The new v8.2 improves the Face Unlock and Gallery with machine learning, there are some new Gaming tricks, and a brand new Party Mode for music playback sync across different devices.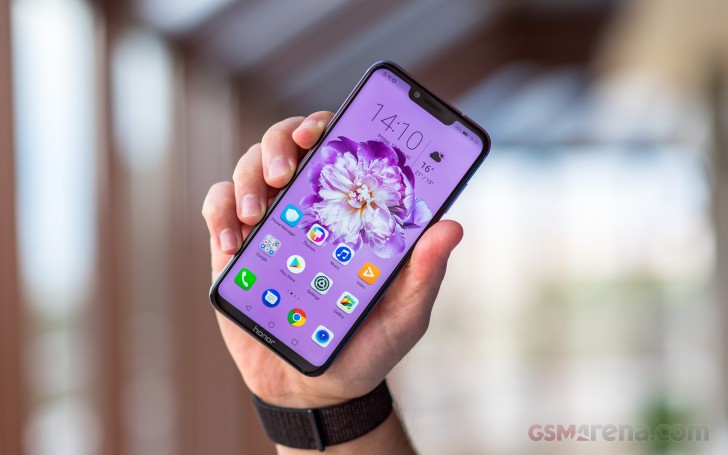 You can either embrace the notch, or you can opt to mask it with a black status bar that extends all the way down to the bottom edge of the notch. You should know, however, that hiding it doesn't really work as well with an LCD panel as with it does with an AMOLED.
Out of the box, there is no app drawer on the EMUI 8 - it's a single tier interface like on the iPhone. However, if you miss the Android's usual layout, you can enable it back in the Display settings. There is also a handy search feature, which can be accessed by flicking down on any empty area of the home screen.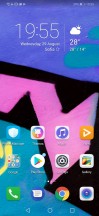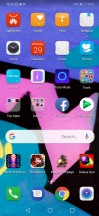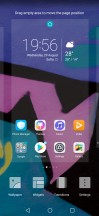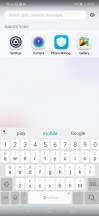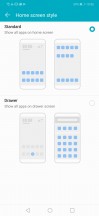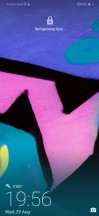 Home screen 1 • Home screen 2 • Home options • Search • Enable drawer • Lockscreen
EMUI has Magazine lock screen, as usual, which rotates through a bunch of wallpapers, so you see a different one every time you fire up the display.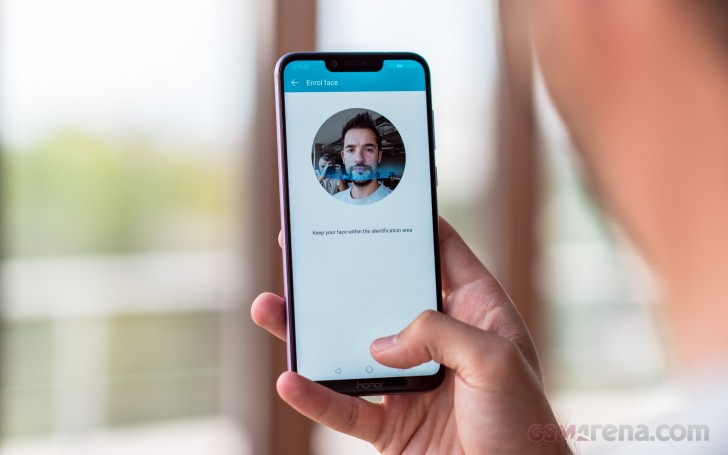 Huawei's EMUI offers plenty of customization and features like (not so secure) face unlock, smart rotation, and lift to wake. The face unlock has been enhanced with machine learning (or as Honor likes to call it - AI Power) and will learn to recognize your face even with changes such as facial hair or sunglasses.
Themes are supported, too, and there is a lot to choose from.
The notification shade is pretty much a standard affair. There's a brightness bar with an Auto toggle - pull down again for more toggles.
Multitasking is pretty standard as well. Tap-holding the Recents key will let you activate split screen.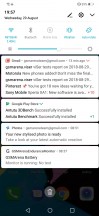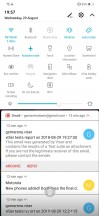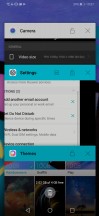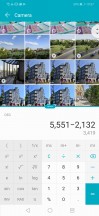 Notification area • Toggles • Recent apps • Split screen
From the Phone Manager app, you can access shortcuts to storage cleanup, battery settings, blocked numbers, Virus scan powered by Avast, and mobile data usage.
Huawei's own Music app is here and offers a way to listen to stored MP3s. Huawei's Health app is also pre-installed. It offers Google Fit syncing and step counting. There's a file manager app and a note-taking app. There is an abundance of replacements for these in the Play Store, however.
There is an improved AI-powered gallery with EMUI 8.2. The app now supports automatic sorting with highlights. The machine learning decides the sorting criteria - location, date, event, etc.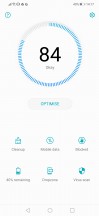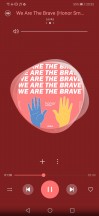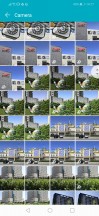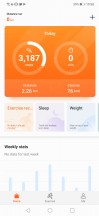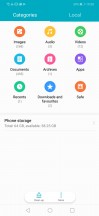 Phone Manager • Music Player • Gallery • Huawei Health • Files
The Party Mode is a new feature courtesy of EMUI 8.2. It's available from app of the same name and allows the user to connect to multiple phones to play the same song simultaneously.
Honor Play will be getting an updated Game Center with a firmware update very soon. It will enable the so-called 4G Smart Shock - dynamic vibrations similar to the ones on the PlayStation's DualShock controller in compatible games. The first game to support this new feature will be PUBG Mobile. But what's already available for games is the 3D Game Sound - this works in various games when using wired headphones and should emulate 3D sound.
Performance and benchmarks
The Kirin 970 chipset is what makes the Honor Play tick and the hardware behind all that gaming PR talk. It's a year-old SoC that will soon be replaced by the new Kirin 980 launching on the Huawei Mate 20, but still one very potent piece of technology.
The Kirin 970 has an octa-core processor with 4 Cortex-A73 cores clocked at up to 2.4GHz and another 4 Cortex-A53 cores capped at 1.8GHz. The GPU is a twelve-core Mali-G72 MP12. There's either 4 or 6 GB of RAM depending on the model you get.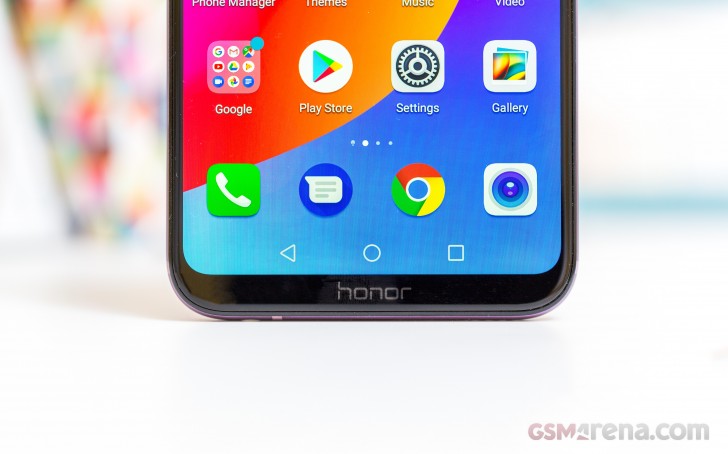 Quite expectedly, the Honor Play scores on par with other Kirin 970-powered devices such as the P20, Honor 10 and View 10. Single-core performance in Geekbench is excellent but the latest Qualcomm chip is superior (Pocophone). All of the above applies equally well to the Honor Play's multi-core CPU performance.
GeekBench 4.1 (single-core)
Higher is better
Xiaomi Pocophone F1
2438
Huawei Honor View 10
1902
Honor Play
1899
Huawei P20
1897
Honor 10
1894
Xiaomi Mi 8 SE
1890
Xiaomi Mi A2
1617
Oppo R15 Pro
1612
Oppo F7
1531
Huawei P20 Lite
938
Xiaomi Mi A2 Lite
881
GeekBench 4.1 (multi-core)
Higher is better
Xiaomi Pocophone F1
9003
Huawei Honor View 10
6738
Huawei P20
6722
Honor Play
6696
Honor 10
6591
Xiaomi Mi 8 SE
5908
Oppo F7
5901
Oppo R15 Pro
5809
Xiaomi Mi A2
4625
Xiaomi Mi A2 Lite
4388
Huawei P20 Lite
3756
Raw graphics power is also great and behind only from the Snapdragon 845's Adreno 630. The Mali-G72 in Honor Play does pretty alright for the class, if not beyond the expectations.
GFX 3.0 Manhattan (onscreen)
Higher is better
Xiaomi Pocophone F1
59
Honor Play
55
Huawei Honor View 10
55
Honor 10
53
Huawei P20
46
Xiaomi Mi 8 SE
30
Xiaomi Mi A2
21
Oppo R15 Pro
19
Oppo F7
18
Xiaomi Mi A2 Lite
9.4
Huawei P20 Lite
8.1
GFX 3.1 Car scene (onscreen)
Higher is better
Xiaomi Pocophone F1
31
Huawei P20
23
Honor Play
21
Honor 10
21
Huawei Honor View 10
20
Xiaomi Mi 8 SE
12
Xiaomi Mi A2
8.6
Oppo R15 Pro
7.6
Oppo F7
6.7
Xiaomi Mi A2 Lite
3.4
Huawei P20 Lite
2.8
Huawei recently unveiled an interesting software project to the public. It is called "GPU Turbo" and should provide great graphics performance improvements to most recent Huawei smartphones. The Honor Play comes with the GPU Turbo update out of the box, but this maybe misleading to the users.
GPU Turbo accelerates performance by optimizing system utilization of software and hardware resources. With GPU Turbo, graphics processing efficiency can be improved by up to 60 percent while overall SoC power consumption is saved by 30 percent. This is beneficial since graphically demanding operations typically consume battery quickly.
So, GPU Turbo is essentially an extra software optimization layer, sitting between the OS or a particular application and the Android graphics APIs, like OpenGL and the actual GPU drivers.
Even though GPU turbo sounds like it's promising almost magical improvements, it is up to developers to actually optimize their apps to support the new rendering instructions and APIs. Huawei has promised that it will gradually work towards optimizing the EMUI launcher rendering. But given the way the Android UI is rendered, that's unlikely to lend itself to major optimization.
Turbo GPU is realistically aimed at gamers and more importantly, game developers, who have to implement the tech inside their titles. Hopefully, Huawei can get enough game studios on board to allow GPU Turbo to lift off. Otherwise, it will just remain unused, sitting in the background. At launch, PlayerUnknown's Battlegrounds Mobile PUBG and Mobile Legends: Bang Bang are the only two games that have support for Turbo GPU.
We already did a review of the GPU Turbo on the Huawei P20 and we found out that contrary to the common misconception, Huawei's GPU Turbo does not necessarily improve maximum frame rates. What it does, however, is significantly smooth out any major frame rate fluctuations and dips, and we were impressed by the perceptibly smoother gaming experience. As a bonus, the tech also provides battery life savings when gaming.
AnTuTu benchmark got us some pretty big and impressive numbers, bested only by the most current Snapdragon 845 chip in the Pocophone.
AnTuTu 7
Higher is better
Xiaomi Pocophone F1
265314
Huawei Honor View 10
212708
Huawei P20
206906
Honor Play
204876
Honor 10
200440
Xiaomi Mi 8 SE
170218
Oppo R15 Pro
146526
Oppo F7
139414
Xiaomi Mi A2
130927
Huawei P20 Lite
87431
Xiaomi Mi A2 Lite
77964
The Honor Play is not the most powerful smartphone today, but it sure is among the top 5. We are well familiar with the Kirin 970 capabilities and the chip is simply great for gaming. And with the GPU Turbo update it can only get better, live a second life if you will.
Performance-wise the Honor Play aces every task and its highly-praised chipset will live up to the expectations.
But since we know the Kirin 970, we are familiar with its heating and throttling specifics. The good news is that the Honor Play is all metal and its chassis helps dispersing heat much better than glass. Some throttling does occur in benchmarks after repeated runs, but only there - no throttling happens in games, even in long sessions.
The Honor Play does build some heat once we start running the benchmarks, but it takes a lot of time to get to the Play unpleasantly hot and, once again, it happens only in benchmarks.
So, before we call it a day here - the Honor Play and its Kirin 970 offers flagship punch no matter the task at hand, and the GPU will do for seamless gaming with sustainable top-notch performance.
what were you expecting?! s25 ultra with 20gb ram?!
Nope, but I normally use it on rain and it still works after 2,5 years. Best thing is, the phone fully works in -10°C and below, my friend's samsung a40 dies when it's about 5°C outside.