HP iPAQ K3 Obsidian surprises us with an OLED touchscreen
24 July, 2009

Have you ever wanted a BlackBerry with a touchscreen and a full QWERTY? Well, if you happen to like Windows Mobile 6.5 too, then you might as well put the HP iPAQ K3 Obsidian on your wishlist - it's just what you've been after.
We posted some leaked photos and a spec sheet of the iPAQ K3 Obsidian back in May and now we've got more to show you. One thing seems to have changed - the screen, which the spec sheet had at 2.8", is now reportedly a 2.46" one based on AMOLED technology. A quick measurement of the live shots in Photoshop seems to support the 2.80 theory, given the phone measurements in the spec sheet are correct.
The screen, as we already hinted, is a touchscreen - not all too common for bars with full QWERTYs. The resolution is only QVGA though. The rest of the specs are in line with what the competition offers - the HP iPAQ K3 runs on a 528MHz CPU with 256MB RAM and 512MB ROM.
Connectivity in the Obsidian also doesn't disappoint - there's Wi-Fi and Bluetooth 2.0, a microUSB and 3.5mm audio jack and finally - built-in GPS. A microSD card slot will help with expanding the internal storage.
The camera is the other thing that doesn't coincide with the initial data on the spec sheet. This new information puts the camera at 3.2 megapixels, but doesn't mention the LED flash. Either way, this is hardly a deal breaker.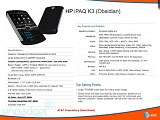 The leaked spec sheet for the HP iPAQ K3 Obsidian
The HP iPAQ K3 Obsidian should be out and about in AT&T stores starting November.
Related