HTC 10 review: Greatest hit
Greatest hit
GSMArena team, 02 May, 2016.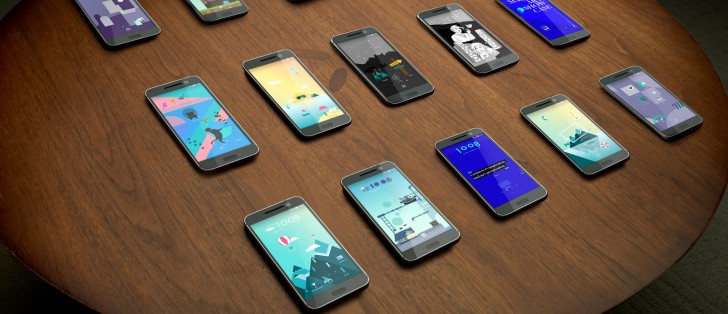 Performance
The HTC 10 is powered by a Snapdragon 820 CPU with two Kyro cores clocked at 2.15GHz & two Kyro cores clocked at just 1.6 GHz. The Snapdragon 820 is the first CPU for which Qualcomm finally decided they didn't need more cores but better ones. The new chipset is paired with generous 4GB of RAM and a dedicated Adreno 530 GPU for graphics.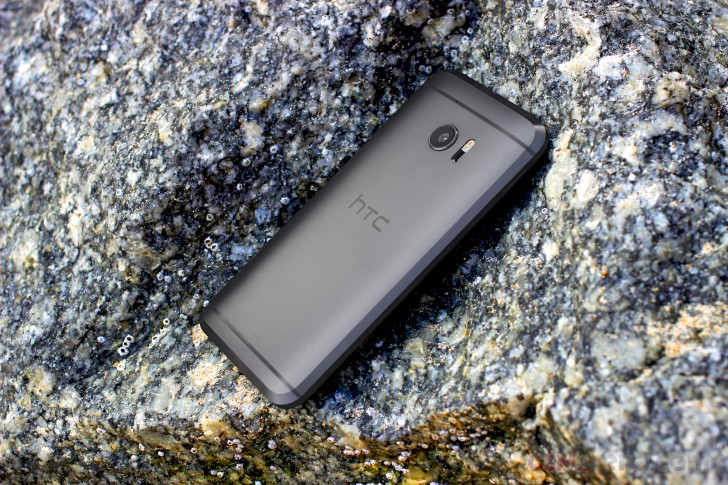 Indeed, a single Kryo core is a beast, and currently it's one of the best solutions on the market together with Apple's Twister CPU. The single-core performance is crucial for smooth OS operations, and the Kryo cores are up to the task.
GeekBench 3 (single-core)
Higher is better
Apple iPhone 6s
2542
HTC 10
2368
LG G5
2328
Xiaomi Mi 5
2305
Samsung Galaxy S7
2170
Huawei P9
1819
Samsung Galaxy S6
1490
The multi-core score isn't as impressive, because there are only four Kryo cores inside the Snapdragon 820, while the Kirin 955 in Huawei P9, or the Exynos chip inside the Galaxy S7 feature octa-core processors. Still, considering the number of cores, we could easily consider those points as an excellent grade.
GeekBench 3 (multi-core)
Higher is better
Huawei P9
6558
Samsung Galaxy S7
6360
LG G5
5362
Xiaomi Mi 5
5358
HTC 10
5257
Apple iPhone 6s
4427
Sony Xperia Z5
4017
HTC One M9
3761
HTC One (M8) Lollipop
2923
The HTC 10 easily aced the AnTuTu 6, and it bested the rest of its siblings by a huge margin. Since the HTC 10 has similar hardware to the LG G5, we guess some software optimizations are the reason for the great performance.
AnTuTu 6
Higher is better
HTC 10
154031
LG G5
134541
Samsung Galaxy S7
132084
Xiaomi Mi 5
131758
Apple iPhone 6s
129990
Huawei P9
98069
HTC One M9
73021
The BaseMark OS II compound bench outed an oddly low score, which makes us believe there might be some problem with the app itself and the new Sense UI. We'll redo this test when possible.
Basemark OS 2.0
Higher is better
Apple iPhone 6s
2195
Xiaomi Mi 5
2180
Samsung Galaxy S7
2128
Huawei P9
2068
LG G5
2065
HTC 10
1839
Sony Xperia Z5
1482
HTC One M9
1365
HTC One (M8) Lollipop
1186
HTC 10 uses the latest Adreno 530, which is the best GPU on the market right now. The off-screen GPU benchmarks below prove that.
GFX 3.0 Manhattan (1080p offscreen)
Higher is better
HTC 10
47
LG G5
47
Xiaomi Mi 5
45
Apple iPhone 6s
39.5
Samsung Galaxy S7
38
Sony Xperia Z5
24
HTC One M9
23
Huawei P9
18
HTC One (M8) Lollipop
12
GFX 3.1 Manhattan (1080p offscreen)
Higher is better
HTC 10
31
Xiaomi Mi 5
30
LG G5
30
Samsung Galaxy S7
28
Sony Xperia Z5
18
Huawei P9
10
GFX 3.1 Car scene (offscreen)
Higher is better
HTC 10
18
Xiaomi Mi 5
17
LG G5
16
Samsung Galaxy S7
15
Huawei P9
6.5
Running the GPU test on the native 1440p resolution takes a serious toll on framerates, but they remain flagship-grade. The Mi 5, which has the same GPU but runs on 1080p, expectedly does better here.
GFX 3.0 Manhattan (onscreen)
Higher is better
Apple iPhone 6s
53.6
Xiaomi Mi 5
43
HTC 10
28
LG G5
28
Samsung Galaxy S7
27
Sony Xperia Z5
25
HTC One M9
24
Huawei P9
19
HTC One (M8) Lollipop
13
GFX 3.1 Manhattan (onscreen)
Higher is better
Xiaomi Mi 5
29
Sony Xperia Z5
19
HTC 10
15
LG G5
15
Samsung Galaxy S7
15
Huawei P9
11
GFX 3.1 Car scene (onscreen)
Higher is better
Xiaomi Mi 5
17
HTC 10
9.9
LG G5
8.8
Samsung Galaxy S7
7.9
Huawei P9
7.1
In the BaseMark X GPU test the HTC 10 scores on par with its chipset sibling - the LG G5.
Basemark X
Higher is better
Xiaomi Mi 5
33110
Samsung Galaxy S7
32345
LG G5
29456
HTC 10
28882
Sony Xperia Z5
23923
HTC One M9
19848
Huawei P9
16942
HTC One (M8) Lollipop
12257
The HTC 10 scores speak for themselves - the new flagship delivers a stellar performance, and we expected nothing less from a Snapdragon 820 smartphone. The chip is sure to serve the HTC 10 hassle-free for the years to come.
Opening apps, loading games, switching between social apps, games, and productivity apps are all tasks that the HTC 10 is able to do very well with minimal stuttering. The fluidness of the HTC 10 reminds us this is how a smartphone should behave.
Internal storage performance
The HTC 10 uses the more conventional Embedded Multi-Media Controller (eMMC) 5.1 NAND memory, which, when compared to Samsung's Universal Flash Storage (UFS) 2.1 NAND, is significantly lower in read/write performance than the newer UFS 2.1 standard of flash memory. The Samsung Galaxy S7 edge and the LG G5 both use this UFS memory.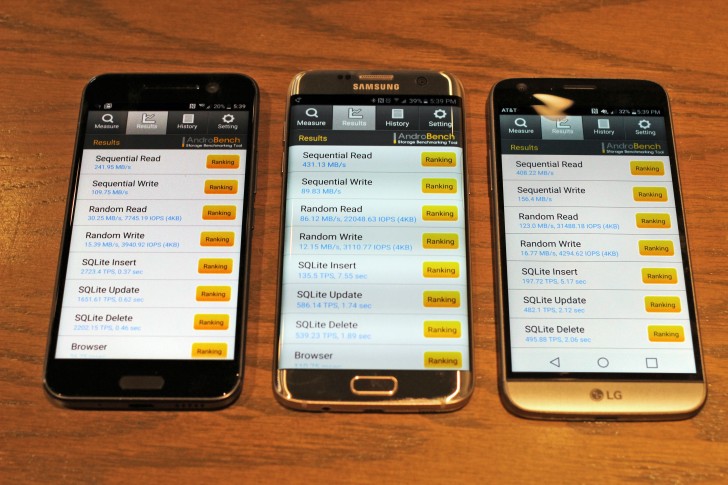 We ran the popular memory Benchmark AndroBench in order to find out just how the three flagships compare in 4 different memory tests: Sequential read (which measures the speed of reading a single file), sequential write (measures the speed of a single file being saved onto the memory), random read (speed of memory when reading data from multiple locations at once), and random write (speed of writing to multiple locations at once).
These tests help to determine how the phones might perform under certain conditions and explains why a phone often slows down when there are too many background processes performing work all at once.
Sequential Read, MB/s
Higher is better
Samsung Galaxy S7 edge
431.13
LG G5
408.22
HTC 10
241.95
These sequential read numbers clearly show how much faster the new UFS memory technology is when compared to the eMMC 5.1 standard found in the HTC 10. The HTC 10 yielded 44% slower results than the Samsung Galaxy S7 edge did in this regard.
Sequential Write, MB/s
Higher is better
LG G5
156.4
HTC 10
109.75
Samsung Galaxy S7 edge
89.83
The HTC 10 runs right in the middle of the other two flagships in the sequential writing test. The highest scoring device in this category was the LG G5 at 156.4 MB/s and the lowest was the Samsung Galaxy S7 edge at 89.83 MB/s. Sequential writing is performed when transferring a file from one folder to another, for instance.
Random Read, MB/s
MB/s, Higher is better
LG G5
123.0
Samsung Galaxy S7 edge
86.12
HTC 10
30.25
In the random read test, the HTC 10 performed much slower than the other two flagship devices. While random performance is dependent on a number of factors, the phone would still be significantly faster if it had UFS type storage instead of eMMC. The random reading speed of the HTC 10 was 30.25 MB/s while the LG G5 and Galaxy S7 edge both scored 123 MB/s and 86.12 MB/s, respectively.
Random Write, MB/s
MB/s, Higher is better
LG G5
16.77
HTC 10
15.39
Samsung Galaxy S7 edge
12.15
The HTC 10 came up second in the random write speed tests. However, these flagships are pretty close to each other when it comes to this test.
We wouldn't want our readers to get the wrong message. The HTC 10 is still blazing fast in every day performance. UI, launching apps, and such are all still exceedingly snappy for day to day. However, we just want you to know that if you really did want to get a phone that works faster in this aspect, you have a couple of other choices.
My htc 10 keeps on turning on and off and wont charge. I have tried to reboot but its not working. What could be the issue?
I like the 5.2" screen. I need another phone now but theyre all large screens which i don't like. one remark about this phone is roaming goes bad, the phone gets logged of the grid when travelling, the handover to different cells fails s...
Same, even with the battery fast drain problem