HTC ChaCha review: Status update
Status update
GSMArena team, 12 July 2011.
Gallery handles online albums too
The gallery has the usual list-with-thumbnail layout. The Albums app automatically locates images and videos, no matter where they are stored. Images and videos stored in different folders appear in different sub-galleries that automatically get the name of the folder – which is an effective file management solution.
Each sub-album has a thumbnail of the latest image. There is also a camera shortcut, but it's only available once you start browsing any of the sub-folders.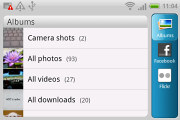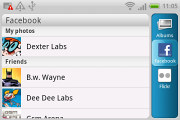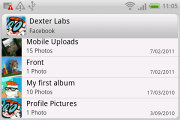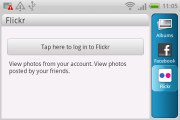 The Albums app works with Facebook and Flickr
On the right side of the screen there are three virtual buttons – one for the actual folder list, another for Facebook and, one for Flickr. These two display images from either account or those posted by your friends.
Sharing a photo on the HTC ChaCha is very easy – tap the share button and pick your preferred sharing method. There's everything from sharing via Bluetooth or email, to posting on Facebook, Twitter or photo sharing sites like Picasa and Flickr. You can also upload videos straight to YouTube.
If Facebook is your primary target it's even easier - while viewing an album or a single photo, you can hit the Facebook button and ChaCha will offer to share that picture (or let you choose some photos from the current album) to share on Facebook.
In the HTC ChaCha image folders you can mass delete images, but still no mass copy-and-paste options - you'd need a proper file manager for that.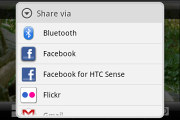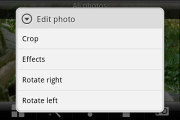 Sharing images is easy • Basic image editing tools
HTC ChaCha supports multi-touch and you can take full advantage of it while browsing your images. You can also zoom with a simple double tap on the screen if you feel like it. The implementation here is extra smooth too.
The good news is that the ChaCha displays the full-resolution photos in its gallery, rather than the downsized versions most of the droids in its class show.
Video player has good codec support, but limitations too
Video files can be accessed in the All videos subfolder in the Gallery or from the Videos shortcut in the menu, they launch the same thing.
The video player interface on the HTC ChaCha offers a full screen toggle (stretch / crop video to fit the screen) and you can scrub through the video too. There are no subtitle, DLNA and SRS support.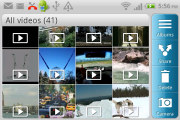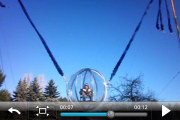 The Videos app is part of the Gallery • Playing video
The video player does OK in general - it handled most of the MP4, WMV and AVI (both DivX and XviD) files we threw at it, though it chocked on some. MKV files were a no-go - those are usually HD videos, which the ChaCha can't handle anyway, so no big loss here.
Resolutions up to VGA or big files were no problem but files as small as 350MB failed to play, which really limits the number of things you can watch on the ChaCha (a typical DivX-encoded 45-minute episode is 350MB).
Music player has no equalizer
The standard music library layout is the Artists section, but you can easily switch to one of the other three tabs on the right, which are for Albums, Playlists and All Songs.
The now playing interface lets you swipe over the album art to skip tracks back and forth in your current playlist. You can opt to view the full playlist if you need to skip more than a few songs.
Two shortcuts in the top corners act as toggles for shuffle and repeat. From the context menu, you can share a song (over Bluetooth, email or message) and you can set it as a ringtone. You can also look up the song on YouTube for the music video.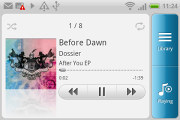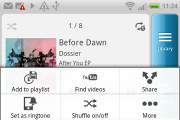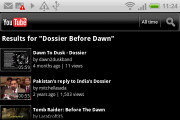 The new player interface is nice • Looking up videos on YouTube
What's really missing here is an equalizer - the ChaCha offers nothing, not even a few presets. We realize it's not a music phone but still, an equalizer is something that modern phones should have.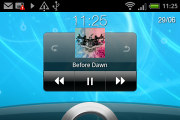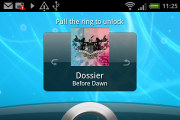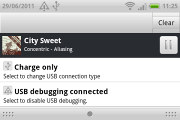 The music player in the lockscreen and the notification area
FM radio is slow to start, cool UI makes up for it
The ChaCha is also equipped with an FM radio, which has a pretty simple, eye-pleasing interface. It automatically scans the area for the available stations and saves them in a list. Later, you can rename or delete those stations and add new ones too. It also supports RDS and allows loudspeaker playback.
One thing that annoyed us about the radio is that it takes quite a while to start and stop – about five seconds.
Decent audio quality
With a young target audience like that, the ChaCha will often be used as a portable music player. That's why it was important that it did well in our audio quality test and luckily that was exactly the case. Of course, the HTC Facebook smartphone is no iPhone, but it does better than its price tag suggests.
When connected to an external amplifier the achieved results are pretty good, except for the intermodulation distortion, which is a bit high for that scenario.
Performance is similar when headphones are connected - intermodulation distortion rises a bit higher. However, we are especially impressed by the stereo-crosstalk reading, which is among the lowest we have seen (with headphones plugged in, of course). Unfortunately, volume levels on both occasions are pretty low.
And here come the full results so you can see for yourselves:
| | | | | | | |
| --- | --- | --- | --- | --- | --- | --- |
| Test | Frequency response | Noise level | Dynamic range | THD | IMD + Noise | Stereo crosstalk |
| HTC ChaCha | +0.13, -0.49 | -85.8 | 87.8 | 0.023 | 0.144 | -84.8 |
| HTC ChaCha (headphones attached) | +0.49, -0.31 | -85.7 | 86.4 | 0.021 | 0.396 | -67.8 |
| HTC Wildfire S | +0.15, -0.79 | -81.3 | 84.1 | 0.026 | 0.131 | -81.3 |
| HTC Wildfire S (headphones attached) | +0.56, -0.34 | -81.0 | 83.1 | 0.026 | 0.324 | -68.1 |
| Samsung Galaxy Pro B7510 | +0.11, -0.47 | -83.8 | 85.6 | 0.021 | 0.060 | -81.2 |
| Samsung Galaxy Pro B7510 (headphones attached) | +0.95, -0.21 | -83.2 | 83.6 | 0.024 | 0.487 | -43.1 |
| LG Optimus One P500 | +0.17, -1.69 | -85.6 | 87.2 | 0.021 | 0.301 | -86.2 |
| LG Optimus One P500 (headphones attached) | +0.19, -1.36 | -85.4 | 86.9 | 0.021 | 0.643 | -46.5 |
| Samsung S5260 Star II | +0.08, -0.51 | -85.6 | 85.6 | 0.0050 | 0.071 | -61.2 |
| Samsung S5260 Star II (headphones attached) | +0.80, -0.28 | -85.4 | 85.4 | 0.013 | 0.449 | -42.7 |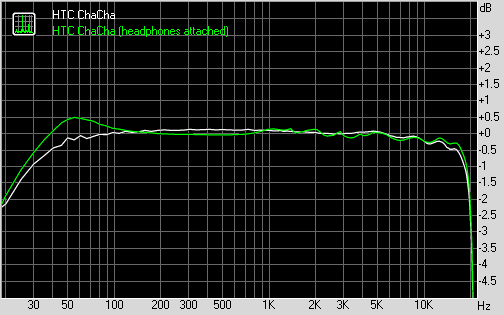 HTC ChaCha frequency response
You can learn more about the whole testing process here.
Hands down one of the best social phone. You didn't even talk about the second best feature: easy manual linking (merging) and de-linking of contacts from multiple social accounts. The seamless merger of so many social applications into a si...
best phone ever, so much easier to type than blackberry. sadly phone died and got replaced. now in 2020 trying to restore it but parts are hard to find.
Either your battery is bad, or you didn't turn on background data. It lasts more than two days using communication tasks like phone calls, messages, e-mail, whatsapp. Web and video watching do drain the battery quite fast.