HTC Desire X review: Needs and wants
Needs and wants
GSMArena team, 11 November 2012.
Android ICS with the latest Sense
The HTC Desire X comes with Android 4.0.4 and Sense 4.0. In spite of not being the latest Android release, it still comes as quite an achievement, considering the majority of the Desire X competitors are still stuck with Gingerbread. We've seen this particular combo of ICS and Sense several times already on the HTC One series phones, but it's still interesting to see it perform on a much more affordable device like the Desire X.
Here's a video demo of the UI in action:
The user interface is trimmed down just like it was on the HTC Desire V. What's missing compared to the One X and the One S is Leap View. The Recent Apps interface is the vanilla ICS layout. The lockscreen shortcuts can be customized but you'll need to change the four docked icons on the homescreen - by default you get Phone, Mail, Messages and Camera. The lockscreen is also active, meaning you can choose from People, Photo album, Productivity lockscreen and more.
The lockscreen is quite efficient. There are the usual four shortcuts and a ring at the bottom. You can either drag the ring towards the center of the screen to unlock the phone, or any of the shortcuts into the ring to unlock the phone and launch the corresponding app.
The number of homescreens is locked at five, like on the Desire V, you cannot add or remove any. There is no leap view either. You get an auto-hiding indicator of which screen you're on and a brand new dock with five shortcuts - the middle one is locked to the app drawer, while the other four can be customized as you please (you can even put a folder there, if four shortcuts isn't enough).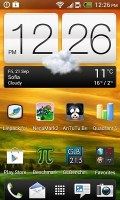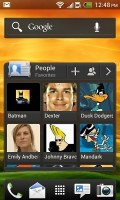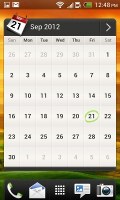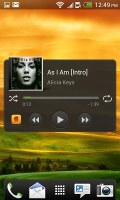 Some of the homescreen sections
Sense offers one of the most full-featured customization suites around. The proprietary Scenes interface lets you choose from various custom homescreen setups, which provide new wallpaper and widget sets that can be further customized to suit your needs. This version of Sense only comes with one preloaded, but hitting the 'Get More' button on the upper right will take you to the HTC Hub where you can download additional Scenes.
Switching between scenes takes a couple of seconds, but they're a handy feature if you want to quickly change your phone's functionality, such as going from work to home.
The HTC Sense has another customization option called Skins. Every skin changes the look and feel of most of the onscreen buttons, application screens, option menus, and other items. They also come with unique wallpaper each and use different colors for various UI elements. The Desire X comes with a total of two preloaded skins, although like with Scenes, it's easy to get more.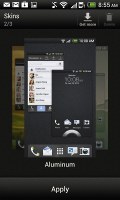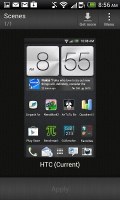 Setting a Skin from the Personalization menu
The main menu has the typical grid layout, which is composed of vertical pages with shortcuts sorted alphabetically. You can set different sorting options - alphabetical, most recent or oldest - but you can't rearrange them manually. There are Search and Play Store shortcuts along with a menu for some options.
The App Drawer uses a tabbed layout similar to different Sense elements (such as the phonebook). There are three tabs available at the bottom - All apps, Frequent and Downloads. You can rearrange them or remove Frequent and Downloads if you don't need them.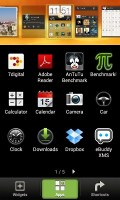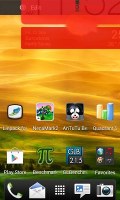 You can remove the tabs along the bottom which you don't need
The Personalize app also has Sound customizations - you can pick a Sound set or individual ringtone, notification and alarm sounds.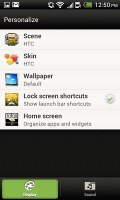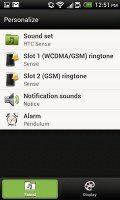 The Personalize menu does Sound too
Adding widgets to the homescreen is done in a similar fashion to Honeycomb and is one of the less successful changes since Sense went ICS.
You press and hold on the homescreen and everything zooms out so that the homescreen panes are visible as thumbnails on the top row of the screen. You tap a homescreen to select it and then select a widget to add to it (or you can just drag the widget).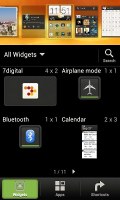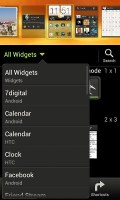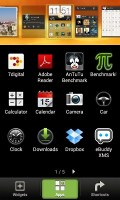 Adding a widget to the homescreen
The main problem here is with how widgets are selected - they are shown four at a time and there's a lot of scrolling involved. Widgets are available in multiple versions - usually differing in size, but also functionality - and they're all dumped into the list, so you're scrolling through a lot of duplicates.
There's a search option to speed things along or you can choose a widget from the dropdown menu and then select which size you like, but that still feels like an extra step.
The old setup of picking a widget and then adjusting its size (if applicable) seemed simpler.
Editing the homescreen is different from vanilla Android. You can tap and hold on a widget and you can drag across homescreen panes. While you're dragging a widget (or shortcut or whatever), two fields appear at the top of the screen - Edit and Remove. You can drop the widget on either one to perform the corresponding action.
When it is highlighted, Edit can be used to modify the settings of a widget - e.g. choose a different folder for the Photo Frame album or even choose a different version of the Clock widget. This saves you the trouble of first deleting a widget and then putting it on the screen again to choose a different version, setting and so on.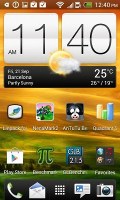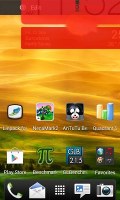 Dragging a widget gives you options
The notification area no longer has the list of recent apps - it's reserved for notifications only. No more tabs and toggles either, although you get a Settings shortcut here if you need to power something on or off. There's also a Clear button to dismiss all notification or you can swipe them off one by one.
Pressing the task switcher button on any screen displays a list of all your recently accessed apps, which you can remove with a swipe to the left or right. This is really just a quick way to access apps you've used recently, as swiping away doesn't kill them.
To actually terminate a running app, you have to close it via the traditional task manager we've become familiar with from Gingerbread. It's simple to use - each running app is listed with an indication of how much RAM it's using (no CPU usage reading though). You can terminate apps one by one and there's a Stop All button too.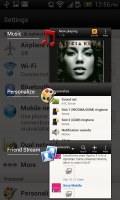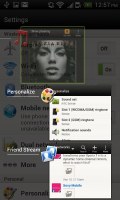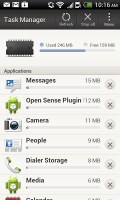 The standard task switcher • The task manager
Synthetic benchmarks
The HTC Desire X is powered by a Snapdraggon chipset, featuring two 1 GHz Cortex-A5 CPU cores and the Adreno 203 GPU. The smartphone also offers 768 MB worth of RAM, all of which adds up to a pretty good combination for this price range.
BenchmarkPi focuses on the CPU's calculative performance. Given that it has no love for multi-core processors, you would expect the Desire X to fail quite miserably here, but it actually produced a pretty decent score.
BenchmarkPi
Lower is better
Sony Xperia go
543
Sony Xperia sola
551
HTC Desire X
639
LG Optimus L7
773
Sony Xperia tipo
987
Sony Xperia miro
1037
Samsung Galaxy Ace Plus
1037
AnTuTu gives the smartphone an all-round grade for processing (calculative and graphic, memory speed, SD card writing, etc). Here the Desire X came surprisingly close to the Galaxy S III mini, which should have a larger performance edge in theory.
AnTuTu
Higher is better
Motorola RARZ i XT890
6150
Samsung Galaxy S III mini
5823
HTC Desire X
5177
Sony miro
2916
Yet another processing benchmark, Linpack shows the Desire X to be a capable performer.
Linpack
Higher is better
HTC Desire X
74.79
Sony Xperia sola
68.1
Samsung Galaxy S Advance
64.74
HTC Desire V
34.4
HTC One V
34.4
SunSpider and BrowsermMark test the Desire X browsing performance. The first one is a pure Javascript benchmark, while the second one ads a dash of HTML 5 to the mix.
SunSpider
Lower is better
HTC Desire X
2259
HTC Desire V
3299
Sony Xperia tipo
3531
Sony Xperia miro
3532
LG Optimus L7
3661
HTC Sensation XE
4404
Samsung Galaxy mini 2
5911
Samsung Galaxy Ace
9061
HTC Explorer
10784
Samsung Galaxy Y Duos
11966
Samsung Galaxy Pocket
12105
BrowserMark
Higher is better
HTC Desire X
66147
LG Optimus L7
61470
Sony Xperia tipo
54938
Sony Xperia miro
52037
HTC Desire V
42342
Samsung Galaxy mini 2
33994
Samsung Galaxy Ace
27844
HTC Explorer
22464
Samsung Galaxy Pocket
20338
Samsung Galaxy Y Duos
19634
Finally the Adreno 203 GPU gets a stress test in NenaMark 2. It got a promising 35.4 frames per second, which means that most light to moderately heavy games should run trouble-free on the device.
NenaMark 2
Higher is better
HTC Desire X
35.4
HTC Sensation XE
23.0
LG Optimus L7
19.3
Sony Xperia miro
16.0
Sony Xperia tipo
15.9
Samsung Galaxy mini 2
15.4
HTC Explorer
15.1
Samsung Galaxy Y Duos
13.2
Samsung Galaxy Pocket
12.9
Samsung Galaxy Ace
12.0
In conclusion the Desire X did slightly better than its specs sheet suggest. It's obviously not a benchmark champion, but the dual-core chipset does a solid job of making the Sense 4 UI run smoothly over Ice Cream Sandwich, which is quite good for a mid-range droid. The occasional hiccup was noticeable, but nothing too damaging to the user experience.
Bluetooth/Wi-fi not functioning
AnonD-307728
15 Sep 2014
Kh2
im using htc desire x, after installation any call recorder , i found that its only recording mic not voice call that means only recording my voice not recording other person voice who im talking with. when i make it voice call , its show it not supp...
HTC desire X, indeed a great phone except the cons... No 720p camcorder, no compass sensor, no front facing cam, can't play even 720p HD video on stock player.