HTC Desire X review: Needs and wants
Needs and wants
GSMArena team, 11 November 2012.
Shared camera interface
The HTC Desire X packs a 5MP auto-focus camera that does stills of up to 2592 x 1944 pixels and records VGA video @ 30fps. There is a LED flash, but unfortunately no shutter key, which would've been useful given the presence of autofocus. At least, touch focusing is present, so you can use that instead.
The camera interface is the same for both the still camera and the video camera - no they don't "look alike", the camera just has the UI shared between both functions, with the option to either take a video or snap a still image all from one screen.
The right-hand side features the Effects button, shutter key, camcorder record key and a shortcut to the gallery that shows the last photo/video taken. On the left are buttons for general settings and shot mode.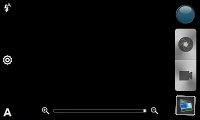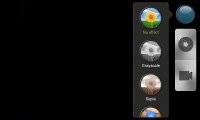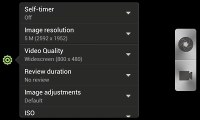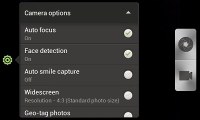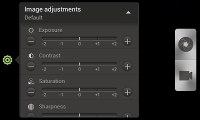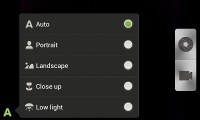 The HTC Desire X camera interface
To snap a photo, you tap the virtual shutter button. To record video, you tap the button below it.
We found the dual interface convenient, but it does have a few drawbacks. For one, if you're shooting video at the highest resolution possible, VGA, once you hit the record button the frame shrinks down to 4:3. This can make framing a bit tricky, as you don't get to see the actual dimensions of the image until you start recording.
The effects button brings out a panel with the usual set of color effects (sepia, solarize and so on), while the shot mode button offers just a few very limited options - portrait, landscape, and low light.
The 5 MP camera onboard the Desire X does okay in terms of speed of focus and capture but leaves something to be desired in terms of image quality. The amount of resolved detail is hardly worth writing home about, as it seems that the overly aggressive noise reduction wipes out most of the fine detail. Colors aren't very accurate, either, and there's notable fringing. Neither of those is bad enough to make photos unusable for sharing on Facebook and similarly less-demanding tasks, but you shouldn't expect wonders from this one.
HTC's camera also features HDR mode, which we were also able to test during our review. The HDR effect is a bit too exaggerated and the stitching of images leads to some artifacts (not the leaves in the upper right corner of the first shot), but the result is not too bad. In fact HDR is probably, the better part of the HTC Desire X camera performance.
Photo quality comparison
The HTC Desire X joins the other 5MP shooters in our Photo Compare Tool. The tool's page will give you enough info on how to use it and what to look for.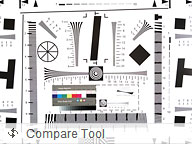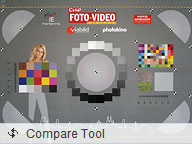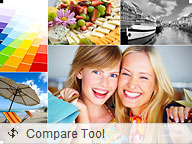 HTC Desire X in our Photo Compare Tool
WVGA video recording
The WVGA (800 x 480) recording capabilities of the Desire X are nothing to write home about, especially in this day and age when it seems that every other device out there is capable of 720p recording.
The lack of HD video recording is made worse by the fact that the Desire X is actually a dual-core smartphone, which should be able to handle at least 720p.
If you can get past the low resolution, the camcorder itself has quality similar to that seen in the still image samples - slightly-skewed white balance and low amount of resolved detail.
Here a video sample from the HTC Desire X.
Videos are stored in MP4 files and have a variable fps which generally hovers around the 28fps mark with a bitrate of around 3Mbps. Audio gets recorded at a sampling rate of 44kHz, a bitrate of 96Kbps and is mono.
Here's an untouched VGA@30fps sample for download.
Bluetooth/Wi-fi not functioning
AnonD-307728
15 Sep 2014
Kh2
im using htc desire x, after installation any call recorder , i found that its only recording mic not voice call that means only recording my voice not recording other person voice who im talking with. when i make it voice call , its show it not supp...
HTC desire X, indeed a great phone except the cons... No 720p camcorder, no compass sensor, no front facing cam, can't play even 720p HD video on stock player.