HTC First review: The socialite
The socialite
GSMArena team, 19 April 2013.
A 5MP shooter at your disposal
The HTC First's camera captures images with a resolution of 2592x1944 pixels. The interface is stock Jelly Bean one, thus quite intuitive.
The HTC First takes some surprisingly good photos. When viewed at 100% magnification they certainly look a bit oversharpened, but when fit to the computer screen they look great. The colors come out natural most of the time and the amount of resolved detail is on a really nice level for a 5MP cam. Expectedly, noise levels and the resulting noise suppression smear quickly start to become an issue in low light conditions. Other than that the camera has a relatively wide aperture at F2.0, which unlike what the small number difference would suggests, lets in almost double the light a regular F2.8 aperture would.
The video camera does FullHD
The camcorder's interface is no different than the UI of the still camera.
The FullHD videos captured by the HTC First are nothing spectacular, but we've seen way worse, so we wouldn't complain. The action is smooth, the colors are fine. The resolved detail could have been better, but again, we've seen much worse.
The videos are shot with a bitrate of almost 20Mbps. The sound is mono only.
Here is a 1080p video sample, captured with the HTC First.
We've also prepared an untouched video sample from the HTC First camera for direct download.
Connectivity
The HTC First covers every connectivity base out there with ease. From quad-band GSM/HSDPA, through Wi-Fi and Bluetooth 4.0, all the way to NFC, the device ticks all boxes.
AT&T's lovely LTE network is on board as well. It worked flawlessly in the New York City area where we tested the device out.
Google Chrome is the default browser
The HTC First comes with Google Chrome as a default web browser out of the box. The interface hasn't changed since Chrome's launch for Android and is clean and minimalist.
At the top there's an URL bar with a refresh/stop buttons next to tabs and settings buttons. You can switch between tabs with a wide swipe from either the left or right.
Opening the tabs area reveals a list of tabs which can be closed again with a left or right swipe. The animation accompanying this action is neat, too.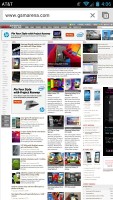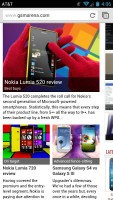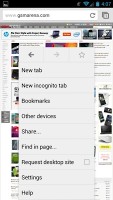 Google Chrome is a familiar sight
Chrome is running on the WebKit rendering engine, so underneath the minimalist UI it's basically the same as all Android stock browsers.
Of course, one of Chrome's strengths is its ability to seamlessly sync with its desktop version, using nothing but your Google account. This allows you to open an article on your PC and finish reading it on your mobile phone. It also syncs your bookmarks and favorite sites.
Google Chrome is generous on settings as well. You can control almost every aspect of your web browsing from choosing what content you want to allow to load like JavaScript, images, cookies and pop-ups.
If you are out of Wi-Fi access, you can, for example, choose temporarily not to load images. Digging into Chrome's options, you'll also have the option to turn the auto-fill of forms and storing passwords on or off.
Unfortunately, while Chrome excels in many areas, it falls short on the one that could be a deal-breaker for many of Android users and this is Flash.
I honestly hate this phone, so many different this goes wrong with this phone.
Pls what is d nigerian price for. Htc first
The phone's design and it's UI are both boring.