HTC Magic review: Practical magic
Practical magic
GSMArena team, 15 July 2009.
Phonebook has fields for everything
The phonebook can store quite a lot of information. It lets you input numbers for work and home, and you can even create custom labels. There is of course an email field and you can assign a custom ringtone.
You can also add IM nickname info to the contact as well as a postal address, company and job title, several notes, you name it. Quite interesting is the option to redirect calls directly to voicemail.
There are many info fields that you can assign to each contact, but it still remains perfectly organized. You have all the types listed (numbers, email addresses, etc) and there's a plus sign on the right - clicking it adds another item of that type. Pressing the minus sign under it deleting unneeded info.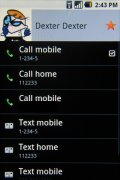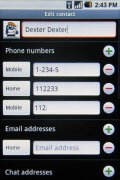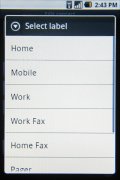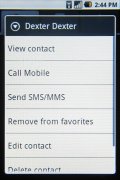 Viewing a contact • editing a contact • contact options
When viewing a contact the various details are displayed in sections. There is a Dial number and a Send SMS/MMS tab with the numbers for the contacts listed. Each number fills an entire horizontal row so that it is more thumbable.
Email also has a dedicated tab that works just like the ones for numbers. The rest of the information (if any) is displayed underneath it.
You can "star" a contact, which puts it in the Favorites tab. Also, in each Gmail account there's a special group called "Starred in Android" where these contacts go automatically.
Adding a photo to a contact is quite easy: when you select a photo, a cropping tool comes up allowing you to use any photo you want. Adding a photo has another pleasing "side effect" - if you put a dialing shortcut for the contact on the screen, it uses the photo as an icon.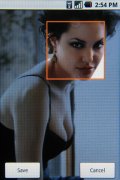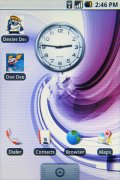 Cropping made easy • contact shortcuts on the homescreen
Searching for a contact in the phonebook is quite easy - just hit the search key and a search box pops up.
Telephony is quiet
Audio quality during a call is decent but it's a bit quiet even at maximum. Reception is quite good though, with the signal strength bar underestimating the signal strength a bit.
There's a slight change in this department, compared to the Android 1.0. The phonebook and the call log are still parts of one application, but the dialer is separated now. The dialer features a keypad and a list of contacts under it (you can hide the keypad) and also sports Smart dialing.
There's an interesting feature you'll notice when you make your first call with the HTC Magic - it vibrates when your call is connected. That's a good way to notify you that the other side has picked up if you hold the phone in your hand and not to your ear. But if you do hold it to your ear - then it's just irritating. It'd have been great if it were disabled automatically by a proximity sensor for example. Unfortunately we didn't find an option to at least switch it off manually either.
The call log shows the latest dialed, received and missed calls all in one.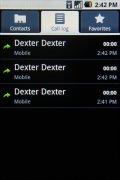 The call log holds incoming, outgoing and missed calls
Speaker independent voice dialing is onboard the HTC Magic but unfortunately it is not available in every country. User reports suggest that it doesn't work in UK, for example. Our handset didn't have it either, so we couldn't test that feature.
| | | | | |
| --- | --- | --- | --- | --- |
| Speakerphone test | Voice, dB | Pink noise/ Music, dB | Ringing phone, dB | Overall score |
| Apple iPhone 3G | 66.1 | 62.1 | 71.7 | Below Average |
| LG KC910 Renoir | 71.9 | 65.6 | 72.0 | Good |
| Nokia 5800 XpressMusic | 75.7 | 66.5 | 68.5 | Good |
| LG KM900 Arena | 70.9 | 68.2 | 78.3 | Good |
| HTC Magic | 70.3 | 69.5 | 79.3 | Very Good |
| Samsung M8800 Pixon | 75.7 | 69.6 | 82.1 | Very Good |
| LG KF900 Prada | 77.1 | 75.7 | 82.0 | Excellent |
baahlovita
16 Jul 2012
fsW
I really need assistance for my phone. I am finding it difficult to download whatsapp on my phone. I have been to android market and google search to download it but to no avail. Someone with an idea on how l can get Whatsapp on my phone should pleas...
AnonD-58529
11 Jun 2012
ftK
Please I need help on how to upload my pictures from my htc magic to my Facebook.
Please I need help on how to upload pictures from my htc magic to Facebook.